With Gran Fondo and mass participation cycling events booming right around the world it's not surprising how popular the UCI Gran Fondo World Series has become.
Launched in 2011, the innovative series involves a number of UCI-sanctioned races for amateur riders from across the world. With a series of qualifying events across various age groups, riders vie for a place in the finals – the UCI Gran Fondo World Championships – where they race for their very own UCI rainbow jersey.
That World Championship final was held in Perth over the weekend with 1182 riders taking part in various length road races and time trials according to age division.
Men's Divisions
In the men's 19-34 years, Belgian Gerard Hophra won the first World title of the day – a step up from bronze last year. Matej Lovse (SLO) and defending champion Christian Muller (GER) were with him on the podium. Deno Van Heerden (RSA) is the new 35-39 World Champion. He outsprinted Anthony Chapman (NZL) and Thomas Ford (AUS) for gold. Canadian Michel Jean out sprinted Slovenian Borja Jelic and Australian Matthew Warner-Smith in a close finish for the 40-44 World Title.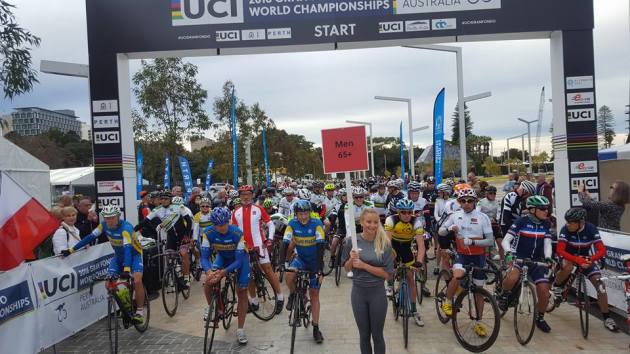 Sam Smith (AUS) outsprinted his compatriot Tim Hoy while Greek rider Loukas Katapodis got the bronze medal – a first medal in the World Championships history for Greece. Tim Jameson from Australia finished seconds before a 5 man group to take gold in the 50-54 men's race. Andrew Brierley (AUS) and Keld Fjord (DEN) stepped with him on the podium.
Paul Miller (AUS) is the new 55-59 World Champion. He was faster in the sprint than Jim McMurray while Slovenian Andrej Zavbi won the bunch sprint for bronze. Swiss Freddy Landon can be considered a local World Champion as he's living in Perth. Hungarian Attila Nagy and Australian John Watters earned silver and bronze.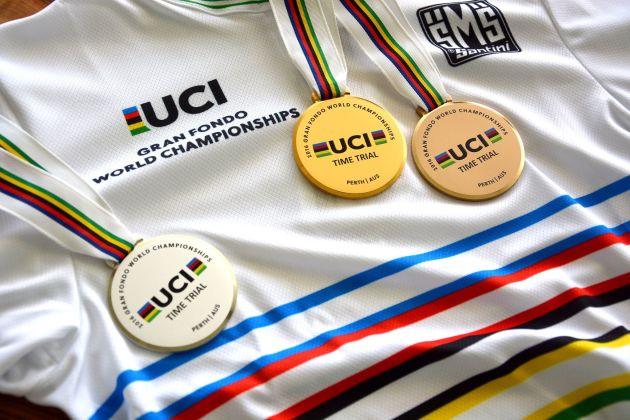 Ex-pro rider Danny Clark was too strong for Peter Bertelsen (DEN) and Hanss Bauer (GER) to take another World Title after the many he already claimed during his pro career on the track. The oldest Men's category was won by Mick Pattan (AUS) who outsprinted Henri Mevel (FRA) and time trial champion John Horsburgh (AUS).
Women's Racing
The women started in two groups with all ladies from 19-34, 35-39, 40-44 and 45-49 grouped in one start while the 50+ started after the men. Combined starts made it harder to control as riders had to seek out their opponents in a larger peloton.
The 19-34 women ended with a complete Oceania podium with Natalie Kerwin (NZL) winning the sprint before Cassia Higgs (AUS) while Amy Schramm (AUS) won the sprint for bronze two minutes later. Justine Barrow (AUS) beat the defending World Champion Sophie Evrard (FRA) and Victoria Veitch (AUS) to take the W35-39 gold.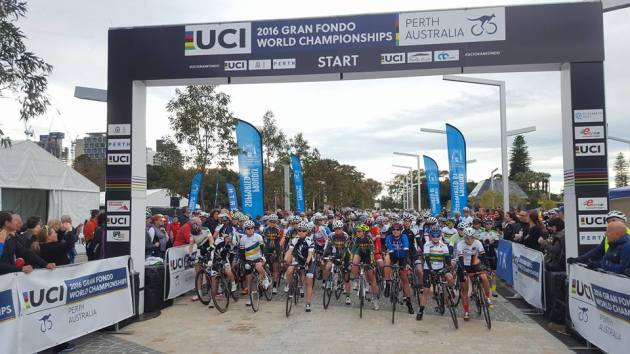 German Astrid Schartmuller kept the 35-39 World Champion jersey to both take the fastest overall female time to renew her 40-44 World Title of last year in Denmark. Time Trial World Champion Jeannie Blakemore (NZL) and Deborah Hennessey (AUS) completed the podium. Italian Maria Cristina Prati was the next World Champion to renew her title. She outsprinted Nicky Rolls (AUS) and Kathryn Woolston (AUS).
Successfully defending her title from Denmark was Karen Hviid Christensen. Kate Olgers (AUS) and Claudia Carceroni Gilles (FRA) completed the podium. Sissel Vien (NOR) was the last World Champion to renew her title. She outsprinted Carol McCallum (NZL) and Heather Hamling (AUS).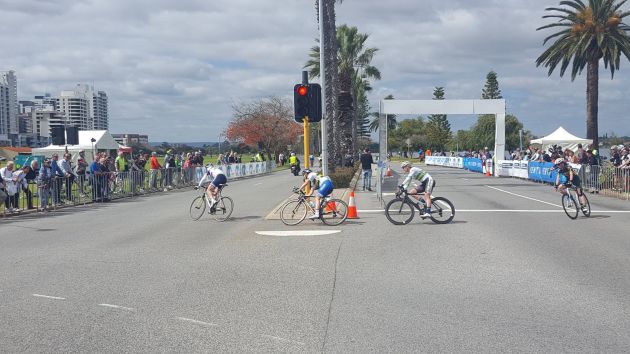 Julia Emblin was crowned new World Champion in the 60-64 female age group to take another gold after Pietermaritzburg 2012. Time Trial World Champion Marti Valks (NED) and Mary Jones (NZL) completed the podium.
The oldest age group was won by Gaye Lynn (AUS) for a complete Oceania podium with Sharon Prutton (NZL) in second and Lori Slattery (NZL) in third. The average speed of the fastest winners was respectively 39.1km/h for the males (Gerard Hophra) and 35.3 km/h for the females (Astrid Schartmuller and Justine Barrow).
With thanks to the UCI Gran Fondo World Series.