Do you know which Aussie team had 94 victories last year?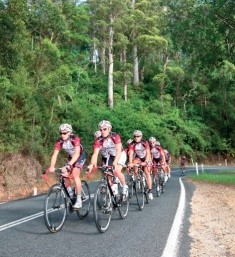 Ever since we Aussies began to make a name for ourselves on the world cycling stage we've been saying how great it would be to have an Aussie team ride at the Tour de France. Over those years various attempts, mostly combined with the AIS, have come and gone. But finally a team has arrived that looks like it may finally get us there and that team is Fly V Australia. In all fairness to Cycling Australia and the AIS, the Tour de France hasn't been their main goal. Under the excellent direction of Shayne Bannan, and the base in Italy, Australian riders, both men and women, have had fantastic support which has not only helped them get results on the road but also adapt to life in Europe. No longer do wide eyed kids land in Europe and learn the ropes the hard way in Belgium. Neil Stephens, a director of the Spanish Caisse d'Epargne team puts it nicely when he says, "When I was a pro bike rider you turned pro, went to Europe and got a phone call once a year from Cycling Australia and they'd say 'we'll see you at the World Championships.' Now the riders have biomechanical and physio support as well as personal mentoring. It's very personal." But the squad in Varese can only support a limited number of riders and many of these have a long term view of Olympic selection. What about the others? That's where teams like Fly V Australia come in.
Origins
Fly V Australia is the brainchild of Christopher White, a former rider of the Commonwealth Bank Classic and also cancer survivor. White and his management partner Brett Roland run Pegasus Racing and both gentlemen are extremely passionate about their role. "To me, the whole thing seemed obvious," says White. "Australia was, and is, bursting with really, really good talent but we'd have one rider in one team and another rider in a different one and so on. It was spread too thinly. People say "Oh imagine if we had Cadel Evans, Simon Gerrans, Stuart O'Grady and so on in the same team." Well to my way of thinking, that wouldn't work. Those guys all have worked hard for their careers and are stars in their own right. What we want to do here at Fly V is provide the structure for some of the younger Aussie riders to work together and become successful together.
That's the way we're going to get there I think." One of Chris' best signings is Henk Vogels who after 17 years of racing, has successfully taken on the role of Director Sportif. At the end of 2008 Henk had prematurely retired and suffered the ignobility of being pipped at the post in his swansong race by Robbie McEwen. Henk's future was uncertain and at that time he said to me that "I'm not sure what I want to do. I'd like to have some sort of role bringing up younger guys and showing them the American pathway. It's very easy to drop off people's radar when you're not racing." Henk is now well and truly on people's radar and looks set to join the list of successful Australian riders becoming team directors. His quiet but direct approach steered his riders to no less than 94 wins in 2009, more even than Columbia.
Henk is quick to point out that while he is pleased, it's still just a number. "You can only win the races you're in and I'm not suggesting we're better than say, Mark Cavendish, but we're not far away. The racing in America can be pretty fierce and we had some good wins, but I reckon if we had raced on the ProTour we would have still got plenty. We entered 2009 with a pretty young bunch of riders and early on it was difficult for them. But to their credit they pulled together when they needed to. For 2010 we've done some good recruiting and as a team I reckon we're a force to be reckoned with."
Results
Most Australian readers will be familiar with Jonathan Cantwell's green jersey win in the Herald Sun Tour, but less so his first overall in both the Scody Cup Series and the Tour of Murray River. Cantwell was rewarded for his improvement with selection in the Team UniSA squad for the Tour Down Under. Bernard Sulzberger chimed in by winning the Australian Pro Criterium Championship, first overall at America's Super Week and again at the Tour of Tasmania. Ben Kersten as part of his move away from track racing, won the U.S. Pro Criterium Championship and team co-captain Phil Zajicek won the mountain stage of the Tour of the Gila by attacking and pulling away from both Lance Armstrong and Levi Leipheimer on the final climb. Not bad eh? For 2010 the squad has been bolstered with the signings of both some local and international talent. Tasmania's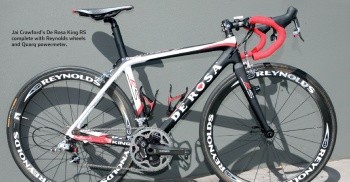 Jai Crawford is one rider who shows a lot of promise, having finished second overall at the Tour of Langkawi. Vogels says: "I think Jai is going to be one of the surprise packages this year. With the previous program he has had I don't think he's had the chance to go up against many of the big boys. But this year that will change and I think he'll do well particularly in hilly races like the Tour of California." "We're very proud of the way our riders performed last year," says White. "but to achieve our ProTour aim, we need to think in general classification (GC) terms, not just criteriums. Our first big objectives will be the San Dimas race in California and then Redlands, which opens the US racing calendar in the last weekend of March. Redlands is a very important event. If you go well there then it's expected that you'll go well for the rest of the year. But the number one objective is the Tour of California. That is the fourth largest race in the world so it's pretty important. We'll then switch to a dual program and late in the year we're hoping to get an invite to the Tour of Ireland and the Tour of Britain because we see those two races suiting the team's push towards Europe. I think we can not only be competitive at these races but also attract the sponsorship dollar that we need.
"A lot of what we're doing is cutting our teeth abroad. How we structure our program is very important and it can be difficult to get starts in a lot of these races. Tour of Ireland and Tour of Britain have I believe, 40 teams vying for 17 places for example. It's a competition just to get to the start line. But we think in 2010 that it's time to show our cards. That we're not just focused on the US. It's been great for us and we'll continue to support it as we grow, but the impetus for us is to grow worldwide with Virgin Blue.
"Obviously all roads lead to the Tour de France and that is the ultimate goal. It casts a very long shadow on the cycling landscape. It also activates corporate people and also the general public. It's the race everybody knows. We don't like talking about the Tour too much at this stage because we'll do close to 300 days of racing in 2010 as a team and that doesn't include the Tour. We now have a five year contract with Virgin Blue, our primary backer and five years gives us a really good base to work from. "
A Bonding Session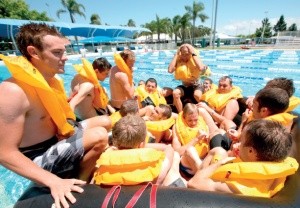 Plenty of sports teams have bonding sessions. We're probably all familiar with Saxo Bank's army-style one they do in Scandinavia. But Team Fly V's one, while a lot warmer was no less scary. Run by Care Flight, the team members, including directors, indulged in a simulated helicopter ditching. Essentially, after viewing a number of scary videos of helicopters crashing into water, which I'm sure were just designed to get the wind up, we headed out to Miami Swimming Pool where the Care Flight guys had their crane set up.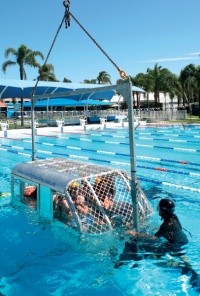 In a nutshell, the guys had to do two things. The first, a bit of an aperitif, was life raft drill, where certain people were designated leaders and had to organize everybody into the raft while not letting anybody drown. But then the real action began. Attached to the crane was an aluminum cage in the shape of a helicopter chassis. The cage holds six people, it is then lowered into the water and the guys have to get out fast. It sounds easy when you say it like that doesn't it? But there's a catch. Firstly, each rider is held in with a five point harness. There is no breathing equipment so the big breath you take is the one you have to work with.
Once the cage is in the water, floats on the bottom flip it over, so you are now upside down. Once the cage stops moving you have to get yourself and your team members out still working on that one breath. As you can imagine, this is a bit of a daunting task for anyone with a slight or even not so slight tendency towards claustrophobia. But I'm pleased to report that everybody survived, even if one or two were a little shaken.
The Sponsorship Dollar
Money is, as always, the major factor. Virgin have been a reliable sponsor and indeed have signed on for a five year period for which White is very grateful. But he estimates that the team will need to grow its budget fourfold to become really competitive in the ProTour. When Bicycling Australia visited the team camp on the Gold Coast I got a first hand look at how the squad runs on such a tight budget. The riders all had their accommodation paid for and their regular wages paid, but elected to buy their own meals. The 16 riders shared two flats with mattresses laid in the lounge for extra sleeping areas. Everyone pitches in and nobody is afraid of getting their hands dirty. Indeed, White himself only collected the team's race wheels a day before the Nationals. "I loaded 14 wheel bags onto the flight to Melbourne," he recalls. "It was 96kg of excess baggage with the bikes and everything else and I was up till 3am gluing on tyres the nightbefore the race."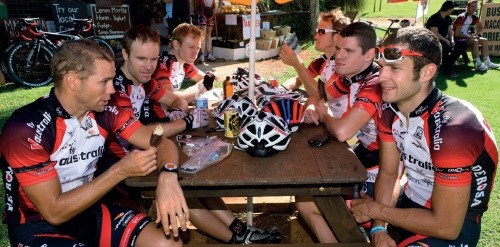 The effort was worth it however as new recruit Aaron Kemps won the criterium and David Kemp ran second in the Men's Road Race. There are considerably less staff than you normally see at a full team camp, six in total and the team have had to be creative in their approach. Instead of several massage therapists, each rider is provided with a 'Body Wrench' and they have a strict regime of pressure point therapy that they must adhere to when massage isn't available. Each rider is urged to have their own coach. Indeed it is this shoestring approach that in some ways bonds the team. You might think that as professional bike riders, there'd be some grumbling, but not here. These guys are cheerful, happy and most of all, energetic. There's a definite sense of determination in the air and a feeling that these guys have, not only the talent, but the will, to go all the way. When it comes to an Australian team at the Tour de France, Fly V are without a doubt, the best looking option yet.