Giro d'Italia fans will be treated to a thrilling final showdown after Nairo Quintana snatched the pink jersey from Tom Dumoulin overnight – the top 5 riders now within just 81 seconds of each other.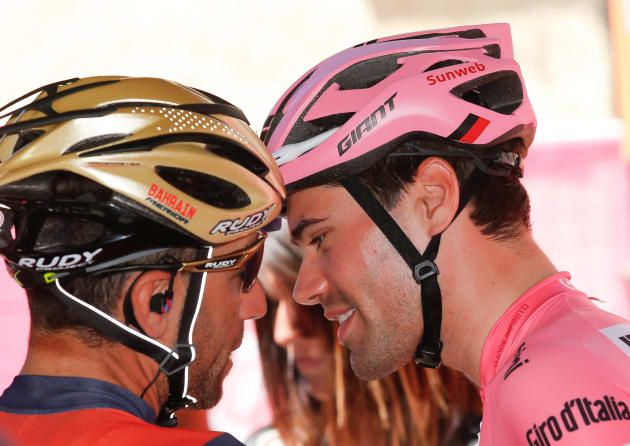 Team Sky's Mikel Landa won Stage 19 in Piancavallo after a superb effort up the final brutal climb. It was a fantastic ride and hugely celebrated at Sky, but the story of the day was Nairo Quintana's dethroning of Tom Dumoulin.
Speaking after pulling on the pink jersey for the first time this centenary event, Quintana described the close battle – the 38-seconds between himself and Dumoulin, with Nibali just 5 seconds back in third.
"The level is really high in this Giro – that's why the gaps aren't big," he said. "The Stelvio stage was very demanding. Because of the tiredness I've chosen to mark the riders who were the closest to me on GC. I'll have to defend the lead tomorrow and I expect Nibali to attack tomorrow."
Dumoulin's 10 Days In Pink
Fully aware of Dumoulin's likely domination of Sunday's Time Trial, Quintana was not surprised by the Dutchman's 10-days in pink.
"His performance has only confirmed the improvements he's made in his climbing," said Quintana. "Against him, we did what we could to take a bit of time on him today but we need to take more tomorrow because he's the strongest time trialist."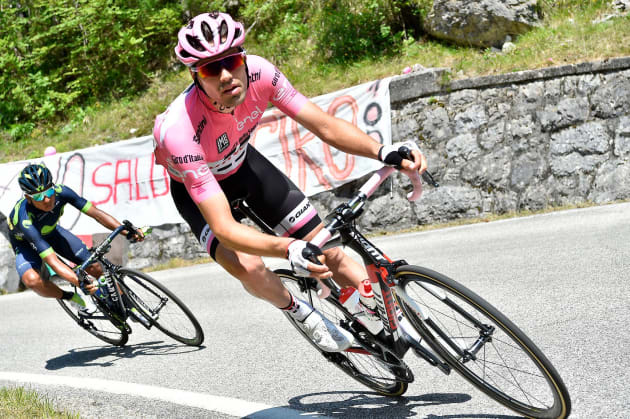 On losing the jersey, Tom Dumoulin admitted he made "a rookie mistake earlier in the stage" when caught out at the back of the bunch.
"I needed to put in a lot of energy to get back across to the group which wasn't ideal when my legs already weren't great," he said of the minute plus gap he was forced to close.
"In the final I tried to limit my losses which I think I did pretty well," he added. "The team were so strong and saved me a couple of times … I hope the legs are better tomorrow."
Final Stage Before Sunday's Time Trial
The penultimate stage before Sunday's final 38km Time Trial, Stage 20 covers 190km from Pordenone to Asiago and includes 3100m of climbing including Mont Grappa and Foza.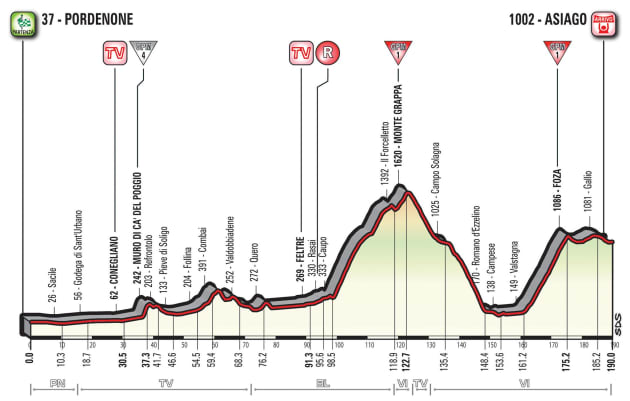 Stage 19 Top 3
1 – Mikel Landa Meana – 191km in 4h53'00", average speed 39.112km/h
2 – Rui Alberto Faria Da Costa 1'49"
3 – Pierre Rolland 1'54"
Overall Top 5
1 – Nairo Quintana – 85h 02' 40"
2 – Tom Dumoulin + 38"
3 – Vincenzo Nibali – 43"
4 – Thibaut Pinot – 53"
5 – Ilnur Zakarin – 1' 21"