Hugo Gladstone recently caught up with Matt Goss, one of Australia's hottest young talents who has set the world alight in 2006 and recently signed a contract with CSC.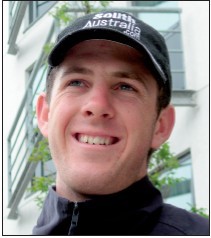 Just as any career advisor, self-help book or drunken pub philosopher will tell you, first impressions last. The story of Matt Goss' season is testament to this. When the curly haired 19- year-old Tasmanian flew over to Italy to embark on this year's road season, he got stuck into it straightaway. Having already claimed a World Championship title on the track in France, he out sprinted the rest of the bunch in his first European road race this year, the prestigious GP Liberazione in Rome. The very next day he was at it again, outfoxing four other breakaways in the first stage of the Giro delle Regioni, including the then reigning under-23 world champion Dymytriy Grabovskiy. A team time trial win and a second place followed in the Thuringen Rundfahrt in Germany, preceding two more stage victories and the point's classification in Spain's Vuelta Navarra. A week or two later, he was at the Baby Giro, the amateur equivalent of the Tour of Italy. On the third stage, still within just a few weeks of touching down in Italy, Goss claimed his fifth individual road win of the season.
The upshot of this impressive start to his road campaign, was that as the European season drew to a close, Goss was signed by one of the biggest team's in cycling, CSC. Although not quite so hard hitting, Goss emitted good first impressions when I met him in Glasgow before the start of the first stage of the Tour of Britain.He was about to start a race against some pretty big names (Boonen, Kloden, Astarloa), but still came across as relaxed and friendly. Perched on the bonnet of the South Australia.com-AIS team car, he happily compared what was a cold Scottish summer's day to winter back home in Launceston. An hour or so later, Goss was impressing on me further. As the race radio crackled into life for first time that day, his number was revealed as one of three members of a runaway breakaway.
One time check they had 45 seconds, and the next, four and half minutes. Our car slotted in behind the move and we spent the rest of the day tracing Goss, Luis Pasamontes and eventual overall race winner Martin Pedersen through the rolling Scottish countryside. Although Goss lost the stage after being forced to lead out the sprint, he claimed the yellow jersey by winning time bonuses the following day. He then had to abandon the race while in the lead on the third stage after a niggling knee injury had flared up during an aggressive day of racing. Other riders in his position might have battled on, but Goss still had bigger fish to fry. "I could have kept going to try to finish the Tour but I've got the Worlds in two weeks," he explained afterwards. "I don't want to have to take time off the bike and then have to miss the Worlds."


Route Map to Success
As it turned out Goss cracked in the closing stages of the under-23's event at Salzburg and eventually finished 119th. Nonetheless he had very much been amongst the favourites and rightly so. Having spent the season putting in top performances against both riders of his own age and against the likes of the pro teams, he is currently one of the hottest prospects in cycling. Four or five teams had expressed an interest in signing him and it was purely a matter of choice that he's ended up at CSC. Five days after first meeting him, I sat him down in the foyer of a London hotel and asked him how he ever came to be in such a position. "My next door neighbours cycled," he replied. "They just asked if I wanted to go down the track and ride. I was maybe 13 or 14 and had a knee injury from playing football. I went down the track on my mountain bike and I started to like it." From there he upgraded his bike and, like we all do, got more involved in the sport. "I went through all the age groups but I didn't win anything at a national level until my second year in the under-17s and first year under- 19s," he said. If Goss was a little less modest, he'd have perhaps outlined exactly what these results were. Then again, the list is quite extensive and ranges from national road, criterium and time trial titles through to gold medals in the Commonwealth Youth Games and junior world track championships.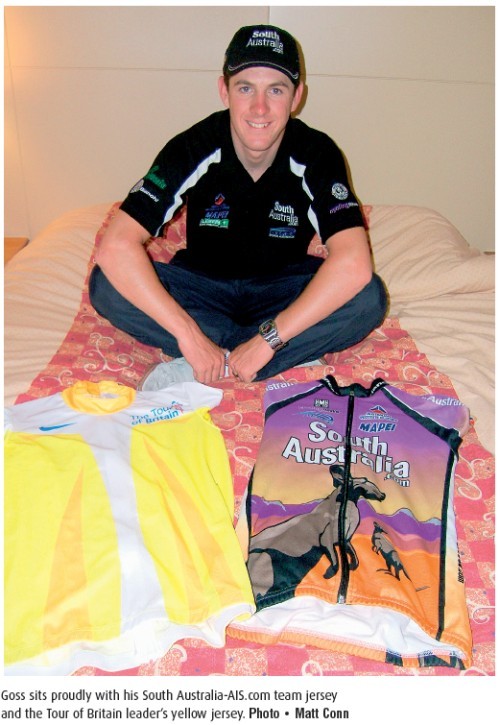 But it was when Goss moved up into the under-23 category that he made the real big step forward. "I went straight from under 19 to the national track team," he explained. "Thankfully there was a bit of a void there after the Olympics— most of the team had wanted a break from it—and that gave guys like me an opportunity to jump straight into the top-level. We went to the World Championships and I picked up a medal in my first year as a senior." This inevitably instilled a lot of confidence. As with so many Aussies who have been given the chance to make their name on the track, it also assisted him a great deal on the road. "You watch those guys ride that fast and think: 'I don't think I could do that'," Goss admits. "But then get down there on the track and ride nearly as quick and realise 'I've got the strength and power after all'. You can then use that on the road too. Riding the track helps the road a lot, especially in terms of power and on the shorter climbs of two to three kilometres." From winning a bronze in the team pursuit in Los Angeles, Goss went straight to the AIS road program it Italy where he spent four months riding events like the GP Liberazione—won by Chris Sutton—and the Giro delle Regioni. Although he gained a single road victory in 2005, he generally had a hard time. In the long term, however, this proved beneficial.
Looking Ahead
Having made a big step forward almost every year, Goss can be expected to cope well with his promotion to a proTour team. Still only 19 at the time of interview, though, he is wary of getting ahead of himself. "There were three or four other teams interested but what CSC offered as a package was what I wanted," he says "I like the way they bring riders up through the ranks, the support they can offer and their structure with training camps. I think that's good for a young guy like me to be able to go to training camps three or four times a year and learn from all the experience of the older guys on the team. Some teams don't have as many camps and don't get together so much. "This is going to be quite a transition and it's easy for teams to burn young guys out," Goss added. "What CSC will do is bring me on steadily. I'll probably do a fairly light program of around 60 or 70 races a year and, although I'm sure there'll be one or two big races, they'll generally be smaller events." This will also allow Goss to pursue Olympic and further World Championship ambitions on the track. "For the next couple of years the Worlds are in April when the classics are on," he adds. "CSC has already got a strong classics team so it's more than likely that I wouldn't be racing there anyway. It's the same situation for the Olympics which are at the start of August 2008. Most of July will be spent training on the track which is fine because I won't be riding the Tour."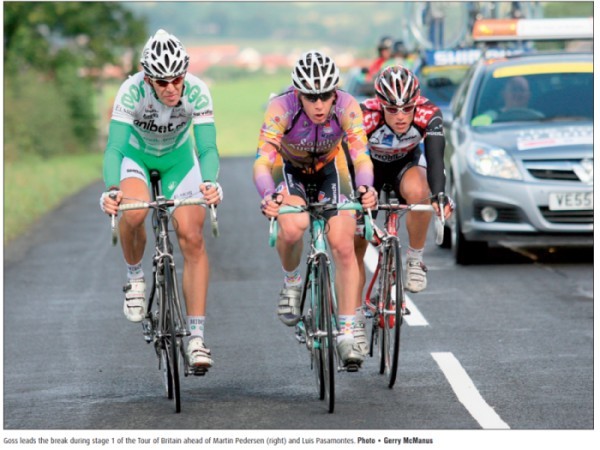 On the road, Goss is a decent sprinter who can also ride well in a break. He doesn't consider himself a pure bunch galloper but someone who is faster than the rest after a tough day's racing. "My sort of race is when it is a finish between 30-40 riders," he said. "I'm a sort of the classics rider who can get to the end of hard races but also be there in a bunch finish." Other than his track goals, Goss hasn't outlined any particular targets for the upcoming years. He simply wants to develop into a good rider and not just make up the numbers. This subject takes our conversation full circle as he unwittingly concludes the question which I asked in the first place. How did he ever come to be in his current position? The answer is simple: he has a passion for winning. "I want to be a guy who wins races as a pro and I don't want to just be someone in the bunch," he states. "With my style of racing I think I can do that. "There's nothing better than coming across the line with your hands in the air, knowing that you've beaten everyone else in the race."
"Riding the track helps the road a
lot, especially in terms of power
and on the shorter climbs of two
to three kilometres."—Matt Goss