I am beginning to learn that when you live with someone who is gradually, but constantly introducing their cycling purchases to the household over a period of time, you tend to develop immunity to it.
You can exist in that habitat, blissfully unaware of the rapid rate at which it is filling with cycling purchases. You begin to think it is perfectly normal that one person would own five bikes and that each room in your house would contain cycling paraphernalia. That is, until the wakeup call happens. The wakeup call occurs when you receive a visit from someone who hasn't caught the cycling bug, and has not yet fully comprehended the extent of Cycling Hubby's addiction to the sport.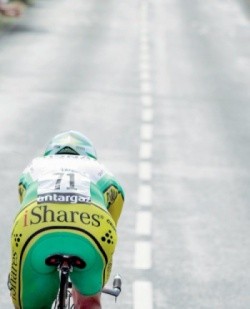 A recent visit from a non-cyclist friend of ours is what prompted me to look a little closer at the contents of our house – only to discover we are drowning in a sea of bikes and all that goes with them. You could be forgiven for thinking our house was a disorganised bicycle storage space, as opposed to a dwelling occupied by humans. You cannot enter any room in our house without having an overwhelming sense of bicycle culture slap you in the face upon entry. So, as I wander through the house and observe the way that Cycling Hubby has collected and then littered his cycling goods throughout the entire house, I can't help but begin to draw parallels between him (along with other cyclists I know) and the bowerbird.
It all begins when the bowerbird builds a bower in order to attract mates. In the world of Cycling Hubby, his bower exists in the garage – a space completely dedicated to his cycling habit. This space, of course, attracts 'mates' in the form of fellow cyclists. Cycling Hubby will often be found in his bower, with his fellow cyclists, as they embark on the ritual of preening their bikes. In and around the bower the male bird places a variety of brightly colored objects he has collected.
The males spend hours arranging this collection making sure they can be displayed to their best advantage. These traits can also be clearly identified in Cycling Hubby as he places a variety of highly noticeable cycling paraphernalia in and around his bower. His collection oozes out of the garage and into the house. Hours and hours are spent arranging, using and expanding this collection.
The objects which the bird uses in his bower are usually different among each species. This seems to be true of the differing 'species' of cyclists also. They each require objects for their bowers which are unique to their style of cycling, whether it be road cycling, mountain biking or the humble commuter. While commuters love a good backpack or panniers, a road cyclist would almost faint at the thought of adding any weight to their feather light frame unless it be a retro piece of Italian hardware.
The bowerbird can spend hours searching for certain types of objects to add to his collection. He will go to great lengths to get some objects, as he hunts for berries, leaves, garbage and feathers. Sadly, the bowerbirds collecting habit is a little cheaper than that of Cycling Hubby's, which involves many hours performing the complex art of credit card transactions, eBay bids and bike shop crawls to find just the right thing to place in his bower.
And last, but not least, there is the competitive streak that lies beneath it all. Being a bowerbird is a fairly cut throat business and they will go to great lengths to have the best looking bower in the district sometimes even purloining items from another male's bower. An equal level of competitiveness can be found in the community of cyclists as they constantly strive to have lightest, fastest, newest biking equipment and to be the first one up that hill. They may not pinch items like the bower bird, but they're not above a bit of internet skulduggery.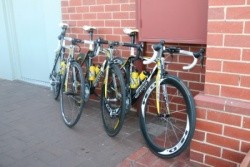 So if you don't already fit into the category of a cyclist with a bowerbird complex you should keep your eyes peeled for the early warning signs. Should you start to find an accumulation of used tyres, old chains, cassette cogs and more just laying around the house; it can only mean one thing. It is just the beginning of a long journey to the world of the bower. Before long, you will be immune to the cycling collection which will slowly leak to the very far corners of your household. Be warned!