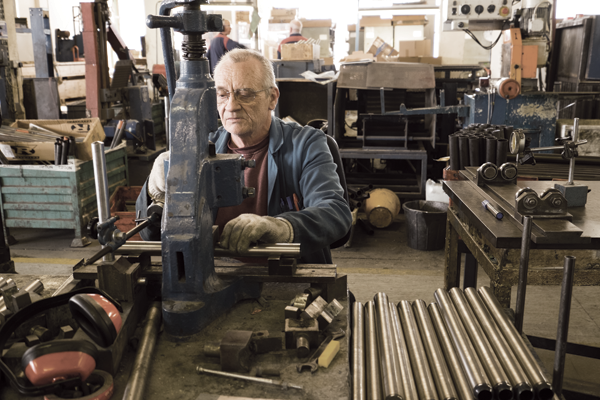 When it comes to bike frame tubing the Reynolds name is firmly at the top of the list. We dropped in on the kings of steel to find out more.
Not so long ago the most famous number in cycling was 531; it was a worldwide household sequence of numbers that everybody – cyclist or not – saw as a mark of quality when it came to a bike.
Reynolds 531 was the doyen of frame tubing for many generations. Bikes were rarely graded by their groupsets; they were scaled by their frame tubing sets, and British tubing pioneers Reynolds were very much the leaders of the pack.
With a mass change towards OEM manufacturing and with the mass arrival of aluminium and then carbon fibre, steel has somewhat rusted away in the back of the garden shed. But with the inevitable revival of the custom build market, the hard stuff is undergoing something of a renaissance and after 160 years of trading, Reynolds are still there and innovating with derivatives of steel.
We dropped into their Birmingham (UK) factory and spoke with head man Keith Noronha about the company and all things steel.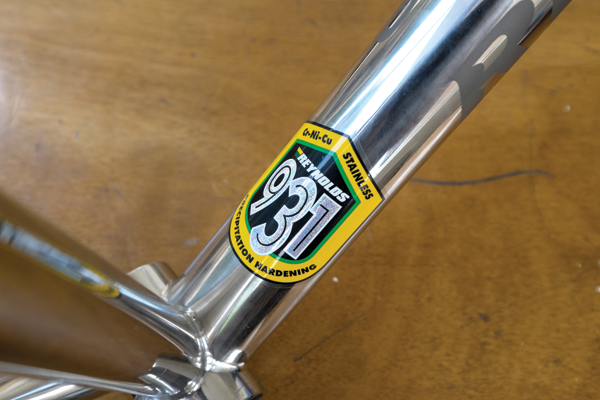 Magic Reynolds moments
1841 – John Reynolds starts out making nails.
1897 – Alfred Reynolds (son of John) and JT Hewitt apply for patent of the first-ever butted tube.
1898 – Patent Butted Tube Co Ltd is formed; two years later they produce their first cycle tube set, weighing 4.5 pounds.
1923 – Company changes its name to Reynolds Tube Co.
1928 – Reynolds is acquired by the Tube Investments group.
1935 – The first 531 tube set is produced – butt ratio 5-3-1.
1958 – Charley Gaul wins the Tour de France on a Reynolds 531 tubed bike.
1961 – Jacques Anquetil wins his second Tour de France on a Reynolds tubed Gitane bike.
1969 – Eddy Merckx wins the first of five Tours on a De Rosa built/own brand Reynolds tubed frame.
1976 – Reynolds introduce 753 tubing.
1978 – Bernard Hinault wins the first of five Tours on a Reynolds tubed frame.
1986 – Greg Lemond wins the first of three Tours on a Reynolds tubed bike.
1991 – Miguel Indurain wins the first of his five Tours on a Reynolds tubed bike.
1995 – Reynolds introduce 853.
1996 – US company Coyote Sports Inc. acquires and rebrands Reynolds (from TI).
1999-2000 – Coyote files for Chapter 11; Reynolds Composites starts making carbon forks in the US, while Keith Noronha leads a management buyout of the steel side of Reynolds and forms Reynolds Cycle Technology.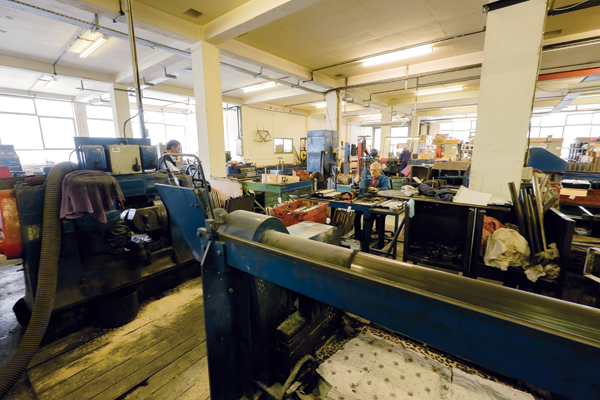 The Cold Work
ST: When did Reynolds first go into business, and what was their game?
KN: Even though I've been with the company since 1980 (and am now the CEO/owner) I don't know the full history of the company – it's all a little bit foggy. We do know that the Reynolds family have been in Birmingham since the early 1800s, and we believe that they were first involved in nail manufacturing in 1841 in Aston, Birmingham.
We do know from looking at the patent that Alfred Reynolds and Thomas Hewitt, for some reason, decided to try making a butted cycle tube in 1897, when cycling had only been around for 20 to 30 years. We have no idea why a nail maker would try to do this, but that fundamental mechanical process they invented is basically how tubes are still butted now.
ST: So butting was developed way back then for bikes?
KN: They intended that these tubes would be for the cycle industry. Back then they had a wide range of what we would now term 'mild steels'. The first real alloyed steel was Reynolds 531, which came out in 1935 and was also used in the aeronautics industry.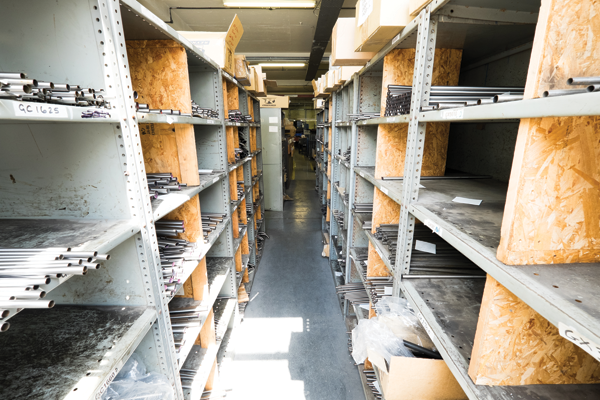 So butting has been around since 1897/8, and was aimed at lightening cycle frames, that were typically brazed and lugged.
Highly alloyed (mild) steels have been in use since then, and high end butted tubing has been in use since around 1935, and was invented by Reynolds.
ST: This was all during the wartime era; did Reynolds also work on military projects?
KN: In 1917 the Reynolds cycle business moved location, and the company started many subsidiary companies – making parts for the aeronautical industry, seamless bottles and so on.
The company also did a lot of tube drawing too – basically pulling a tube to make it longer and thinner.
ST: During this period, Reynolds was sold to the TI group?
KN: Around about 1928 the Reynolds family sold out to Tube Investments (TI), who also owned Raleigh Cycles. The family stayed involved with the company until sometime during the 1960s. They also produced tubes for motorcycle frames and even built high-end motorcycle frames themselves, but not bikes.
ST: Things in the bike business changed a lot during the 80s, how did that affect Reynolds?
KN: The cycle industry went through a tough time in the 1980s and I can see from company records that they were wondering what to do with the business, although it survived as part of TI until 1996.
The TI group had already sold off Raleigh, and they also sold their US carbon golf club shaft maker – which was linked to Reynolds (its derivative now produces Reynolds wheels).
It was around about this time that the American guys started showing interest in the cycle industry, and Reynolds also started using different alloys such as 853, as we were facing major competition from companies such as Easton.
ST: Aluminium was the material of the era, but not for Reynolds.
KN: It would be fair to say that we missed the boat with aluminium back in the early 1990s, we didn't really see it as a serious competitor at the time, and were slow to move. In the early 2000s carbon fibre became a critical force to reckon with.
Reynolds continued to innovate with steel, but our traditional European market was declining. In about 1996/7 the management company that owned Reynolds got into financial difficultly – I had been working with them in the US, and came back to the UK and we made a management buyout of Reynolds in 2000, so it's now privately owned.
ST: Did going back to private ownership and the carbon factor mean you had to change things drastically?
KN: We stayed in the Tyseley factory for a while, but became a very much smaller business than it had been under TI. But a big part of that was because we then focused purely on the cycle business and not all of the subsidiary products that they had done before.
Around 80% of our business is now for export, and we have different strands to the business.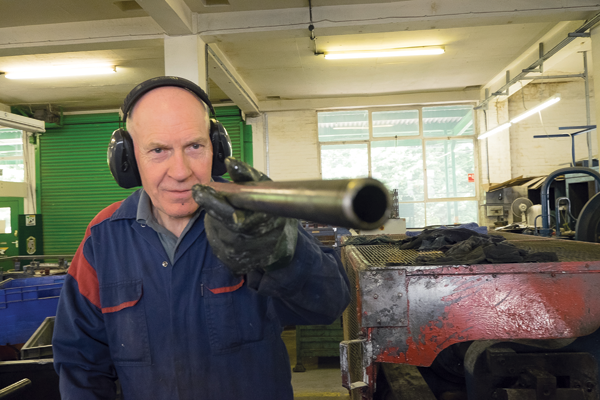 ST: How are you moving forward?
KN: We've invested a lot in high-end materials such as titanium, and export a lot of butted titanium tubing. We've also invested in aluminium-lithium, although at the moment it's not a commercial success, we're looking at it as in investment in sourcing materials and technology for the future.
We've never moved away from steel, it's always been our core business. For example, 853 has been around for about 20 years now, and our sales of it continue to grow. But now it's a mixture of export to places like Taiwan, where some manufacturers produce high-end frames for major brands, and the smaller custom frame builder has also come back into the market and is using it.
We've definitely seen a resurgence of custom builders. Having visited and exhibited at shows such as NAHBS (North American Handmade Bicycle Show) and other custom shows around the world where these builders get the opportunity to show off their craftsmanship, we can see that steel and titanium is a good place for Reynolds to be right now.
ST: Is it still cost effective for you to manufacture in the UK?
KN: We're still committed to manufacturing in the UK, our high-end brands such as titanium, 835, 631, 953 – and the new stainless steel 958 and 921 are made in the UK.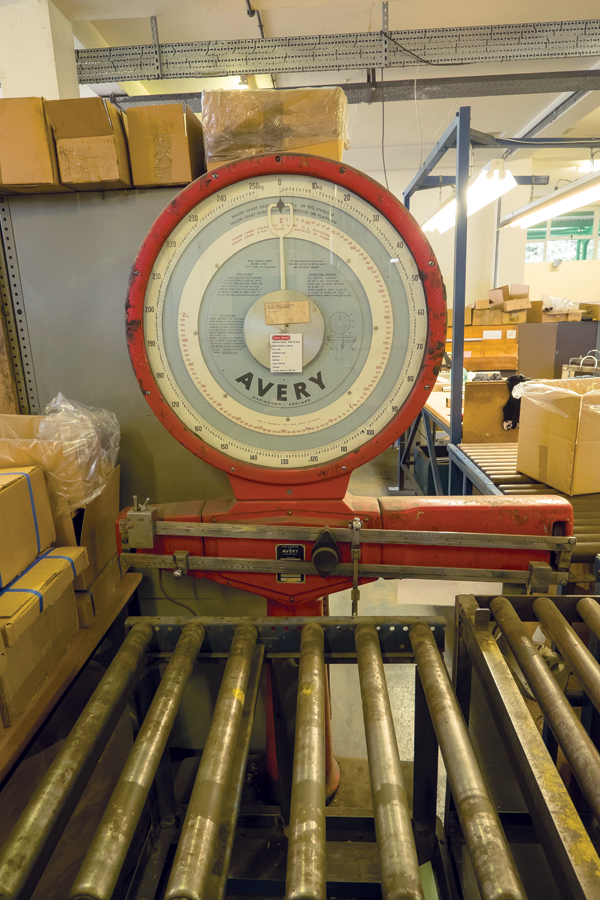 We have deliberately taken a partner in Taiwan for producing the Reynolds 520 chromoly butted tubes; 15 years ago we would have done this in the UK, but the costs are now so high that it makes more sense to produce in Taiwan.
ST: Does the steel you use come from anywhere in particular, or through commodity brokers?
KN: I think it would be fair to say that none of the materials we use here can be just bought off the shelf.
We have suppliers in the US, Germany, China and Taiwan. Chromoly is perhaps the easiest material to buy, but it's our lowest volume tubing.
ST: What happens once the raw material arrives in the factory?
KN: We buy what we call 'fat pipe' and then that pipe is thinned down, firstly by reducing the outer diameter. The tube thickness is reduced significantly, which is called 'cold working'.
What comes next is the butting, which is still based around the original 1898 patent. It's called 'drawn over a mandrel' – basically each butted tube is drawn one at a time over a specific die and mandrel to butt it.
We have to supply a kit of parts for each frame tubing set. Every tube goes through a different process; for example a seat stay may be butted and the tapered, some tubes are also heat-treated (by an external company based nearby).
With the new 953 stainless steel tubing, I counted around 48 different operations that a seat-stay goes through from raw material to output, which is why there is a long lead to sale time for some frame parts.
ST: What is the difference between the butting – such as double or triple butted?
KN: We have a controlled mandrel that basically controls the inner dimensions of the tube, and a 'donut' which is the die. So for example, say a 26.8mm tube – we would have a die that sets the outer diameter of the tube and we have shaped steel mandrel and we put the mandrel into the tube and its pushed through the die (cold working).
Many of our machines here were built back in the '60s, and are around four times more powerful than the modern machines that we can buy in Taiwan, which is why we can work with such hard steels as we do now, and why we can achieve such thin tubing walls compared to other manufacturers.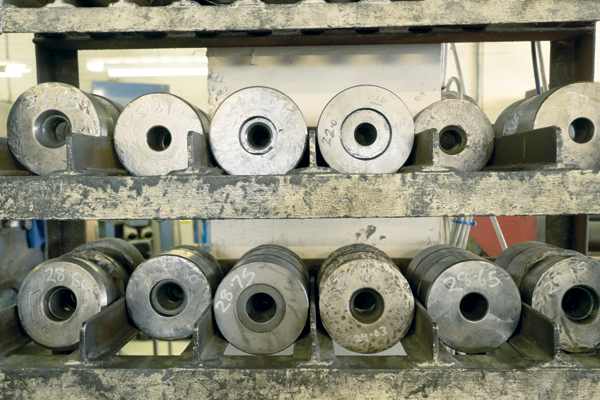 ST: Has the move away from custom frames to uniform, standard 'three sizes fit all' compact frames affected you a great deal?
KN: We used to sell pre-kits to custom builders, which allowed them to size tubes and change things to some extent, but around the late 90s, mainly because tig welding came in, it dramatically changed the options – and we stopped selling full kits at around that time.
At one time we even had a robot operating some machines as we were selling up to 1000 standard tube sets in a single run, but now its rare to do more than 200 of a specific tube in a single run.
ST: When a tube set goes out from the factory, is it different for a lugged frame as opposed to a tig-welded frame?
KN: Absolutely – it's down to the frame builder to choose the exact tubing for the build. A lugged frame would generally have longer butts to fit the lugs, but tube diameters and profiles can be selected individually. With tig welding, the choices available are even greater.
ST: How closely do you work with manufacturers, builders and athletes on product development?
KN: It's a continual loop. Although we're a relatively small company, we invest quite a bit in development and research.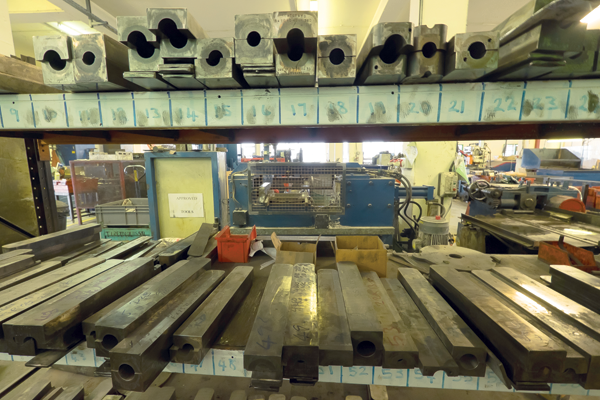 With some steel suppliers we've known of the quality of a product (like 953), but have had to work with them and third parties to find ways of making it into tubing, and then with builders on how to best work with the end product as it's a very hard material, and not easy to work with. Overall it's often the smaller and more proactive builders who work with us on these things.
This year we're working with the British based Madison-Genesis pro team, who are riding steel frames – made in Taiwan. At first they were concerned that the frames may not be stiff enough, so we worked with the designers to make a frame as stiff as a carbon frame.
Steel can actually be a very stiff material, and the first frames we built for them were too stiff, so based on feedback we were able to mix tubing to get it right.
ST: Steel has had something of a renaissance, how would you describe its characteristics compared to other materials – as a lot of riders out there have never actually ridden a quality steel bike?
KN: There is no doubt that there is fashion element to it – steel making a comeback that is. What I would say is to bear in mind that there are thousands of alloys available; for example 531 has been around for a long time, but current 531 has twice the strength that it once had, and 953 four times the strength of the original 531 – it depends on what people want it for.
The characteristics of materials now, and their properties are far more advanced that they were in, say, the 1960s – especially so in the last five years.
ST: Titanium has always been considered a difficult and expensive material to work with, where does it fit with Reynolds?
KN: It's still the case; because one very specific requirement of titanium welding is that you must weld with specific gas. Back in the 1970s a number of builders tried to move from steel tig welding to titanium welding and there were a number of failures.
There are a couple of main grades of titanium and we tend to work with these. A number of builders such as Moots and De Rosa have invested in the machinery and have the expertise to do it properly, but few elsewhere have moved into titanium building.
A good titanium frame can last a long time – but interestingly, if you look at some of the high-end steel alloys they are as strong – even stronger than titanium – and are easier to work with.
ST: A few years back you made a foray into carbon fibre forks.
KN: Yes, but not anymore. Back in the late '90s the American company that owned Reynolds had some keen cyclists working for them, and they basically converted golf shafts into the first Reynolds carbon forks.
They were very nice pieces of kit and that became a spin-off in the US, and they licensed them separately under the Reynolds brand. In around about 2000 the company was sold to a bigger company, they dropped the forks and started producing Reynolds wheels.
ST: Steel forks are having a slight resurgence, yet carbon still rules the roost – even on steel frames; what is your direction here?
KN: We have continued to make steel forks; they are heavier, but sales of steel forks of 953 and our high-end materials have increased in the past few years. It
seems that people are prepared to accept the weight penalty for consistency.
With the growing trend towards road disc brakes we've had to do a lot more development and stress testing too; they need to be able to handle a lot more stress that standard rim brakes.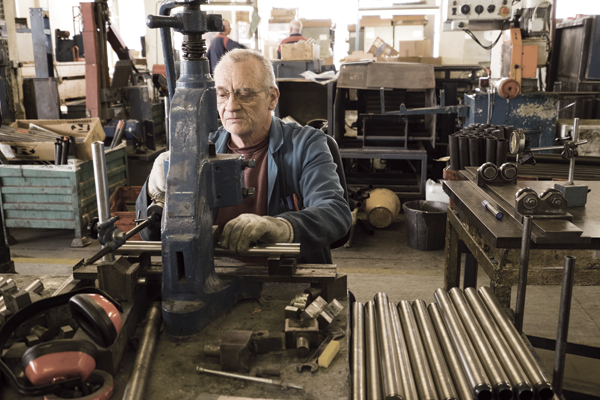 ST: What's new from Reynolds?
KN: There are a lot of new alloys around. The 853 and 631 were what you could call improvements in the technology of 531 and 753 – although we still produce them, and even now 531 is considered a good tube set and people buy it because it has stood the test of time.
What we call 'air-hardened steels', such as 631, allow for tig welding and very strong joints but also reduce weight and stand up to fatigue tests. They've been in our range for 20 years and I think will be around for a long time to come, but the disadvantage is that they can rust.
We've worked on stainless and carbon steels for some time now, like 953, which is not an easy alloy to work with. It can be cut with standard tooling, but it does wear it. This can be tig welded or fillet brazed and due to its strength to weight ratio it has thinner tubes – and at the moment it's our flagship tubing. Its ratios even exceed those of our top titanium alloys.
ST: Probably more Reynolds tubed bikes have won the Tour de France than any other (27 known), yet few teams choose steel, or even titanium these days – is there a competitive future for steel?
KN: What actually surprised me a lot was when aluminium first took over, many pro team managers actually wanted their riders using steel bikes for the Tour because of durability.
We are working with the Madison-Genesis team, and although the frame is heavier, a steel bike can still easily hit the UCI weight limit, and can easily be as rigid as carbon.
ST: Custom frames are a resurging thing, is that likely to continue?
KN: At one time many leading pro riders rode frames built by a custom builder, and branded by their bike sponsor. When bikes started being produced offshore the costs reduced dramatically – they were incredible value.
We had many frame builders complaining, and it was all down to bulk manufacturing. But what is an advantage is that companies like Reynolds and Columbus can offer frame builders huge custom flexibility, which you cannot do on a carbon rig, and people are starting to think, 'You know what, it's not a cheap option – but I do want something made for me…'
It's not necessarily racing – sportives, audax, that's where I think it will have a future, but the custom builders have to offer a good service and stay in business.