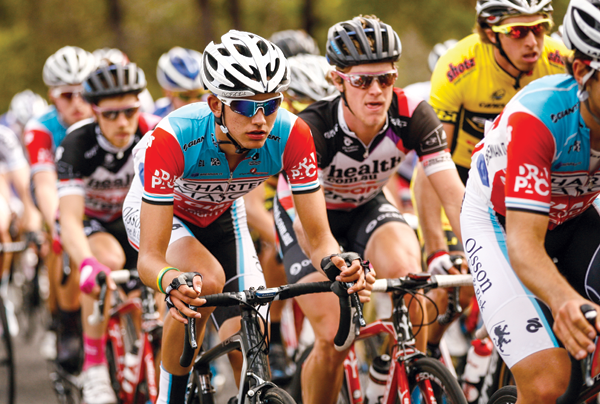 There's a saying sometimes used in elite sport 'if you're good enough you're old enough'. But in road cycling where professional careers can routinely run well into a rider's 30s or even 40s Peter Maniaty asks, what's the big hurry?
It's 6 April 2014 and life has rarely been better for Pretoria-born Keagan Girdlestone. He's standing on a podium beside Brodie Talbot and Wes Sulzberger having just secured third overall at the 2014 Jarvis Subaru Adelaide Tour. Not surprisingly the 1.86cm rider nicknamed 'antelope' is beaming widely as he looks out over the cream of Australian domestic cycling, most of whom are still trying to work out who the pimply faced kid from New Zealand with the South African accent is who just beat them. Within a week Girdlestone will be even more chuffed, signed by Leigh Parsons from the NRS squad Charter Mason Giant where he'll ride for the remainder of 2014. At the time he's still only sixteen.
For many, not least Girdlestone himself and his supporters back in Christchurch, his stellar performances on many of the same routes used in the Tour Down Under are cause for considerable pride and suggest exciting things may await the lad who was born on 30 April 1997 and makes little secret of his desire to ride on the UCI WorldTour. Yet for others, the very fact he was in Adelaide competing at all – and again at subsequent NRS events in Murwillumbah and Toowoomba – sets off alarm bells.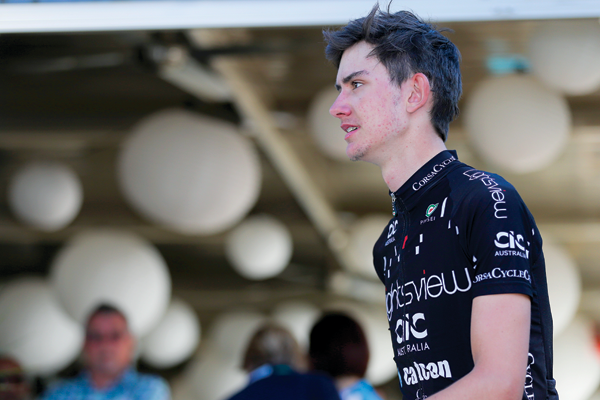 "What I think of straight away is 'duty of care'," says ex-European pro, director sportif and NRS Race Director, Scott Sunderland, still heavily involved in coaching from his base of Inverell in northern NSW. "It's not a question of whether a rider is good enough. Is it the right thing to do? They can be as mature as most 19 or 20 year olds. But as a rule of thumb we know most kids simply can't sustain it. That won't stop them from trying, but someone else needs to be thinking about it."
Fortunately for Girdlestone it seems his new boss, Leigh Parsons, is thinking about it – quite a lot, in fact. "The key with younger riders is working closely with their coaches and not demanding too much too early," says the owner of Charter Mason Giant, a squad that also boasts 2013 National U19 Criterium Champion, Dan Fitter. "We look to strike a balance between giving them opportunities to race at the top level and time to develop at their own pace."
One onlooker especially interested in how Parsons and his squad manage Girdlestone's burgeoning career is BikeNZ, New Zealand's national cycling body. "We have guidelines for youth that parents and coaches are made aware of," says Amy Taylor, Senior Manager, Education and Development at BikeNZ. "We're aware that one stage Keagan rode at the Adelaide Tour exceeded our guidelines (before he joined Charter Mason Giant). We know Keagan's coach and are aware he is working with Charter Mason Giant to ensure he doesn't do too much racing, and we will certainly be watching closely. There's a fine line in the youth categories between allowing a rider to experience more challenging racing and pushing them too far."
It's precisely this line that Nash Kent, Head Coach of the cycling program at the Western Sydney Academy of Sport, has to tread every day. An ex-NRS rider himself, Kent oversees a select group of the region's most promising juniors aged between 13 and 18 with a long-term eye to transitioning them into the elite NSW Institute of Sport (NSWIS) program headed by Brad McGee.
"The focus is far more on skills than volume of training," says Kent. "When we hand riders over to NSWIS they want smart kids who know about racing, know about their body, know about their bike and know how to ride with skill. What NSWIS doesn't want is for them to be worn out. No-one wants that."
This is where the line gets even finer, however. "It's always a balance though," Kent continues. "On one hand we need to keep a strong eye out for these kids and make sure they're not overtraining. But as they develop through their teens we also know we have to match that physical and skill growth with more intense competition in order to challenge them."
It's a position supported by Dr David Martin, Senior Sports Physiologist at the Australian Institute of Sport. Martin has worked with the cream of Australian cyclists since 1994 including Cadel Evans, Simon Gerrans and Anna Meares, and suggests the balance Nash Kent refers to has less to do with a rider's age than many people realise. "I don't think there's an inherent physiological frailty you have to be worried about because of age. It comes more down to if they're physically capable and socially ready for that elite high performance cycling environment."
"There are young athletes who are 16 and 17 years old with tremendous presence and maturity – I believe they're more than capable of letting their talent express itself on the elite stage," he says. "Conversely you can have older individuals in their mid 20s or even 30s who've lived very sheltered lives."
"I've studied the physiology of elite cyclists for 20 years and I don't know how I could ever justify that you need to wait until you're 25 – or that you shouldn't do it at 17. I don't any see evidence for that," Martin continues. "What I do see is evidence that the progression of load when it's consistent and gradual tends to be a lot more palatable. There can be a risk for younger riders who move too quickly from a load they're coping with to a massive load where they're competing against seasoned riders with very different training histories. Mind you, we're all susceptible to problems when we do a lot more this week than we did last week – at any age."
As anyone who's ever watched junior sports from the sidelines will vouch, youthful exuberance is far from the only obstacle to be navigated along the development pathway. Even where the riders are fully complicit with taking a longer-term approach to their progression, Nash Kent cautions that managing relationships with parents and other interested parties can be testing. "It's the most difficult thing about my role," he says without hesitation. "Generally the kids are wonderful to work with, a whole lot of fun. But sometimes parents can be tough. There are other people around too – their intentions are usually good – be it a club-mate, a fellow parent or just someone who's interested in the rider's career. Most of the time they're not qualified coaches, but they're still more than happy to express their opinions on what the rider should and shouldn't be doing. It's these people who sometimes make the parents and riders question things, which can create problems." Kent immediately apologises for possibly sounding arrogant, but firmly believes some things are best left to the experts. Even then it's clear not all junior development experts share the same views, however. One area of ongoing debate for example involves gearing restrictions.
Despite Keagan Girdlestone still being very much U19 at the Adelaide Tour and again in his first NRS outings for Charter Mason Giant at the Battle on the Border (where he finished fifth overall) and the Tour of Toowoomba, he was free to ride on unrestricted gears – something he not surprisingly chose to do. But some like Nash Kent are cautious of such decisions, regardless of a rider's apparent physical maturity. "There's a reason Under 16s, 17s and even 19s are meant to be on restricted gears," says Kent referring to the uniform roll-out distances stipulated by the governing bodies for junior age riders. "In reality it's not policed when they enter a senior event. But we recommend our riders keep to their restricted gears."
While unconvinced about their practical application, Dr David Martin readily admits restricted gears are a can of worms for coaches and administrators. "I've sat in lots of debates about this," he says. "For any given output there's less tension going through the patella and achilles tendons. The loading on the joints is less, so in that way there's a strong rationale behind restricted gears. It's like going into an all-you-can-eat buffet with someone young who hasn't eaten for a while and saying 'I'm going to give you a small plate and a small spoon'. If you give them a big plate and big spoon they're going to be really sick because at that age the tendency is always to overdo it."
"Mind you I don't think inherently if kids had access to bigger gears they'd all have knees that blow up, tendons that rupture or ITB problems – I think it would be more personality based," Martin adds. "Somewhere in the world there's probably a place with no gear restrictions on juniors. It would make an interesting case study."
"The same thing happens in many sports, though. Look at age group rugby. You can effectively have grown men tackling kids. Cycling's equivalent is gear restrictions. It's not based on how much power you can produce, or the growth plates in your bones and whether they're sealed or not, or the maturation of the muscular unit. It's purely based on age. Theoretically it makes sense, but you can poke holes all over it," he admits. "I'd be far more interested in the kind of gears and cadence/power relationships the kids are adopting as they develop. Again from a progressive load perspective you don't want dramatic changes. For example, one way to get a lot of pressure on the tendons is to go up a hill; as the cadence slows any power you produce creates more tension and torque. Some people are all over gear restrictions but do nothing to regulate the amount of climbing kids do – that can quadruple the amount of tension going through their tendons."
Are there potential legal implications for coaches who subject young riders to excessive loads that may lead to future problems, perhaps by training in bigger gears than they should, prescribing too much climbing or racing in overly-demanding events? "I haven't heard of it specifically," says Martin. "But if you take this line of thinking to American football, young players and their families have definitely sued coaches from a duty of care for allowing them or their son to return to play after suffering a concussion."
Continuing on the subject of duty of care Martin raises another concern he feels does warrant greater attention. "Cycling is by far the most dangerous sport I've ever been involved with. Since I've been with the AIS five riders have died, while two others are now paraplegics – all hit by cars while training," he says. "While yes there is a risk with juniors riding on unrestricted gears, what about which times of day and roads are acceptable for our young athletes to be training on? These are risk factors that can result in death. That's a real duty of care. Something we're also starting to do with our young female cyclists at the AIS is crash proofing. We bring in judo coaches to teach them how to fall from their bikes. They're also learning how to jump kerbs and bunny hop safely so their bike skills are up to scratch in aggressive pelotons."
Whether due to a lack of depth at Australia's top domestic level or the sheer talent of emerging young athletes, it's undeniable there are junior age riders like Girdlestone and NSW 16-year-old Anna-Leeza Hull (who became the youngest ever female to podium in an NRS stage at the 2014 Mersey Valley Tour in Tasmania; a result she repeated on Stage One at the Battle on the Border on her way to claiming third overall, just 1'05" behind overall winner, Tessa Farby) who posses the raw attributes to more than match it with the best elite riders in the land. Question is, should they be allowed to?
Given he was Race Director for several NRS events in 2013, I asked Scott Sunderland if he believes top juniors like Girdlestone should be eligible to race in events such as the 256km Melbourne to Warrnambool Classic or 228km Grafton to Inverell Classic if their form and training warrant it. "Well as a Race Director I wouldn't allow it that's for sure," he says with a wary shake of his head. "There are too many issues with U19s in this country already."
Posed the same question Nash Kent pauses thoughtfully before agreeing. "Yeah, I'd probably get someone like him (Girdlestone) to wait a couple of years."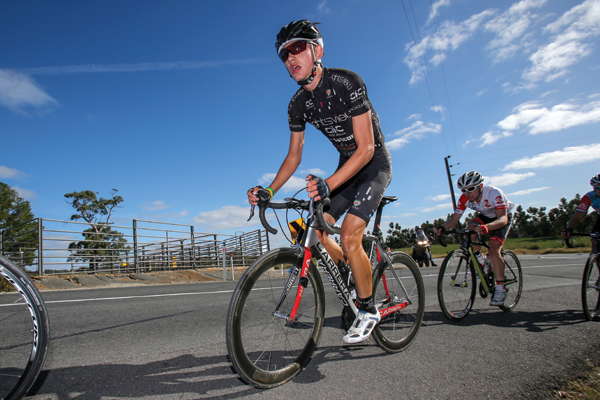 Dr David Martin is somewhat less concerned but again suggests it's more a question of the individual athlete and their training loads in the lead-up to an event. "There are two ways for a coach to handle these situations. For example, if a rider isn't ready you might say 'look we probably can't progress your training volume to a point where you can strike on that distance; by the time we get up to 150km you're usually cracking or not able to take on board the energy or getting saddle sores or your hands are going numb, we just don't think you can handle that distance yet – you're too far away'. But if the longer rides have been built up progressively good coaches will say 'you've been testing the waters, I think we're ready to put you in this race because we're getting indications you can not only cover the distance but also have a bit of fun'."
Martin then says something that appears to fly in the face of elite sport. "The other thing to think about is success is addictive," he says. "Our brains are not designed to handle things like heroin or cocaine, for example, so we get easily addicted and they can wreck us. Fame and success can also be terribly brutal. The really good coaches are asking 'where and when do I want this athlete to have success?'. Do you really want a young rider to win a big race so early in their career? It can spin right out of control and be very difficult to manage."
The situation is far from black and white. But if a team does want to enter a talented youngster into one of Australia's most gruelling races who should make the final call? The coach? The parents? The sporting director? The race director? "It should probably be one rule for everyone from Cycling Australia," suggests Nash Kent acknowledging ambiguity in the current system. "It's tricky, though. Take someone like Girdlestone; it sounds like he could almost podium in one of those races now. But you want guys like him to reach their full potential. Perhaps the solution is, yes, let them race against riders who are older and stronger – but maybe just the shorter races, or cap it at a couple of days."
Regardless of the event in question, Leigh Parsons from Charter Mason Giant assures his squad would never force any of its riders to race against the advice of their coach. "Andrew Cooper, the team's Sporting Director, makes the final decision on our race rosters. But we're never going to dictate to a 16-year-old what they should be doing," he says. "Keagan has to work with his coach (his father Wayne Girdlestone, a Level 2 Certified Cycling Coach); he knows him best in terms of his capacity and his training load. We'll always say to Wayne, 'You tell us what you want him to do and what you think he's capable of doing'."
Dr David Martin agrees it should be the coach's call. However he offers a general caution. "What you're hoping for are coaches who are more interested in the excitement and challenges of pursuing excellence than they are about winning. If all it is about is winning it can get abusive because the athletes become a commodity; little machines you can pop into events and win stuff to help the coach feel like a superstar. These coaches race them when they're sick. They race them when they're emotionally unstable. Young people are particularly susceptible to deception and abuse like that because they're so inexperienced," warns Martin.
The consequences of such situations can be severe. Nash Kent admits to seeing many cases during his own career; shooting stars who burn brightly for a while only to fizzle into obscurity. The result is almost always the same. "Cycling loses them to another sport," Kent laments. "Or another activity – sometimes even nothing at all. It has to remain fun. You have to remember they're only kids."
Scott Sunderland, whose own elite career began at 19 and progressed gradually taking him from Australia to the USA, Switzerland and eventually Belgium, has seen it too – and still does. "I know of some 16- and 15-year-olds right now, there's no way they should be doing the training they're doing," he says. "It's one of the reasons there's such a big fallout from the Under 17s – a lot of them are just exhausted. They can't cope with the physical demands of the training, plus school, plus the pressure that's placed upon them by others and their own expectations. If we don't look after these kids we won't have them anymore."
Sunderland also wonders about the potential for long-term problems, highlighting the recent case of 28-year old Will Walker who, after a series of health scares, was forced into retirement after suffering a form of heart arrhythmia during the 2014 National Championships in Ballarat. "Say down the track a young rider develops a major health problem like Will Walker," says Sunderland. "Will has openly said he questions the amount of hard racing he did at a young age and whether his heart problems may be connected to that. You have this case right now, it's so current, yet they're still allowing it."
In a 2013 interview with Velonation.com, Walker – who at 19 won silver in the 2005 U23 World Championships before riding the 2006 Vuelta Espana and 2007 Giro d'Italia for Rabobank – conceded his early workload was extremely arduous. "I did two Grand Tours by the time I was 21 and that was pretty much it," he said. "My body just didn't go any more. I couldn't push. I had the heart problem. I had mononucleosis. I had Bell's palsy. I was pretty much a wasted man at 21."
Now clearly even the harshest of NRS races bears little resemblance to a three-week Grand Tour. But it's still a significant step up from racing at Under 17 and 19 level for young bodies and minds still maturing into their adult selves.
Looking beyond the potential for burnout and other health concerns there are yet other arguments for letting kids be kids. "Young riders need to race against their own age," says Scott Sunderland, worried about the impact of being little more than NRS pack fodder. "They need to learn how to win races and that's unlikely to happen if they're rushed into senior racing; there's a risk they'll just get their heads kicked in over the course of the season and become demoralised."
Dr David Martin concurs. "From an overall career trajectory if you're getting pummelled all the time you're probably just going to give up," he says. But Martin does point to another side of the story, suggesting learning how to lose for a rider who routinely blitzes their age-based rivals can be just as valuable. "If they're winning all the time, getting fluky wins as well as deserved wins, it's going to be a lot harder to deal with the losses and frustrations. That's why a good coach will sometimes put kids in races to let them know that they're not the best, so they stay hungry and have admiration for those who are better than them."
"The one thing Simon Gerrans and especially Cadel Evans had in the early days were a lot of losses," Martin reminds us. "Not devastating losses, but look how many seconds and thirds Cadel had. He was so lucky having people around who were just that bit better. Lucky, lucky him!"
Martin then says something that once again throws me for a moment, even if he does have one eye fixed firmly on the 2016 Rio Olympics. "You know, I hope so badly at the Commonwealth Games in Scotland our cyclists get a lot of seconds, thirds or even fourths – just missing out on medals. In the lead up to London they won everything and it was really hard to manage. You need that Big Brother Syndrome to keep you aspiring."
Cycling isn't alone in wrestling with talented juniors taking on ever-greater challenges. Western society has long been obsessed with youth and the redefining of age-based boundaries. But perhaps with the exception of the entertainment industry few spheres in life see it more overtly than elite sports.
Football teams clamour to sign prodigious seven- and eight-year-olds, often on other sides of the planet (three-time FIFA Ballon d'Or winner Lionel Messi was something of a late starter, he was already 11 when he joined FC Barcelona). Swimmers and divers are literally thrown in the deep end in the pursuit of glory; lest we forget Ian Thorpe won the first of his eleven World Championships when just 15. The world's finest gymnasts are routinely washed up by the time they're old enough to vote. While as recently as May of this year an 11-year-old golfing prodigy, Lucy Li, qualified to play in the US Women's Open. (Somewhat remarkably Li is only the second youngest player in the tournament's history; Beverly Klass was just ten when she teed off in the 1967 Open.)
Some young athletes are able to cope and even thrive under the requisite loads and pressures. But history shows many can't. As Dr David Martin suggests the critical onus is therefore on coaches to be able to identify which individual athletes are which and map out appropriate pathways accordingly.
Look at Simon Gerrans and Cadel Evans, arguably Australia's most accomplished road cyclists of all time. While their roads to the top were very different, both have achieved their greatest successes well into their fourth decade. Professional cycling, like life itself, is often about playing the long game. What's the big hurry?