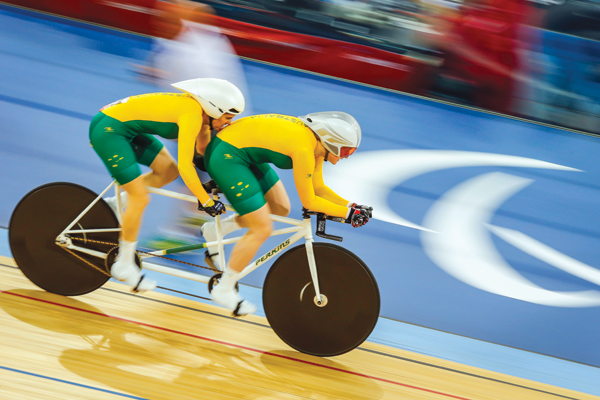 Each year a small but select group of elite track cyclists park their solo ambitions to achieve something very special alongside someone who, quite literally, couldn't do it without them. Peter Maniaty recently spoke with South Australia's Steph Morton to explore the inspirational role and motivations of a sighted pilot in a Paralympic track tandem.
Track cyclists don't come much more able bodied than South Australia's Stephanie Morton OAM. Fresh from two Top 10 placings alongside Anna Meares, Kristina Vogel and Co at the 2014 World Championships in Cali, Columbia, and with one eye firmly on the 2016 Olympic Games in Rio, this 23-year old sprinter is fast. Very fast. Australia's reigning National Champion in the keirin, Morton's star is already on an impressive trajectory. But what makes her arrival on the international scene far more remarkable is the unconventional path she's ridden to reach this point in her burgeoning career. Until two years ago she was the gold medal winning and world record setting pilot of a track tandem with veteran Australian Paralympic stoker, Felicity 'Flick' Johnson.
For reasons obvious enough, few able-bodied athletes grow up dreaming of Paralympic glory. But when the invitation came unexpectedly two years out from the 2012 London Paralympic Games to unite with the vision-impaired Johnson, 19-year old Morton, still an emerging state representative yet to achieve national honours, was both flattered and excited by one of elite cycling's most unique challenges. The experience that followed would change her life, and riding career, forever.
"Flick and her previous pilot, Katie Parker, were already part of the South Australian track squad," remembers Morton fondly. "They often trained with me and the other sprinters in Adelaide, so we did know each other. Katie wanted to start a family and I was approached by the head coach of the Para-cycling track program to take her place."
"I think they were probably looking at everyone to be honest," continues Morton with an endearing humility. "Pilots are really hard to find. Everyone is focusing on their single bike career, so even though there's plenty of talent out there, it's about finding someone who's willing to give up two or more years of their own career to help someone else."
Two years. It's a significant commitment for any young athlete still trying to break into the elite ranks of their chosen sport. But it was one Morton was ready to make. "In a lot of ways it really was the perfect opportunity," she says. "At that stage I was only riding at State level. It was exciting to be asked and once I put it into perspective, it may have sounded like a lot – but when you're only 18 or 19 it's not much in the grand scheme of things. Two years out of my whole career, which could be ten years or more, is nothing."
Decision made, it was time to hit the boards on the tandem – something Morton admits to having somewhat mixed emotions about initially. "I was nervous but also excited," she says of that first day. "It was real baby steps, but Flick was absolutely great, she was so calm. She just said 'look we'll start down the bottom, work our way up to the top to get you comfortable, then we'll come back down'."
"She had so much confidence in me which gave me real confidence within myself," says Morton of her then-new riding partner, nearly 20 years her senior. "A tandem isn't like riding a single bike, but we hopped on and worked really well almost immediately. Things just clicked which was very lucky. We both thought 'yeah, let's give this a shot'."
As the duo's confidence continued to grow, their lap times continued to fall. But it wasn't until Johnson and Morton's first competitive race that eyes really started to open, shining a bright light on their untapped potential.
"Until then we'd really only been training and learning," remembers Morton. "But you always manage to push yourself harder on race day. I can't remember if we were just off or we did just break the Australian Record, but it was like 'Oh wow, and this was only our first shot. What can we do with a bit more time together?' (In the next two years) we ended up breaking the World Record, Australian Record, Paralympic Record, Oceania Record – so something was clearly working!"
"For a while I kept dabbling with my single bike as well as riding the tandem. But the closer we got to London that became my total focus. I actually missed Nationals in 2012 for the single bike because if we lost on the day in London I wanted to know I'd done everything I could – no excuses," she says. "Obviously it worked out in the end. The way I saw it missing one Nationals was no big deal, there are plenty more."
As someone who's now competed in both disciplines at the highest level, how would Morton describe the differences between riding tandem and single track?
"They're different," explains Morton. "But they're also the same in a lot of ways. You've got roughly double the weight so the g-forces on the bends are stronger. It also takes a lot more time to get going. When we're doing a flying 200m for example, on a single bike you get three laps. I think we got six laps on the tandem. I'd compare it to going from a Smart Car to a monster truck. The car is small and zippy. But with a monster truck, you've got to get it moving. It was great fun though and I loved it for what it was. Some of the speeds you get up to – 65km/h plus at times – it's pretty cool. They're all steel bikes too. Carbon frames would probably just snap in two!"
Given the unique team dynamic between a sighted pilot and vision-impaired stoker, one thing Morton often gets asked about is communication between the riders during races and even training sessions. She suggests her relationship with Johnson was far more intuitive than most people realise.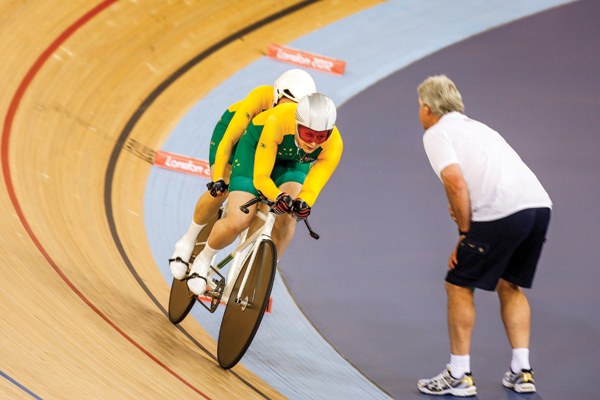 "The event we did in London was the 1km time trial. That's four laps flat out. There aren't really any tactics or communication, you just go as hard as you can!" she says.
"With Flick I found I didn't actually need to talk much at all. As the pilot she just followed my lead. She could feel when I was moving up out of the saddle, or when I was back pedalling she knew we were going around someone or coming off the track. She was just so in tune with what I was doing we didn't need to verbalise things."
Whilst silence clearly worked for Morton and Johnson on the boards, being heard is something many disabled athletes and sporting associations continue to wrestle with in a cluttered landscape where sponsorship dollars and column centimetres are often hard to come by. Not surprisingly, Morton's experiences have left her in little doubt to the considerable value such sports offer – not just to disabled athletes and their families but also governments, communities and businesses. As she speaks it's hard not be swept up by her heartfelt admiration for the athletes she trained and competed alongside for two inspiring years.
"There are athletes who have lost arms, legs or maybe their sight due to cancer or other accidents and illnesses. How they turn these things around, make them a positive and represent their country, it's amazing – totally inspirational," she enthuses. "Sometimes they can't do little things like tie their own shoelaces but they can get on a track bike and fly around the velodrome and break world records. I just think, 'wow, you're awesome!'"
As for those who question whether able-bodied athletes deserve to be recognised with Paralympic medals when they triumph as Morton did in London:
"Well you have to train just as hard as the disabled athletes, and able-bodied athletes for that matter," she says without hesitation. "The runners are in the same boat; vision-impaired athletes who run with a guide via a tether. If I wasn't training hard enough or I was being lazy, the bike's not going to go as quick and we're not going to win. It's not like we were the only team with a sighted pilot either. Everyone has a vision impaired athlete and a sighted pilot. I know Flick would have been absolutely devastated if I didn't receive one (a gold medal in London). Vision impaired athletes can't ride by themselves. It's like a little thank you from the stokers as well, which is really nice. It's cool that you get a medal."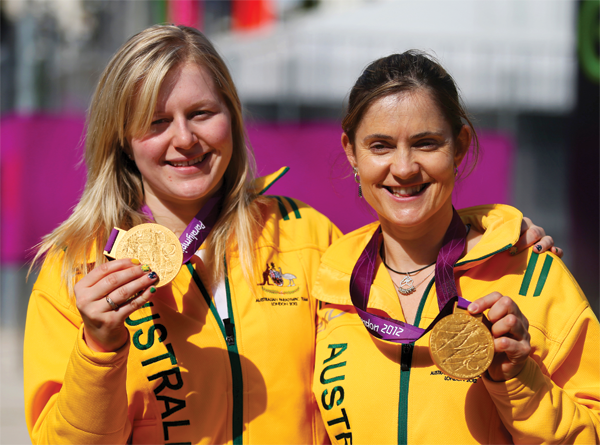 Arguably even cooler was being awarded the Order of Australia Medal on Australia Day earlier this year, alongside Johnson. "It was just the icing on the icing on the icing of the cake," says Morton, very much aware how unusual it is to receive such an honour at such a young age. "To share that with someone and know we did it together, I think it's always that extra bit special. Just knowing all those cold mornings and rainy days paid off. We won a gold medal and got an OAM. You stand there with your jaw dropped, 'wow, are you kidding me?'"
Australia Day honours are one thing. But Morton is the first to acknowledge a bulging trophy cabinet of medals, records and accolades isn't the only benefit she's enjoyed from her Paralympic sojourn. "The whole experience was just so positive," she says, suggesting she wouldn't hesitate to recommend other young riders follow a similar path if the opportunity was to arise.
"It was such a different experience to riding a single bike or even being in a single bike able-bodied team. You come across the most amazing people, mingling and talking to athletes and coaches from other countries, it's the whole life experience – not just what it gave me on the bike, but off the bike too, the appreciation for life."
As was always the plan following London, Morton returned to her single bike career in late 2012. With multiple National Titles already under her belt since, she has no doubt her time in tandem with Johnson made her a more complete rider.
"I was more prepared for riding in front of lots of people," she says. "Riding with the expectation that comes with representing your country. It prepared me mentally because (unlike a lot of young riders) I was already used to a lot of the things that happen. It was just so many things – all positive."
It may have always been on the cards. But given Morton and Johnson enjoyed a 24-month run of such unprecedented international success, was it difficult to leave the pairing when the time actually came after London?
"Pilots don't grow on trees. But being so young everyone knew from the start I was only in it until London. It certainly wasn't 'oh, you've betrayed us' or anything like that," says Morton. "I had to give it a shot on my single bike. If I'd stayed in the Para-cycling program after 2012 I'd have always wondered 'what if?'"
While Morton resumed her solo sprint career and is now a key member of the elite AIS system based in Adelaide, she remains in contact with Johnson and other riders within the Para-cycling track program, something she clearly enjoys.
"It's been great to have someone like Flick to talk to," says Morton. "An elite athlete who knows what it's like and knows what the pressures are – we no longer ride together but it's still such an asset having her."
"I've actually raced against Flick's new pilot a bit too," she continues, referring to fellow South Australian sprinter Holly Takos. "It's cool to be able to sit down and share my experiences. Hopefully they can beat our records. It's getting really competitive and it's great more people are now realising these guys train just as hard and put their life on hold just as much as anyone else."
Like the bulk of Australia's elite track cyclists, Morton's next major target is the 2014 Commonwealth Games in Glasgow. Assuming she can get through the selection trials – something she readily admits is far from a given – then it's full steam towards the 2015 World Championships and, hopefully, the 2016 Rio Olympic Games.
"We have so many girls coming through, it's going to be a tough slog, definitely not a walk in the park. I just need to keep doing what I'm doing and hopefully that will get me across the line," she says.
With Anna Meares showing no sign of slowing down before Brazil, plus the return of former world champion Kaarle McCulloch and the emergence of an exciting new generation of female sprinters, Morton is well aware she'll need to call upon every watt of her considerable power and rapidly-growing experience just make the Australian team, let alone medal.
"Sprint cycling has taken a massive leap in the last few years," she says. "It's exactly what you need to make the sport better – depth and a really competitive training environment."
It's already been a quite a ride for the South Australian flyer. With the commissaire's bell unlikely to ring on her career any time soon, Morton has plenty of laps left to achieve even more. If she does make it all the way to Rio, it's a fair bet her old teammate Johnson will be one of the first to congratulate her.
"Yeah, for sure," smiles Morton. "She's definitely one of my biggest fans."
So are we, Steph. So are we.