The ultra-endurance cycling community is again in mourning after the tragic death of a competitor just hours into the 2017 Transcontinental Race.
Race organisers announced the grim news on Saturday afternoon (Central European Time), saying competitor Frank Simons had lost his life after being struck by a car. The incident occurred in the south of Belgium at around 3am, just 5 hours into the race.
It's the third fatality in as many consecutive ultra-endurance races this year – the first being Mike Hall who was killed in the Indian Pacific Wheel Race, Eric Fishbein, who lost his life when hit by a car during the Trans Am Bike Race, and now Frank Simons in the Transcontinental Race.
We spoke with Sydney-based race participant Mike Israel and started by asking how he heard the news.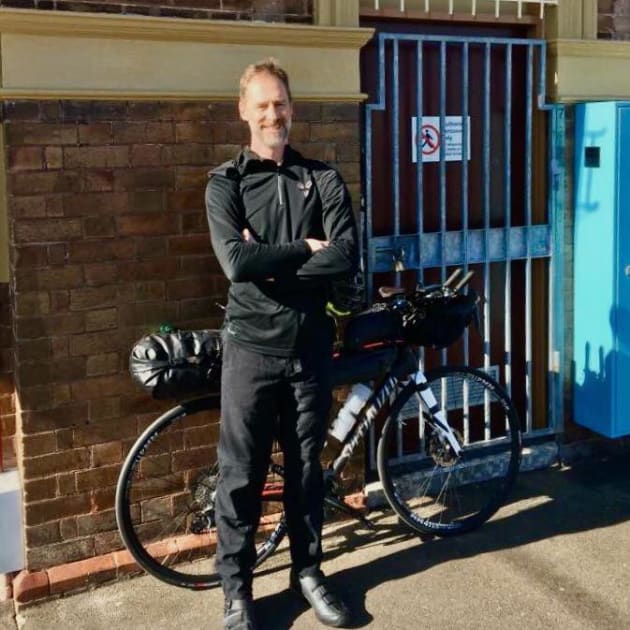 Bicycling Australia: Just hours in, the race has been marred by the tragic death of a competitor. How did you hear about this and how has it affected you?
Mike Israel: I heard from a cycling mate in Canberra. He messaged this afternoon while I was riding. I couldn't believe it on the first day. It's just shocking – I feel numb and at risk. I feel like I've got a 1 in 300 chance of dying while doing this race, maybe 2 in 300 – not great odds. Even over here (in Germany) drivers don't always seem to see cyclists as humans. I've been riding as many cycle paths as I can but some of those are more dangerous than the road.
BA: Race organisers say they completely understand if riders want to pull out, I assume you are determined to follow your dream and reach the finish?
MI: At this stage yes. We all know the risks only too well. Maybe we think it won't happen to us. Maybe there's just too much invested to pull out. The challenge is still there – it's risk and reward. The rewards are huge but so is the risk of something going wrong. We can't give up but we need to keep finding ways to make it safer as well.
BA: How does it feel to be finally underway?
MI: It feels bloody unreal. It's been so long in the making and has completely taken over my life for the last six months. Planning, training, gear testing and preparation – today was just mind blowing.
BA: Can you tell us about your bike?
MI: My bike is a 2016 Specialized Roubaix with Ultegra mechanical. It features an SP dynamo hub, DT240 rear, DT rims, 4iiii power meter, Burra burra bag set and a K-Lite light and charging kit. I'm running 28mm tyres and feel I've got too much gear weighing me down – I'm carrying over 20kg!
BA: How many kilometres a day are your planning to cover?
MI: My plan is an average of around 260km per day in order to make the finishers party on August 12. I think that's conservative – I may be able to finish faster but I want to enjoy it too … and today broke me after covering 307km in 30-degreee heat.
BA: How can we follow your progress?
MI: I'm cap 122 so I'm on http://trackleaders.com/transconrace17f.php I am also raising funds for juvenile diabetes via the Go Fund Me page – every cent goes towards juvenile diabetes, less the admin fee. Finally, all messages of encouragement on Facebook are greatly appreciated.
BA: Mike Israel, we wish you a safe ride.
MI: Thank you to all readers for their support – now I'd better get some sleep.
The Transcontinental Race
The Transcontinental Race was founded in 2013 by the late Mike Hall. It is a completely self-supported, checkpoint-based race that covers 4000km from Flanders to Greece. The lead riders are expected to cover the arduous and challenging route in around 10 days.
Late today organisers said they had received confirmation of the fatal road traffic collision involving Frank Simons, rider number 172.
"It is the saddest and most shocking news and our thoughts are immediately with Frank's family," organisers said in a statement.
"It is important to us that we respect the wishes of Frank and his family. Frank was an Audax rider, and had applied to race in TCRNo4. We understand from Frank's wife that he would have wanted the race to continue and that everyone racing be able to continue their adventure on the TCRNo5."
"In honour and respect of what we understand to be Frank's wishes, we currently feel it is appropriate that the TCRNo5 organisation continue to provide the race infrastructure as before, allowing the riders discretion in deciding their own course of action."
Bicycling Australia extend our heartfelt sympathy to Frank Simons' family, event organisers and Transcontinental participants.
Feature Image: Transcontinental rider Rory McCarron pays tribute to Frank Simons who was tragically killed on Saturday. Image: TCR / Facebook.