Rohan Dennis is the hot favourite to win the Eneco Tour that wraps up in Belgium later today – the Aussie and his BMC Racing Team successfully defending his overall lead overnight.
Dennis completed Stage 6 with a 16-second lead over fellow BMC rider Taylor Phinney and 24 seconds over Tony Martin of Etixx-QuickStep. During the day all eyes were on former race leader Peter Sagan. He rode a relatively sedate stage to place 45th and remain 4th overall, some 27 seconds behind the leader.
22-year-old Luka Pibernik of Lampre-Merida won the stage. He was part of a small breakaway group that just managed to beat the peloton to the line after the 197km stage.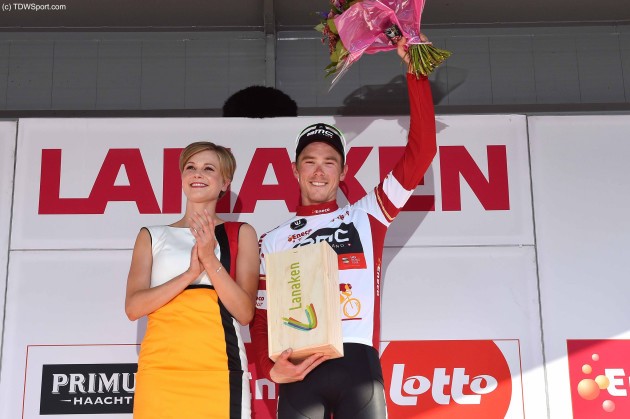 With a fantastic display of teamwork, the BMC riders did all they could to cover attacks and help defend Dennis's overall lead. Proud of their efforts, the Aussie praised the team and said he was feeling confident going into the final day.
"It worked out perfectly for us. My biggest competitor Peter Sagan didn't get any time so that was I think a perfect day for us," he said.
"I'm confident for tomorrow because our team is very strong. Today you saw that no one wanted to help us at all. Tinkoff did a little bit of work but everyone was against us but we stood up and I couldn't fault my teammates, they were exceptional today."
https://youtu.be/aY1-CNMWdhg
Tonight's final stage of the race will be a viewing spectacle for fans, as the peloton traverse such legendary climbs as the Hurdumont, the cobbled Denderoordberg and famed Rosberg.
With the finish line halfway up the Wall of Geraardsbergen, Rohan Dennis said will be a thrilling stage.
"I think the weather is going to turn a little bit tomorrow, and anything can happen on wet cobbles," Dennis continued.
"My legs are good, the team is good and it's just luck that will be on our side. If we repeat what we did today, tomorrow then it will be perfect. Today we showed that we have the team to control it and look it would have been great to have someone else helping but maybe tomorrow someone will be more willing to help out and go for a sprint or they'll want to try something on the Murr. So it might end up working out that we don't have to do so much and we can save it for the finish."
"It would be great if Greg Van Avermaet could win the stage tomorrow like he did in 2014 and if that's the case then I'll be right behind him because the team will be leading him out. For the GC it's obviously 100% for me now but going for the stage with Greg would help me out anyway."
Tonight's final stage will be on Eurosport as well as webcast via www.cyclingfans.com from 11pm AEST.