Rohan Dennis has retained the elite men's time trial title beating 2012 & 2013 winner Luke Durbridge at the MARS Cycling Australia Road National Championships in Buninyong.
Dennis, who rides alongside Richie Porte at BMC Racing, covered the 40.9km course in just under 51 minutes, close to a minute quicker than Orica-Scott rider Durbridge. New South Wales rider Ben Dyball finished 3rd.
Dennis said he was nervous before and during the race, knowing the quality of the competition and depth of the field.
"I knew I had an advantage with the aerodynamics into the head wind but you still don't know how your going to come back into the last ten kilometres if your going to absolutely blow," he told Cycling Australia.
Katrin Garfoot Victorious … Again
In other racing Katrin Garfoot remains National Women's Time Trial Champion winning her second event in a row. Riding the sizzling time of 43m 5 seconds the Queenslander finished close to 2 minutes ahead of Shara Gillow with Kate Perry taking home the bronze.
Garfoot said she pushed hard from the start of the ride and knew she would pay for it in the end.
"As soon as I saw Shara and I knew I'd catch her, I settled down a little bit and realised I had her," she said. "I knew mentally that would give me an advantage. I definitely left it all out there."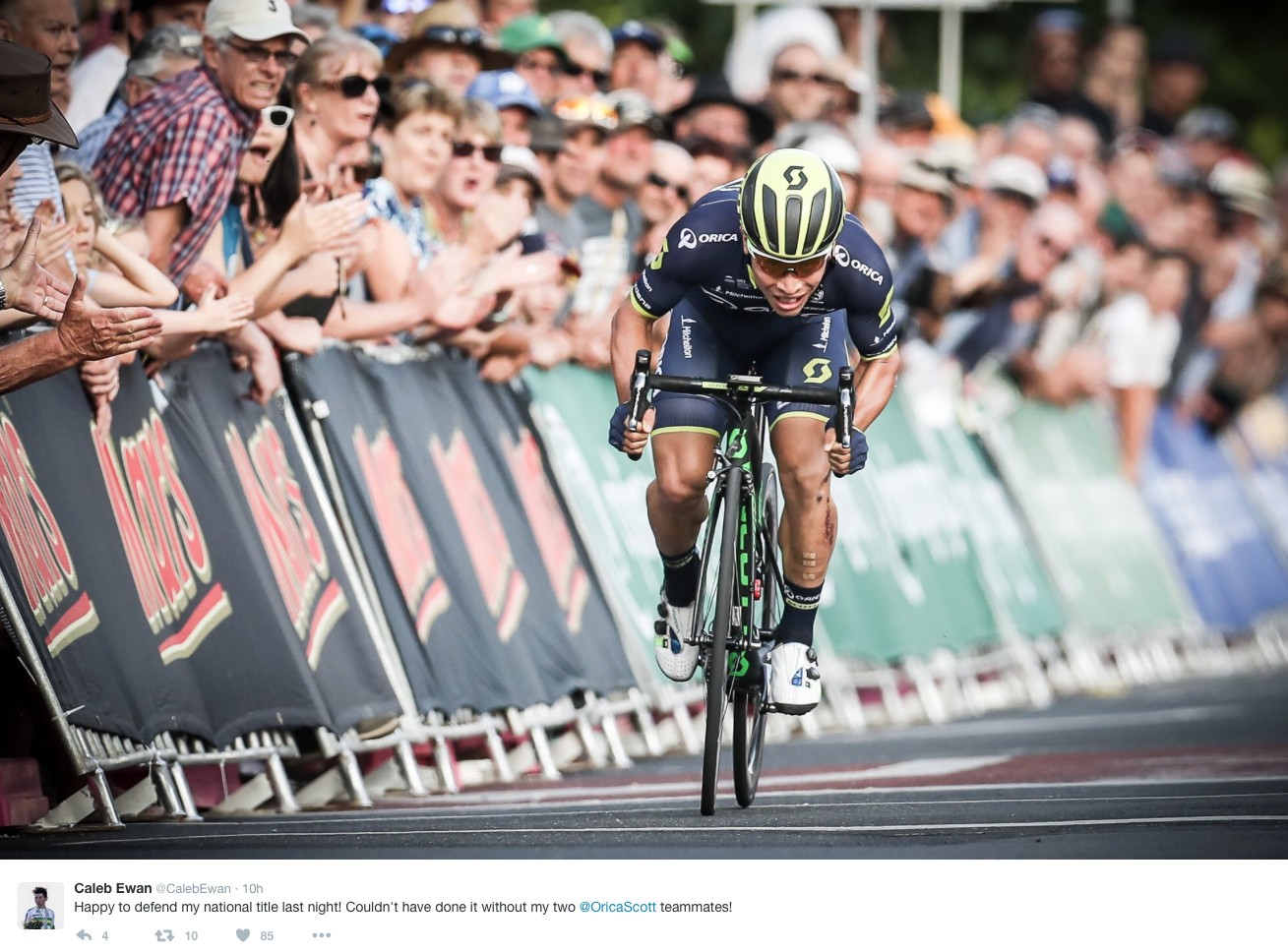 In other Nationals action Caleb Ewan blitzed the field to be crowned 2017 National Criterium Champion in a thrilling race through the streets of Ballarat on Wednesday evening. It was Ewan's second win in successive years.
With a 20 second gap between the break and bunch, and Ewan sitting deep in the field, it was edge-of-seat racing but not until the final lap that the real fireworks began.
"I think when I got boxed off the wheel in the last corner, I didn't panic too much," said Ewan.
"If I didn't have the confidence I think I would have panicked and waited too late for my sprint. I think I came in here probably as the favourite, probably a pretty close favourite as a lot of the guys have been sprinting really well," said Ewan after the race.
In the women's criterium event Jessica Allen's fantastic run of form continued as she stormed home to win solo. It was Allen's second big win of the year, also securing Stage 3 of the Mitchelton Bay Cycling Classic on Tuesday.
The National Championships continue with the premier events, the men's & women's road races, scheduled for Saturday and Sunday.