He's the biggest cycling star of a generation and for the past week Peter Sagan has taken Sydney by storm.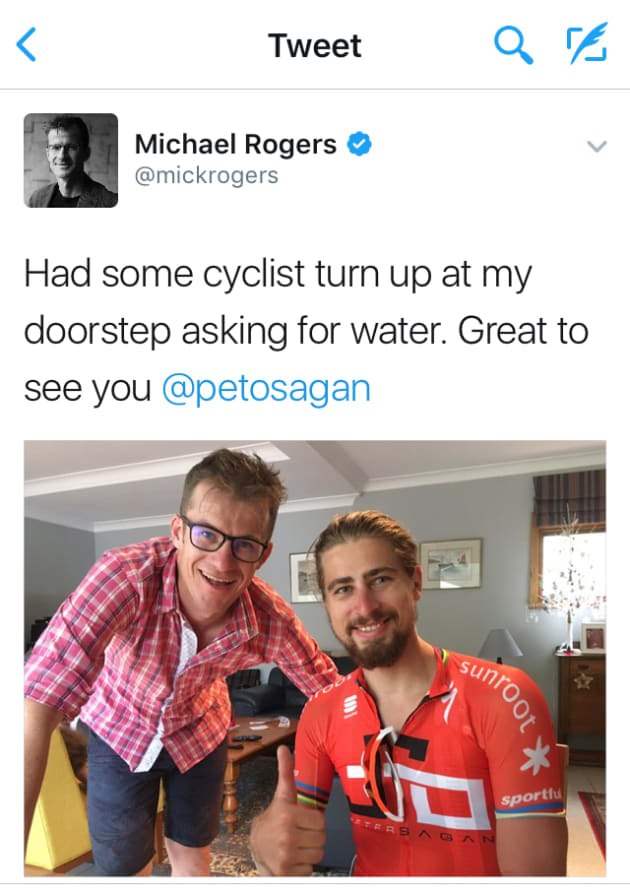 Arriving in Australia almost three weeks out from the Tour Down Under, Peter Sagan was spotted on the roads of Sydney a short time later.
Last Thursday was just like any day. Getting an early start I uploaded an article to this website about dual World Champion (and my ultimate cycling hero) Peter Sagan, who had just arrived in Adelaide for the Tour Down Under. Later in the day, around 2pm, when driving home in the Bicycling Australia TeamCar, I was held up by typical school holiday traffic, near Avalon, north of Sydney.
Chance Encounter With The Main Man
Waiting to move forward I saw a cyclist riding south on my local Barrenjoey Rd.
"That's strange," I thought. "Who'd be riding at this time of day and in this traffic?."
Without even seeing his face the identity of that rider soon became obvious. His legs, his physique, the way he sat on a bike.
"No way – it cant be," I though as I yelled out the window at the surprised looking rider in red.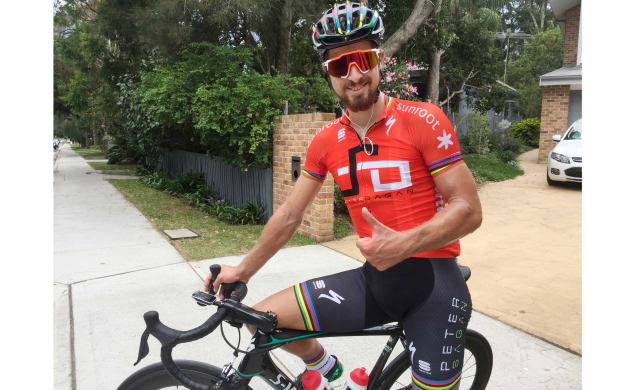 Pulling over and for some reason stopping on the footpath, Sagan waited as I turned the car around and drove back.
Pulling up on the pavement, stepping out and greeting the World Champion, I simply could not believe he was casually riding along my home road.
"Hello," he said. "How are you?" with an outstretched arm.
Expressing utter shock and disbelief, I shook his hand and asked how the ride had been.
"Not too bad but crazy traffic," he said. It's nice and warm – good training ride," he said glancing at his Garmin that displayed 122km & 4hrs.
We chatted for a couple of minutes, he spoke fondly of the Tour Down Under, the season ahead and of riding with teammate and TDU stage winner Jay McCarthy. I asked Peter for a brief roadside interview. He was politely reluctant and without management or team approval, preferred to keep it casual.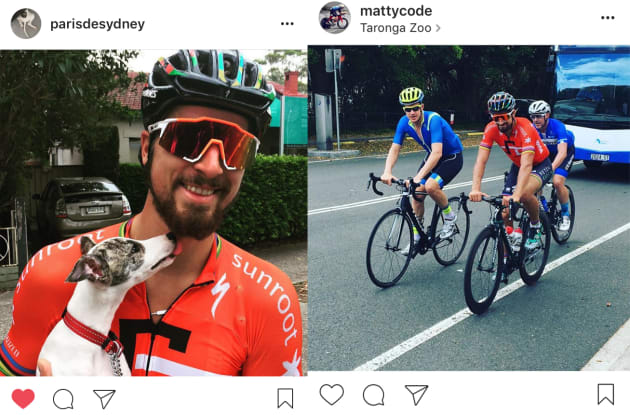 We chatted for a few more minutes. He was clearly enjoying the warm Australian weather – "Riding here is good for the tan," he said as he pulled up his jersey sleeve with a laugh. "I have to continue," he continued, "I have friends to meet further up at Palm Beach."
"I will follow in the car," I said, "I'm heading that way."
As Sagan spun the bike around and accelerated powerfully I switched on the hazard lights and followed in the car. Shocked to be driving a follow car for the reigning World Champion, it was awe inspiring to see first hand the man's style and skills on a bike.
Effortlessly climbing the short but sharp ascent toward the Palm Beach bends, he showed impeccable control of his bike. He navigated the next lot of technical bends as if he'd ridden them his whole life – in fact it was his first time there.
Continuing into Palm Beach then toward Governor Phillip Park, several people looked twice as the World Champion and TeamCar passed by. He easily ascended the 8.1% local lung buster 'Palm Beach Final Bump' before navigating the following bends at speed and with ease.
Finally pulling up at his car he was relaxed and seemed happy to be out of the traffic. Chatting casually, he stood behind the car door to change into swimming shorts and again mentioned the 'crazy traffic' he'd encountered that day.
He spoke of his new team Bora-hansgrohe, about the recent photo shoot with new sunglasses sponsor Ride 100%, and how he was enjoying a mix of training and time off in preparation for the Tour Down Under and WorldTour season ahead.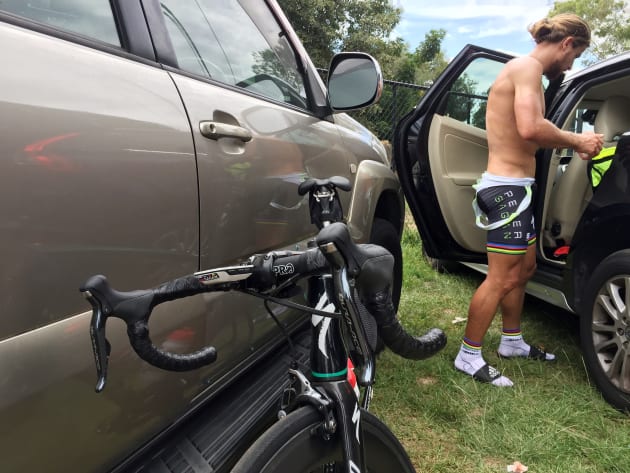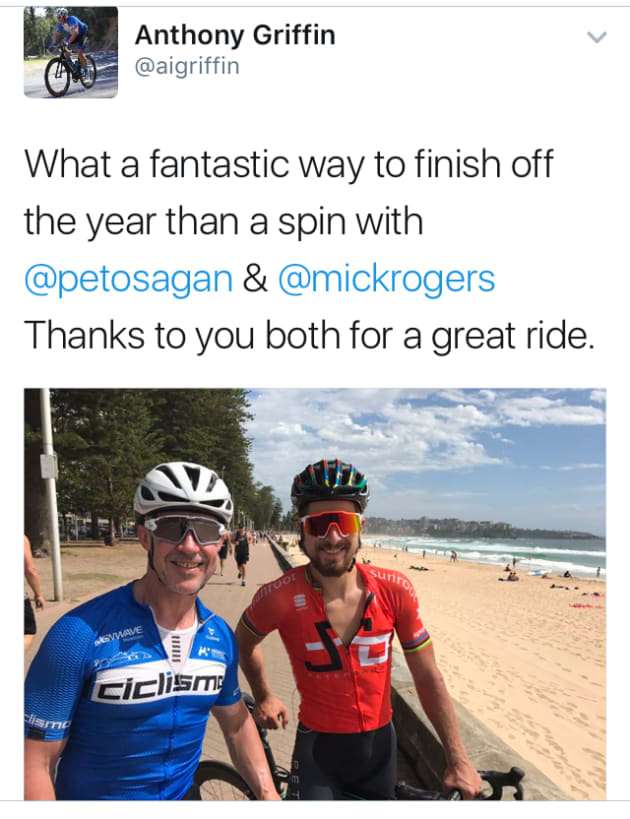 I photographed his training bike – an immaculate Specialized Tarmac – before Peter removed the wheels and put it in the back of the Volvo station wagon, "a friend's car," he said.
"That was hot on the bike today," he said. "I'm going to the surf to cool off then meet my friends for lunch," the shirtless Sagan added with a smile.
After a firm handshake he walked toward the beach. I got back in the car to check the photos. Looking up to see Peter Sagan walking solo toward a Sydney Beach was as surreal as the past 20 minutes had been.
Social Media Meltdown As Sagan Cycles Sydney
Over the following few days Sagan was spotted riding in a number of well-known areas on Sydney's north shore. He was seen on busy Mowbray Rd near Lane Cove, popped into the Bicycle Garage in Lilyfield to pump up his tyres and was even photographed with a whippet named Paris owned by none other than the SBS Tour de France producer.
He was seen at Manly, rode with good friend & former Tinkoff teammate Michael Rogers and snapped with wife Katarina while enjoying dinner at a Greek restaurant.
As all who've spoken with the Slovakian superstar in Sydney over the past week will attest, there is no more humble or down to earth hero than Peter Sagan – a true gentleman and absolute legend of the sport.
With Peter Sagan one of the star billings for the Tour Down Under, Bicycling Australia Magazine will be in Adelaide for the action. Join us on our Facebook, Twitter and Instagram pages for regular updates of the action.