Riding a bike around the world …. the sheer thought of it would send any cyclist into at least a few minutes of dreamland.
Add a time limit of less than three months to the equation, or remove a wheel, frame and handlebars, and you've got the perfect recipe for two of the most ultimate adventures.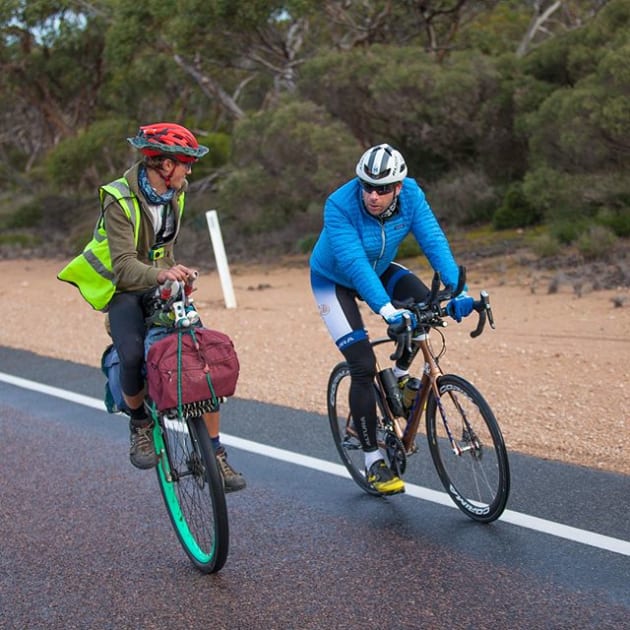 UK cyclist Ed Pratt is more than 2-years into a 30,000km round the world tour by unicycle, yes, unicycle!
Meanwhile, Mark Beaumont is endeavouring to cover a similar distance, on two wheels, in just 80 days.
By sheer coincidence both intrepid adventurers met for the first time on Saturday in Australia, with Mark passing Ed on the Nullarbor Plain.
"So this just happened…," Ed Pratt wrote to his global Facebook audience.
"An hour later and I'm still struggling to wipe the grin from my face! Mark, thank you for taking the time out of your frankly inhuman schedule to ride with me. This unicyclist is pretty chuffed."
Around The World In 80 Days
Mark Beaumont currently 35 days and 8,800 miles into his 'around the world in 80days' challenge, wrote "Bumped into Ed Pratt this morning as he pedals the World on one wheel!"
"2.5 years to reach the Outback vs 35 days, Chapeau buddy," Beaumont added.
As 21yo Pratt enjoys a more relaxed global tour, 34yo Beaumont, is aiming to cut more than 40 days off the current world record. In doing so he is averaging close to 400km per day.
For the latest from Mark Beaumont's epic challenge and to follow his tracker click here http://www.artemisworldcycle.com
You can follow Ed Pratt's adventure via his YouTube channel here https://www.youtube.com/c/MrEdPratt