Thanks to our Tour Down Under partner Pushys, Bicycling Australia Magazine is roadside in Adelaide for the nation's premier cycling event, the 2017 TDU.
Adelaide's East End will be cycling central later today as some of the world's top female cyclists vie for honors in Stage 2 of the Santos Women's Tour. Riding 14, 2.3km laps for a total of 32.2km, the women's criterium is sure to showcase some thrilling action. The event gets underway from 5:45pm.
People's Choice Classic
From 7:15pm the men will saddle up for the People's Choice Classic, a 50km criterium. It will be the first opportunity fans will have of seeing their favourite riders in action. There will be plenty of vantage points along Wakefield Street, Dequetteville Tce, Bartels Rd and Hutt St along with online and free-to-air broadcasts of the action.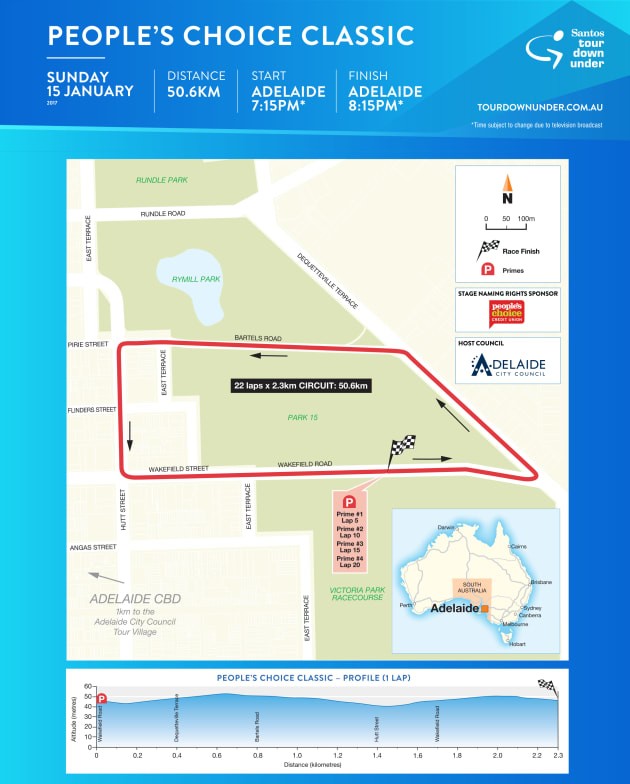 Caleb Ewan & Peter Sagan Shoulder To Shoulder
Aussie sprint sensation and reigning national criterium champion Caleb Ewan will be one of the riders to watch, so too will be two-time World Champion Peter Sagan. With Ewan in the Green & Gold Bands and Sagan in the Rainbow Jersey, both will be marked men from the start.
With racing expected to finish by 8:15pm, podium presentations will take place after the event followed by a free public concert. Bicycling Australia will be trackside tonight – check back to our website and Facebook page for the latest photos and videos of the action.