To have the lightest weight bike that we can afford is everyone's goal. Quite simply, if it is lighter it is easier to pedal, and we can go easier or go faster if the package is also aerodynamic. Every single component on a bike is available in a wide variety of types, styles, quality, price range and weight.
Often, cheap and heavy go hand in hand, and conversely expensive and lightweight also seem to be inextricably linked. Durability and usability (or the lack of both), though, may be found at either end of the range. There are many super light products that are unusable due to their fragility and unsuitability for doing anything more than just looking the part, as there are cheap heavy bits that really should be durable, but simply are not. However, every now and then we come across a product that seems to hit the nail on the head for being reasonably priced, good quality and light weight. The American Classic CR-420 wheels seem to be such a product, although I must stress that the test rider (me) is 70kg, and even though the test wheels have a recommended weight limit of 100kg, I have no personal data relevant to heavier riders.
'Dollars for Grams'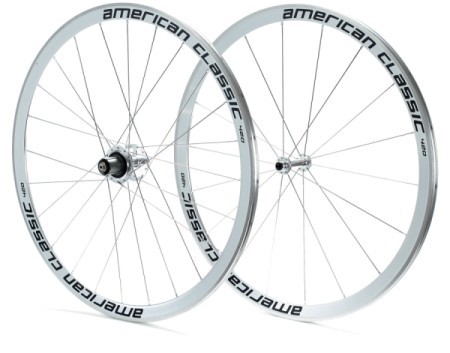 The 420 in the model name indicates the rim weight in grams, with the pair of wheels weighing an acceptable 1530g, a smidgin lighter than Mavic Ksyrium SLs. What makes them attractive compared with many other wheels is their price, $900, which is quite reasonable on the 'dollars for grams' scale. Both front and rear hubs feature sealed cartridge bearings although housed in very different hubs. The front is a tiny little item, hardly bigger than the bearing itself, while the rear is a high flange item with a solid flange on the drive side and a holed flange on the off side. The front wheel has 18 blade spokes laced radially while the rear has 24 similar spokes crossed on both sides. Front and rear rims are both 34mm in depth and are quite a slim aerodynamic shape. Striving to keep weight to a minimum, the maker has chosen to use an aluminium cassette body, which is available in either Campagnolo or Shimano splines.
Due to the likelihood of hub body wear, the Shimano version of the wheels are supplied with a set of drive spacers that fit into the spline and reduce the wear impact the cogs have on the body. It is a bit fiddly to install but necessary for the longevity of the cassette body.
The wheel package is completed with the inclusion of some quite lightweight skewers, but the optional (and even lighter) titanium version was supplied with my test wheels. No complaints although the gross weight would be substantially lighter if I got fair dinkum and lost three or four kilos! By now you will have the impression that I am impressed with the weight and have no complaints about the quality. Correct but what do they ride like? It's amazing how over time, things that we know as fact, drift to the back of our brain if we aren't constantly reminded of their relevance. But suddenly, instantly, they can loom large, as an experience rekindles some of that dormant knowledge.
I had been given some prototype tyres to use by a supplier and decided to try them out when I received the 420s. My first six or seven rides were so uninspiring, so dead, that I knew either these wheels were ordinary or the tyres were rubbish. I had expected both to be pretty good, but something was holding me back so I did all the usual checks; made sure the tyres were inflated properly, checked the bearings, and even checked the brakes, but all was sweet. I knew I had another pair of tyres waiting for review, so one night I fitted them and wondered what would be my reaction in the morning when I went out with the boys.
The next morning at 6.30 was when that previously mentioned dormant knowledge came to the fore…I was on a different bike! It rolled, it accelerated, it felt lively and all this improvement was due to fitting a set of high end Maxxis tyres. The Maxxis Company is massive, with over 15,000 employees in 130 countries around the world producing an extraordinary range of tyres for all sorts of vehicles. It is particularly well known in serious Motocross, BMX and Mountain bike circles but with tyres such as its Xenith Equipe Legere, the firm has a foot firmly in the road market too. The Legere is a 120tpi, 145psi, foldable slick tyre weighing only 180g. It is a high end racing tyre, although it seems it may wear a little better than some of its competitors due to the tough tread compound. The tread hardness actually made me a little wary on my first ride, but once the shine had gone and I'd grown a little in confidence I realised I wasn't giving the tyres a second thought, which is exactly how it should be. Four weeks later and I am still happily belting around on the American Classics and thoroughly enjoying the life that the Maxxis tyres have brought to them. The wheels are light, they seem aerodynamic and with Legere tyres fitted, they are fast. I'm happy with the performance of both items, and am glad to have had the fact that all tyres are not created equal reinforced in such a forceful and positive way.