Thousands of people from all around Australia and many from overseas descended on Melbourne on the second weekend in October for The Bicycling Australia Show, The Jayco Herald Sun Tour, the Victorian Schools Cycling Championships and Bicycle Victoria's Around the Bay in a Day ride.
With the public days for the show Saturday and Sunday, the Jayco Tour in Melbourne on Friday and Saturday, the Schools championship on Saturday morning and the Around the Bay ride on Sunday, it meant that with a bit of planning it was possible to do the lot. Throw in a dinner in honour of Eddy Merckx on the Friday night and The Bicycling Australia Awards Dinner on the Saturday night where Merckx was again the guest of honour, the fact that the last stage of the Tour was broadcast live on TV, and that the Victorian State Premier rode around the bay with over 14,000 other cyclists including Merckx, and you have some idea of the 'cyclesteria' that was around for those few days. Involved as I am with Bicycling Australia, it was natural for me to attend the Awards Dinner and the show, after my duties as a commissaire had ended at the Herald Sun Tour. It was at the dinner on Saturday night and at the show on Sunday that I realised a dream that had been with me for 36 years.
Long-time Fan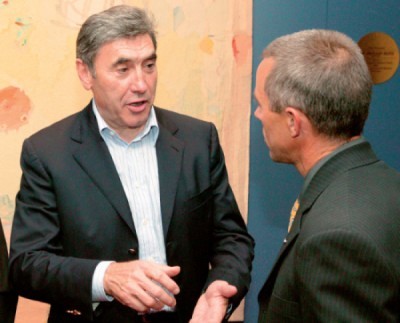 When I first started cycling in 1970, Eddy Merckx was king. And over the next seven years he was on the front cover of nearly every magazine I bought, including the French newspaper Moriori du Cyclisme, which I couldn't read but bought just to see more photos of the man every professional rider strived to beat and every amateur rider strived to be. His name was usually listed first in the race results, and stories of his exploits were everything a young boy dreamed. Eloquent journalists describing his victories were drawn to almost poetic prose, and such ardent rhetoric brought to life the accompanying photos of a majestic being, perhaps covered in mud or dust, but ever superior to his venerable competitors whose heads always seemed to be bowed as they grovelled on the great man's wheel. As with the rest of our generation in the 1970s, my brothers and I were awestruck by the man in the Molteni jersey.
But as the oldest, when we went out training, I was Merckx and my younger siblings had to be Maertens and De Vlaeminck. The scale of his successes is quite astounding, and compared with any rider before or since, it is plain to see he has no peer. Some of his statistics include; five Tour de France and five Giro d' Italia wins including the double in 1970, 1972 and 1974. He won Milan-San Remo seven times, took three world professional road champion-ships and finished in the top ten another five times. He also won five Liege-Bastogne-Liege classics and finished five times in the top ten. He scored three wins in Paris-Nice and was top ten seven other times. He took three wins in the toughest classic, Paris- Roubaix, and finished another six times in the top ten. If that wasn't enough, he won 17 six day races on the track, and an hour record in 1972 that the world governing body of cycling the UCI, deemed so significant that it was made the benchmark for all future attempts nearly 30 years later. It has been statistics like these, combined with the aura that a man capable of such exploits exudes, that has seen Eddy Merckx remain my favourite rider ever since the days when my brothers and I raced down our street pretending we were Belgian champions.
Dream Realised
As a kid I dreamed of being 'Merckx-like'. For over 35 years I held him in the highest regard, and on Saturday the 14th of October 2006, I met him. We shook hands, had photos taken and chatted as if we had known each other for years. Later after dinner we spoke at length about cycling, travel, family, bikes, wine, commissaries and his celebrity. The next morning I took along a copy of his 2005 calendar to The Bicycling Australia Show, and he autographed quite a few pages for my brothers, my son and I. He then showed me his top of the line AXM bike which we had discussed the previous evening, explained his construction criteria, and happily posed for yet another photo. We often hear of stars behaving badly and of overextended egos, but during his visit Merckx was so unpretentious and so humble that anyone who was fortunate enough to meet him would have come to the same conclusion as me. On or off the bike, he is a special individual, and my already great admiration for the legend has become an admiration for the man himself. Long live the king!