Onwards and upwards – that's definitely the trajectory for likeable Aussie pro Brenton Jones, the unmissable 79kg, 1.82m sprinter from Victoria.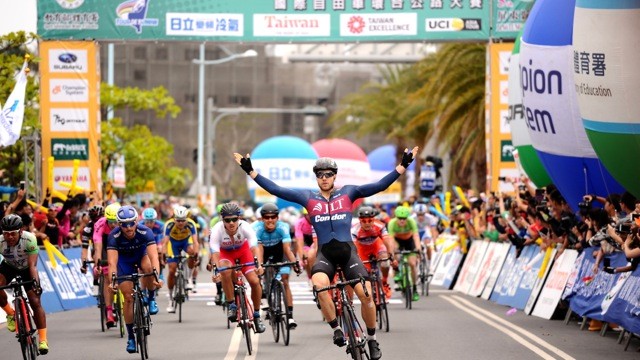 While many cycling fans will have followed the 26yo's progress over the past few years – through the NRS ranks with the Avanti team, then Drapac, and most recently UK-based Continental team JLT Condor in 2017, it's fair to say many more will become acquainted with Brenton's name over the coming season or two. For 2018 he has signed with French Pro Continental team Delko Marseille Provence KTM, a high-profile team we can expect to see at many major races over the year ahead.
Living up to his fast-man status, Brenton is a difficult man to pin down. We finally caught up with him during one of his recent trips back to Australia. He was flying back to France the following day, is returning home for Christmas and the Nationals in early January, then jetting back overseas to start the season proper.
Coping With Non-Stop Travel
We started by asking this high-flying achiever about all that travel – how does a high-energy individual cope with so many stationary hours at altitude?
"I do my best to schedule my flights for a morning arrival – at this or the other end," he told us. "If I can arrive in the morning I try to ride in the afternoon. The objective is to get into natural daylight and therefore acclimatise to the time zone as quickly as possible."
And those hours on the plane and in transit?
"On the plane I spend time learning French via an app or podcast – and that's something I've been doing while training as well. This all helps my cycling journey – obviously language is a major part of that journey."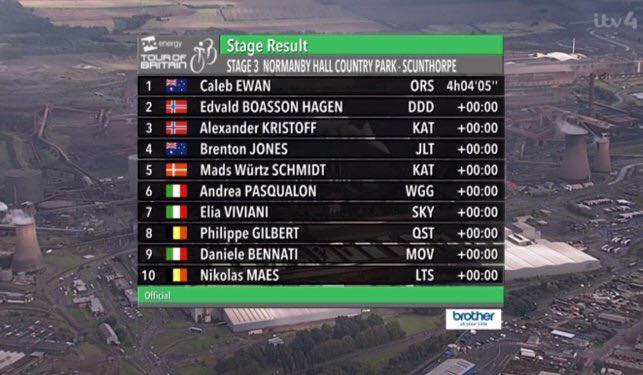 Living The Dream
Delko Marseille Provence KTM is based in Aubagne, a quintessential French village surrounded by mountains, but just 20km from the warm southern coast. Brenton describes the region as "the perfect training ground and a beautiful place to be."
"The weather is sensational," he said. "The village is home to around 46,000 people and riding wise there are some good long climbs as well as flatter roads for the sprint training."
Brenton enjoyed a stellar 2017, there were many highlights including finishing alongside the best in the world at the Tour of Britain – in one 'I've arrived' moment he crossed the line 4th to Caleb Ewan, Edvald-Boason Hagen and Alexander Kristof.
"To see myself in a Continental team alongside those guys – it was very good for the confidence," he said. "To be riding against the quality of these riders in a big race like Tour of Britain is satisfying and gives me confidence going into future sprints against the worlds best and motivation to train and work hard.
Full Sprint Support
"That was my last race and a brilliant stepping stone into the pre-season," he continued. "To finish with them and, for a few stages, in front of them – that was pretty cool."
Brenton told us that for 2018 the French team have been upfront about offering him full sprint support.
"The team has a definite start at Paris-Roubaix and the Dauphine next year – they also have eyes are on many other major races and events," he said. "They'll be trying for wild card entries in either the Tour de France or the Vuelta – they get closer each year to earning that wild card."
Paris-Roubaix And Tour de France?
On that wildcard entry to the Grand Tours – where anything and everything can happen such as 2017 where riders such as the aforementioned EBH and Kristof were there in the sprints – the opportunities for Brenton are clearly enormous.
"To gain a wildcard to a Grand Tour would be a dream come true but a race like Paris – Roubaix is my kind of Tour de France," he said. "So that race and the other spring classics the team have on the calendar is my main focus. I'm looking forward to learning from these guys and bettering myself against them at the top level."
At around 80kg and 1.82m, Brenton stands head and shoulders above many typical-sized sprinters. We asked him about the differences and the challenges he faces in a race situation.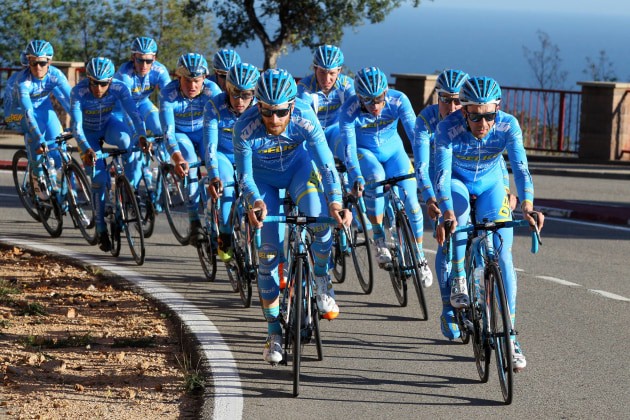 "Yes there are obviously many challenges of being a bigger sprinter," he said. "I have to work harder than most on every climb, but I make up for that in the sprints being stronger to muscle my way around the peloton more comfortably."
"But ultimately" he continued, "You can't measure mental strength or hunger for a result and that's probably what matters most at those crucial moments in a race."
At yet another exciting juncture in his career, we asked who he looks up to?
"Definitely Cadel Evans," he said. "And also our own Aussie sprinters – Michael Matthews is a rider I'd like to learn from but I'm probably more of a Kittel or Greiplel style, sprinter being heavier. My race weight is 79kg which is obviously on the high side. If you are at the finish of one of the races where there is a climb, to survive something like that then survive to the finish is the ultimate goal."
Brenton Jones Answers Five Quick Questions
All-time favourite Bike?
I'm not particularly attached to one bike brand compared with another but the Condor was a great all-round bike and from a sentimental point of view I have to say the Condor because of the success I had on it this year.
The thing you eat or drink that you know you shouldn't?
Hot chips! They are my weakness even if I don't order them I'll always steal one off someone else's plate.
The place you most like to ride is?
Jindivick, Victoria. It's a small village in the Gippsland region where I grew up. It's a fantastic place to train with the quite country roads offering enough variety to suit my training every day.
Perfect day off the bike would be?
Relaxing and enjoying one of the following activities: Beach, golf, motorbike riding or spending time with family and friends.
Dream palmares by 30yo would include?
I have 6 UCI Professional wins so far so I would hope to increase that number each season.
Tour de France stage win.
Top 10 in a major classic.
Top result in a world championship.
Participate in an Olympic Games.