Equally comfortable and capable on gravel trails as it is on the road, Marcus Leach test rides the Bombtrack Hook.
Just as every parent has a favourite child, I believe that every cyclist has a favourite bike brand, even if, like parents, won't profess to it. But, as with every rule, there are exceptions, myself included, and I'm not ashamed to say that I have a favourite bike brand (although I couldn't possible pick between my two children).
The brand in question is Bombtrack, the little known German company quietly establishing itself in, what is, a crowded market with a range of bikes suitable for all budgets and needs in the world of adventure and gravel bikes.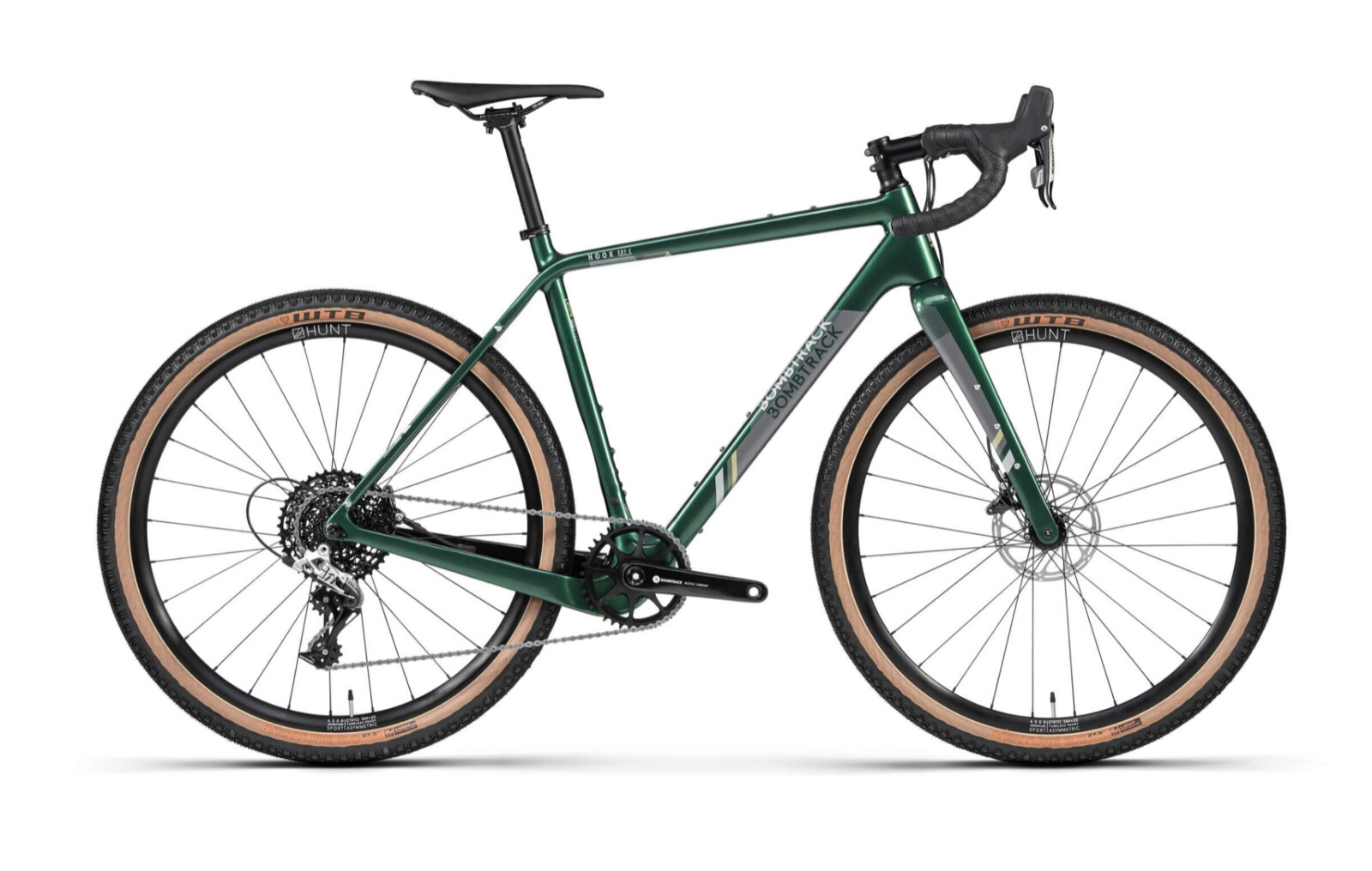 The jewel in their increasingly impressive crown has to be, in my opinion, the Hook EXT C, which proves that looks are not everything when it comes to a bike – for all it has going in it's favour, which is a lot, the one area I feel this bike comes up short is in its paint job.
I'm not saying bikes need to be brash and in your face with their colour ways, just a little more appealing than what is a rather subdued metallic grey. But let's not split hairs over what is a minor issue, because what we have here is actually a damn good bike, and at a relatively reasonable price to boot.
"…The smaller 650b wheels give a feeling of being anchored to the trail and the stiffness of the frame and bottom bracket allow for acceleration and speed…"
Made from Toray T600/T800 high modulus carbon fibre the frame is light and stiff. True to the brand's focus and uncanny knack on knowing what its riders want before they do, it comes with a variety of cage mounts, including three on the carbon fork.
This allows for a lightweight set-up for those entering the world of self-supported adventure racing, or simply wanting to travel far and fast on their own adventures. What if I fit neither of these groups? Well, they are there should you ever need them.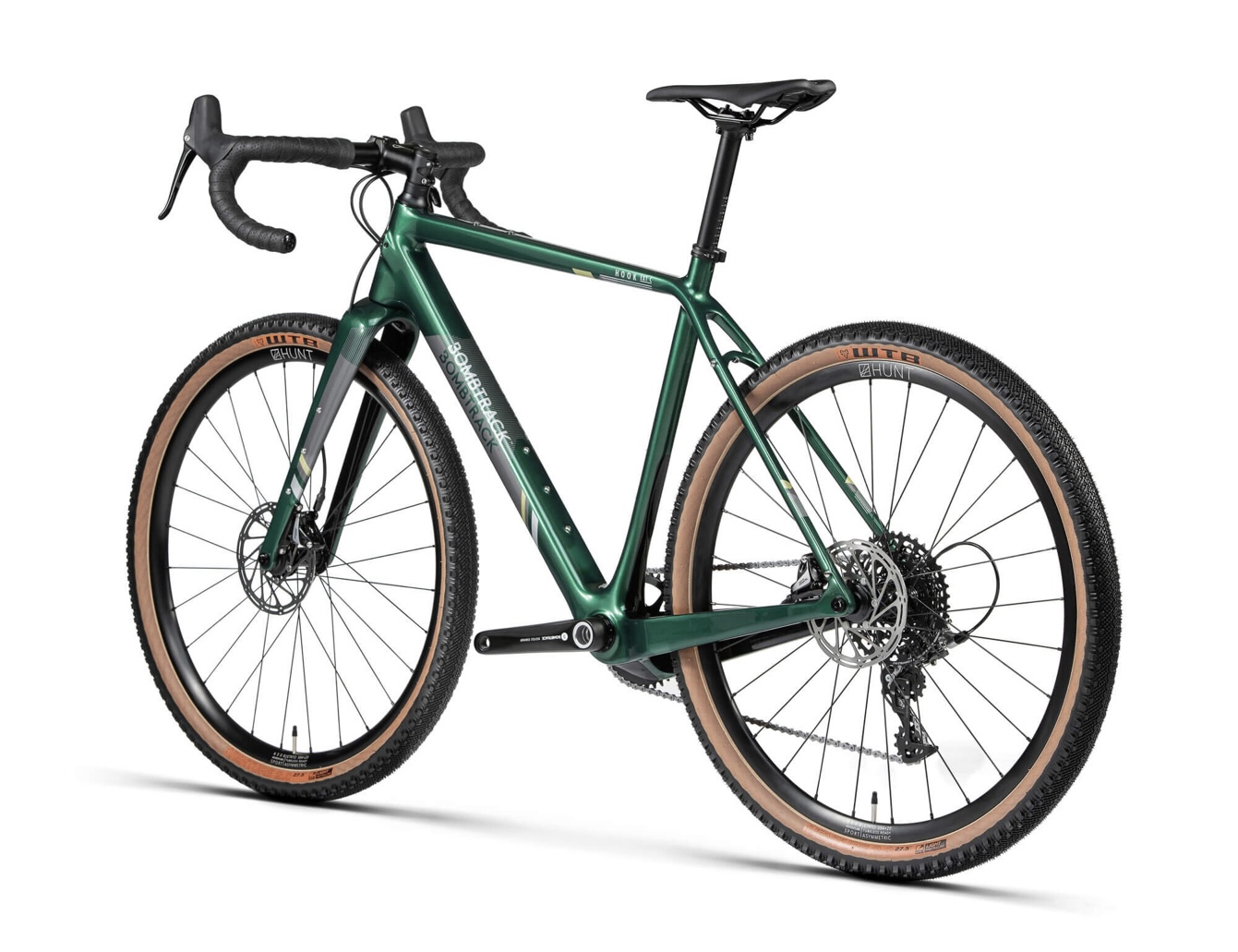 SRAM provide the bike's Rival 1x hydraulic group set and 10 – 42T XD cassette, which offers a pretty decent range of gears, albeit lacking in all-out top end speed, which might be a consideration for those looking to compete in shorter races (where top speed may come into play more) or simply gobble up gravel KOMs – each to their own. It also comes with disk brakes, which on gravel are more important than ever. I will be the first to admit that SRAM Rival might not be the most appealing groupset going, especially with the growing number of options on the market these days, but in its defence it is tough and durable, which is exactly what you want for a 'do everything, go anywhere' bike designed to handle the rough with the smooth.
For a bike that is built for adventure it seems fitting that the wheels come from UK-based wheel builders Hunt, who have adventure woven into their DNA. The Adventure Sport wheels tip the scales at 1549g and, I can safely say after some serious testing, are reassuringly strong and, in keeping with the rest of the bike, capable of handling pretty much anything you can throw at them.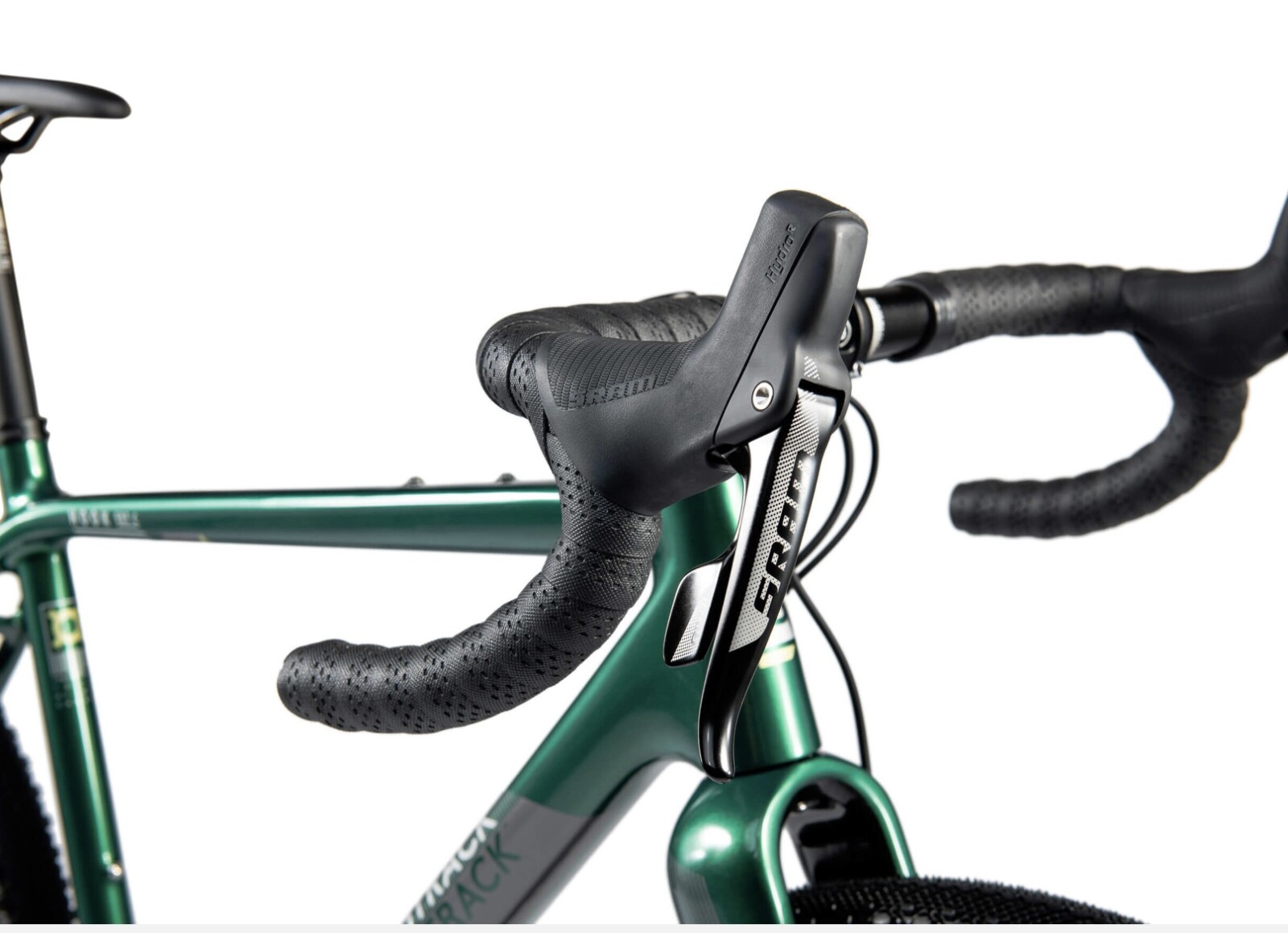 The one change I made to the 'off the peg' set-up of the bike was to ditch the WTB tyres and put on a set of Panaracer Gravel Kings, tyres that I have ridden all over the world on and never had any complaints with, which is more than I can say about my experiences with WTB.
Those that know Bombtrack will be quick to point out that this bike is, in essence, a carbon version of the ever popular and reliable steel-framed HOOK EXT, which is correct. However, the move to carbon provided the opportunity to re-shape the chain stays and seat tube to allow for greater tyre clearance and thus opening up an even greater variety of terrains that this bike can handle. Rolling on 700c wheels you can fit a 52mm tyre and, for those who prefer a smaller wheel, which comes as standard, you can comfortably run 27.5 x 2.2.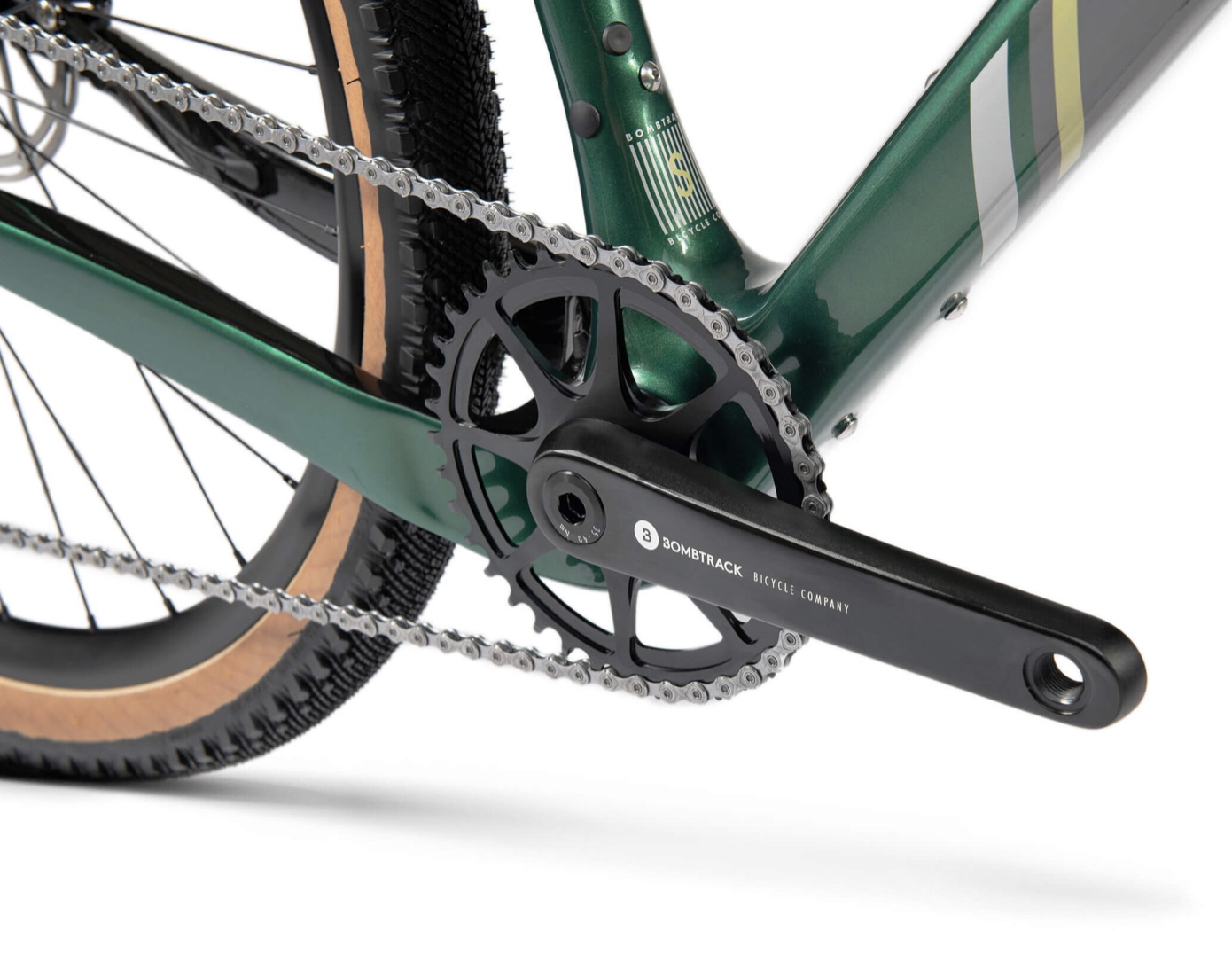 Having ridden it on both wheel sizes I can safely say that I prefer the 650b wheels, which bring the bike to life when riding on the rough stuff, keeping it nimble and responsive on terrain that goes beyond simple gravel and more towards mountain bike territory – although I'd drawn the line at taking this on anything too technical. That said, and this is why I love this bike so much, chuck on a set of 700's with some semi slick tyres and you can eat up the miles on the road, even if it goes against the spirit of the bike a little.
Bombtrack produce their own Lyer 30mm aluminium crank with 38t direct mount chainring, as well as a T47 external sealed bottom bracket for 30mm spindle, adding to the stiffness of the frame. Rounding things out is the Bombtrack branded alloy cockpit complete with 10 degree flared drop bars that tread a fine line between race ready, while still catering to those who might want to throw on extra bags and set off on a longer adventure with more equipment.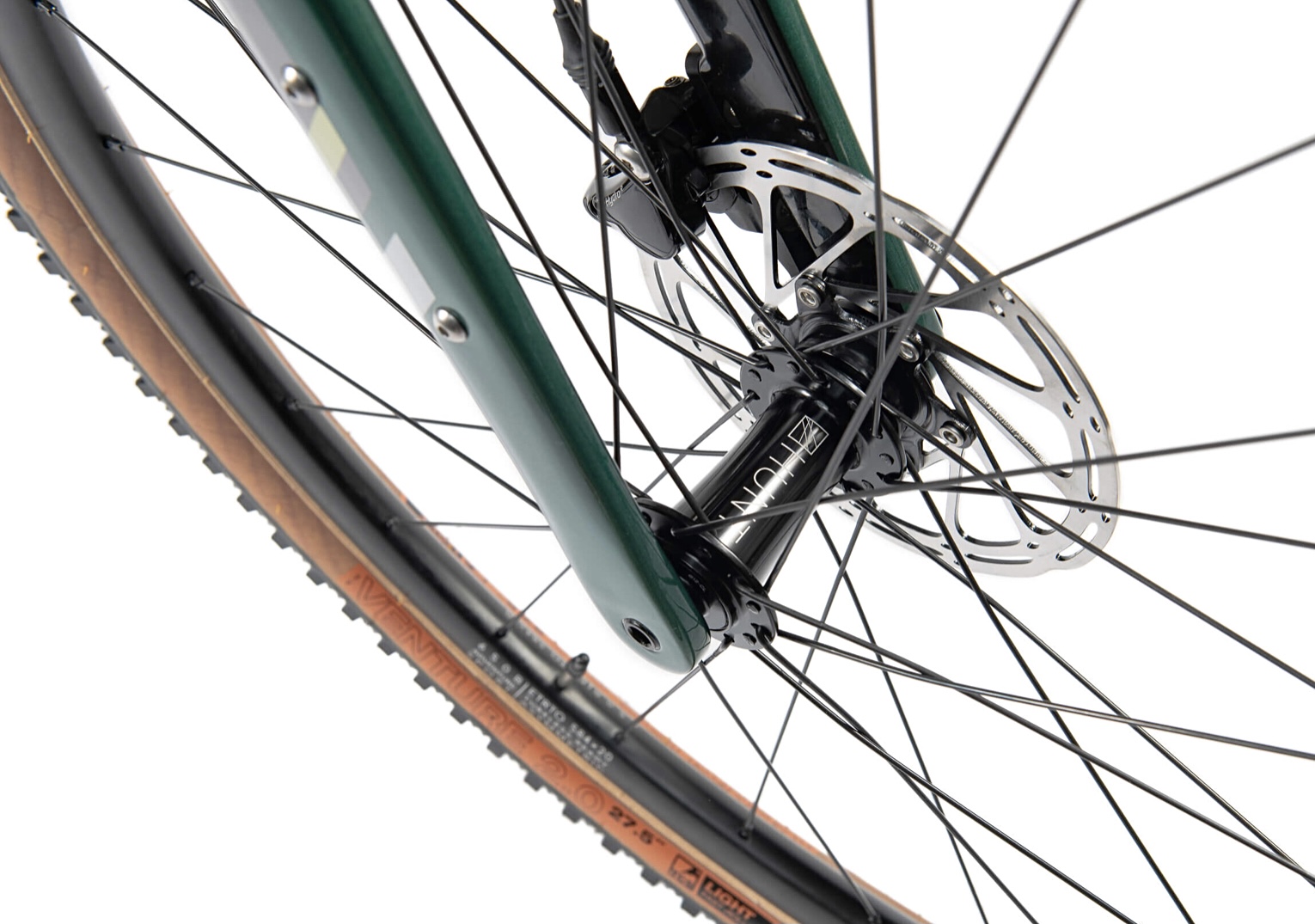 So, like the favourite child (we can all pick one at a push), there are a few minor short-comings with the HOOK EXT C, but nothing that can't be remedied to result in a bike that I want to take everywhere with me.
Performance
This bike is built to handle all manner of off-road terrain, and it does so with aplomb, resulting in a highly enjoyable ride. The smaller 650b wheels give a feeling of being anchored to the trail and the stiffness of the frame and bottom bracket allow for acceleration and speed. With larger wheels on the HOOK EXT C is equally as comfortable on the road where it's fleet-footed and smooth.
Finish
With a light and stiff carbon frame, an ever reliable SRAM Rival group set, more cage mounts than you might possibly need and an upgraded set of Panaracer Gravel King tyres on 650b Hunt Adventure Sport wheels the Bombtrack HOOK EXT C is built to last, as you'd expect from a German brand.
Summing Up
Looking past the paint job and standard WTB tires, which are both matters of preference, this is a superb bike at a reasonable price suitable for a wide spectrum of riders with a penchant for off-road riding, be that simply exploring local trails, or heading off further afield on long range, multi-day adventure rides or races.
Frame: Bombtrack Hook EXT-C
Fork: Bombtrack Carbon
Head Set: Sealed Integrated 1 ½ to 1 1/8
Stem: Bombtrack Alloy Roam
Handlebars: Bombtrack CX-10
Saddle: Bombtrack Dart
Seat post: Bombtrack Alloy
Shift Levers: SRAM
Brakes: SRAM
Front derailleur: N/A
Rear Derailleur: SRAM Rival
Cassette: SRAM 11-42
Chain: SRAM 11speed
Crank: Bombtrack LYER Alloy
Bottom Bracket: Bombtrack T47
Wheels: Hunt Adventure Sport 27.5
Tyres: WTB Venture 27.5 x 2.0
Bidon Cage: N/A
Weight: TBA
Price: TBA
Distributor: SCV Imports