Think cyclocross and there's a fair chance you'll imagine a determined-looking, mud-covered rider with a bike over 
the shoulder 
and leaping a sign-written barrier.
Sure, that might be one of the true definitions and stereotypes of CX, but these days the sport—and the specialist bikes used in the short-course, obstacle-riddled pursuit—have diversified. Case in point, Merida's latest high-end offering in this niche market segment: the Mission CX 8000.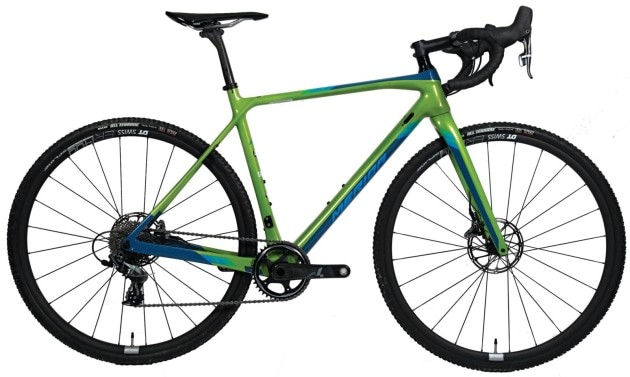 Lines Blurred
While the lines might 
be increasingly blurred in terms of the technical differences between a 
gravel and true cyclocross bike, this eye-catching Merida is unmistakably the latter. That said, don't be tricked into thinking 
this slick-looking green machine is to be pidgeon-holed as purist CX only. As we found during three weeks of testing that included a #vanlife inspired road trip between Brisbane and Sydney, this bike is a truly capable all-rounder.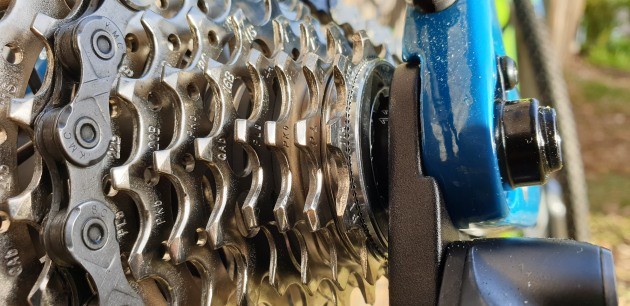 A Striking Steed
First impressions of this striking steed were the aggressive upright geometry, smooth and sleek frame (that shares many design attributes of a high-end road bike), fine attention to detail, clean, minimalist lines, and concealed internal cabling.
The bike features flat mount discs, a 1x SRAM Force drivetrain, 12mm (front) and 15mm (rear) thru axles, and a stealthy quick release 'centerlock' system that, coincidentally, features on the new Bianchi Infinito CV (reviewed in the Jan/ Feb edition of Bicycling Australia).
To go about changing a wheel or checking tension the quick release levers are hidden inside each thru-axle. To remove, simply hold the chrome end between thumb and forefinger, pull it out and unscrew. Reverse for installation—tightening the axle, folding the QR lever to the horizontal position, slide it into the axle and there it will lock into place.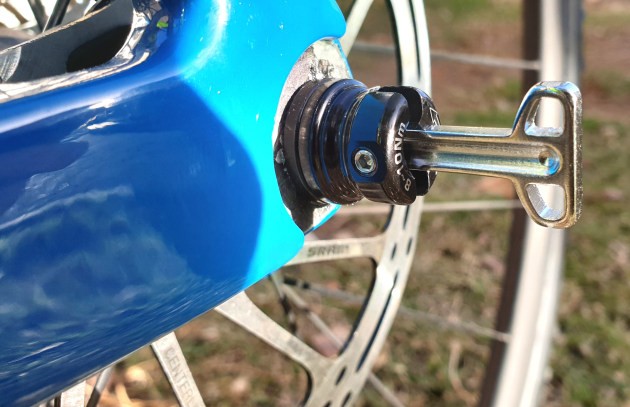 Sculpted 
Carbon Frame
Frame-wise, Merida have done a particularly impressive job. 'Sculpted' comes to mind when closely studying the lines, particularly that of the oversized but smooth-flowing head tube and steerer. Finished in bright green with blue highlights, the bike is styled just as boldly as it is intended to be ridden.
More than a purist and out-and-out race machine, Merida say the Mission is suited to not only grass, mud and gravel, but weekday urban commutes as well. Test-commuting with this bike in both Brisbane (relatively flat) and Sydney (rather hilly), Bicycling Australia found the bike to be comfortable and easy to ride option. Obviously with the lower gearing the bike was not terribly fast on the longer descents—that said, it oozed the feeling of agility. Bunny-hopping off the bitumen to take a sneaky shortcut across a park was especially rewarding on the Mission.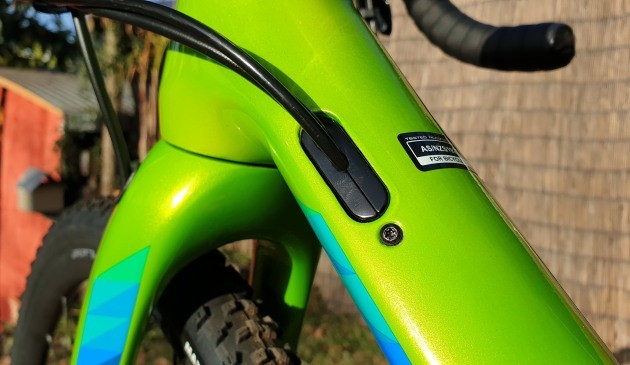 To the fun stuff: riding dirt, gravel and bush trails (without the 8kg commuter backpack) is where the real action began. With space for 38mm tyres—and with 33c Maxxis All Terranes fitted to the DT Swiss ER 1400 alloy wheelset—the bike felt capable, responsive and sure-footed over trails alongside Mount Coot-tha in Brisbane and Ku-Ring-Gai Chase National Park north of Sydney.
You look like you're on a mission,' Uncle Des said as we tested out each bike's sprint characteristics prior to jumping onto the gravel for some off-road antics.
Into The Caldera
During a particularly memorable test outing the bike was used on the roads, tracks and trails of the volcanic caldera that virtually encapsulates the Murwillumbah district in northern New South Wales. Riding with my uncle, keen local enthusiast Desmond James—appropriately aboard his similarly versatile road/trail all-rounder—the Mission 8000 performed well on the mixed bitumen, gravel and dirt country lanes of that region's magnificent hinterland.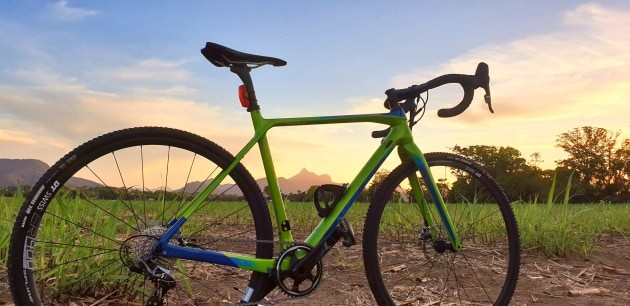 "You look like you're on a mission," Des said with a chuckle as we tested out each bike's sprint characteristics prior to jumping onto the gravel for some off-road antics. "Seriously, there's a lot to be said for not only owning a versatile bike but riding wider tyres, particularly in town and rural areas such as this," he added.
The bike weighs in at 7.7kg, is absolutely striking in colour and stance and is priced at under $5,000. The Merida Mission CX 8000 is a worthy consideration for those looking for an all-round adventure bike that will double as a reliable commuter.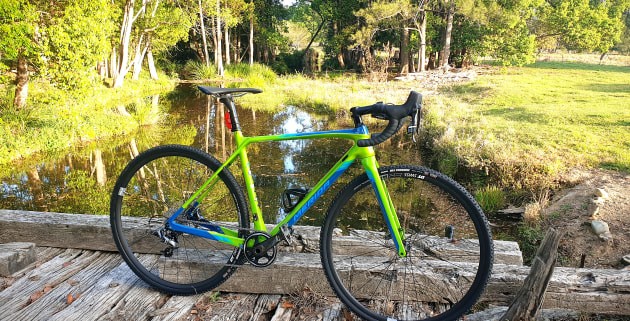 Quality
Superb build quality here and the finish is second to none. Though this bike is clearly designed and built for hardcore CX action, it gleams when sparkling clean.
Performance
Fast off the mark, well geared for its intended purpose, a stiff frame and quick to respond.
Value for money
Coming in just shy of $5k with SRAM Force and perfectly passable DT Swiss wheels, initial impressions were a good value for money proposition.
Overall
An impressive bike, well designed and clearly refined by the R&D team at Merida. Upon first laying eyes on this at the company's 2019 dealer launch I thought "that looks a lot of fun". In retrospect it truly was—a memorable bike to review and a credit to Merida.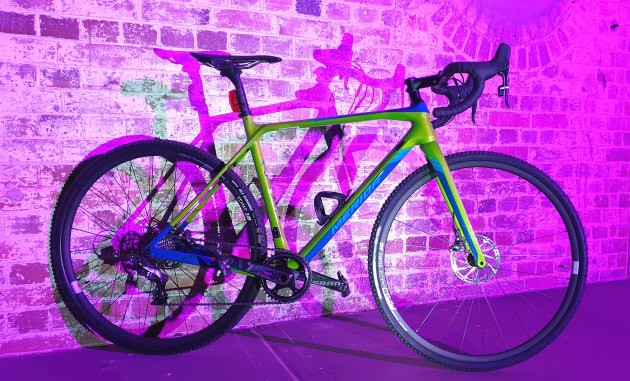 Merida Mission CX 8000 Specifications
Colour: Green (with Blue highlights)
Frame: Full carbon Mission CX CF3
Fork: Mission CX CF
Groupset: SRAM Force 1
Brakes: SRAM Force 1 Hydraulic Disc.
Chainwheel: SRAM Force 40t.
Chain: KMC 11-1.
Hubs: 100x12mm width / 142x12mm width.
Rims: DT Swiss ER1400 Spline DB21, 20mm inner width, 21mm height, centerlock.
Cassette: SRAM11-36 teeth, 11 speed.
Tyres: Maxxis All Terrane, 700x33C, fold, tubeless compatible.
Stem: MERIDA Expert CC, 31.8mm diameter, -5° stem angle.
Handlebar: MERIDA Expert SL.
Seat Post: MERIDA Carbon Team Superlite, 27.2mm diameter, 0mm setback.
Saddle: MERIDA Expert CC.
Weight: 7.7kg
Price: $4,999