When it comes to keeping your cycling kit together there's simply no better, more organised, or more 'pro' storage solution than using this recognisable bag from Italian company Scicon.

The key to the Race Rain Bag is organisation and the compartment system in place. There are clearly marked individual space for shoes, gloves, helmet, jacket/pants and jerseys/shorts. Bicycling Australia have been using and extensively testing the bag for two years now and have found it a helpful and convenient way to prepare for pretty well any cycling trip, be it a one or two dayer, or an extended excursion.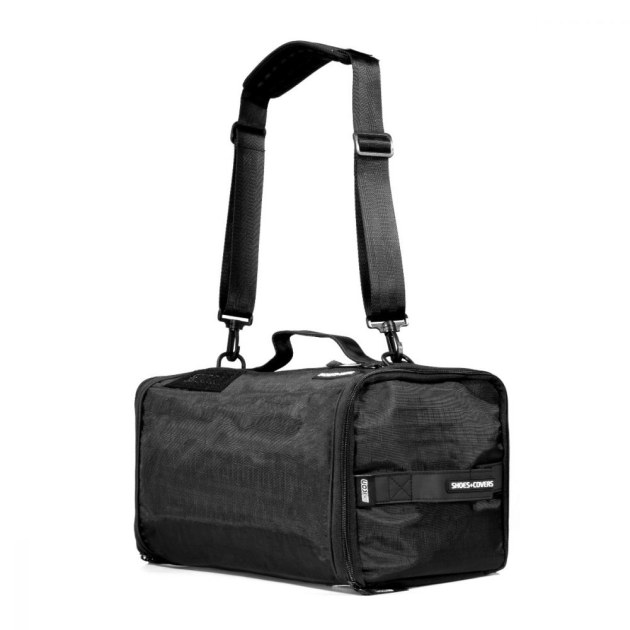 Surprisingly small, the bag is somewhat of a Tardis. It measures 37cm wide x 24cm deep and 21cm wide. It will comfortably hold everything you'll need for a few days away on the bike – for more on packing the Race Rain Bag and seeing exactly what it can hold you can see a short video on the Bicycling Australia Instragram account.
Built tough, the bag is constructed from a ripstop canvas type fabric that has proven to be durable and long lasting. There are a total of 6 zips, all heavy duty and each including sewn in Scicon grab tags.
2.0 Updates
Recently updated, the Race Rain Bag 2.0 now features a removable shoulder strap along with a Velcro name patch holder for customisation. Overall dimensions, compartments and access ports remain the same as the original bag.
The top the bag features heavy duty handle sewn into the centre section. This collapses flat when not in use, and is the only way to carry the bag. On either side of the grab handle are two pockets – one marked Jersey + Shorts and the other Jackets + Vests. Surprisingly spacious, these compartments extend into the interior of the bag to provide a more than adequate amount of storage. Flip the bag over and there are similar pockets marked 'Gloves' and 'Warmers'.
Considering these items don't take up as much space, and are not required year round, we've found these lower pockets to be handy for extra kit, nutrition, gels, spare socks, another jersey or any other small or packable items you may wish to carry.
…Surprisingly small, the bag is somewhat of a Tardis … It will comfortably hold everything you'll need for a few days away on the bike…
To either ends of the bag and this is where true cycling-specific design stands out. On the left is a zipped netted flap – in here is a surprisingly cavernous area that's perfect for wet, damp or sweat-affected kit.
On the right side is a large zippered door marked Shoes + Covers. Inside the heavy duty flap is a cargo net for extra items such as socks, and inside the compartment proper there's plenty of space for a pair of cycling shoes. Obviously there's a void or extra carrying space in each shoe! On trips we typically load items such as a small pump, tools, a GPS/ Computer and other small items inside each shoe.
As seen on the aforementioned Instagram post, it's also possible to fit a helmet into this area! Just ensure it's protected from the cleats of your shoes.
Use this once or twice and you'll be hooked … The bag has become a travel essential and an extremely convenient and versatile way to keep kit organised.
Specifications
Length: 37cm
Depth: 24cm
Height: 21cm
Weight: 450-grams
RRP: $189 – Check the ASG website for latest price.
Further details and to order online www.asgthestore.com.au