A team of four cyclists have covered more than 2200kms to win a one-day endurance event, without having met each other or even leaving the comforts of home!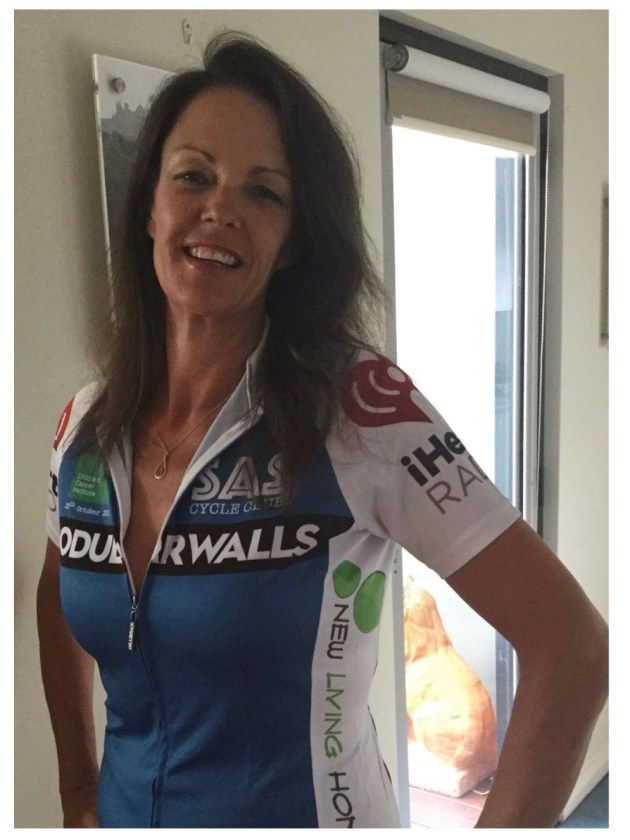 In a first for Zwift, riders from all around the world have taken part in a 24 hour race where the team with the highest total kilometres was declared the winner. With 18 teams of four riders taking part, it was four Aussies who blitzed the field to be crowned inaugural event champions.
Proving yet again there are no barriers to Zwift nor the sport of cycling, the team included Sharron Yaxley, a Tasmanian accountant, Tim Searle, a sewing machine mechanic in NSW, Matthew Double, a bus driver from South Australia, and Steven Fielke, an international school teacher based in China.
Accountant By Day, Zwifter By Night
A 55 year old mother of 4, Sharron Yaxley is an accountant by day and keen Zwifter by night. Working in the area of economic development for the Tasmanian Government, in her spare time she cycles – both on road and on Zwift – as often as possible.
Sharron started riding in her mid 40's with a 350 km ride in England. She has since competed in numerous international events including LeJog in 2013, France (Calais to the Med) 2015, London to Venice 2016, Bordeaux to Barcelona 2016. Next year she is riding the 6500km US endurance race, the TransAm.
Drawn to Zwift after colliding with a car, a specialist advised her she could no longer ride more than 5km in a session. An indoor training convert, she's now a ride leader for Zwift's online Spin and Sprint Club.
"Why did I do this 24-hour endurance event?" she said.
"Miroslav Horak (from RservoirCogZ) approached me to form an Australian team. My initial reaction was 'no bloody way'. For me, the first 9-12 hours was OK," she continued. "I rested for 5 minutes each 3 hours to grab food, go to the toilet and change clothes. From 15 hours onwards I was very uncomfortable both physically and mentally."
'Nothing Left To Give' After 601km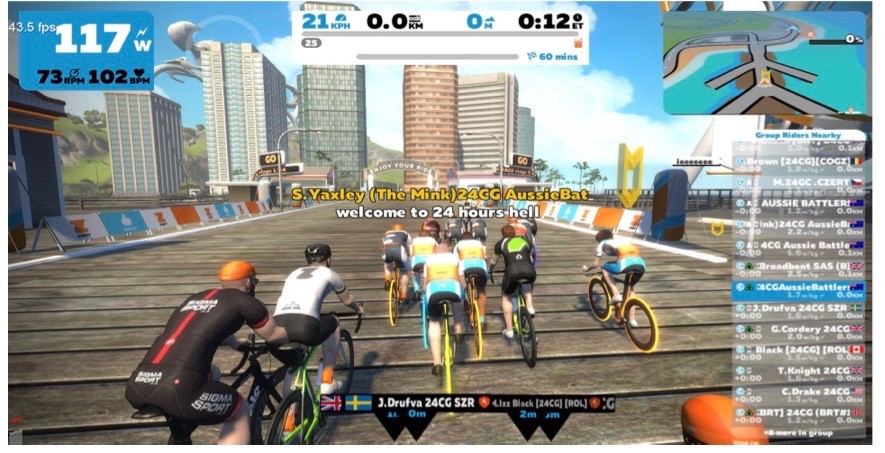 Drained and considering giving up at the 550 km mark, a Zwift friend from England 'virtually' escorted her to the astonishing total of 601km.
"I hopped off at 11.45 pm with nothing left to give," she said.
"Next day I took my waveski out for a paddle to soak my posterior in sea water – as well as my knees. My legs and knees recovered quickly – but not my backside!"
As an interesting aside Sharron said she completed the ride ketogenically, without carbohydrates.
"I was drawn to the ketogenic diet as a way to try and reduce inflammation in my knee," she said. "I was able to prove that you can do extraordinary distances on ketogenic."
Chaingang 24hr Event 2016 Final Results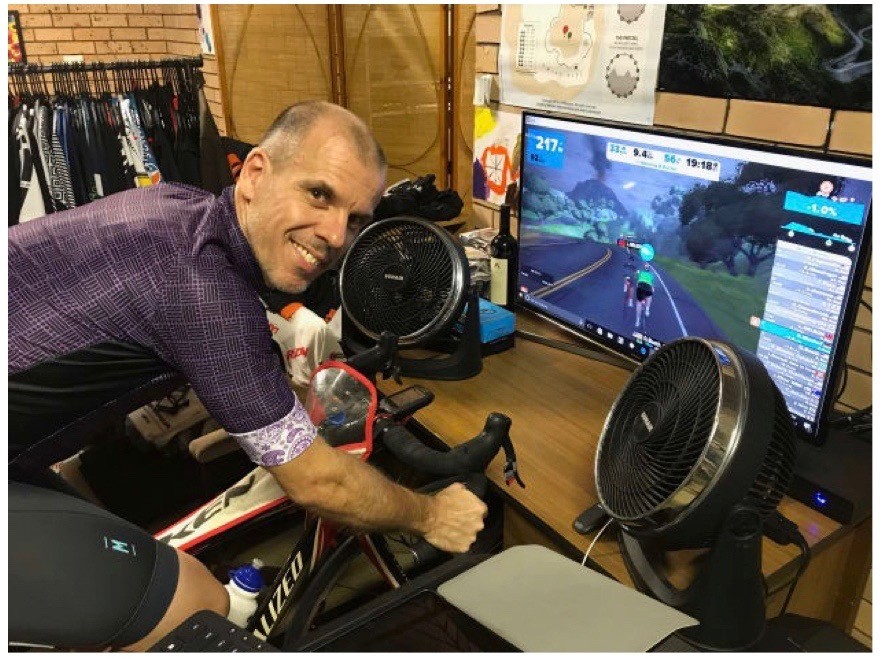 Some 18 teams (50 riders) covered 15,763 km, climbed 80,334 metres and rode for a total of 470 hours. The individual winner was Andy Jackson who covered 997 km. The top teams were –
1. Aussie Battlers – 2260 km / 10,251m elevation
2. Innovation Cycling – 2193 km
3. Rservoir Cogz – 1785 km
Aussie Team Total Zwift Stats
Tim Searle – Sawtell, NSW – 57672 km, climbed 368.6 km
Sharron Yaxley – Turners Beach, Tas – 29712 km, climbed 177.2 km
Matthew Double – Adelaide, SA – 26175 km, climbed 177.3 km
Steven Fielke – Shanghai, China – 21175 km, climbed 125.8 km,