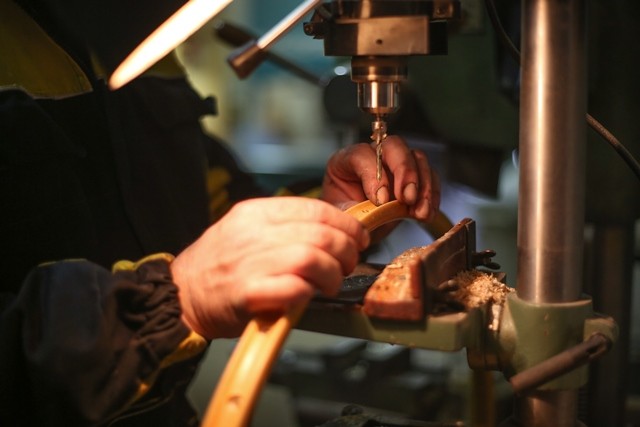 EVERY NOW AND THEN,I come across something that really grabs me, that tugs at my cycling heart cables as if I was full on descending a slippery slope leading to a dry stone wall.
Just over two years back I was bumbling in a stifled way around the maze that is Eurobike, the biggest and baddest bike show on earth. It's the venue for accolade graced manufacturers and technical gurus to strut their new stuff – and quite frankly show off to the rest of the cycling world. It's a place for big guns and innovators.
Then, from a distance I sighted one small booth, which was seemingly over-run in comparison to the others – must be free beer I figured, and naturally gravitated hopefully towards that stand. What did I find? Something much better than free beer and the traditional Eurobike painted topless girls (well, maybe) – a little old Italian man with his half-cut spectacles clinging to the end of his nose. He seemed somewhat bewildered at the attention he was attracting; this little old Geppetto like character was Snr Giovanni Cermenati, the current elder and maestro of the family business of Ghisallo Wooden Rims, which he was displaying at Eurobike that year.
ARTSY ANACHRONISM?
Those bright wooden hoops were pure art, the kind of thing you'd just love to have hanging on your wall – but they were there for function and not simply for fixation, but how the heck could they possibly hold up in this modern world, where everything is super hi-tech and engineered by computers and rocket scientists?
I'm not really one for nostalgia or retro, but it does have to be agreed that certain things from the pre-internet world were just better in many ways. Not to say that steel is a match for carbon, or that wooden rims could cut through the wind tunnels like a deep section carbon fibre wheelset, but many things of old did finely blend form as well as function. These wooden rims certainly had the form – as for function, that I only managed to follow up on a few months ago when I finally made my way to the Ghisallo workshop.
There's been a huge and cult-like retro revival in cycling during the past few years, with many new-found custom builders claiming artisan status and even a number of older brand names enjoying something of a revival, largely thanks to a blend of savvy marketing, events such as L'Eroica and a growing band of slightly older and more affluent cyclists looking for something a little different to the mass produced carbon horses that seep out of Taiwan.
Ghisallo on the other hand is neither a born again retro brand, or an extortionately priced product made off the back of some unsuspecting South American goat whose coat got mailed to China, and they certainly have not come to artistic prominence through pretentious marketing – these guys are true grindstone cowboys. They've been in the wooden rim business for decades, more than 60 years in all.
Wooden rims are nothing new in cycling, in the early days of bike building they were quite common but inevitably modern materials such of aluminium eventually took rule of the roost. Antonio Cermenati, father of Giovanni, was the first of the family to be involved in the manufacturing of wooden rims, and he was a partner
in the legendary D'Alessandro rim manufacturing company in Milan.
When D'Alessandro retired, the ravages of war were upon Milan so Cermenati took all the tooling of the company and moved his family to the safety and tranquillity of the small village of Magreglio, just a few hundred metres away from what is now the Madonna del Ghisallo and the Ghisallo Cycling Museum. The museum was patronised by Tuscan cycling legend and three time Giro d'Italia winner Florenzo Magni, a good friend to Cermenati – and winner of the Tour of Flanders on wooden rims in 1949, '50 and '51, at a time when aluminium was beginning its ascension.
During the late post war era, metallic materials such as aluminium were in short supply, which created a short lived resurgence in the wooden rim trade: "After the war aluminium was hard to find, and we had some Australian officers come to us and buy a whole batch of wooden rims, which they had shipped back home," Antonio junior, the third generation of the Cermenati wheel-building dynasty told me.
Although wood has gone out of fashion somewhat since then, it is currently enjoying a mild resurgence: "We keep working on new products and sell around 1000-1500 units a year in all, including rims, fenders and handlebars," Antonio estimates.
Somehow I'd imagined Ghisallo would be an upmarket and sizeable set up, but in reality it was quite humble and refreshingly low key. I'd driven past it a couple of times, following directions, but there was no sign of the workshop. As it turned out, a small local car repair garage was the business' street presence, while beneath and behind was the rim making workshop – a place almost as anonymous as the approach of these unsung master artisans.
The garage puts the bread on the table, and has done more or less since the family moved here, and Antonio (Jr) is the head mechanic. From beneath an oily old Fiat he emerged to greet me. I was beginning to wonder what it was all about – was I in the right place?
As he cleaned up some I took a stroll around the small showroom they are building behind the garage – which also houses some of the original D'Alessandro tooling, which is around 100 years old.
THE CREATION
On the opposite side of the yard is a roomy and quaint old workshop, compete with cobwebs, rickety wooden chairs, dim lighting and wood shavings. It's the real McCoy, like something you'd expect to have uncovered half a century ago – this is where it all happens.
Hard at work was Boris, the main hand at Ghisallo, and along with Antonio they were only too happy to run me through their magic box of tricks that transforms trees into rims.
Although almost any wood can be used to make rims (with slightly different characteristics) the tree of choice is the beech, which has long been imported by Ghisallo from Slovenia, as it offers the right blend of rigidity with elasticity, although they now also often use bamboo too.
Using a mixture of old and new machinery and methods, the process begins with the wood being cut into narrow strips which then have a mitred edge put on them – which is where the two ends will be joined together to complete the circle.
These trips are then clamped inside sized circular metal rim-moulds and glued together in several layers, which forms the basic rim. Once the layers have bonded they are worked into the rim as we know it. This process starts with manual sizing on a circular saw, which if followed by the next stage of downsizing, this is done on a "nameless machine" designed by Ghisallo themselves – it's the only one in existence. The rims are loaded and the run through this multi wheeled rotating machine to ensure the accuracy of the circle.
Things get more modern for the next stage, where a huge computerised machine moulds and machines the rims into the exact spec required; tubular, clincher etc. Not so long ago this process was also done manually, but this machine makes the process a whole lot faster and more accurate.
What follow on are the finishing touches. First up comes the drillings, and some hand finishing. The final steps in the process of the fine finishing are the colouring and lacquering and the insertion of the eyelets. This is all done by hand. It's a simple, yet intricate and fascinating process, as are most master crafts when you see them performed by an expert.
THE RIDE
There's little denying that these rims are aesthetically desirable, but in this day and age just how practical are they?
Weight is often a defining and prime factor for people when deciding on whether or not to buy a product these days, and this is often at the expense of practicality, function and comfort – so where do these rims sit on the scales? Surprisingly they are not particularly heavy when compared to aluminium rims. There are several rims on offer, and weight per single rim varies between 350-450grams each, plus 76g for nipples and washers.
Durability is about as good as regular aluminium rims, but of course they don't dent, and they can be re-finished from time to time to keep them looking good.
When it comes to building they do require some experience, which is not so easy to find these days. You can buy the rims and nipples separately, although I would say that it's well worth having them built either by Ghisallo or by a recommended builder.
How about the ride? Quite surprising really. I had expected them to be heavy and slightly sloppy, but they are neither. There is not the rigidity of a deep section or a carbon rim, but if well-built they are both amply rigid and comfortable, even a little forgiving – much like the hand built wheels of 30 years ago – very pleasing to ride.
Although clincher versions are made, if you want to get the most out of the wooden rim sensation then it's tubulars all the way. I hadn't ridden anything but wired on rubber for many years, and the sensation of the wood along with the flexibility of the tubular makes for a pleasing sensation, it's smooth and silky yet responsive. It's easy to see why Magni chose them for the pave'.
Braking; things may not be quite as responsive as some of the better modern-day rim and brake combos – again they hark back to that woollen short sensation of 30 years ago. Braking is comfortable but not disc brake powerful (although you can of course have these rims on disc hubs). Brake blocks are also of a specific compound, which Ghisallo supply. Without them you would find issues with abrasion. The sidewalls also need to be kept clean of rubber build up, which is simple enough.
As for pricing, they do cost more than your run of the mill Mavic rims, but they're certainly not excessively priced, which some retro branded products most certainly are.
Overall I guess that these are not wheels for everybody, but if you want something truly original, different and functional then you can't go far wrong with these rims, and each and every one of them is hand crafted between oil changes in Italy by Antonio and Boris, not on some production line in the far east, and knowing the story behind them makes them all the more special.