Daily, weekly, monthly it seems we are inundated with all manner of new and exciting concepts or advancements in cycling gear … Here we take a look at 21 recent releases that have caught our eye.
Kinetic R1 Smart Trainer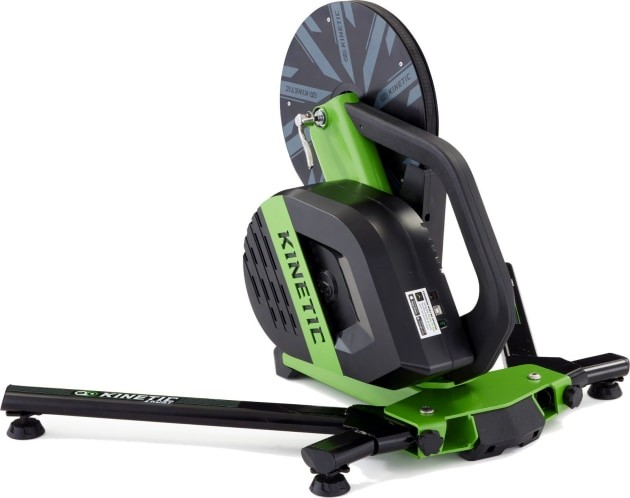 The Kinetic R1 is the world's only interactive, direct-drive smart trainer that allows your bike to move naturally as you pedal.
Now available in Australia, the main point of difference with the Kinetic is the realistic road feel provided via 'Rock and Roll' technology.
The unit moves slightly from side to side through the pedalling action, similarly to how a bike does. Movement is minimal when in the saddle and powering along, but get out to simulate a climb and you'll notice that familiar side-to-side sway.
Direct-Drive Operation
The trainer features a large flywheel for quiet, direct-drive operation and it is the only direct-drive trainer with free movement.
It can be controlled via the Kinetic app and paired via all via ANT+™, ANT+™ FE-C, and Bluetooth® FTMS on connected smart phones, tablets and laptops to provide interactive resistance when used with platforms such as Kinetic Fit, Zwift, TrainerRoad, The Sufferfest & FulGaz.
Each Kinetic R1 purchase includes a 6-month subscription to the premium smart package in the 'Kinetic Fit' power-training app.
RRP $1699
Further details www.velovita.com.au/common/stockist
You can read more about the trainer at www.bicyclingaustralia.com.au/news/kinetic-r1
Specialized Roubaix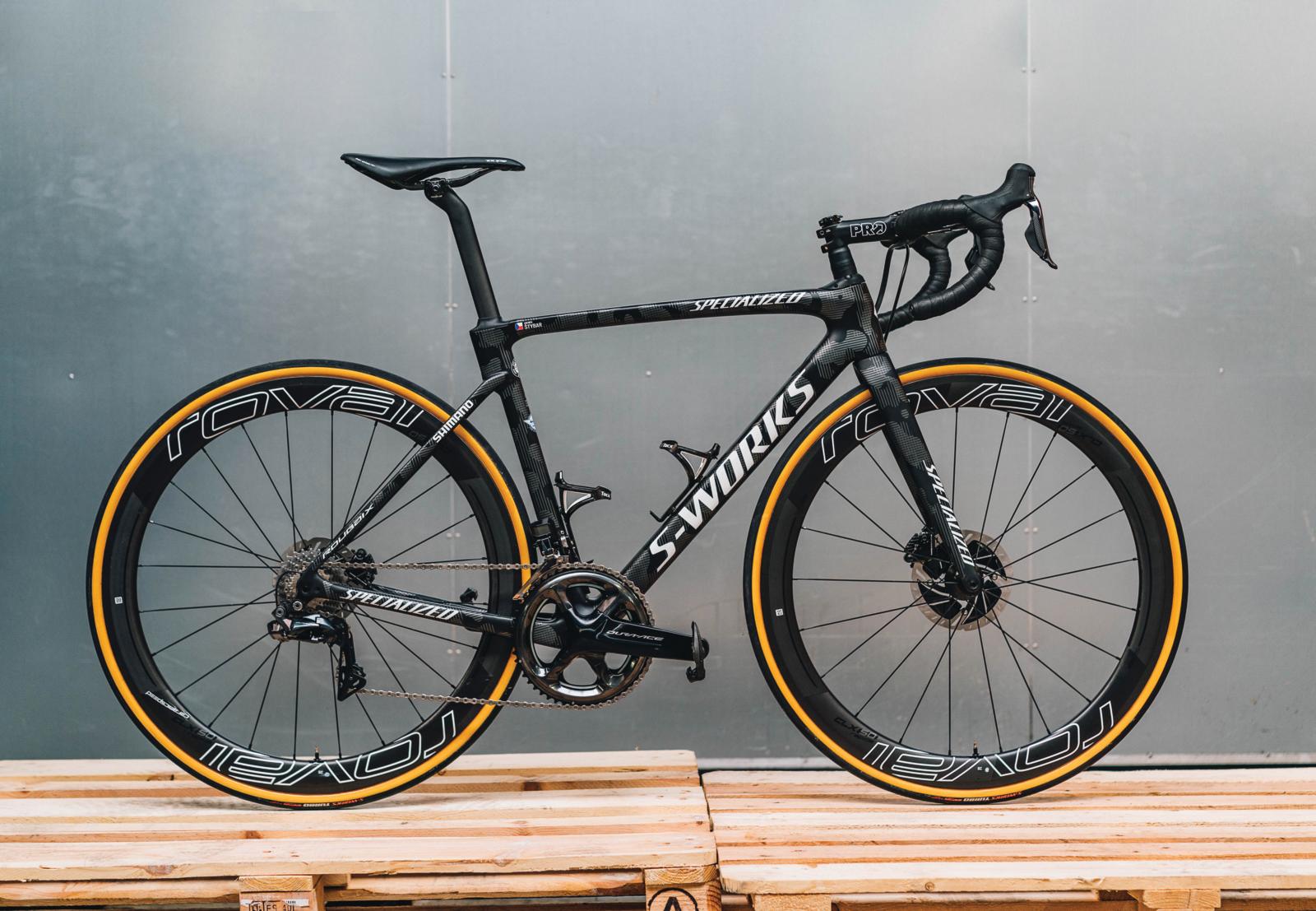 Lighter than the Venge and more aero than the Tarmac, Specialized have released the latest incarnation of their endurance platform the Roubaix. The company say it is the most technically advanced machine they've ever 
made, partly due to the all-new Future Shock 2.0 that delivers 20mm of axial compliance 
via a hydraulic damper.
"This new system uses an oil port to simultaneously control the compression and rebound damping," say Specialized. "While an easy-to-access dial above the stem enables you to make on-the-fly damping adjustments."
The unisex frame is available from 45cm to 64cm and, as Specialized say, "separating bikes by male or female is arbitrary and outdated … it's time to go beyond gender."
A detailed review will feature in the Nov/ Dec edition of Bicycling Australia. The all-new Specialized Roubaix is now available in Australia at the following price points:
Roubaix SW ETAP $17,000
Roubaix SW DI2 $16,200
Roubaix EXPERT UDI2 $8,500
Roubaix COMP UDI2 $6,500
Roubaix SPORT $4,000
Frameset $6,000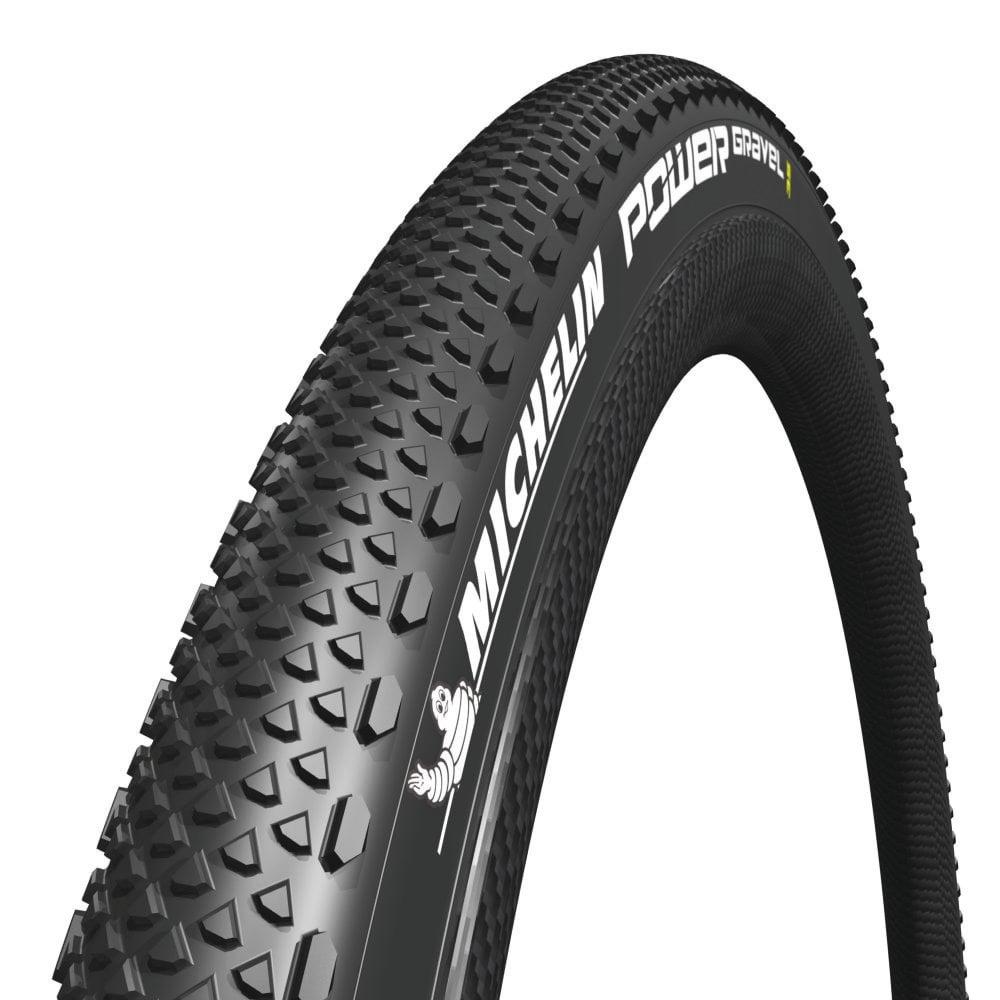 Michelin Power Gravel
Ride with confidence when you venture 
onto gravel roads with the new Michelin 
Power Gravel Tubeless Ready tyres. 
Available in 700 x 33, 35, and 40 
sizes, the Power Gravel has bead 
to bead Protek reinforcement built 
into the casing and Michelin's all 
new X-Miles rubber compound
 increases the tyre's lifespan. 
The small block tread pattern 
reduces rolling resistance 
while providing excellent 
grip on mixed terrains.
RRP $75
CycleWell
CycleWell believe riders can improve health, happiness and performance with the right mindset and training and the willingness to do the work required to create change in their lives.
CycleWell camps are a combination of equal parts self-development seminar and health and wellness retreat – for men who also enjoy cycling.
The team work with evidence-based tools grounded in the disciplines of nutrition, exercise science, wellness, leadership and positive psychology whilst also helping riders to become a better cyclist via professional cycling coaching and fully supported training rides. This is delivered via coaching in a small group, hands-on 'coaching camp' format over a long weekend in High Country regions in Victoria and NSW.
CycleWell's aim is to help men to 'Live Well & Cycle Better'.
More details at www.cyclewell.com.au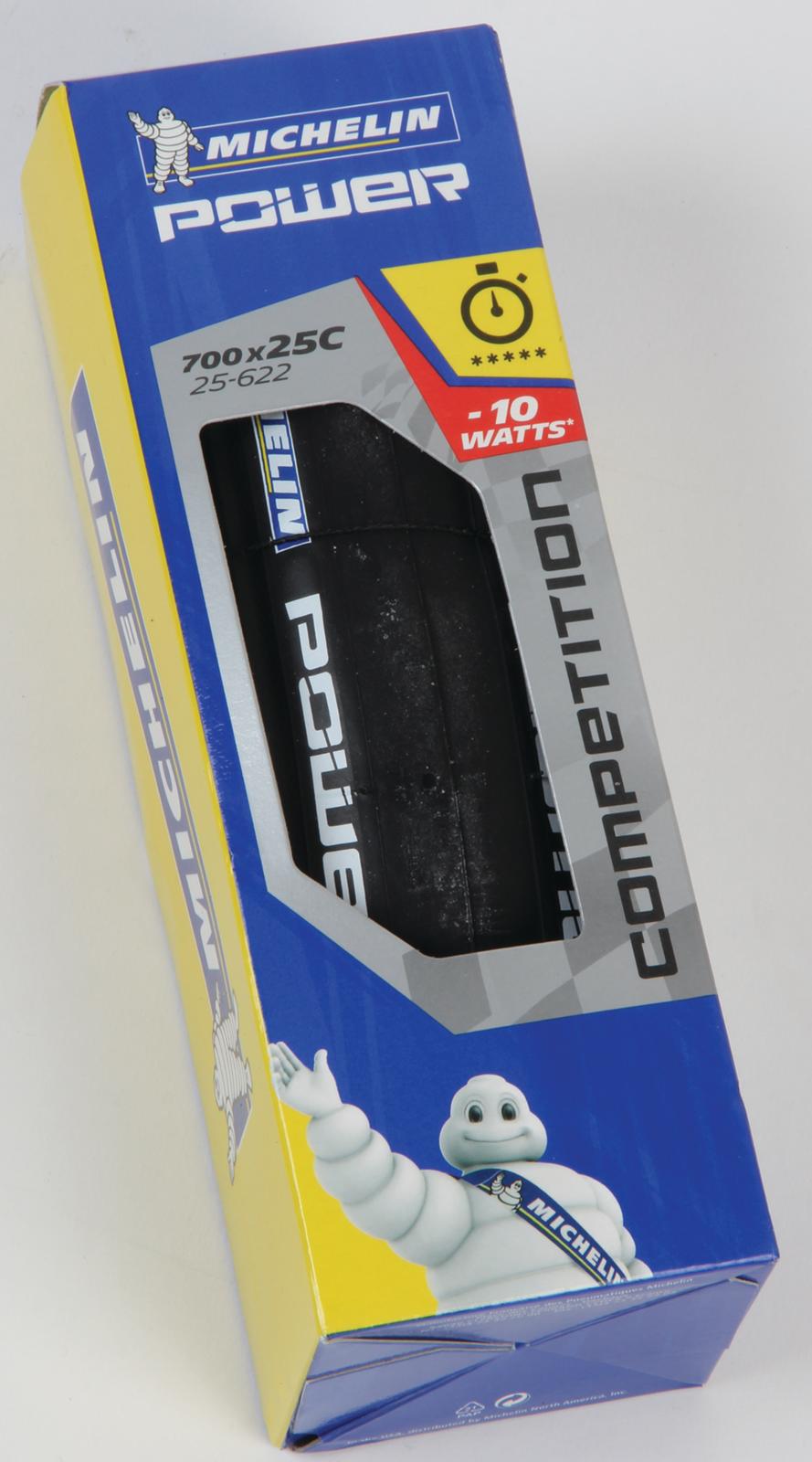 Michelin Power Competition 
Clincher Tyres

'Move faster and further with the same effort' … Sounds like every cyclists' dream doesn't it! But that's what French tyre giant Michelin say about their Power Competition tyres.
The main headline with these tyres is their light weight (195g in 23c and 215g a piece in 25c) and claimed watt savings. "A 10 Watt gain per pair of tyres, which means 1 minute and 25 seconds faster over 40 km riding at 35kph thanks to the new Race Compound derived from MotoGP technology," say Michelin.
They tyres are used and endorsed by pro French team Cofidis, and feature a number of upgrades from previous models that help them stand out from the crowded tyre market.
25% less rolling resistance compared to its predecessor
Race compound inspired by MotoGP
Aramid Protek puncture protection
3×180 Threads Per Inch count
Weight: 195g (23C), 215g (25C)
RRP $89.99
Ortlieb Bikepacking Gear
Think expedition and adventure and those in the know think of Ortlieb. Made in Germany and regarded as the best of the best, these waterproof accessory bags are a critical and indispensable item for those into bikepacking and adventure riding in the great outdoors.
Seat pack
Synonymous with bikepacking is the all-important seat-pack. Ortlieb's comes with Velcro straps to enable convenient and secure mounting to your seat stem. Projecting backwards from the seat stem, your Seat Pack also serves as a rear fender. The spacious, waterproof Seat Pack keeps its contents (e.g. an extra set of clothes) safe and dry. Depending on how long you plan to be away and your Seat Pack model, you can conveniently adjust the volume of your pack from 8 to 16.5 litres or from 7 to 
11 litres by adjusting the roll closures on the sides.
RRP Seat Pack 11 Ltrs $200.00
Seat Pack 16.5 Ltrs $232.00
Handlebar Pack
The waterproof Ortlieb Handlebar-Pack is an indispensable item when you're on a bikepacking tour in the great outdoors. Depending on the particular model, the Handlebar-Pack offers a payload of either 9 or 15 litres for your sleeping bag and pad. It also helps to secure a balanced distribution of gear and weight across your bike. Thanks to the roll closures at both ends, you can always gain quick access to your gear. Compression belts on the outside enable the stowing and attachment of additional equipment. Moreover, the Handlebar-Pack comes with four hooks to enable the attachment of an Ortlieb Accessory Pack for additional stowage space.
Handlebar Pack 15 Ltrs $205.00 Handlebar Pack 9 Ltrs $155.00
Accessory Pack
What should you do with all those small, but important extras on your bikepacking trip? The best place to put your snacks, smartphone, rain jacket and other items is in the Ortlieb Accessory-Pack. This convenient volume expander for your Handlebar-Pack keeps your things secure, absolutely waterproof and quickly accessible at all times.
RRP Accessory Pack $122.00
Frame Pack
The Ortlieb Frame Pack allows you to exploit your bike frame to create valuable stowage. Thanks to its lower centre of gravity below your top tube, the Frame Pack makes for an ideal stowage location for heavy gear such as tools, camping stoves and food supplies. The proven, waterproof nylon fabric and the waterproof zipper ensure that your things remain absolutely dry even in the most inclement of weather. Mounting the Frame-Pack with the ultra-strong Velcro straps to the top tube, seat tube and down tube is a snap. The Frame-Pack is available in a 4-litre size and a 6-litre size – depending on the size of your bike frame. You can download a template to proof the size according to your bike.
RRP Frame Pack 6 Ltrs $208.00 RRP Frame Pack 4 Ltrs $175.00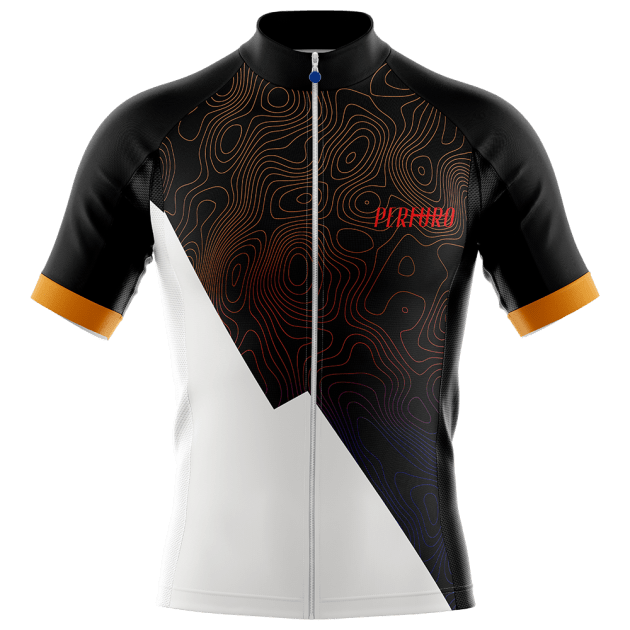 Perfuro Cycling Wear
Heartland tested! We recently enjoyed riding new men's & women's cycling kit from Aussie company Perfuro Gear while cycling Flanders in Belgium.
Perfuro design super cool kit with some thoughtful features and top quality Italian fabrics. The 'Coldfront' series has proven popular, the design stemming from a weather theme, one of the most important aspects of our sport. There are big plans for this little Aussie kit company and some exciting releases on the way. Check them out at www.perfurogear.com
BZ Optics Photochromatic Bi-Focal Eyewear
Aussie-based cycling eyewear company BZ Optics have released the BZ – PHO, premium cycling sunglasses fitted with HD Photochromic lenses or HD Photochromic lenses with biocal readers incorporated into the base of the lens.
These lenses are perfect for early morning and late afternoon cycling – they change from Category 1 to Category 3, from no light to full sun. The bifocal readers are available in +1.50, +2.00 or +2.50 powers and the frames are available in matt black, gloss graphite, gloss fluro yellow, gloss hot pink and gloss white.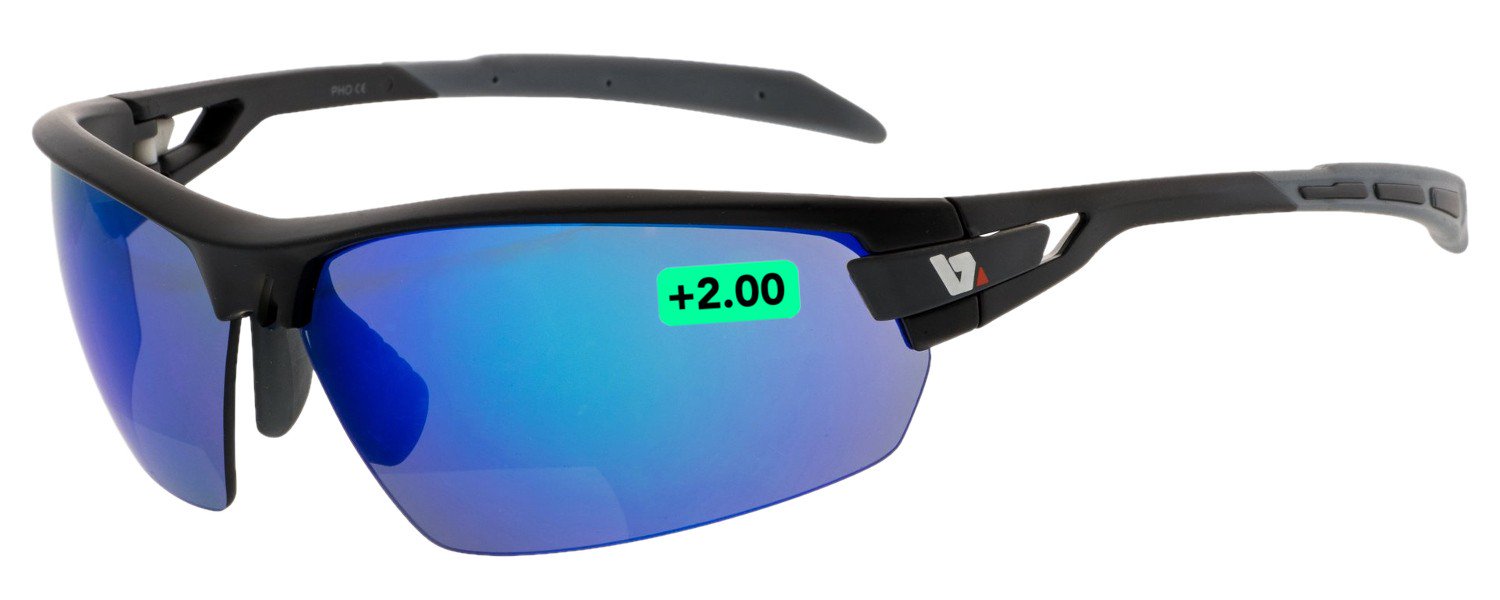 Key features include –
A lightweight TR90 frame incorporating an easy lens changing system.
Dual moulded non-slip temples.
Non-slip fully adjustable nose 
piece – fits all face shapes including broken noses.
High impact Lexan HD Photochromic lens with or without readers.
HD lens heightens definition particularly in low light situations great for riding pre dawn to all day, fog, rain, heavy cloud or heavy shade within the forest.
The bifocal lens allows those who are optically challenged to view their GPS, map or mobile phone without having to change or carry extra glasses.
RRP from $150 to $199
More info at www.cervelo.com
Wheels of Steele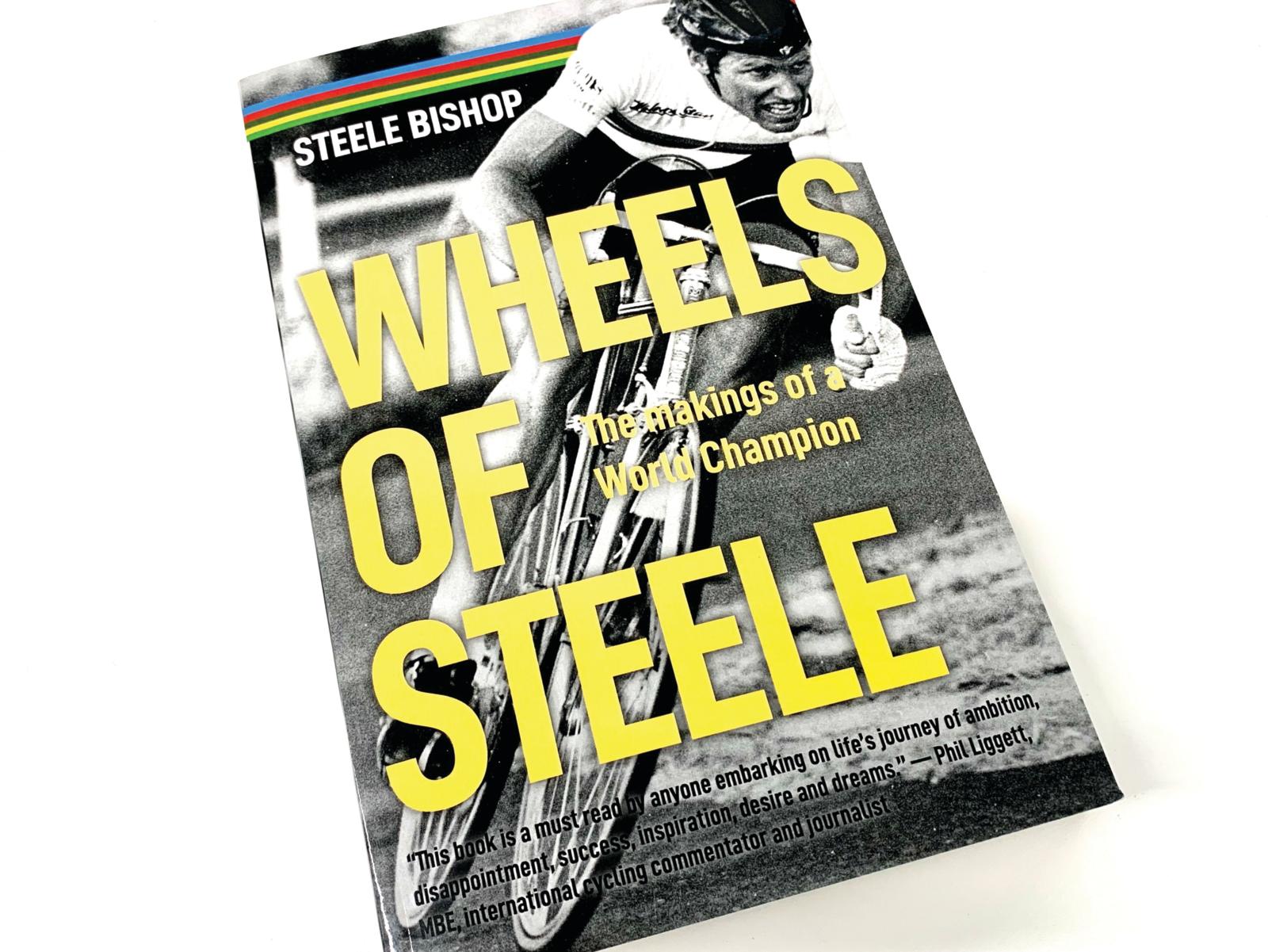 Born in 1953, and still racing today, Steele Bishop remains one of Western Australia's favourite cycling sons. In his refreshingly candid autobiography, Bishop documents everything from his humble beginnings in Kalamunda on the fringes of Perth in the 1960s, where he literally had to scavenge spare parts to build his first bike, to achieving his childhood dream in 1983 by seizing the Professional Individual Pursuit World Title in Switzerland.
Along the way Bishop details what is was like to compete with and against some the era's most revered riders, racing at the ill-fated 1972 Munich Olympic Games as a 19-year-old amateur, his record-breaking six victories in the Westral Wheelrace and his almost obsessive attention to detail. Bishop shares his experiences and philosophies with plenty of memorable behind-the-scenes moments.
Available at good book shops and online.
Cervelo P5 Updated

Cervelo recently released the latest incarnation of the P5, their Time Trial / Triathlon offering.
The bike, which is UCI legal, has been extensively tested by Sunweb with team pro Soren Kragh Andersen saying he was "amazed by the stiffness and handling of the bike."
"It's super stiff and really nice in the corners," he said. "We tested it in the wind tunnel and it's super fast. It also looks one of the best TT bikes in the peloton."
Cervelo claim the new P5 is 22% stiffer at the head tube over the previous generation, and 26% stiffer at the bottom bracket.
The bike is available in Australia and available in three builds – Shimano Ultegra, Shimano DuraAce and frameset only.
$16,000 – Di2 Dura Ace, Enve 5.6 wheelset.
$11,000 – Ultegra Di2, DT Swiss P1800 wheels.
$7,000 – Frameset with Aero bottles, rear hydration mount & Barfly computer mount.
More at www.cervelo.com
Canon Camera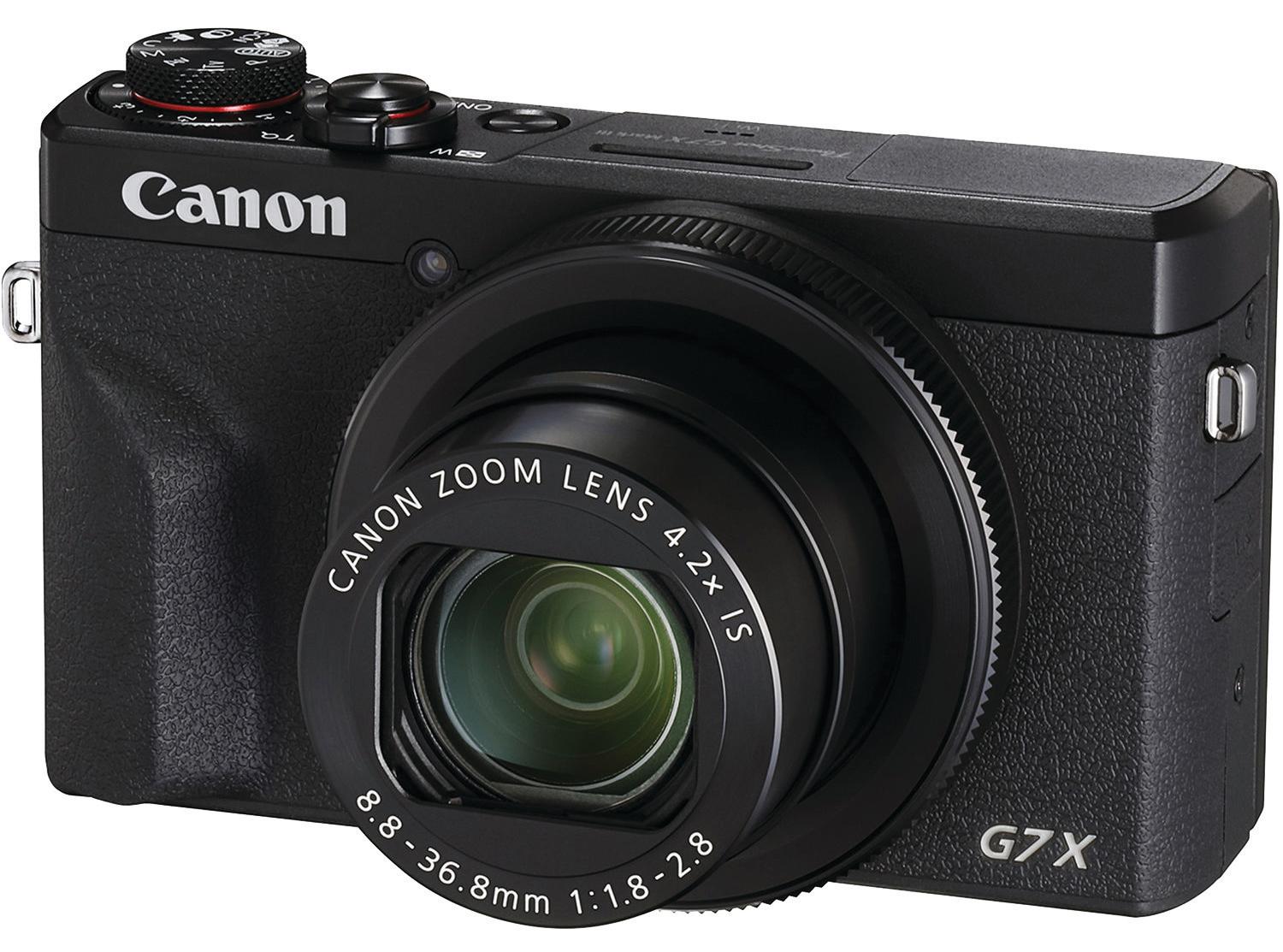 Canon have announced two new large sensor compact cameras that could be perfect for the adventure cyclist keen to capture high quality images during trips.
The PowerShot G5 X Mark II features a new 5x f/1.8-2.8 lens and pop-up electronic view finder, while the PowerShot G7 X Mark III features a 4.2x f/1.8 – 2.8 zoom lens. Both cameras feature Canon's DIGIC 8 image processor, 20.1 megapixel sensors and weigh just 340 and 304 grams, respectively.
Both the PowerShot G5 X Mark II and PowerShot G7 X Mark III offer DSLR-like levels of control, with a control ring providing direct access to settings.
Local pricing has not been announced, but the cameras are expected to retail for around $1,090 (G7 X Mark III) and $1,299 (G5 X Mark II).
More at www.wattbike.com/au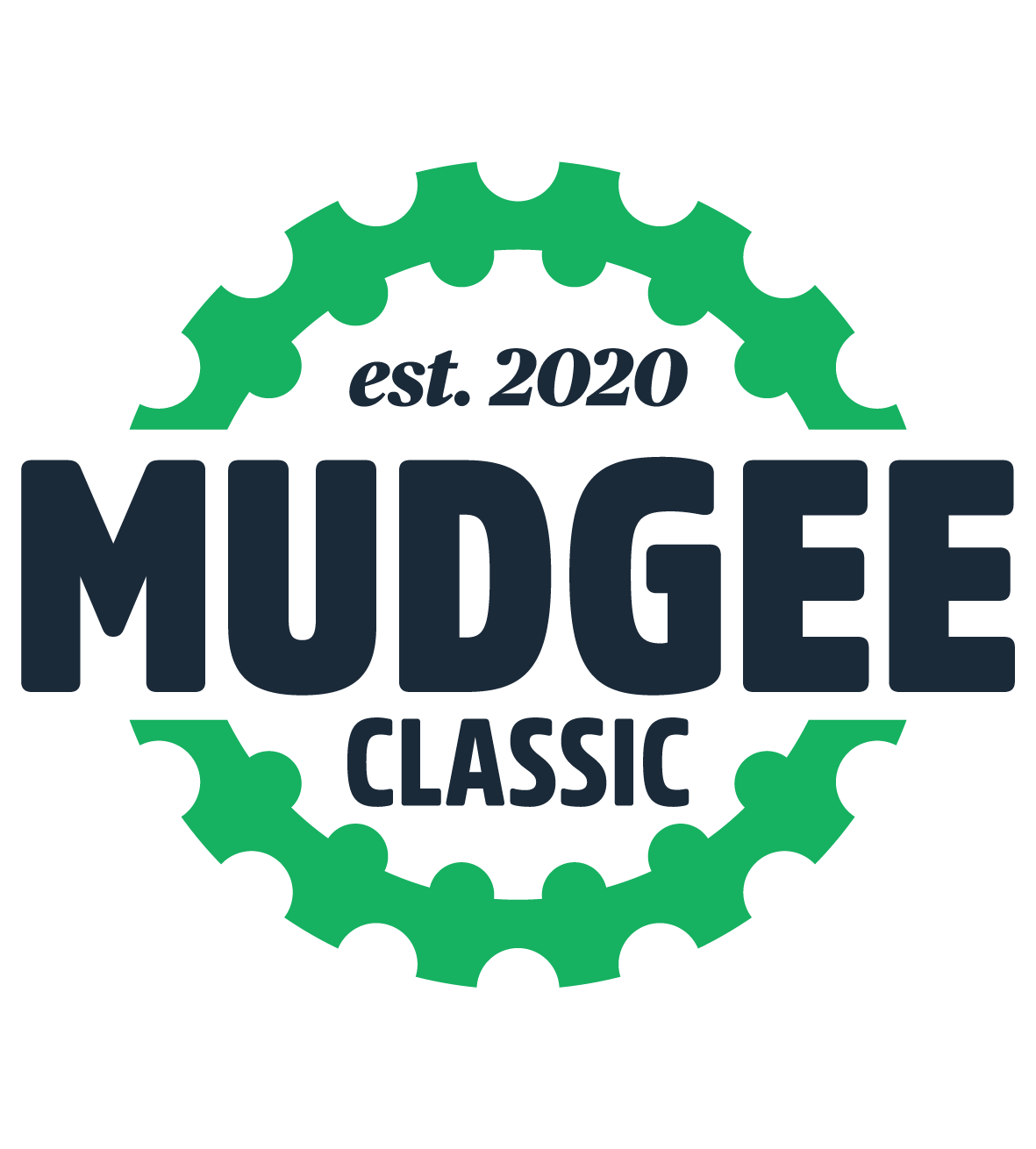 Gran Fondo – the Mudgee Classic
Bicycling Australia have announced their fourth Gran Fondo event – the Mudgee Classic to be held on 5 May 2020. Following the success and popularity of three Bowral Classics, two Noosa Classics and the inaugural Clare Classic, the Mudgee Classic will be the 9th Gran Fondo event hosted by Bicycling Australia! You can register your interest now at www.mudgeeclassic.com.au
Supacaz Socks

Sockdoping is real, and if you ever need any proof of that all you'd need to do is check out the Supacaz website or social channels. The Californian-based accessory company are famous for their bright bling, and these socks are further proof of that. Known as 'Supasox, these 'woven pieces of art' are not only pleasing to the eye, but also have superior performance attributes. Supacaz socks are smooth in texture, fit snugly,and are extremely breathable. The wicking technology keeps your feet dry and cool in all conditions. They are available in a range of colours and styles from your local bike shop or online.
Available in multiple colours and designs. Ask at your local bike shop!
RRP $21.95
Wattbike Atom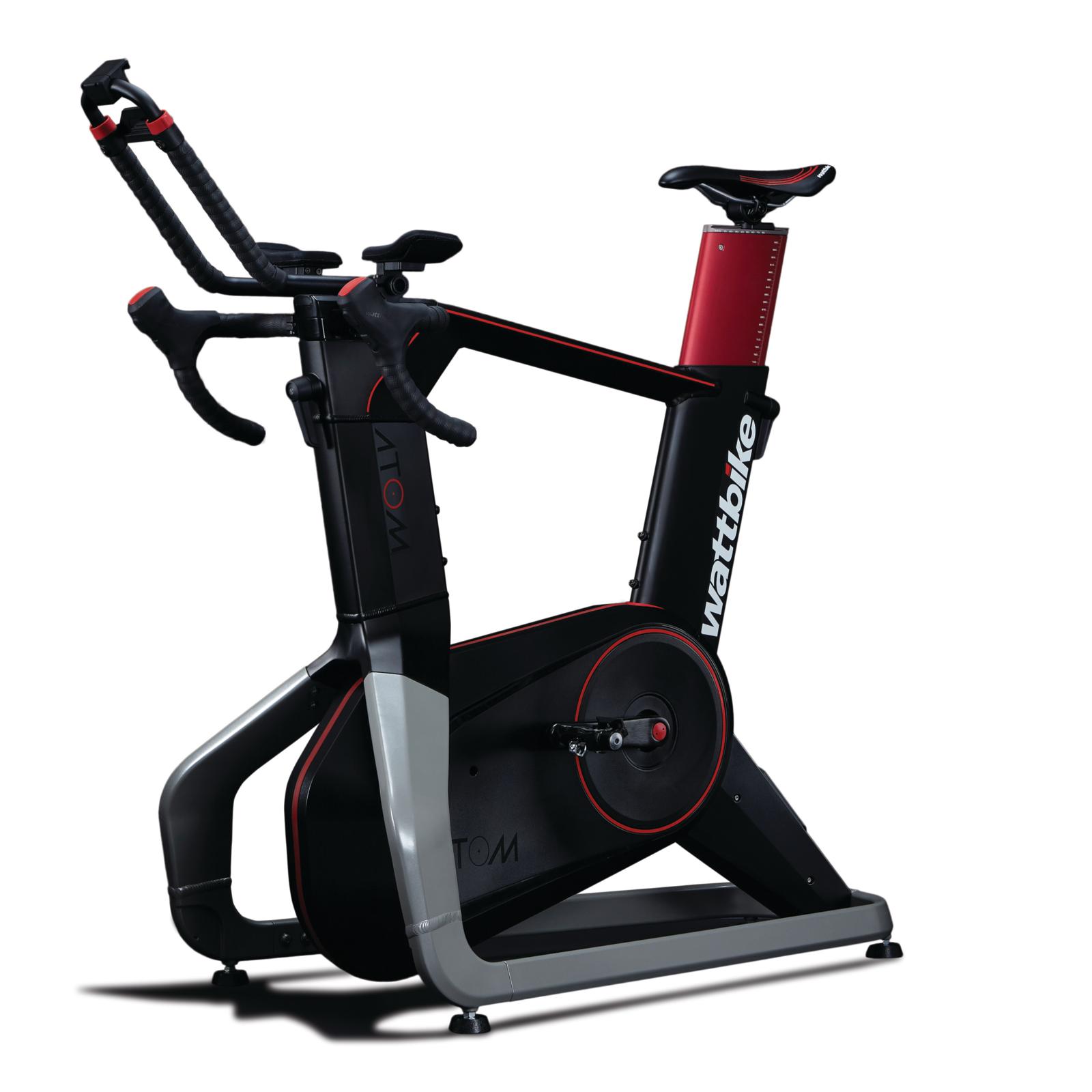 'The most realistic, intelligent and effective smart trainer on Earth.' It's a bold claim but take one look at the Wattbike Atom then read a sample of the online reviews and you'll be hard pressed not to agree.
The Wattbike Atom, now available in Australia, is widely regarded as the ultimate indoor trainer. Not only will it help make you a stronger cyclist, the Atom is a top-quality, state-of-the-art platform that combines the legendary reputation of the original Wattbike with the latest in digital training technology and integration.
Unrivalled accuracy
Users can stop wasting precious watts and gain a deeper insight into training data than ever before via Wattbike's own unique performance metric – the Pedal Effectiveness Score (PES). PES is a live view of how effectively a rider is pedalling and can be used to improve technique for those all-important gains.
Get connected
The Atom connects to all the top training apps including Zwift, Strava, FulGaz and The Sufferfest. Users can also connect to Wattbike's free app, the Wattbike Hub, for preloaded workouts and training plans designed to improve performance and help achieve training goals.
Wattbike is offering Bicycling Australia readers an exclusive $100 discount from the purchase of a Wattbike Atom when using the code BIKE100 at checkout.
RRP: $3499 www.wattbike.com/au
Zwift World Championships Course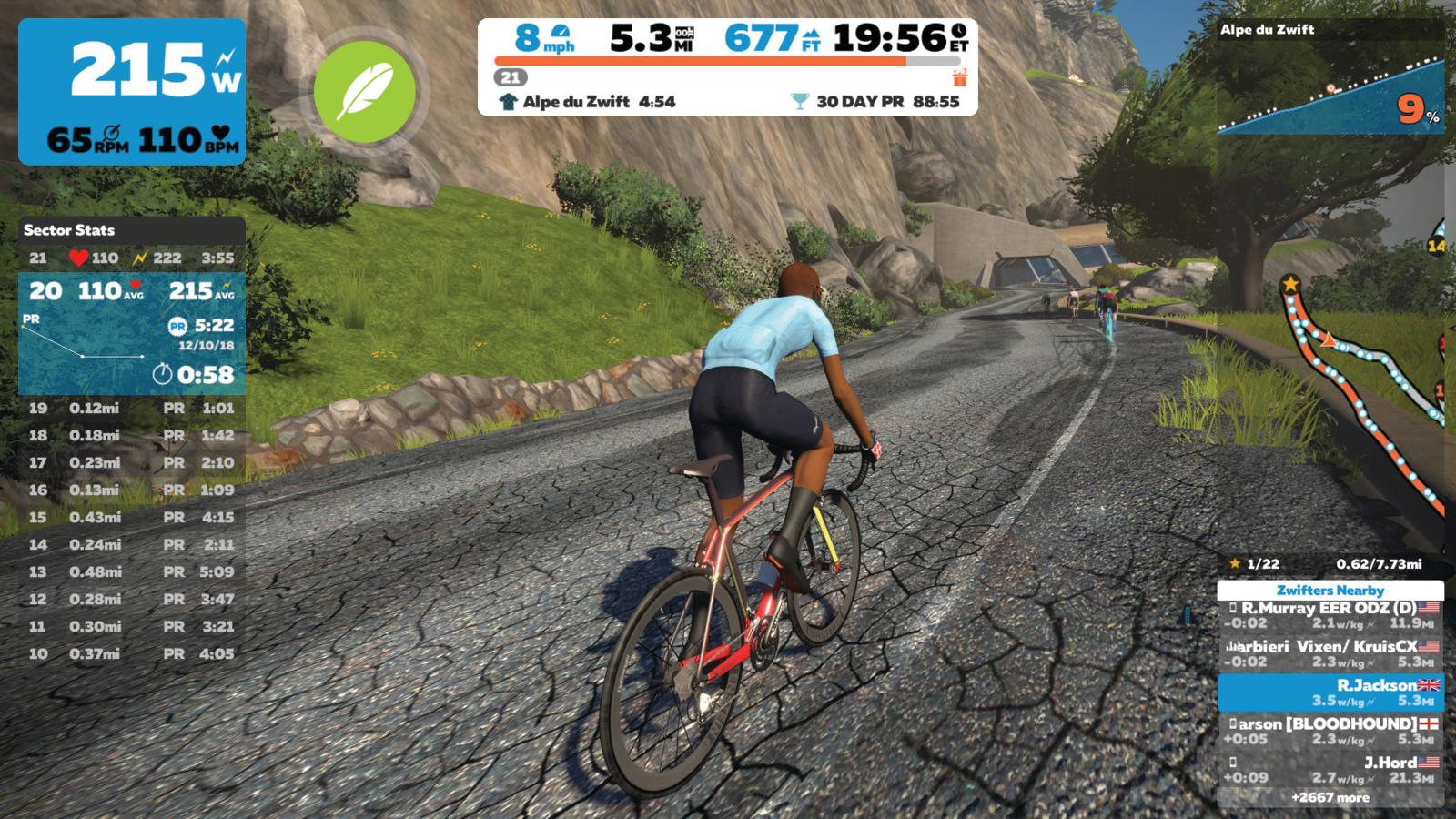 Feeling the 'not enough' training blues and in need of some cycling therapy all from the realism & comfort of your Wattbike Atom?
Many riders are turning to the Zwift platform to supplement their outdoor training, boost fitness and help with preparation for the season ahead. The virtual training platform allows its community of users to ride hundreds of kilometres across five worlds. Explore routes inspired by real world courses including London, New York or three UCI World Championships Courses – Richmond, Innsbruck and the 2019 Yorkshire course which is live and can be ridden now!
New users can enjoy a 1-week free access offer 
and monthly membership costs $19.99.
More details at www.zwift.com
SRAM AXS Drivetrain
SRAM's AXS (pronounced Axis) – has proven a hit with the 12-speed drivetrain featuring revised gear ratios, a flat-top chain and numerous other innovations.
The groupset is available in 50/37, 48/35 and 46/33 front chainrings, with 10/26, 10/28 and 10/33T cassettes – completely different ratios to those we have become accustomed to.
RRP $ 5,999 – $6,999 depending upon choice.
Further details www.bicyclingaustralia.com.au and search 'SRAM'
Thule UpRide 599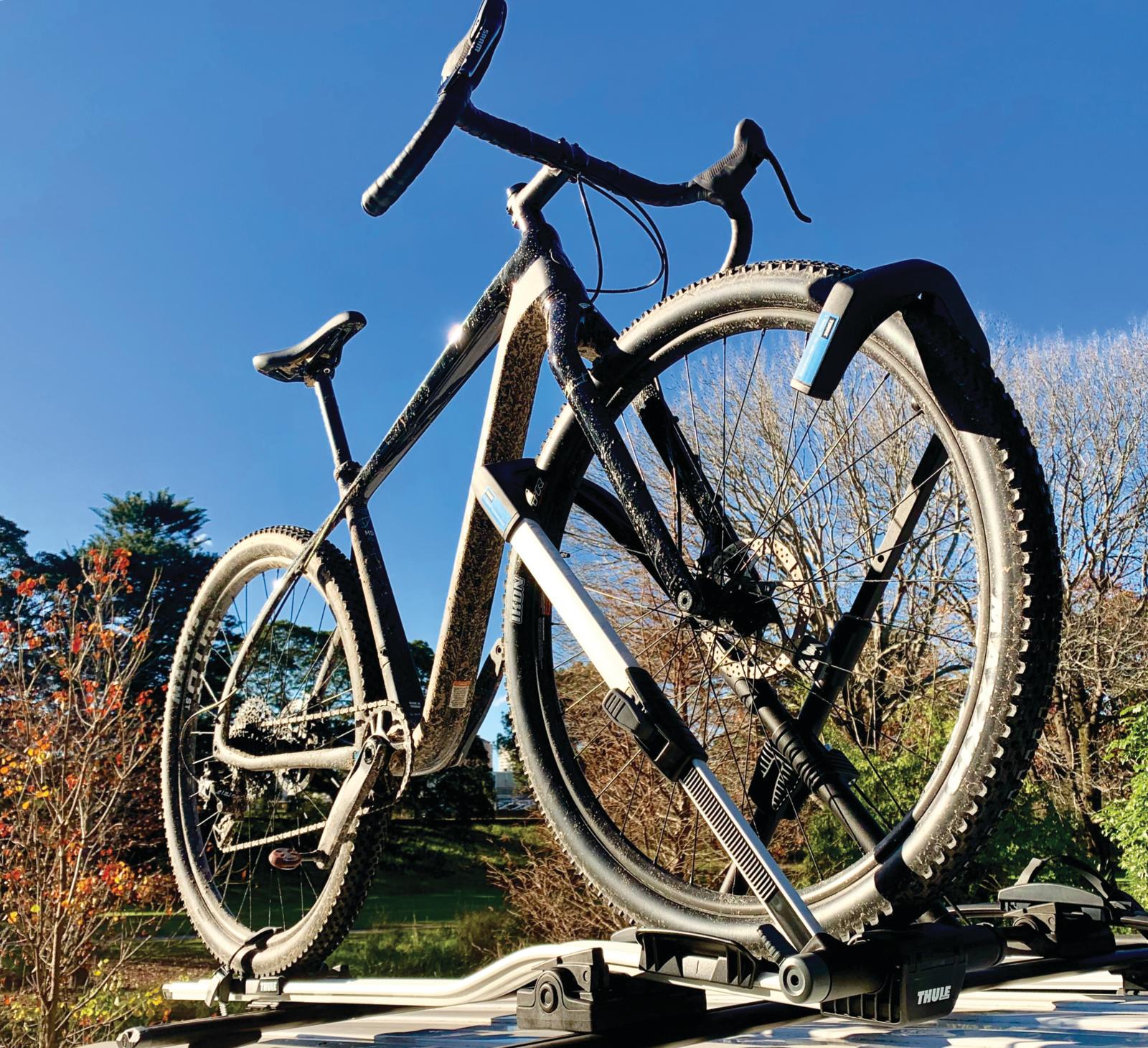 The Thule UpRide 599 offers the latest in bike carrier technology along with 100% peace of mind when transporting your precious steed. Locking the front wheel in place with a clasp then securing the rear wheel to the rail of the unit, the UpRide does not make contact with the frame of your bike. This means valuable carbon-framed bikes are safe from the stresses of a clasp type roof carrier.
We've tried and tested the UpRide and can say that road and gravel bikes sit rock solid securely in place.
The Thule UpRide is available for a RRP of $369
Further details: www.thule.com.au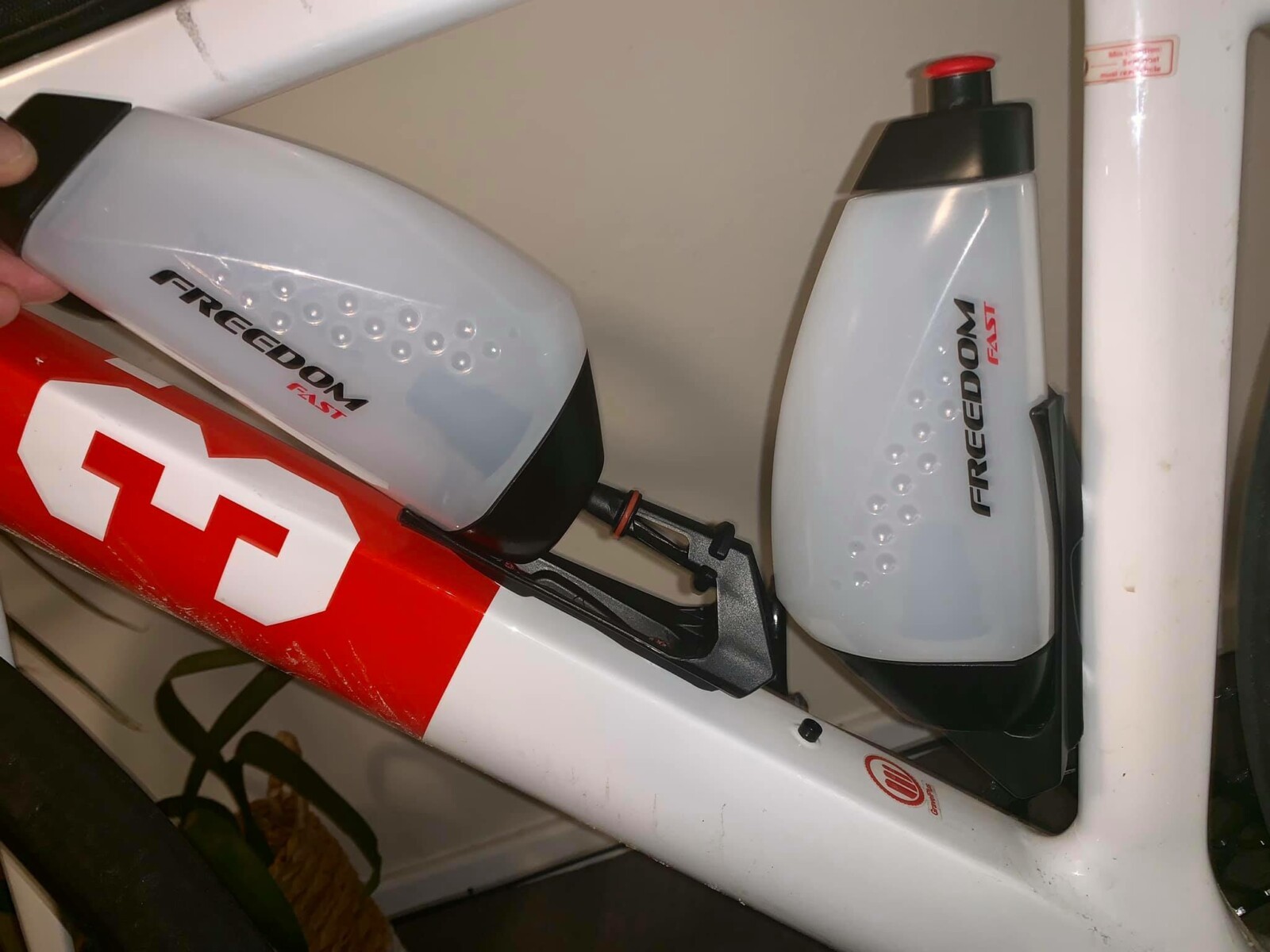 Freedom Cycle System
The humble bidon, re imagined, redesigned and reinvented. That sums up this innovative product line from Aussie company Freedom Cycle System, the smart cookies behind this patented fastening system.
These great looking frame-matched bottles eliminate the need for standard (and often unsightly) bottle cages by securing water bottles internally via a secure pin.
A versatile system, the pin-style mounting system allows users to carry accessories such as toolboxes, spare tubes, nutrition etc.
Originally a crowd-funded campaign, this award-winning water bottle solution is gaining popularity and traction as time goes on. A super innovative offering, more on the Freedom Cycle System will appear in the November / December edition of Bicycling Australia Magazine.
Round bottle (Freedom Ease) RRP $49
Aero bottle (Freedom Fast) RRP $59
Tool Box (Freedom Fix) RRP $49
www.freedomcyclesystem.com