It's not often (or virtually never) we see major changes in how we carry water (or other hydration liquids) on a bike.
Over time we've seen bottle cage placement move from the handlebars to the frame, but still that fundamental of a cage-type bidon retention system remains the standard.
Aussie company Freedom Cycle System have changed that with an innovative solution – a patented fastening system that does away with a bottle cage and instead uses a secure, spigot-style retention pin.
These slick looking aero and frame-matched bottles eliminate the need for standard bottle cages by securing water bottles internally. The securing pin features a washer to ensure a snug fit, the bidon locking into place firmly without any chance of the bottle coming free.
Testing out the system over the past couple of weeks, we found the bottle almost too easy to put back into position after use. The pin system is simple to centre and locks securely into place with a firm push – in our experience it certainly seems a fast and efficient way to remove, use and replace a bidon.
Another unique aspect of the system is the lack of external rubbing and therefore the bidons remaining clean, un-marked and not having branding or any other markings rubbed off over time.
The bidons are slightly heavier and harder wearing than traditional bottles we've become accustomed to. Designed for a longer life, they can be opened from both top and bottom, and therefore be thoroughly and easily internally cleaned.
Overall we found the retention system and aero bottles to be of high quality, easy to use and a great addition to the 3T Exploro adventure bike they were fitted to. They also sat within the confines of the We reckon the sleek aero finish looks pretty good too!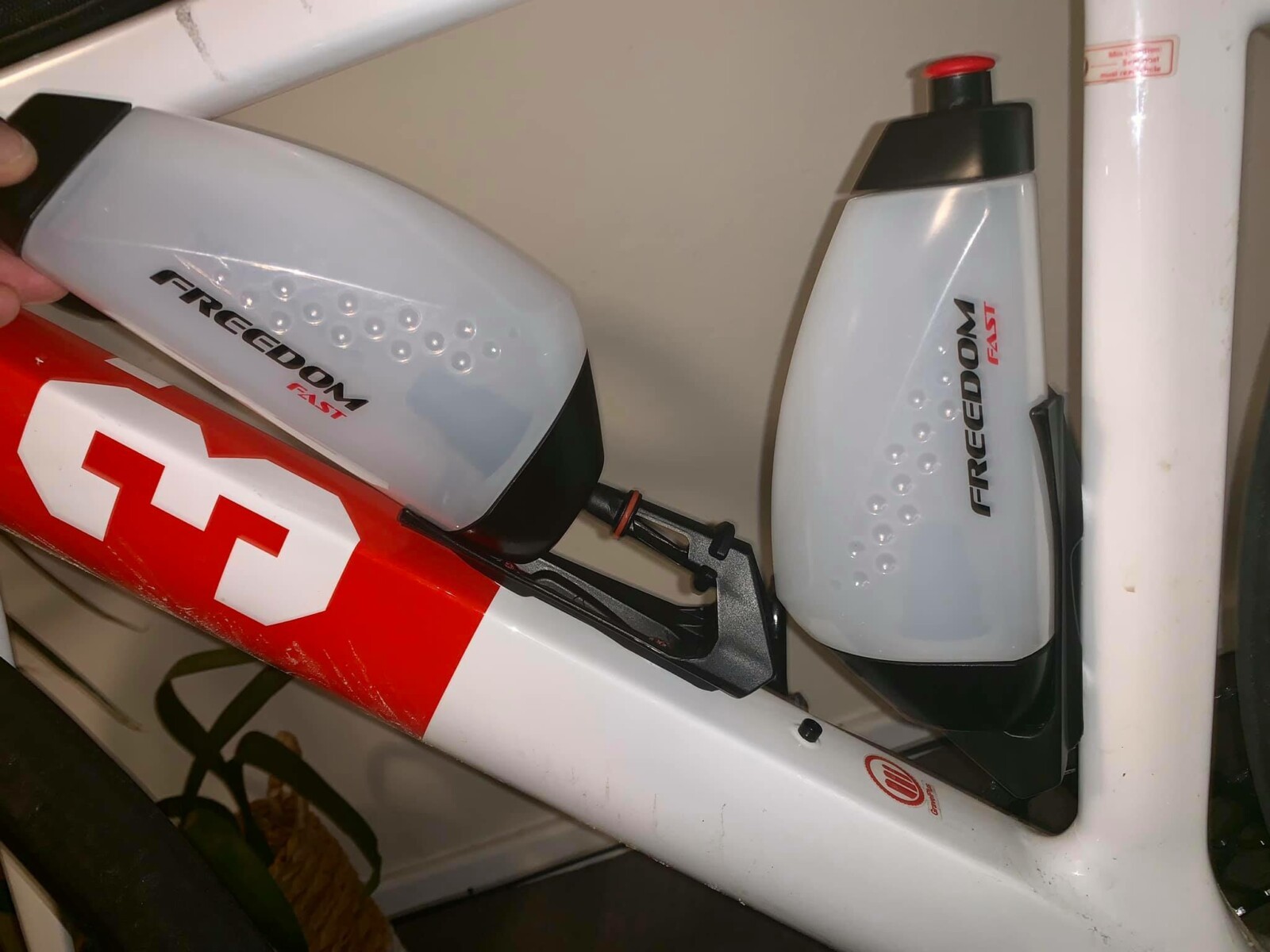 A versatile system, the pin-style mounting system also allows users to carry accessories such as toolboxes, spare tubes, nutrition etc.
Originally a crowd-funded campaign, Freedom Cycle Systems told us this award-winning water bottle solution is gaining popularity and traction as time goes on. A super innovative offering, we're impressed! More on the Freedom Cycle System will appear in the November / December edition of Bicycling Australia Magazine.
Round bottle (Freedom Ease) RRP $49
Aero bottle (Freedom Fast) RRP $59
Tool Box (Freedom Fix) RRP $49