When I stop to consider how highly esteemed the culture of cycling is in Italy, I'm little awed. It's presence there is so tangible, cycling permeates the fabric of life. I can't help but be impressed and a little envious of this. But it's not only the attitude towards cycling and cyclists that has gripped me. It's Italy in general.
The Giro—my favourite of the big three. Then there's the art, the coffee, cuisine, fashion and engineering… style, quality, and yes passion; it's evocative, alluring and pervasive. I haven't thought these words before, 
but I suppose at some level, 
I am an Italophile.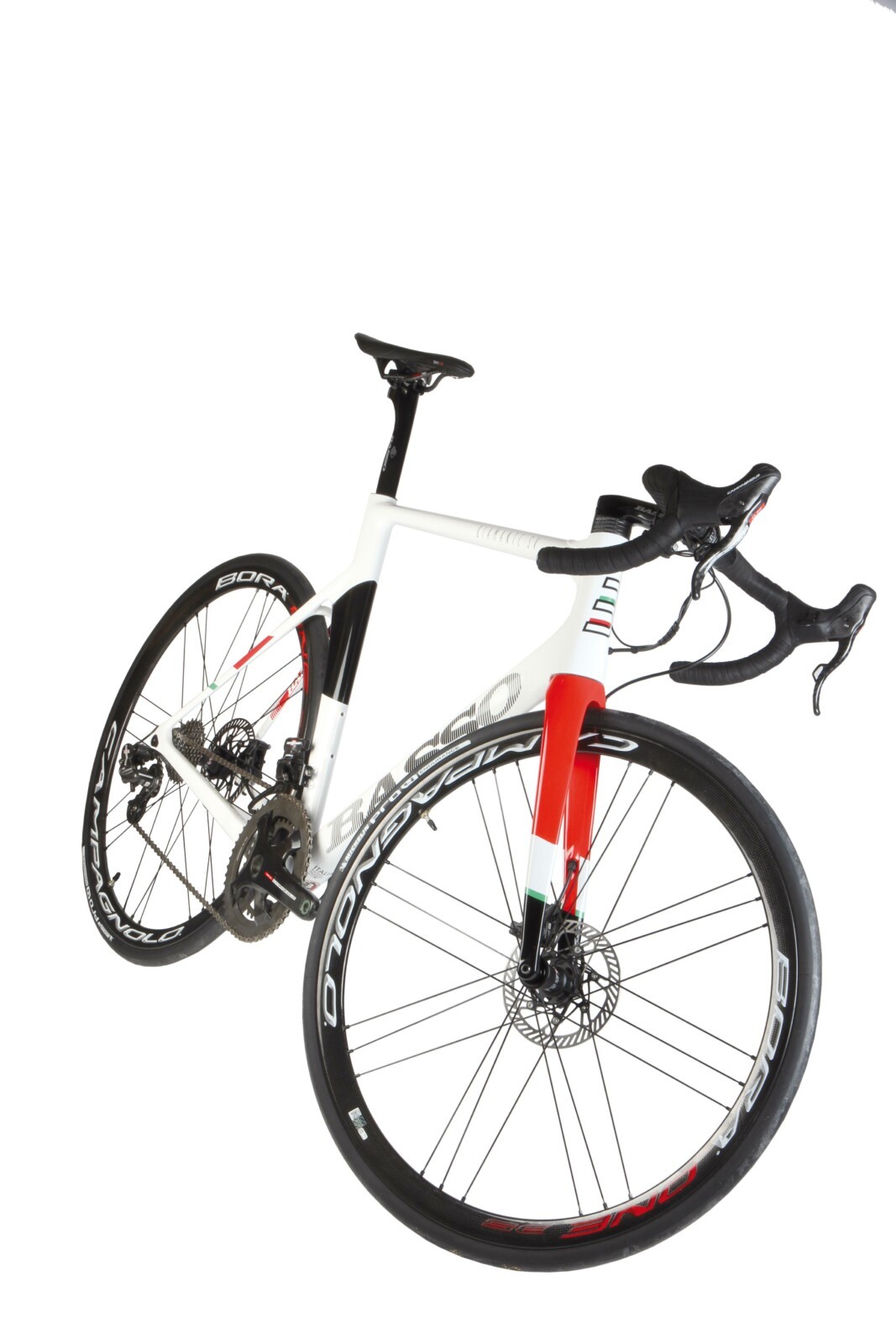 We're looking at the new Basso Diamante SV Disc. 
Italian bike. Made in Italy. 
By Italians. This patriotic 100% Italian claim is one most other prestige bike brands can't make. Colnago's C60 frame is their only one that's home-made. Wilier and Pinarello frames are made in "the Far East". There is no doubt these brands and Taiwanese factories produce very fine bicycles. But Basso still makes their frames completely in-house in the Veneto region just 60km from Venice and a stone's throw from Campagnolo's base in Vicenza.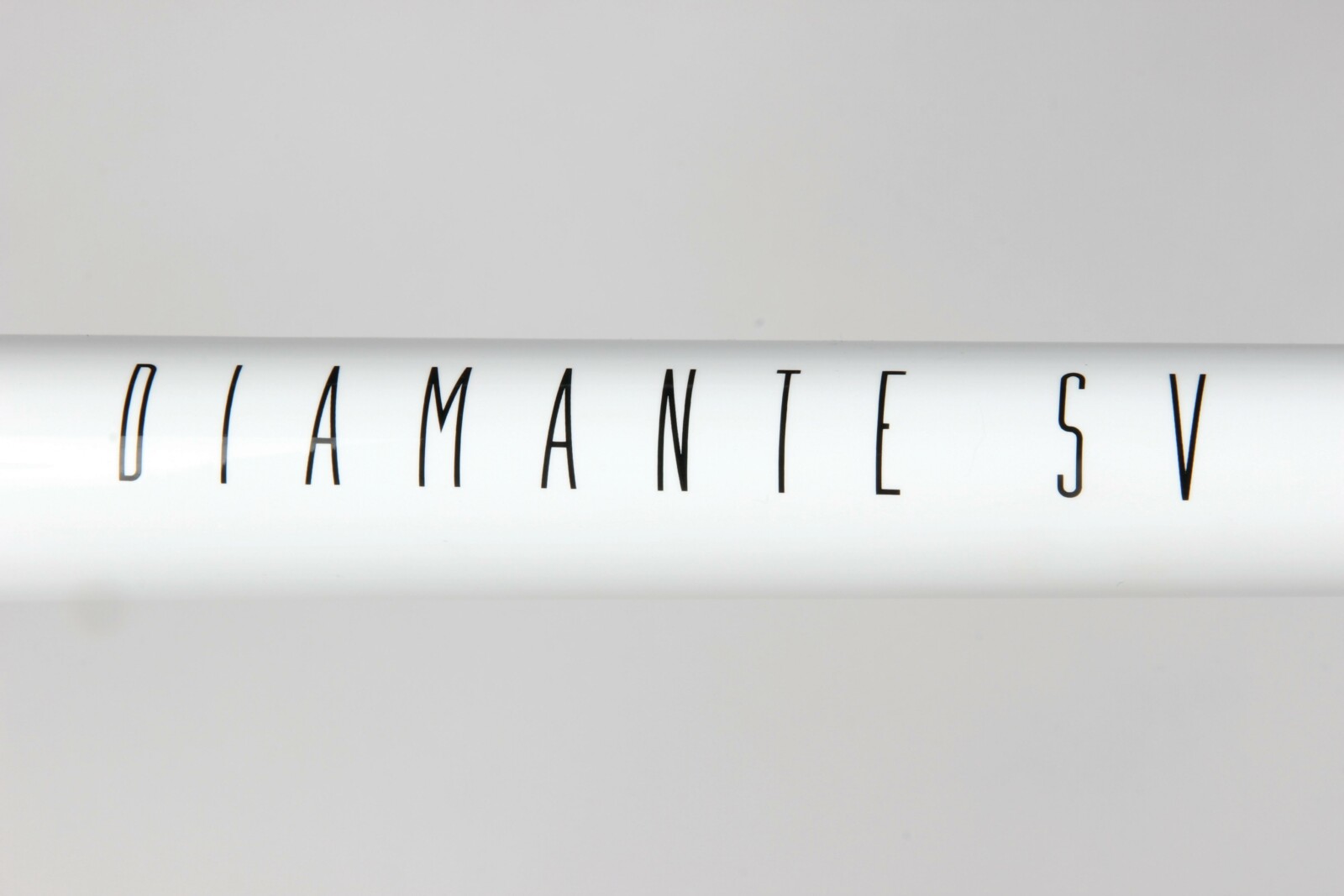 The Basso brand was born 
41 years ago to the Basso family, a band of passionate cyclists, but in particular at the hands of the youngest son Alcide. When he was just 19 years old Alcide Basso started building his first frames in his family's garage. He was also mechanic for his elder brother Marino, a formidable and accomplished sprinter of 70's.
Marino raced in some of the top pro teams against and alongside the likes of Gimondi and Merckx, claiming 27 Grand Tour stages through his career. All this while, Alcide was alongside his brother, honing his mechanical craft.
Their 41 years of Italian manufacture, makes Basso a young brand compared to Wilier or Bianchi. But Basso maintained this all-Italian aspect of their heritage.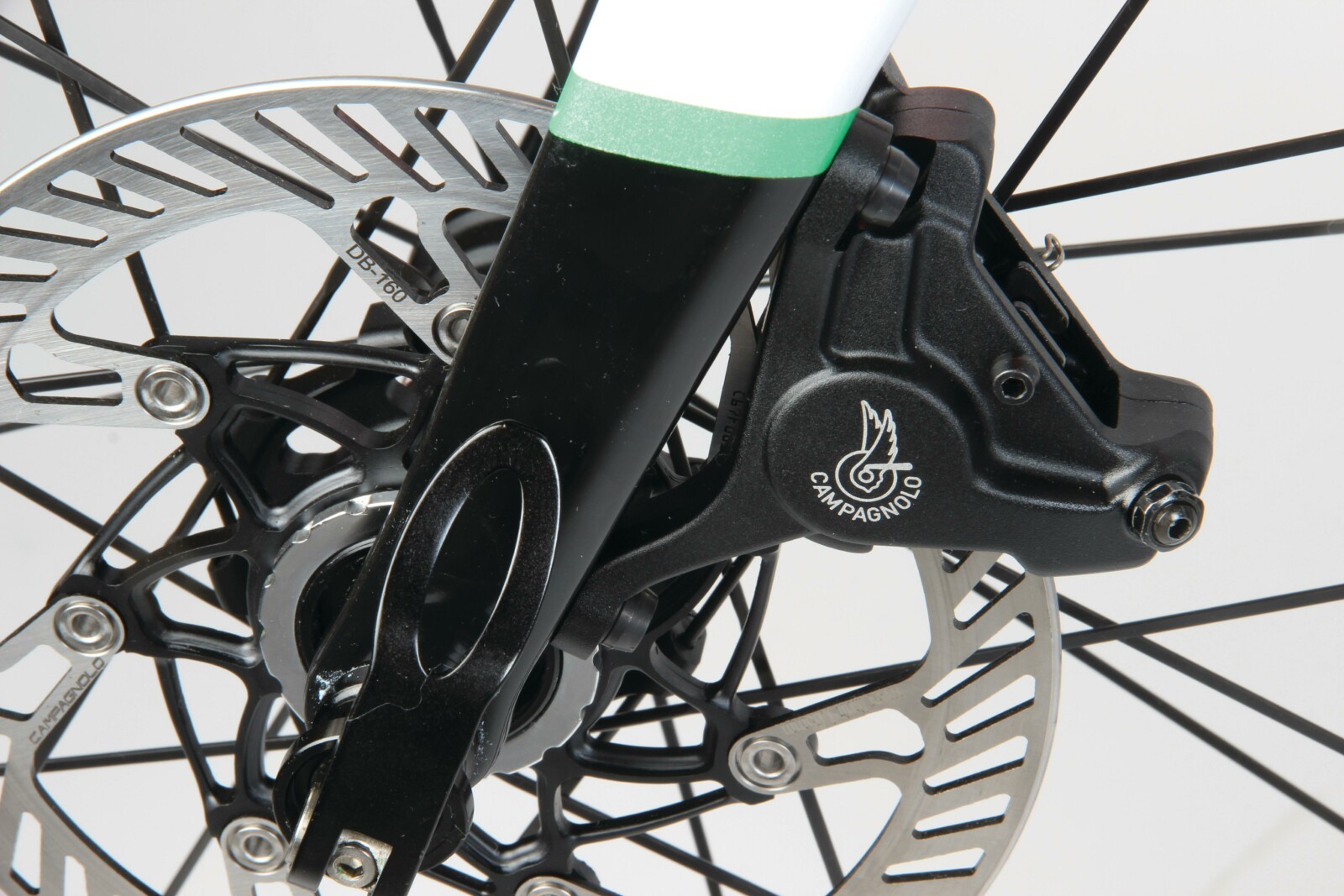 Heritage and family… Do these things make a bike any better? Any faster? Perhaps not. At the limits of performance how do you distinguish variation in value? Once differences in function are negligible what else is there beyond form?
The mere knowledge of a product's creation by a family of artisans, a family steeped in cycling history, and with the kudos of racing victories at the highest levels… that's where value lies for some. These esoteric notions may mean nothing when the rubber hits the road, but there is value and meaning in ideas; there's a sense in which we are what we remember…our history and our stories.
This quote from Basso marketing video makes it clear they understand the value of this exclusive position. "This is what makes us special we give emotions, we give to our customers the feeling of being part of a special group of people".
It is not all words however; Basso deliver exquisitely crafted bicycles. Attention to detail and finishing of the frame and paint is very pleasing….sharp transitions from white to red, and the pearlescent fleck in the green pay homage to the Italian flag. Paint and the resin below even at the ports, dropouts and bearing faces are all smoothly seamlessly finished.
Beyond the lustrous paint, the frame blends current design features creating an aerodynamic frame which includes room for 28mm tyres. There are flat mount disc brakes, 12mm thru axles, internally routed cables and hoses, tapered headset and a hidden seat post clamp. In this clamp area too, there's some neat design work with a rubber sleeve designed to moderate road buzz.
More notably there's a stepped head tube design that allows you to remove the 'comfort kit' and spacers to effectively 'slam' the stem to a point where it's almost in line with the top tube for maximum aero efficiency. The frame is all carbon, incorporating no alloy components.
This 58cm bike is not ostentatiously light, but respectably so, at 7.9 kilos.
It's kitted out with a selection of premium parts from Campagnolo; their carbon H11 cranks driving the chain through Super Record and Record EPS derailleurs. Aesthetically the Campagnolo spec is a brilliant match and given the Italian connection, an obvious, virtually imperative choice.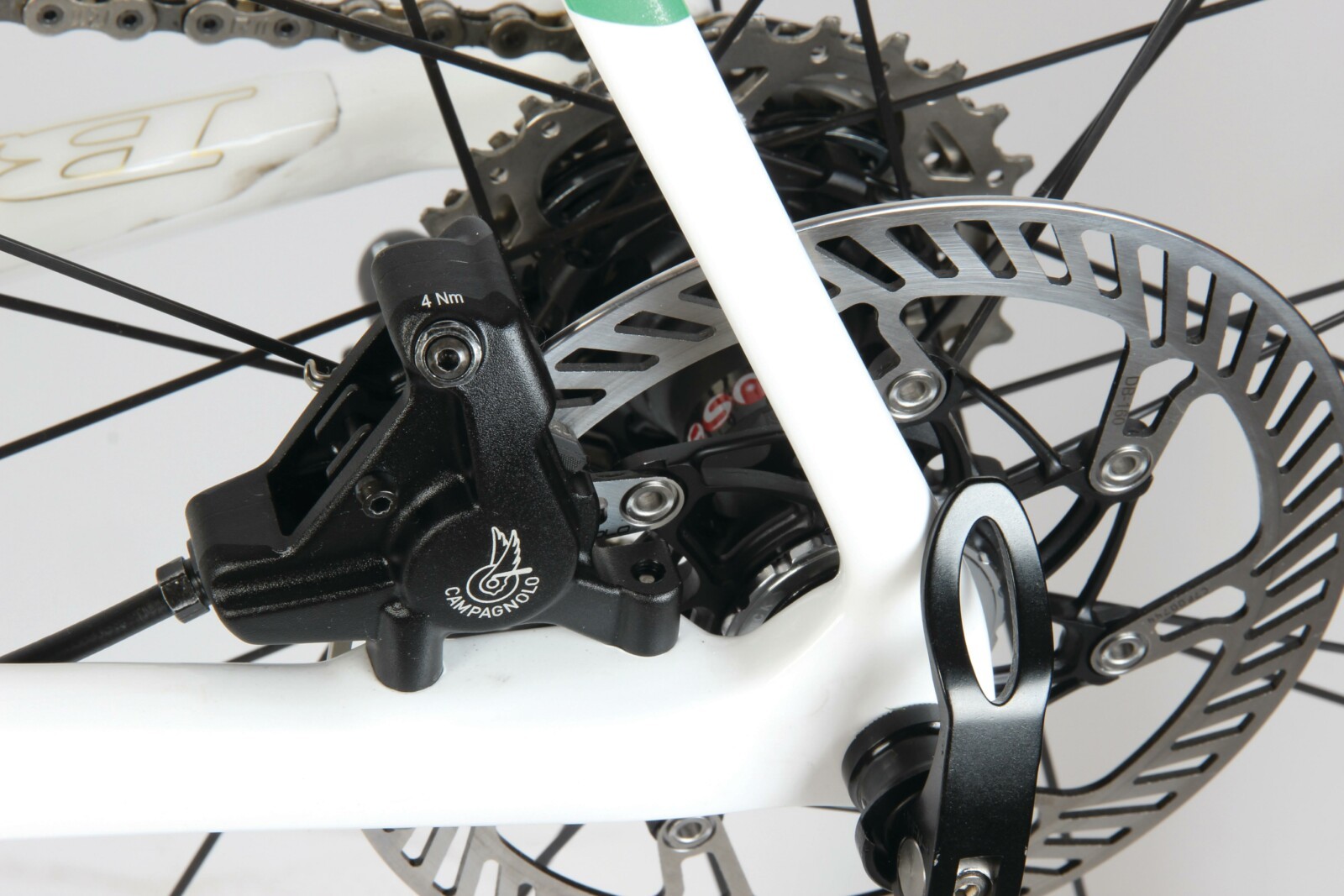 I find Campag's shifters have a really comfortable ergonomic match for my hands, broad hoods under my palm and with shift buttons and levers optimally placed for easy reach. Campag's disc rotors again bring that Italian style. The slotted cutouts and those smoothly rounded edge profiles look a treat and perform exceptionally well into the bargain.
The wheelset is top-shelf too. Carbon Bora One 35mm rims are laced to Campy's Ultra Smooth Bearing hubs with that iconic G3 Megadrive lace pattern that gives extra strength to the drive side rear and disc rotor front with it's 2:1 spoke ratio.
Visually the overall effect of this frame and those wheels is quite stunning. It seems it's not just me who was impressed. This bike has some kind of aura that distinguishes it from the run of the mill.
It draws attention immediately as I roll up to join the waiting bunch and curious comments "what's this new piece of bling, Mr Hunt?". Inside I'm grinning, but I try not to be too smug lest I'm made to pay by the (actual) fast men of the bunch.
"This frame is noticeably stiffer than my regular carbon ride and there's a gratifying feeling of efficiency as I climb the local escarpment, winding up quiet, smooth 
tree-lined roads."
As we head out the ride is lively, sharp, and direct. This frame is noticeably stiffer than my regular carbon ride and there's a gratifying feeling of efficiency as I climb the local escarpment. Descending is a joy. I find myself powering down the mountain, the Diamante hanging on tenaciously as I dare to push harder, going deeper under brakes, and then blasting out of corners.
It's hard to tell if it's actually the bike, or some placebo effect this glamorous machine is having on me, but the result is the same. I'm climbing with more intent, pushing harder on the front of the bunch, and extracting more from these aging legs than I have in some time.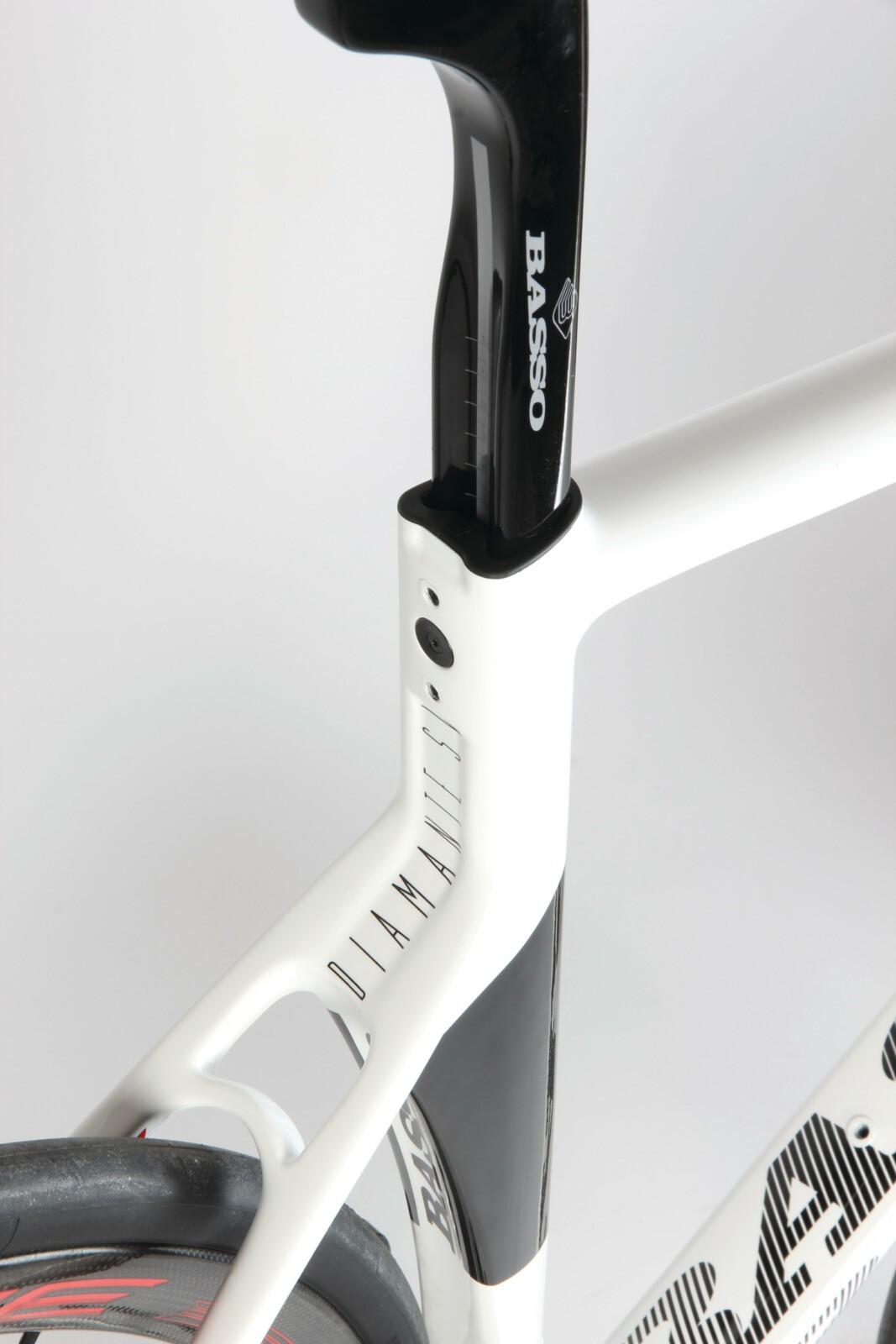 Then riding home through rolling farmland I hunker down in the drops, drilling into the wind. As the ks continue to fly past, I'm more and more engrossed in the ride, zoned out and blissfully elated.
Indeed, this is the most impressive bike I have ridden 
in a long time. 
Basso frames are offered in Australia without wheels – as wheels are quite a personal choice.
Diamante SV Disc frameset (frame/fork,headset, comfort 
kit, stem and post) $7,125.
The RRP for the SR EPS without wheels is $13,600 or $14,500 with.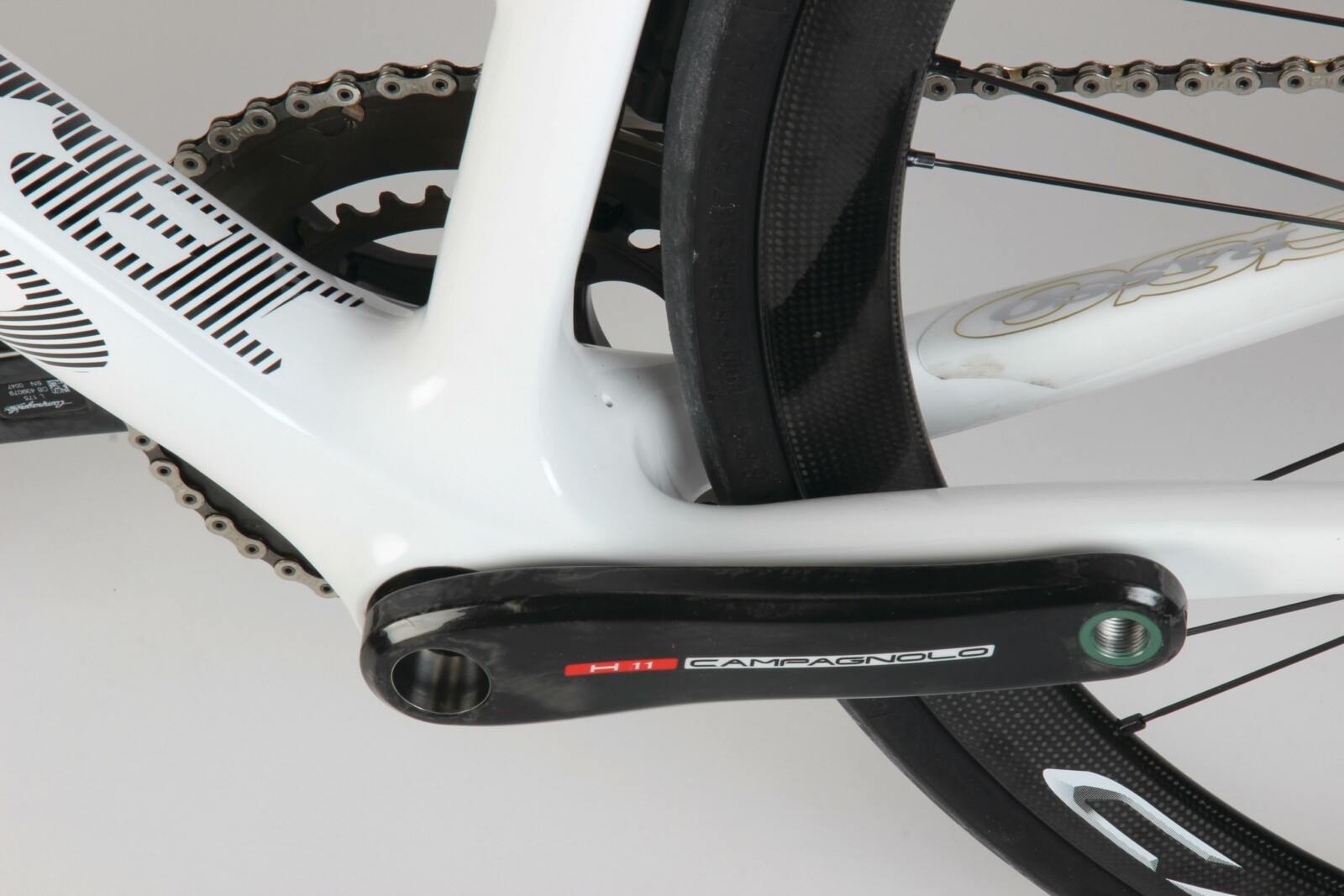 Quality
Resplendent in white, red and pearlescent green, and lavishly adorned with electronic gearing and hydraulic brakes from their compatriots at Campagnolo, Basso's Diamante SV Disc makes an immediate, and striking impression.
Performance
The Diamante SV is a high performance bicycle. Its aerodynamic frame is stiff and spritely. It feels fast in a sprint, and makes climbing and cornering a pleasure. Component spec is top shelf too, so gear changes are faultless and braking impeccable.
Value
This bike as tested has quite a hefty price tag at $14,500. It's well appointed with expensive components and there is no doubt it performs well. It also looks superb. Those factors account for a good portion of the price. Then there's that Italian passion and heritage. How do you put a price on a feeling?
Overall
The Diamante SV is an exceptional bike, and so it should be given the price. But for those looking for a classy, high performing bike with legitimate heritage…look no further. For the speed merchants; if cost is no barrier, I am sure this bike will not stop you reaching the top step. Fast, glamorous and indulgent.
Frame: Diamante SV Disc
Fork: Diamante SV Disc thru axle,
Bars: Microtech Carbon 420mm
Stem: Diamante SV alloy
Saddle: Astute Skylite Carbon
Seatpost: Diamante carbon
Tyres: MichelinPro 4 Endurance 28mm
Brakes: Campagnolo H11 hydraulic disc
Crankset: Campagnolo H11 52/36t
Front derailleur: Campagnolo 
Super Record EPS
Rear Derailleur: Campagnolo Record EPS
Cassette: Campagnolo 11-28t
Wheelset: Campagnolo Bora One 35mm clincher disc
Weight as tested: 7.9kg
Price as tested: $14,500