While roadies and racers have continued rolling on tubular and clincher rubber mountain bikers have been running their tyres without inner tubes for over 15 years. Mavic launched their UST system back in 1999 but tubeless really took off when Stan's developed their sealant based NoTubes system; this allowed most regular tyres to work without an inner tube.
On the road, tubeless first popped up in 2006 but it's taken a long time to gain momentum. Much of this has been due to the limited range of suitable rims and tyres. Due to the relatively high pressures, road tubeless tyres need extremely strong beads and you can't just convert any old tyre by adding sealant. More recently however, the options have really opened up as many big name tyre brands have poured their efforts into developing high performance road tubeless tyres.
So what's the point of road tubeless? For mountain bikers the advantages are clear; they minimise the risk of pinch flats—the prime cause of punctures on the dirt. With this you can run lower tyre pressures for better comfort and increased traction.
While pinch flats aren't as common on the road, they can still strike if you fail to spot a pothole and will benefit those who ride on poor quality acne riddled bitumen. With the risk of pinched tubes eliminated, the tyre pressure can be dropped. Running 10-20psi less not only improves comfort, over rough roads it can also improve your speed as you won't be getting bounced around as much. It'll also assist with traction; both for cornering and out-of-the-saddle sprints.
For many, penetration punctures are a more common cause of flats. Roadside debris such as glass and wire can slice straight through the tyre casing. Most modern tubeless road systems run around 30ml of sealant inside the tyre, and this fluid is very effective at repairing any holes in the tread area. In many instances there will be next to no air loss when something sharp penetrates the tyre and you won't need to stop. This is a major benefit if the roadside verge is littered with rubbish.
Of course no tyre is infallible. While latex based sealants will repair regular sized cuts and holes, a badly slashed tyre will still leave you feeling deflated. Even in this situation a tubeless setup gives you a better chance of limping home. Where regular tyres rely on the pressurised inner tube to keep them in place, the bead of a tubeless tyre locks securely to the rim. In a worst case situation, the solidly mounted tubeless tyre will allow you to limp home slowly with less chance of losing the tyre completely and incurring rim damage.
You can still fit an inner tube if the sealant fails to repair a puncture, and large sidewall cuts can be fixed temporarily with a $5 note or business card—it's no different to a regular tyre in this regard.
Smoother rolling on bumpy roads, enhanced comfort and fewer ride-stopping punctures should all appeal to the rider who likes to get out and clock up the kilometres but what about the racer? This market segment is more concerned with outright speed and at a pro level has a rolling cavalcade of mechanics behind, so punctures are less of a concern. While the uptake on tubeless has been slow so far, attitudes are changing as tyre technology develops. The latest tubeless tyres are very close to the weight of a regular tyre and tube combo but also stand to offer lower rolling resistance.
A separate inner tube creates additional friction as the tyre casing distorts on the road surface. Eliminating the tube entirely removes this friction and recent testing has shown that a good road tubeless tyre rolls with less effort. Schwalbe pitted their Pro One Tubeless tyre against the equivalent One tube-type tyre and the tubeless model was measurably faster. This along with the aforementioned advantages has Schwalbe heralding tubeless as the future for road tyres.
While tubeless tyre systems hold many benefits, they also bring with them a learning curve. The overall layout may be similar to a regular clincher but it introduces a range of idiosyncrasies that will be 
new to many.
Tyre fit is typically tighter and greater care is required to ensure the bead isn't damaged on installation. The sealant needs topping up periodically and the frequency of this will vary with climatic conditions—hot and dry conditions will lead to more frequent to-ups. These sealant top-ups may add to your maintenance regime but the payback comes when you spend less time fixing punctures on the side of the road!
You also need to pay extra attention to the tyre and rim compatibility. With the high air pressures used in road tyres, it's absolutely critical that the bead mates with the rim as intended. At this stage there's no industry-wide tubeless standard for manufacturers to adhere to. As a result it's best to check the information provided by the tyre manufacturer to see if the product is suitable for your wheels and we'd strongly recommend against 'ghetto tubeless' setups; that is bodging together rims or tyres that weren't designed for tubeless applications. For the Pro One Tubeless tyre that we've used in our example, Schwalbe recommends a tubeless compatible rim that's designed to the ETRTO standard with a flange height that's no less than 6mm (so far as Schwalbe goes this rules out some tubeless rims such as those made by Stan's No Tubes).
From our perspective, tubeless is clearly the way to go, so let's take a look at what's involved in converting to a tube-free setup…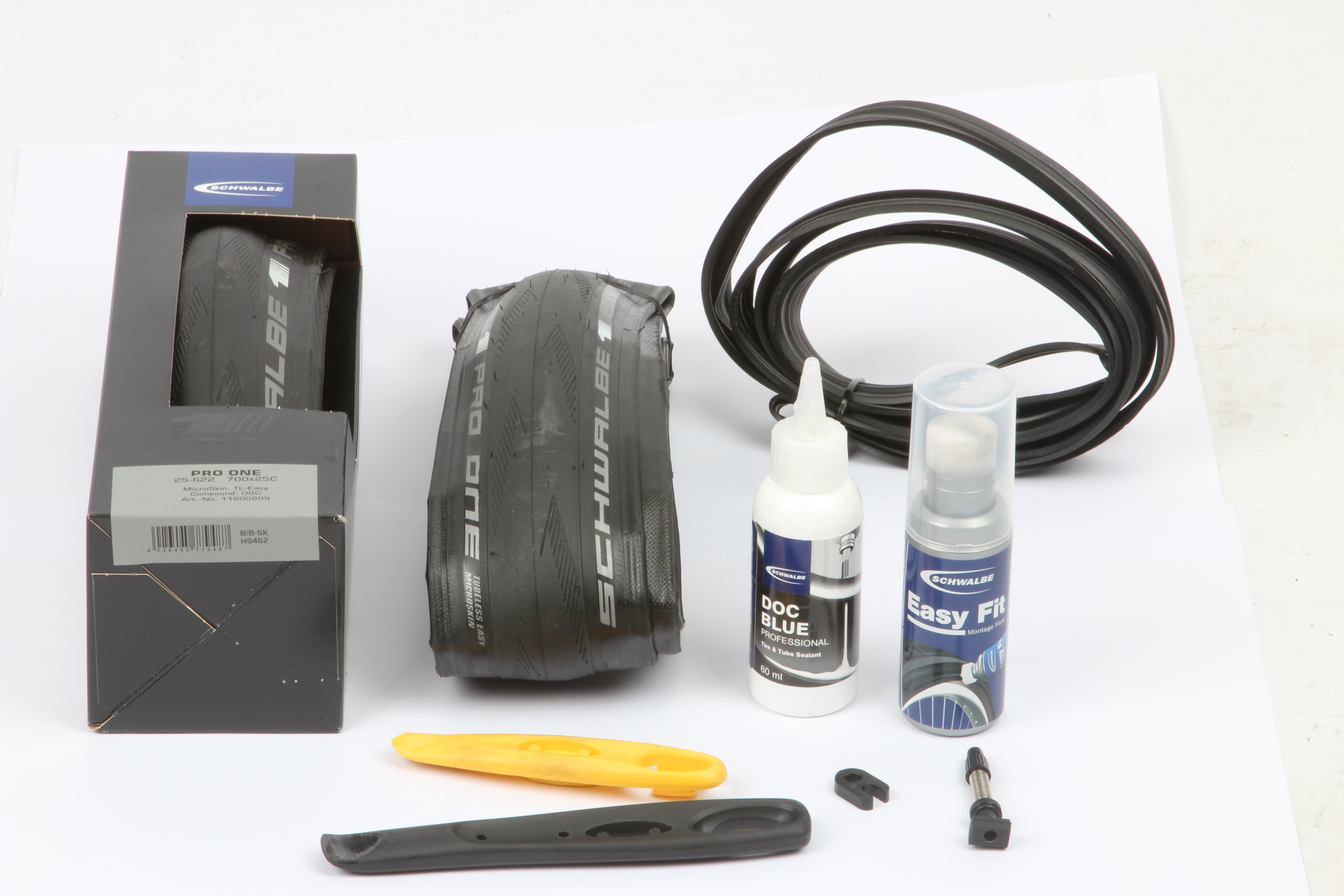 What You Need:
Tubeless tyre sealant.
Tubeless tyres (check
 the manufacturers spec to ensure they are compatible with your rims).
Tubeless valve stems with a rubber grommet to match the inner profile of your rims.
Valve core removal tool.
Nylon tyre levers.
Tyre fitting fluid (Schwalbe 
Easy Fit or soapy water).
Rim strips/tape or whatever is required to make your rims 'tubeless ready'.
A good floor pump.
Steps for How To: