Zipp have taken design cues from nature to come up with their latest wheelset – the striking 454 NSW, an innovative new design they say is their highest performance wheelset ever.
After 4 years in development, 36 prototype models and 252 wind tunnel hours, the Zipp 454 NSW carbon clincher was under embargo until it's global release earlier today. Bicycling Australia were at the Australian launch at Rapha HQ in Sydney where the striking new wheels were presented to the cycling media, bike shop staff and local fast men of the sport.
After the launch Dave Evans of SRAM Australia said the Zipp 454 NSW will sit at the top of the company's wheel hierarchy, above the NSW 404, 303 and 202.
"It's a premium, high-end wheel set with properties that make it the most advanced wheel set on the market. to make. It's more stable in crosswinds and faster – so that the power you put into your bike and wheels is converted to speed," he said.
"They have been absolutely top secret – there were 4 other global launches around the world. They have been the companies best-kept secret.From a technological point of view, the work Zipp are doing is truly groundbreaking – this release is definitely at the forefront of any wheelset."
All were intrigued, impressed and to a degree in awe of the new design that incorporates a variable inner diameter made up of a series of patented fin-shapes around the inside of the full carbon rim. These fin shapes are where nature comes into the equation – they were inspired by the lead edge of the humpback whales' pectoral fin.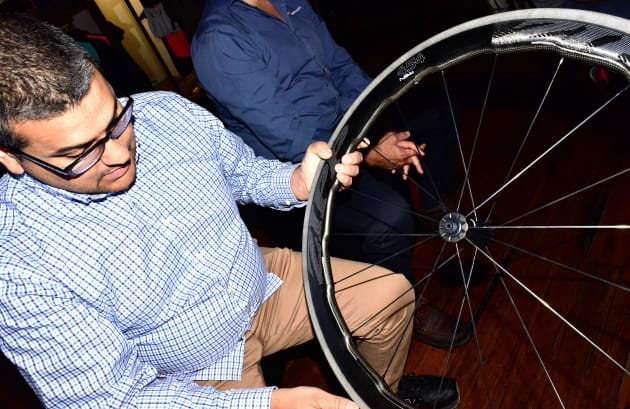 According to Zipp the new rim shape achieves something conventional aero wheels cannot – simultaneously reducing aerodynamic drag and side force resulting in the ultimate in "AeroBalance".
"The 454 NSW's undulating SawTooth rim architecture with HyperFoils represents the next evolution of the SawTooth dimple technology found on all of Zipp's NSW wheels," Zipp stated in the product release. According to Zipp researchers and designers, the HyperFoils and HexFin dimples help to stabilise handling in gusting wind by increasing wind vortex shedding frequency.
"Lower frequency shedding produces larger, more powerful vortices," say Zipp.
"In cycling terms, this unstable situation is often referred to as buffeting. The higher frequency vortex shedding produced by SawTooth creates a greater number of smaller, less powerful, yet more predictable vortices leading to greater wheel stability.
"With less aero drag and reduced side force at all wind angles, riders can expect increased efficiency and better rider control and efficiency under a range of conditions."
With each wheel handcrafted, the Zipp 454 NSW's come at a price. They are expected to retail for around $AU6000 per set and will be available in coming weeks.