Graham Watson, the world's best-known and most respected cycling photographer, has announced his immediate retirement from the sport – the Tour Down Under being the final race he covered.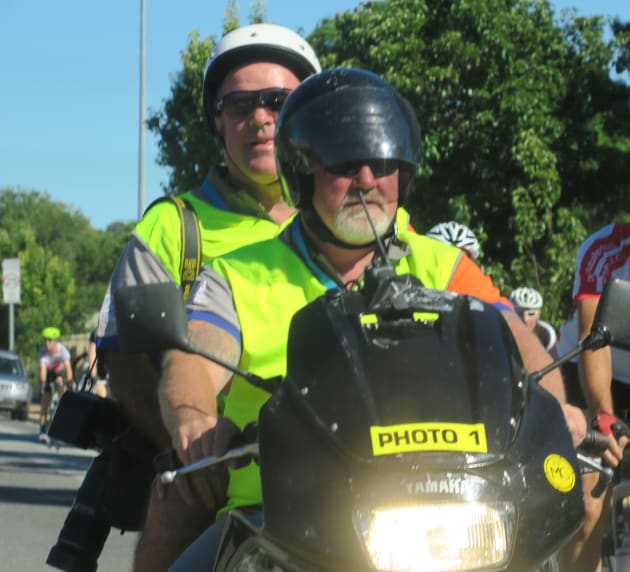 "I am no longer a cycling photographer. If you want, you can now refer to me as a ex-cycling photographer or as a former cycling photographer," Watson announced via his website on February 1, to the shock and surprise of fans across the globe.
"After almost 45 years as a professional photographer and 38 years of that as a cycling photographer I am retiring – my last race was the Tour Down Under in January. I turned 60 years-of-age last March and began finalising a plan that had been fermenting in my mind since five years earlier."
One of the true gentlemen of the sport and a fixture at virtually every major cycling race on the planet for many of those 38 years, Watson provided us with the most iconic cycling images of the modern era.
Starting out with what he describes as "a lucky shot" of Eddy Merckx on the Champs Elysees in in Paris in 1977, to capturing the decisive moment Richie Porte attacked on Willunga Hill to subsequently win this year's Tour Down Under, Watson has seen it all.
"My career has been one long, unbroken, enjoyable, unforgettable, exciting, roller-coaster, highly-successful adventure," he wrote to his site.
Here, There & Everywhere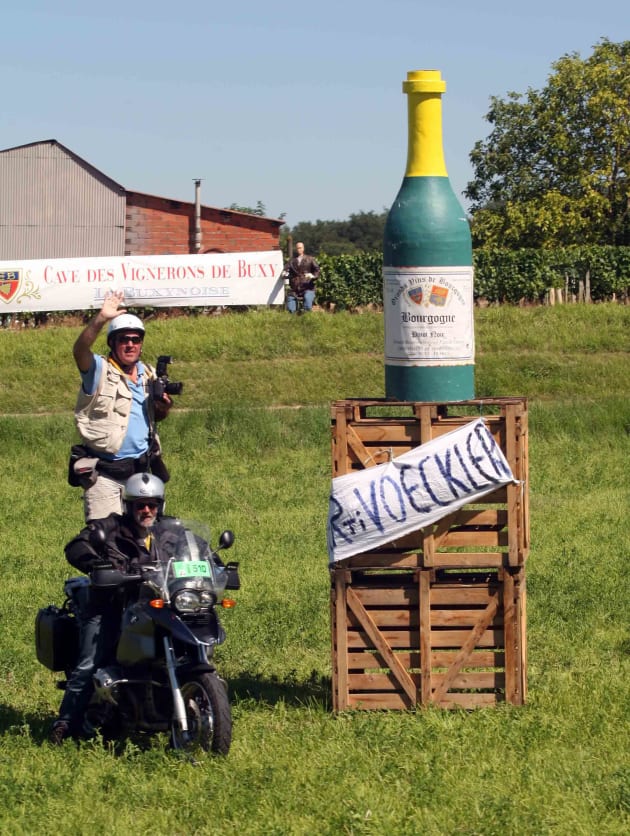 Perched, often precariously, on a motorcycle just metres in front of the peloton, his life and reputation were in the hands of the skilled riders he knew and trusted. If he wasn't on the moto ahead, beside or behind the peloton, he could often be spotted amid a field of sunflowers, on the turret of a nearby castle, behind a mob of cows, or anywhere his photo-fuelled imagination could conjure up.
Watson was there to see some of the biggest names of the sport appear, develop, peak and prosper. And yes, in some cases, fade away in shame.
"You name the names; I've followed their whole careers," he writes.
"Think of Bernard Hinault, Laurent Fignon, Greg Lemond, Stephen Roche, Eric Vanderaerden, Pedro Delgado, Robert Millar, Sean Kelly, Phil Anderson, Andy Hampsten, Mario Cipollini, Miguel Indurain, Tony Rominger, Bjarne Riis, Laurent jalabert, Jan Ullrich, Chris Boardman, Erik Zabel, Marco Pantani, Stuart O'Grady, Johan Museeuw, Lance Armstrong, Paolo Bettini, Robbie McEwen, David Millar, Tom Boonen, Fabian Cancellara, Cadel Evans, Philippe Gilbert, Mark Cavendish, Alberto Contador, Bradley Wiggins, Alejandro Valverde, Vincenzo Nibali and Chris Froome – that's a hefty lineage of champions I've photographed from amongst thousands of mere mortals."
Wiggo 'The Most Talented'
"Who is my favourite road cyclist, people often ask? I tell them Sean Kelly, a constant source of great photography when I was a young lad starting out. I then say Indurain came close, ahead of Fignon, Ullrich, Armstrong, Delgado and Wiggins. I also tell them that if I was just 21-years-of-age today, then Wiggins would be my favourite cyclist – the most enigmatic of them all, but as a five-times Olympic Gold medallist, multi World Champion, winner of a Tour de France and current holder of the Hour Record, he is by far the most talented cyclist I've ever photographed."
Track Shots
"My favourite track cyclist? Wow, who to choose from when I've seen greats like Danny Clark, Connie Paraskevin, Tony Doyle, Erika Salumae, Koichi Nakano, Lutz Hesslich, Sergei Kopylov, Urs Freuler, Michael Hubner, HH Oersted, 'Eki' Ekimov, Jens Feidler, Bruno Risi, Shane Kelly, Jens Lehmann, Florian Rousseau, Felicia Ballanger, Marty Nothstein, Arnaud Tournant, Chris Hoy, Victoria Pendleton, Anna Meares, Laura Trott and Jason Kenny. I'm no misogynist, and have envied the power and grace of the greatest women as well. Connie Carpenter, Jeannie Longo, Leontien Van Moorsel, Nicole Cooke, Lizzie Armitstead and – without doubt the greatest of them all – Marianne Vos are the true luminaries who've lit up that part of my career."
Watson's Cameras Of Choice?
Watson's first professional camera, he writes, was a Pentax Spotmatic II in 1977, before moving to Nikon .
"An FE2 in 1998 started me on a 35-year spell with Nikon cameras and lenses, save for a moment of desperation that took me to using a Canon EOS 1 between 1996-1998." he wrote.
"I've used each of Nikon's flagship film cameras – the FM2, F2, F3, F4, F5 – before partially joining the digital revolution in 2001. The D1, D2, D2H, D3, D4, D4s, and now the D5 have been the camera loves of my life, they'll never be forgotten!
"Somewhere along the way I crossed to the dark side of photography, switching from manual focus to auto-focus with more than a small dose of guilt. But by then I'd captured on-film my favourite all-time image – of Hinault and Lemond on Alpe d'Huez – photographed with a totally manual Bronica ETRs."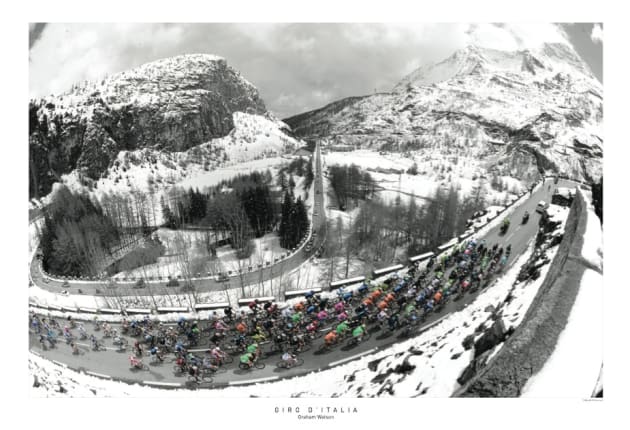 From The Darkroom To Instant Image Transmission
"To close out this chronology of technology, I can boast that I started out printing from glass negatives in a London studio in 1972 after photographing aristocracy with a wooden Kodak Specialist camera.
"I learnt to use a 35mm SLR camera for that 1977 Tour visit and shot black & white film until decent colour slide film came along in the mid-1980's.
"I used to take a mobile film lab to the races in the mid-90's to develop those slides and then scanned them in before e-mailing them to clients as the digital age slowly took off. I switched to an all-digital platform in the middle of the 2003 Tour, having run both forms of photography for a few years. Processing film and scanning-in slides was replaced by late-night editing of 500 images a day, a task that often jeopardised the chance of finding a good restaurant still open. To round off my ancient-to-modern career, and to guarantee an earlier meal, I have for the past two years been transmitting images directly from the camera – a far quicker, more satisfying, healthier way to work. In some ways it's a shame I'm stopping, just as things were getting easier!
What He'll Miss Most
"Will I miss this fantastic, crazy, wonderful sport and its unique lifestyle?" Watson wrote to his followers and fans.
"Yes, for sure, though I've yet to know which parts I'll miss the most. I will miss the races, but not all of them – too many events clash or cross over, and it's impossible to enjoy everything with so much to take in. I'll miss the true classics, like Omloop, Strade Bianche, E3, Wevelgem, Flanders, Roubaix, Liege and Lombardy. But I'll miss the stage-races the most, especially Paris-Nice, the Giro, Vuelta, Romandie, and Suisse."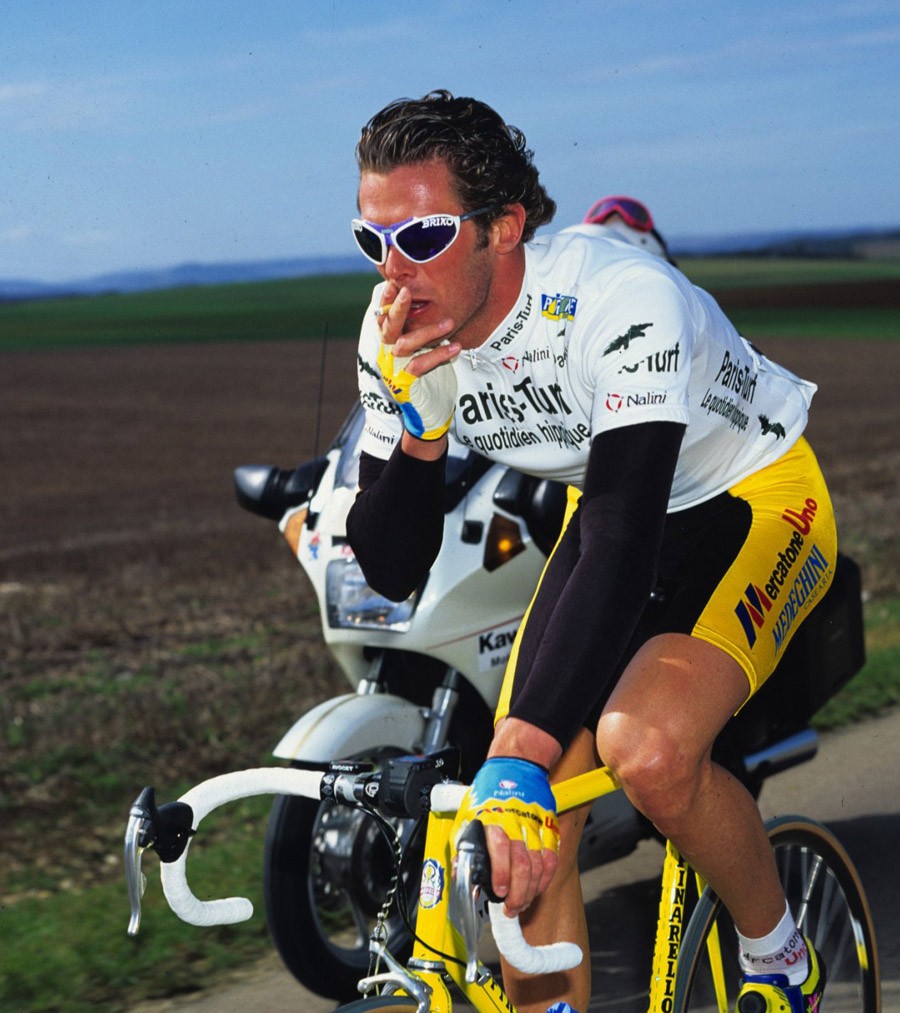 "I won't miss the Tour as much as people might think– it's become a claustrophobic colossus that is not always as enjoyable as I'd like, even though it dwarfs all other grand tours. More than the races, I think I'll miss the fun of travel-planning, of the subsequent adventures, the chase of a good meal and good wine, the intimacy of an evening spent with your car and motor-bike drivers, or the camaraderie with colleagues when the rain is pouring down during a TT and we've all left our Gore-Tex, camera-condoms, and umbrellas behind.
"I know I'll especially miss the excuse of buying the latest photographic gear, simply because I could buy it. Much more than this, I'll miss watching my boys racing their hearts out. If I've followed some of the greatest champions through their entire careers, I'm signing off without seeing how good Esteban Chaves, Caleb Ewan or Fabio Aru might become – or which of the Yates brothers makes it to the very top, if they don't both make it there. Is Dan McLay the next Cavendish, will Boonen win a fourth Flanders or a fifth Roubaix this spring? Can Ian Stannard spoil Boonen's dream in Roubaix? I'd better go out and buy a decent TV."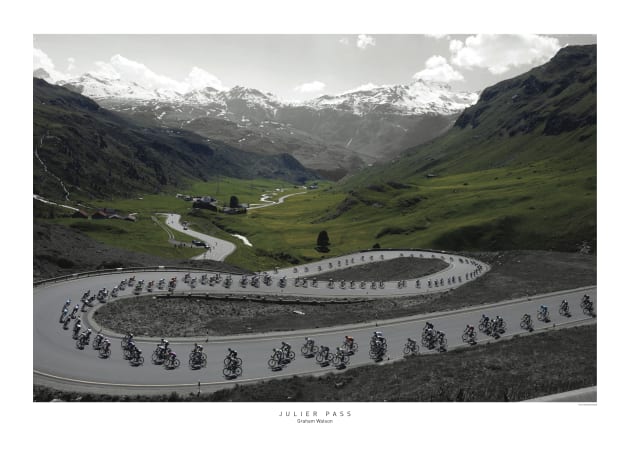 What Next?
So what does the world's best-ever cycling photographer do upon retirement? Go biking of course.
"By stopping at 60 I also have the chance to discover other things in life, or at the very least get out on my bike more and maybe climb a few of the mountains I've photographed for so long," Graham writes.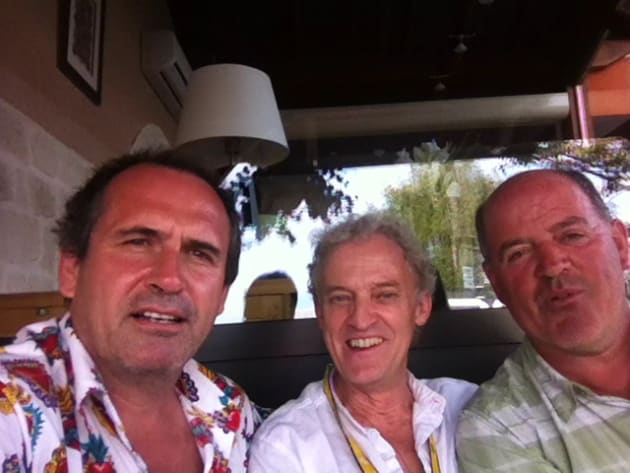 " I have reasoned with myself that retirement is the biggest milestone a human being reaches, beyond getting married or buying one's first home. So this was not a casual, easy decision to make nor carry out. Yet here I am, one day into retirement, sitting on our deck overlooking the Tasman Bay in Nelson, New Zealand, a glass of locally-produced Sauvignon Blanc in my hand, totally at peace with my new lifestyle."
For the full transcript and to read Graham Watson's heartfelt thanks to all who assisted, inspired and motivated him along the way, including his close mate, Australian cycling journalist Rupert Guinness, you can visit his website here.