Bunch rides big or small … we cyclists love them. Whether you're one of 50 or 60 rapidly rolling along the esplanade at dawn, or out on a quiet country road with just two or three mates, sharing the sport with like-minded others is a definite highlight of cycling.
A time, a place and a plan – the three key ingredients for any bunch ride. Up until a few short years ago that meant meeting at a physical location. Nowadays many are riding with the bunch without leaving home!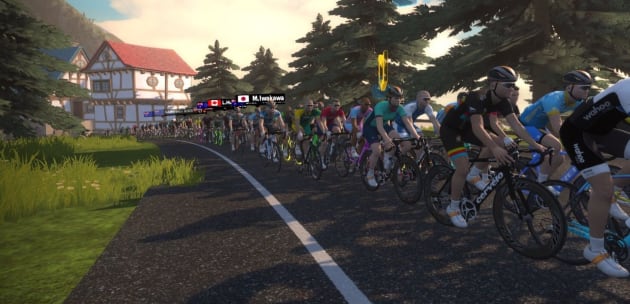 The Rise & Rise Of Zwift
As online cycling platform Zwift continues to boom, we decided to take a look at the virtual bunch riding scene. How are people managing to meet, ride, motivate and encourage each other regardless of where they are in the world? Read on and we'll find out.
Tim Searle is co-administrator of the Zwift Oz Facebook group, he manages the page with well-known cyclist, Zwift enthusiast and YouTube vlogger Shane Miller.
Known as the Aussie Day Hump Ride, the group's key event event attracts upwards of 200 riders per week. As testament to its popularity and success, organisers recently announced a partnership with Giant – riders will now be on Giant bikes, wear branded kit and be awarded random prizes.
Enter The Aussie Hump Day Ride
We recently spoke with Tim Searle and started by asking about the group and how he splits his road / Zwift time.
"My main involvement is through the Hump Day Ride that I started a year ago," he said.
"With Zwift I can fit in two rides a day – and for 1 hour on the bike I'm actually pedalling for close to that whole hour, not 60% as I would be on the road. I'm doing a lot of kilometres and probably a 90/10 Zwift/ real world split. I just couldn't do these kilometres on the road – according to Strava I'm at 12,000km for the year and that's predominantly on Zwift."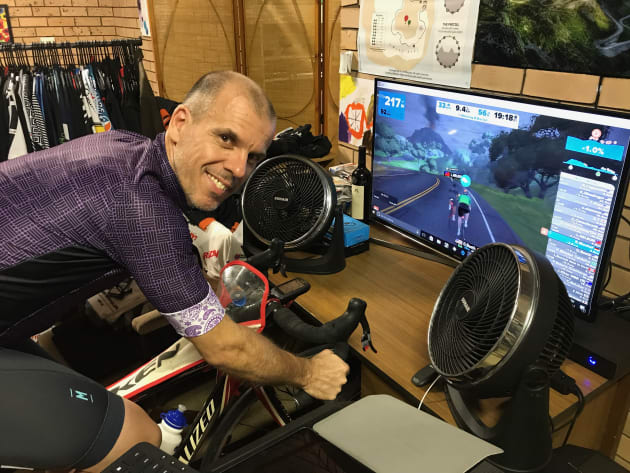 Over to the virtual bunch ride and Tim said it has grown to be the biggest regular community ride on Zwift .
"Not just in Australia, but in the world," he proudly told us. We get anywhere from 150 to 250 riders – it's growing all the time."
"Zwift really is an American company with a fairly heavy London base. Initially there wasn't really a group riding experience that suited Aussies time wise – it was middle of the night type stuff."
So 12 months ago the Aussie Hump Day Ride was born.
"Riders can obviously join from anywhere in the world," Tim continued. "But I really wanted to tailor it for Aussies. By the middle of winter 2016 we had 250 riders and it continues to grow."
BA: So Tim, How do we go about joining the bunch on the Aussie Hump Day Ride?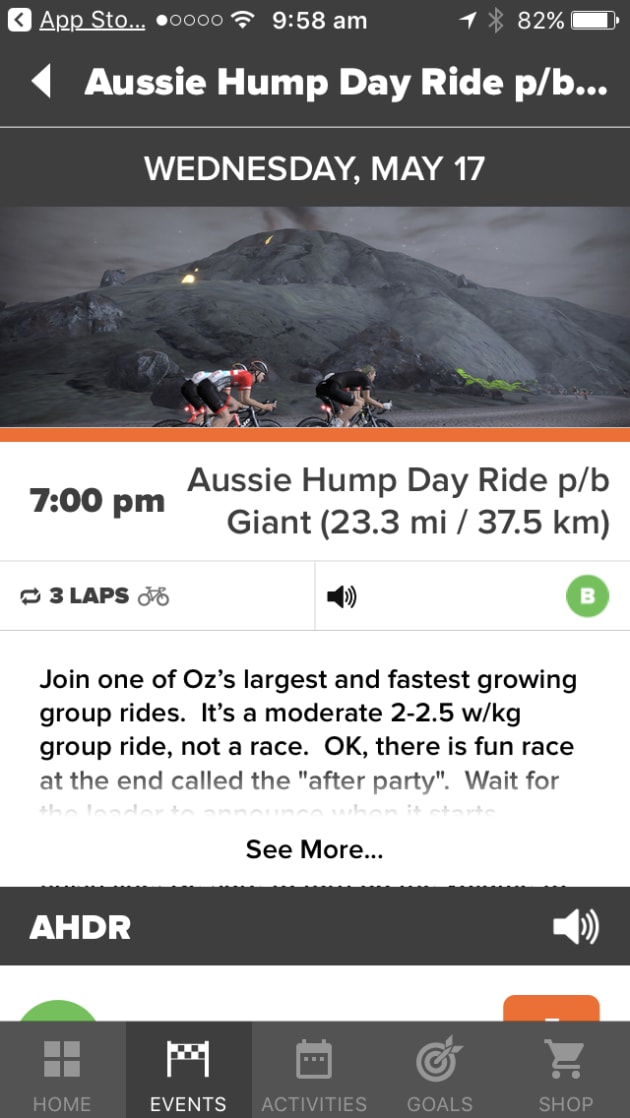 "There are two ways – either through the companion app which is basically an event module for Zwift – it lists all the events over the next week. You can see which events suit your timeframe and it tells you all about the event, time, speed, how hard etc. You just sign up to whatever you want to do and it will give you reminders."
"The other way – Go into Zwift, navigate to the final screen before you actually ride, and you'll see a screen listing the events. Five minutes out it will say 'the event's about to go do you want to transport yourself to the start.'"
Zwift For Crash Rehabilitation
Although signed up to Zwift for 2 years, Tim Searle started using the platform regularly after an accident while descending a mountain about 18 months ago.
"My injuries and broken bike meant I couldn't get outside for a while," he said. "I wanted to maintain the reasonably decent fitness level I had at the time. I'd previously always hated training indoors & could only ever last 30 minutes or so before the boredom got too much."
Tim Says he immediately realised that with Zwift he could set regular one hour sessions to stay fit.

"I got back on the road early in 2016, but I still found I was doing more and more of my riding on Zwift, especially once I had a more comfortable permanent setup in place," he said.
"I currently do up to 90% of my riding indoors (nearly all group rides or racing), but I do like to get outside when I can, mainly on the weekends."
The Convenience Factor
Tim says Zwift's main advantage is the convenience.
"I can be ready to ride in under 10 minutes, with no other preparation needed. I can fit in a good one hour session in the morning before work, & another in the evening as soon as I get home," he said.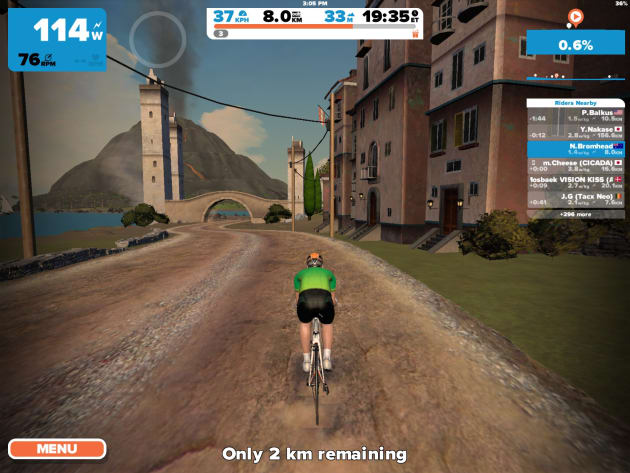 "I find it is an extremely efficient way of training – an hour is an hour. Although the roads around here are not exactly busy by major city standards, there are still interruptions to deal with when out on the road. I also like the fact that there is now nearly always an event to choose from to do at pretty much any time of day. I'm still not a huge fan of training "on my own" indoors, so I'll always search out a group ride or race at a suitable time that works for my training.
The Aussie Hump Day Ride presented by Giant starts at 7pm on Wednesday nights and goes for approximately 1 hour. Riders complete 2 x 20 minute laps that are relatively easy – then there's 'the afterparty' – a 20 minute hit out for those who want to go all out. A 'no drop' ride, Tim waits back for the 'after party cruisers' to help everyone finish together.
Tempted? So are we. We'll see you there!