It began over beer, as crazy ideas often do, in a small bar in Paris I've come to know and love. My brother, an Aussie expat come Parisian local, was helping solve a slight logistical issue to do with me making it to each stage of the 2017 Tour de France.
I won't go into the boring details here, but through a complicated chain of events the hire car companies were not playing ball. Yes, I should've organised things earlier, and probably a little more decisively, but in the end things could not have worked out better.
More Beer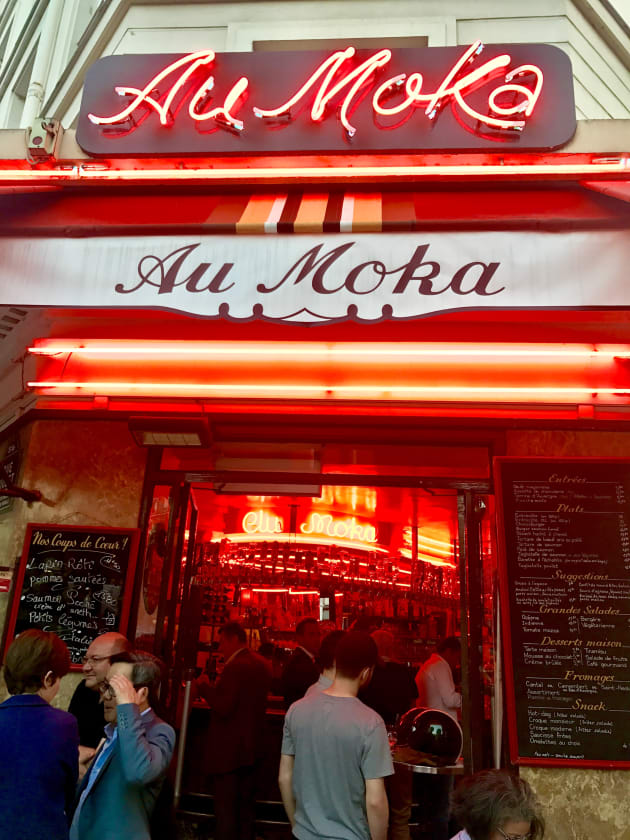 "You need a bike," my brother enthusiastically suggested, as he returned from the Au Moka bar with two more Junipers.
"Take a look at this app, Leboncoin, it's jam-packed with bikes for sale," he said as he passed his phone across the marble-topped table.
Thumbing through the site I was shocked by what I saw. Bike after glorious bike – old, new, carbon, alloy, steel … you name it, it was there.
A Listing Every 90 Seconds
Overwhelmed by the sheer number of advertisements, with a new listing popping up around every 90 seconds, I quickly earmarked some options.
Not just any bike, we decided, it had to be old school. Vintage, made of steel, with a small cluster, downtube shifters and classic retro styling.
We kept swiping through the site and saw all manner of worthy options. One I still regret not going to see was an immaculate, deep blue and chrome, steel Colnago. Circa 1985, it was nearby in Montparnasse and going for 220 Euros – around $350.
As addictive as it was, I put the phone down and continued to hatch the plan with my increasingly envious brother. Combining a fair amount of pedalling with France's extensive and bike-friendly rail network, we deduced that with considerable planning it could quite easily be done.
I spent the following day cross-checking Tour de France stages with railway stations 50 to 100km of either the day's departure or arrival town. I'd go to at least 16 stages, half of them starts, the other half finishes, miss the time trials and return to Paris on the rest days.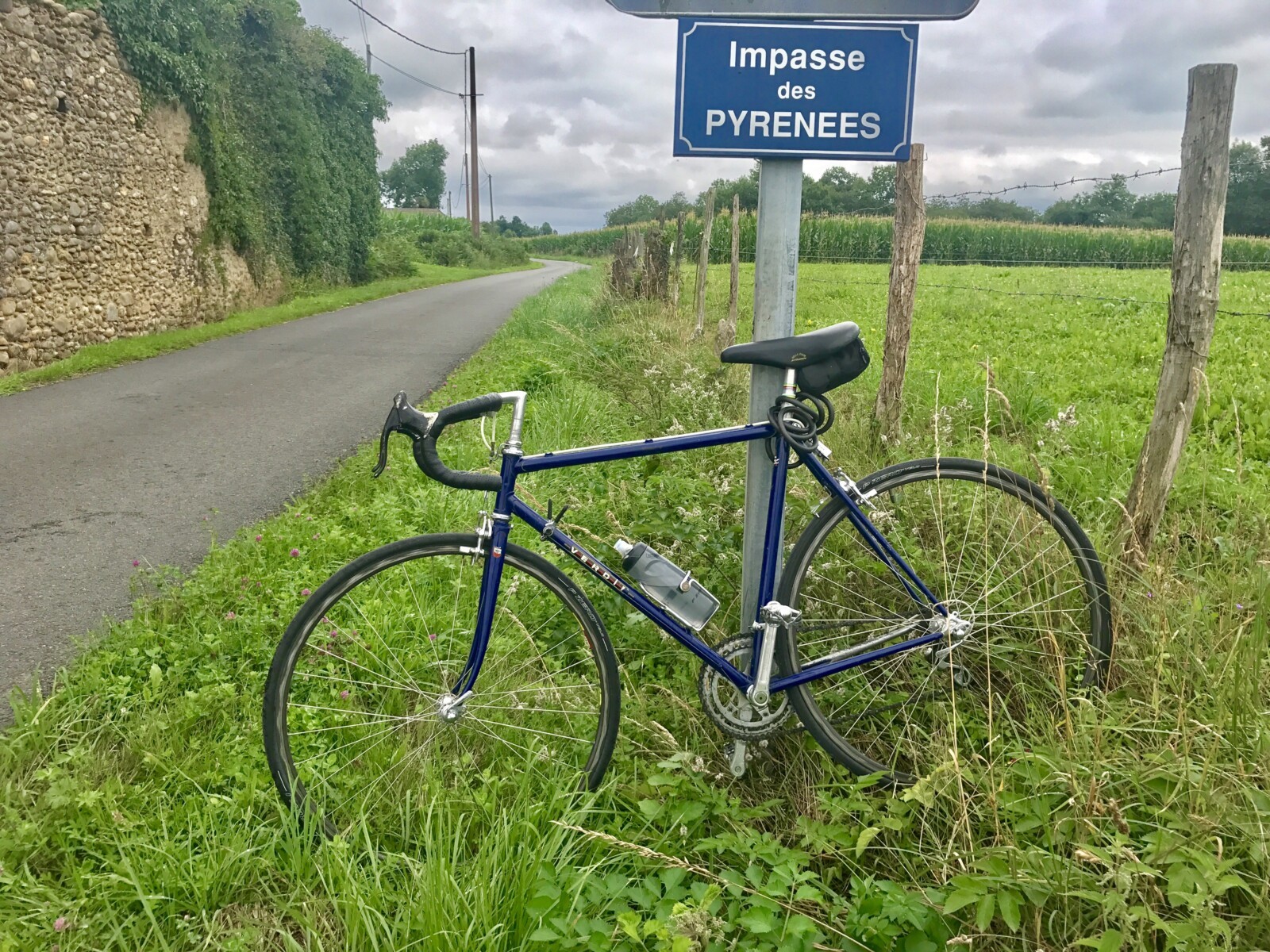 Logistics Fall Into Place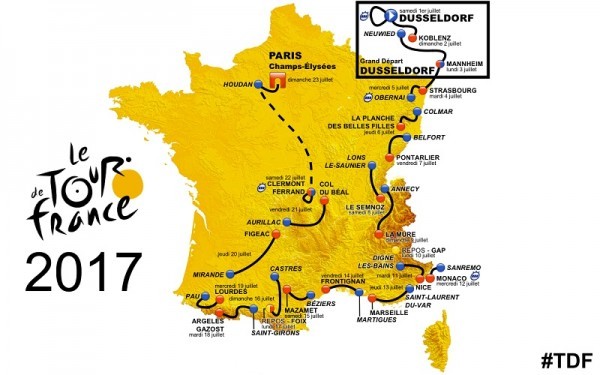 A mammoth task, taking into account the huge range in train ticket prices – variations of more than $AU100 depending on different arrival towns within, say, a 50 – 75km km radius of a Tour de France stage location – I spent a full day planning the adventure and logging the best value destinations, including their distance and direction to the start of finish town, to an extensive spreadsheet.
With trains sorted it was onto accommodation. This was done simply and easily via the Airbnb & booking.com apps, some pre-booked and others that showed plentiful availability, done on the run.
Traveling Ultralight
Next came the decisions of what to pack. Not wanting to ride with panniers, I had no option but to carry a backpack. This was due to the fact no frame bag, well none that I could find, would fit a 13 inch laptop computer (note to frame bag manufacturers – there's a market for this!)
A work trip, I had to write, photograph and video from each stage of the race. Carrying a quality camera and the full-sized laptop computer was essential.
https://youtu.be/7Py7ukFBe_I
Backpack Checklist
If I was going to ride up to 90km a day, and had to carry a backpack, it would have to be an ultralight one. So here's what I packed –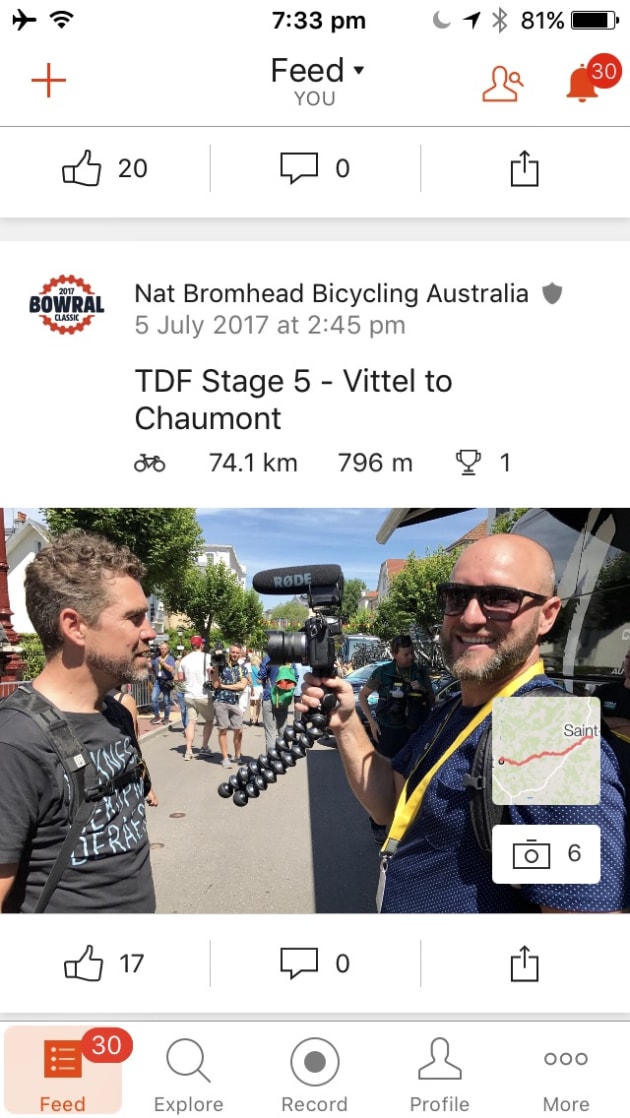 Apple 13inch laptop and charger
Canon G3X compact camera (24mm f2.8 – 600mm f5.6 zoom)
Iphone 7
Garmin GPS
Garmin Virb Camera
Assorted charging cables.
3 x Apres Velo T-Shirts
1 x Apres Velo Cycling cap
1 x Lightweight Quick Dry Travel Trousers
2 x Cycology underwear
1 x BBB Pocket Vest
2 x pairs of cycling socks
1 x pair of joggers (a compromise – but carrying a pair of cycling shoes was out of the question weight wise).
Koo Open Cycling sunglasses
Reading glasses + case
Kask Protone helmet
Giro Cycling Gloves
1 x Topeak Bike Lock
1 x Rear BBB LED light
1 x Saddle bag with 2 x spare tubes and levers.
Toothbrush, toothpaste
Panadol … didn't need them.
Deodorant …. did need that!
The backpack was a 20 litre Quencha. All of the above equipment was carried in the main section of the bag – other than the BBB pocket vest, this was carried in the left side pocket. The right side pocket was used for day food – Haribos, infamous Madeliene cakes from the Tour de France, and some super-tasty coffee flavoured pastels I discovered along the way. The rear expandable netted section often held a baguette, fruit, a can of Orangina and coins.
Love At First Swipe
Logistics organised, it was time to buy a bike and this turned out to be the easiest task of all. It was late on Thursday night and I was swiping through the Leboncoin app, which is a little like Gumtree on EPO.
'Vintage course Super Vitus Verdin' read the ad. '180 euros, phone Jorge,' it continued.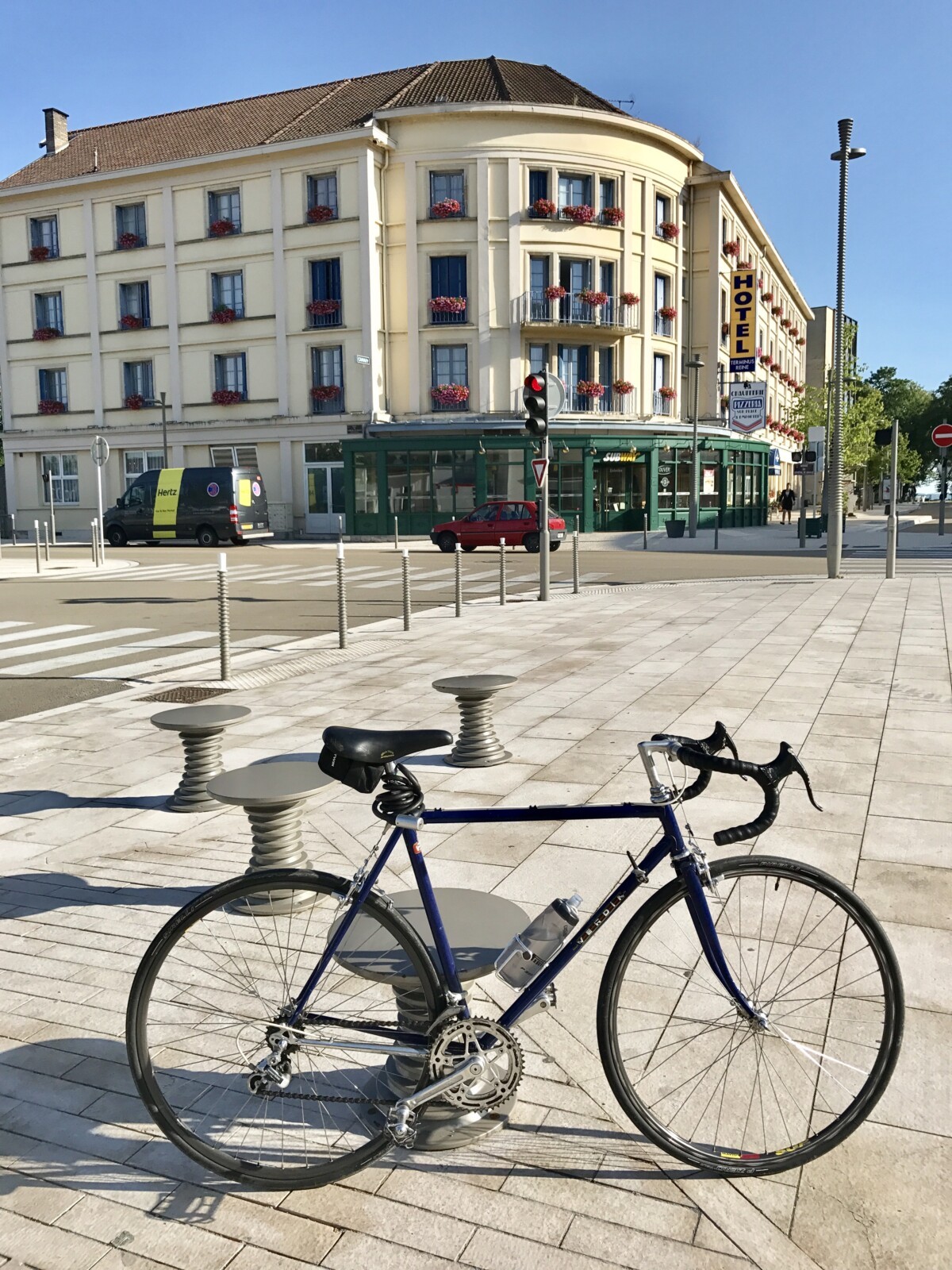 Phoning Jorge, the following morning I rode by Velib and met him outside a metro station. Passionate and knowledgeable about vintage bikes, he told me it was his dream to open a bike shop. In the meantime he was working from his cave, or garage, buying, doing up, and selling old bikes.
Completely restored and ready to go, the Verdin was silky smooth from the start. Jorge wouldn't budge from the asking price and the deal was done. After buying him a coffee as an apology for the lowball offer, I slotted the Velib into a vacant rack, put on the backpack, and started riding my new (old) bike toward Gare de L'est.
A short time later the bike and I were on a fast train to Grenoble. Soon after arrival I was happily riding my new blue beauty the 60km to Bourg 'd Oisans.
Final Tour de France Preperations
Returning to Paris after 8 incredible days cycling the Alpes on a near new Willier GTR I'd hired, I had two days before setting off for the Tour de France.
The Verdin was given a basic service and, although the original gumwall tyres still looked good, I opted to change them. Fitting a set of new Pirelli PZero Velo tyres proved to be one of the best decisions of the trip (click here for a detailed article on road testing the new Pirelli PZero Velo tyres in France).
Setting Off
Opting to skip the opening time trial in Dusseldorf, the only stage to be hit by heavy rain, I caught a train from Paris to Liege in Belgium for Stage 2.
The convenience, advantages and novelty of having my own bike at the Tour de France became obvious immediately upon arrival. My 5th Tour de France, and second with press accreditation, one thing I've always noticed in past years is the distances involved. While some stage finishes and press centres are bang in the middle of town, others can be 2 or more kilometres away. Using a bike to both explore a new region and get to the work or finish zone saved a huge amount of time.
Riding A Stage Finish On A Vintage Bike
Having the bike at stage finishes also provided some fantastic opportunities to actually ride sections of the Tour de France course. I will never forget riding the final kilometre of several stages, including Stage 2, barely an hour before the peloton arrived. Excited fans banging on the advertising hoardings as I trundled by on my old blue bike – it was absolutely priceless.
Without wanting to bore readers with the stage-by-stage, blow-by-blow details, of the plentiful stories from along the way, I'll list but a few of the highlights the trip.
Dogs And Bikes – A Universal Problem
Inadvertently, I made a terrifying cycling memory on a long, hot ride between Foix and Toulouse. A 93km stage, the second longest of my trip, I was sure I heard the Google Maps navigator say 'turn left'.
Although it looked like a small country lane, I obeyed, and with a welcome tailwind pedalled hard. Passing two or three houses, the road narrowed and suddenly I saw two large Alsatians resting in the shade of a tree ahead.
I hit the brakes hard, completely forgetting the front centre pull's habit of squealing loudly in the heat. This instantly woke the sleeping dogs. They jumped, as I did the quickest U-turn of all time, and they subsequently chased.
The old derailleur skipped a few gears but somehow I made it out with both legs, shoes and pedals intact.
Three Days Of Intense Heat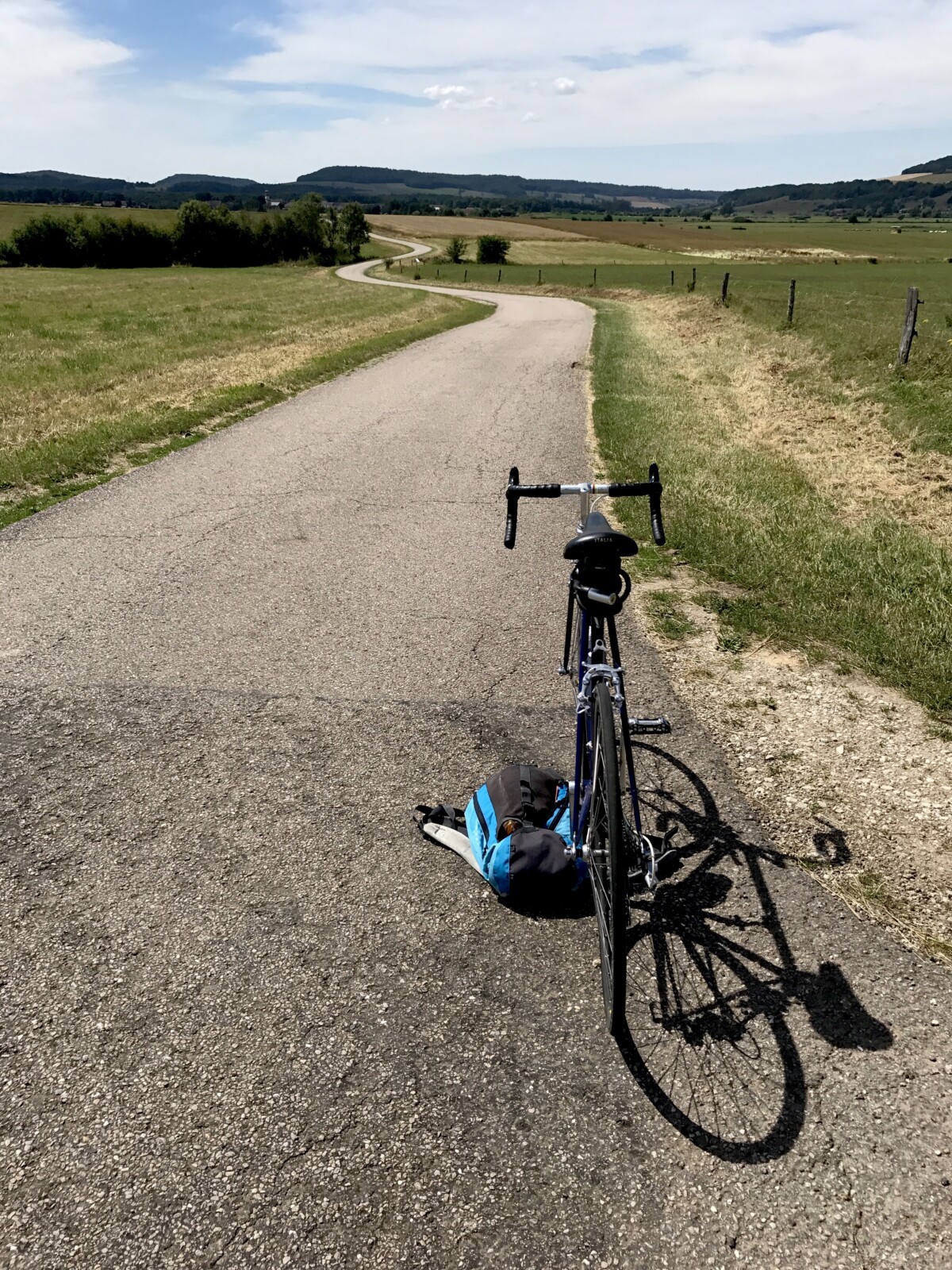 With France in the grip of three days of heatwave conditions, on numerous occasions I had no option but to ride through the hottest part of the day. Leaving Vittel after the start of Stage 4, my destination was 73km away in Chaumont. It was a stunning ancient town not far from the next day's stage finish in medieval Troyes.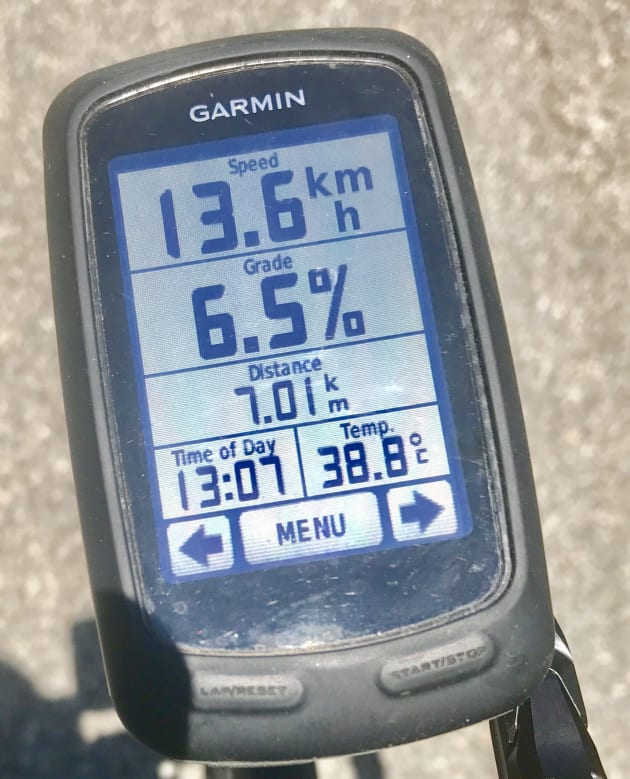 With the Garmin registering 38 degrees in one village on windless side of a hill – the only climb I walked on the entire trip – I had about three sips of water left in my bidon and was desperately hoping the next village would have either a shop, water outlet or well. Upon arrival, absolutely nothing was open.
Stinking hot, the rolling roads offered brief reprieve – the descents the only factor to made the climbs bearable. Passing through three villages without a shop, tap or sign of life, I eventually passed an elderly local out who was outside watering her wilting plants.
Stopping, I held out my bidon asking for water. Smiling, she turned, walked inside, and came out a few minutes later with an icy cold 1 litre jug. Two other people soon came out of the house, then the kids, and before I knew it i had an audience of 8 locals asking all manner of questions about Australia.
Preparing to eventually leave, one of them popped back inside and returned with a parting gift – an ice cold can of Coke. Humans … got to love them.
Saved By Cycling Maven
With some stages of the Tour de France several hundred kilometres apart, especially on the transfer days, I had to occasionally use two trains to get to within my minimum goal of 50km from a start or finish town. On one occasion the first of two trains was delayed causing me to miss the second train. There was no option but to hitch a ride.
https://youtu.be/g0rK-M9CPK8
Who came to the rescue? None other than popular YouTuber Cycling Maven and his partner Hannah. The 3-hour drive to Nuit Saint Georges was yet another unforgettable experience and a wonderful part of the trip.
Orica-Scott To The Rescue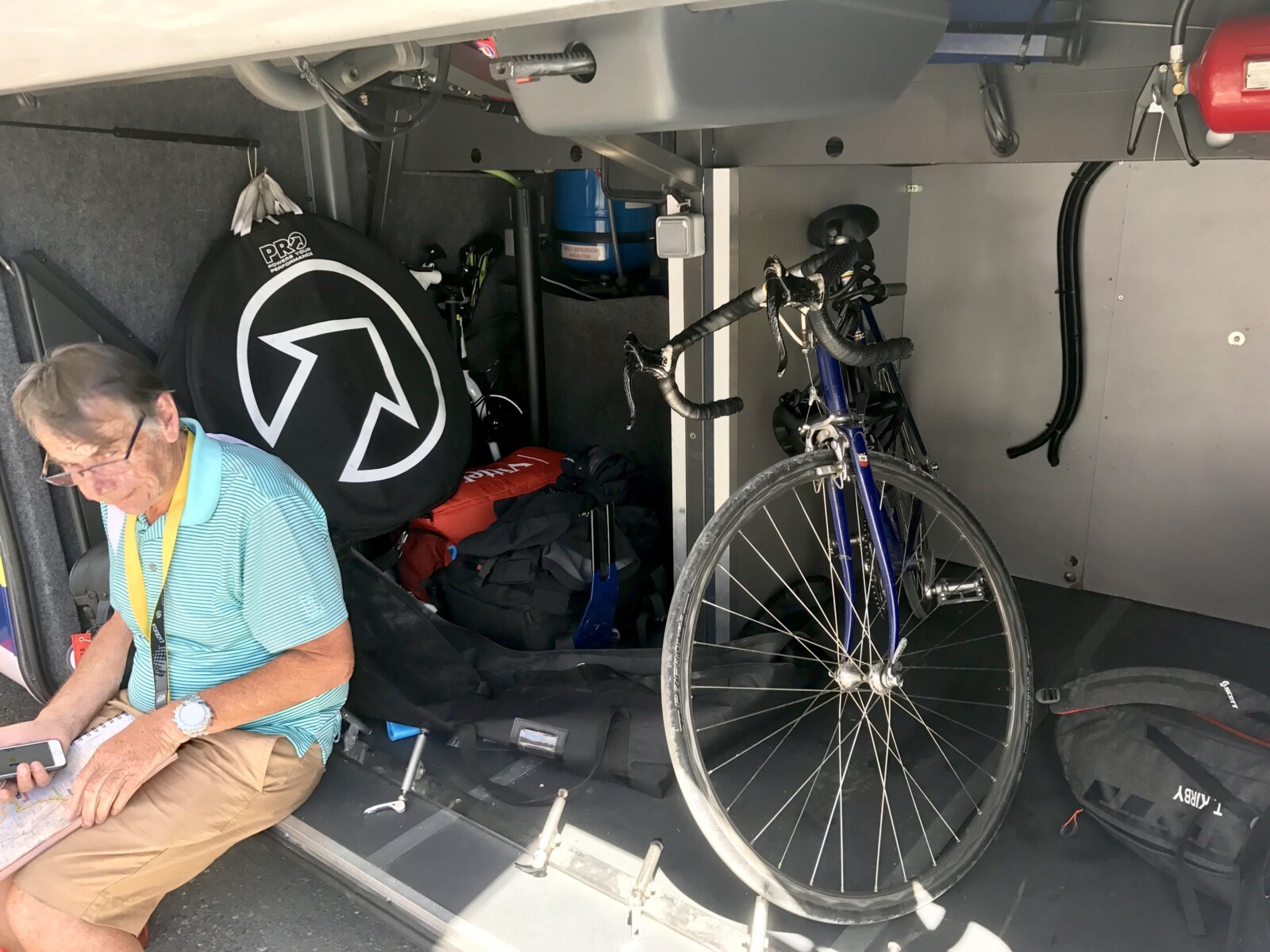 Several days later and some other True Blue dinky-di Aussies came to my aid as well. A last-minute opportunity arose to spend a day in the Cofidis team car. The only problem with that was the stage finish was 220km away and Cofidis couldn't transport my beloved bike.
Asking Aussie cycling legend John Trevorrow a big favour, he arranged for my classic 1979 steel Verdin to sit where Orica- Scott's fleet of 2017 Scott Addicts are racked, down below in the team bus. Another incredible experience for the bike – the tales that frame could tell.
Classic Bike On Top Of Mavic Neutral Service Car?
Fluid and as intense as the Tour de France is, yet another last-minute opportunity arose one morning – a seat in the Mavic neutral service vehicle for the day.
Laughing at the suggestion of my classic blue bike being racked alongside their bright yellow Canyons on the roof of the lead neutral service vehicle (imagine what the commentators might say when the helicopter shots were broadcast around the world), it was suggested that I put the bike in one of the Tour Organisation's white vans.
Incredibly courteous and helpful, an ASO mechanic willingly obliged.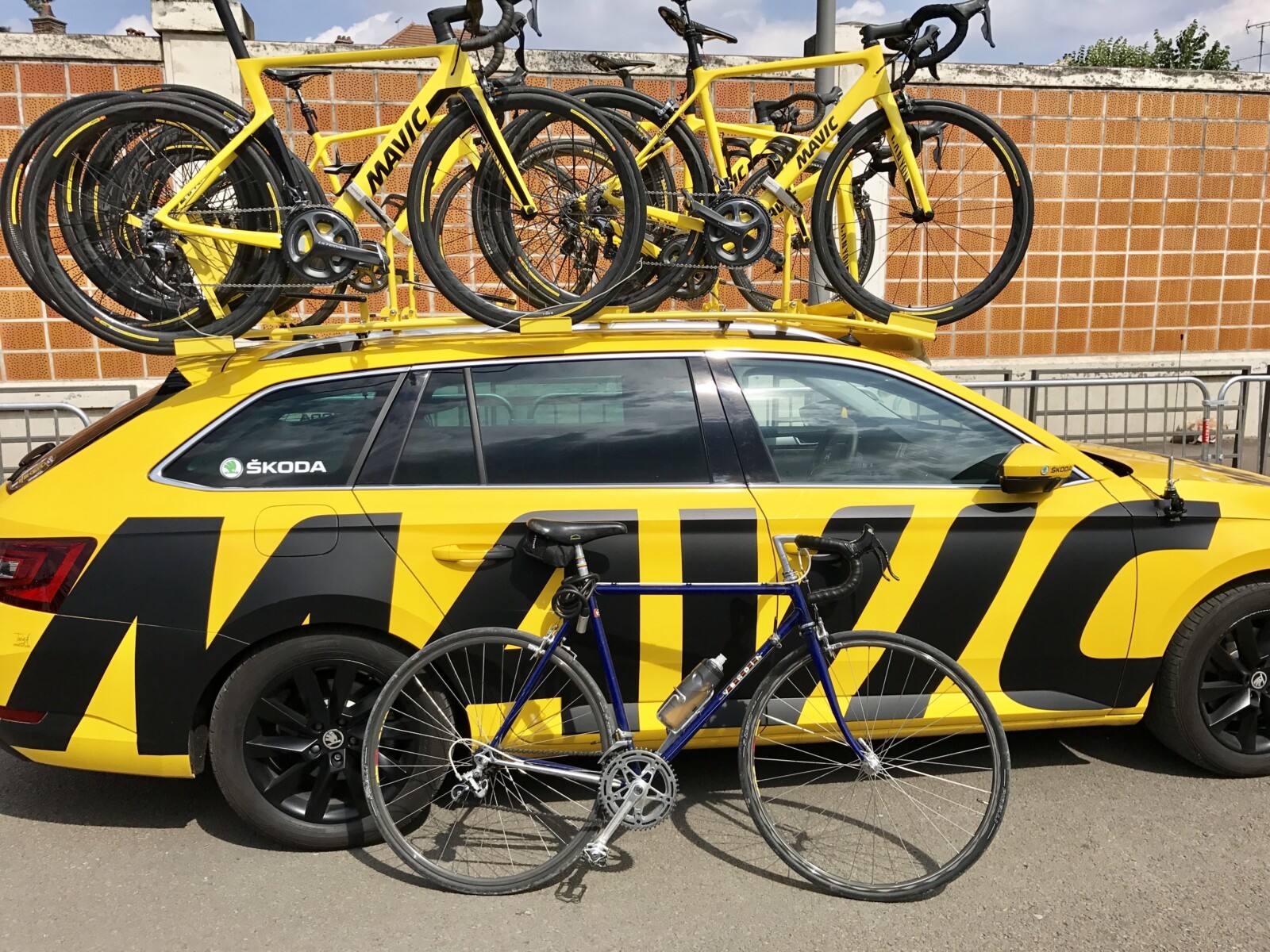 Reactionville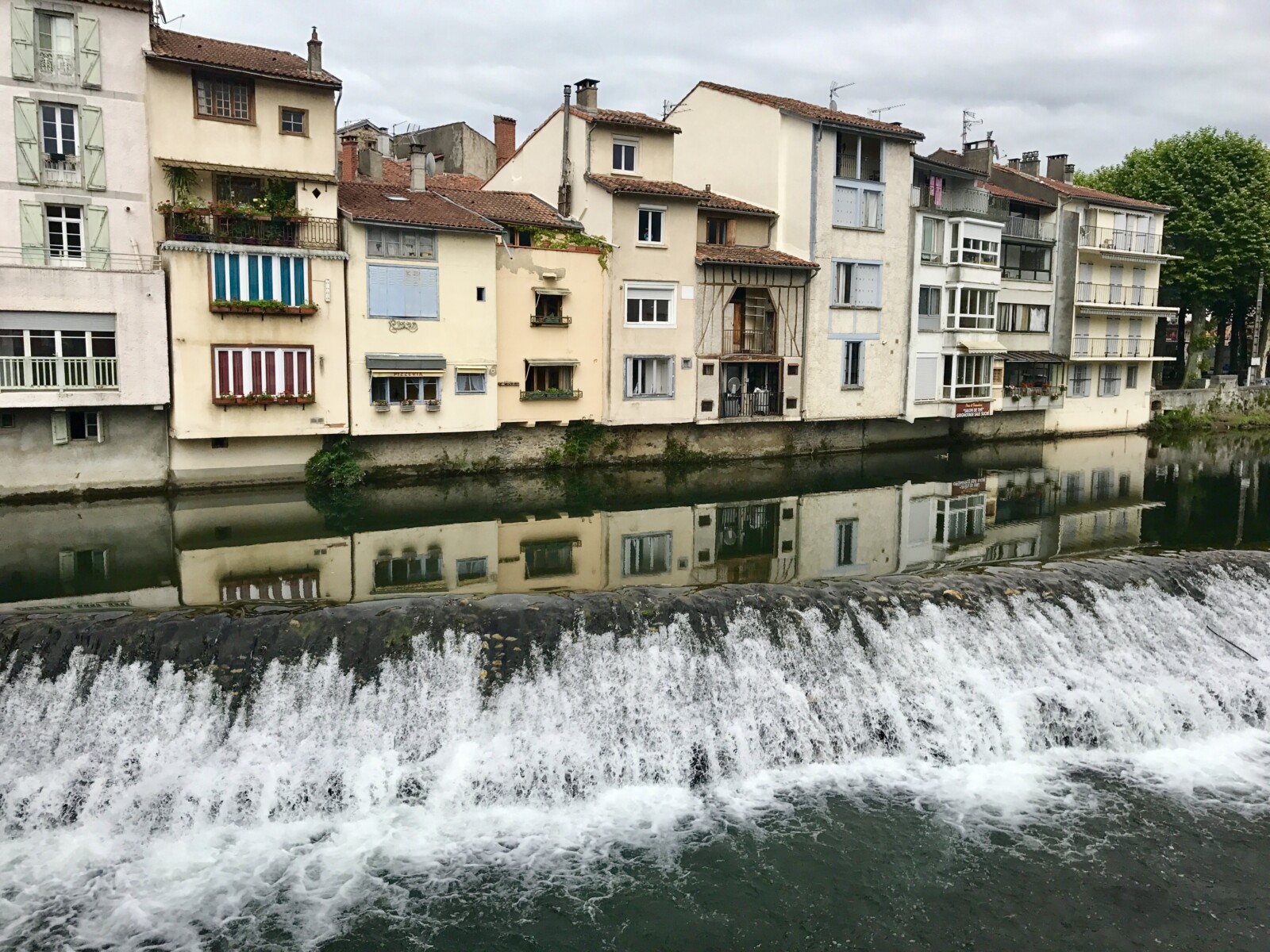 "You're what!?" was the most common reaction each time the inevitable question came up about the old blue bike I was locking outside press rooms, supermarkets or Airbnb's. The concept was met with scepticism and raised eyebrows by many in the earlier stages, but as time went on, and I rolled into town after town on the familiar steel steed, the novelty, and perceived nuttiness, seemed to wear off.
One of the 1000's of highlights was meeting many fellow cyclists along the way. Riding with, drafting and occasionally even leading, it was a joy to meet so many new riding mates. Four who spring to mind were members of a cycling club on New South Wales Central Coast.
With each of them on their late model carbon machines, and me on the Verdin, we enjoyed a truly memorable ride up a climb in Pau that had been painted with the names of some of the greatest riders of all time. You can see a short video of that here.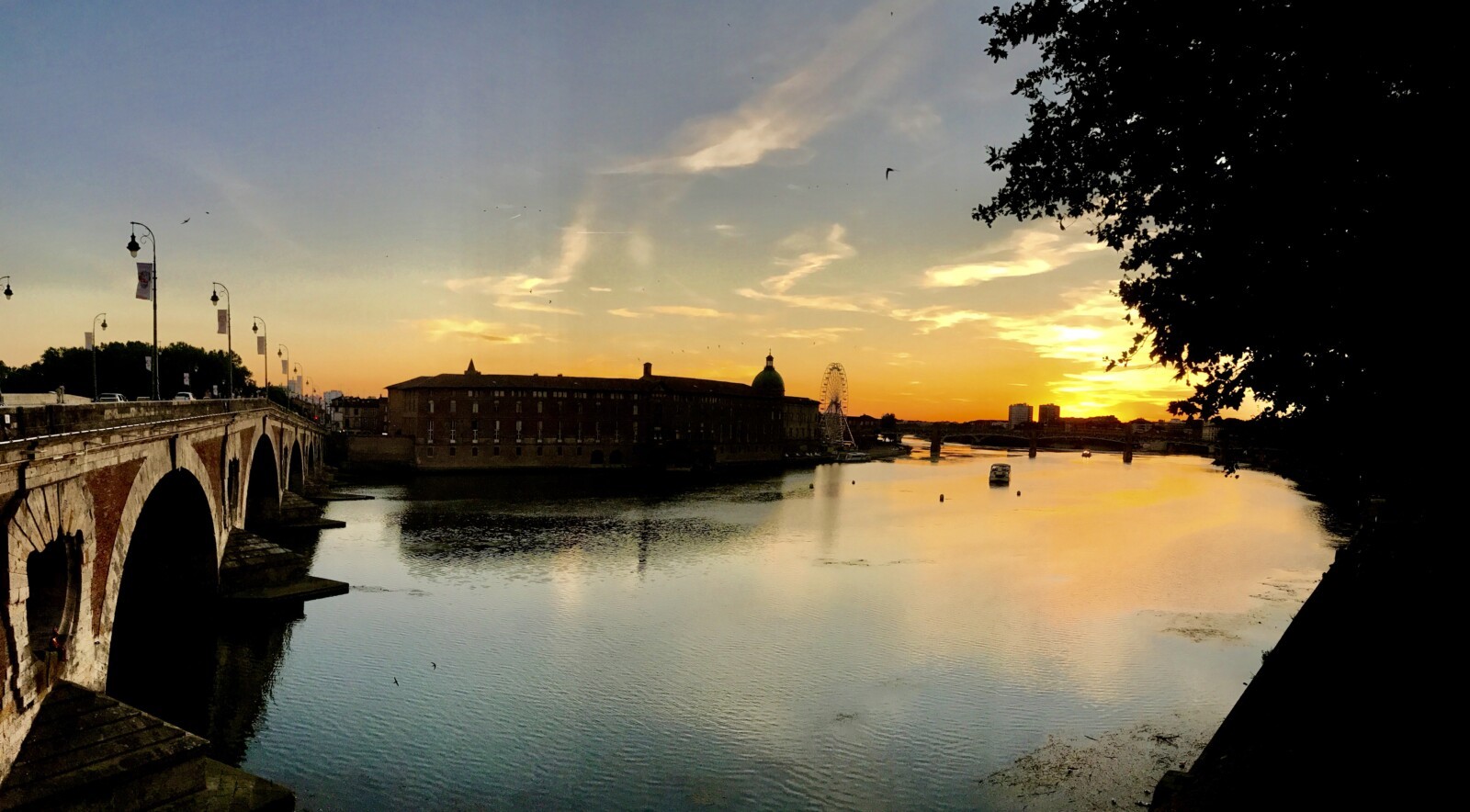 Steel Is Real … Good For The Legs
Logistics aside, it's time to talk about peddling an old steel bike around France. Want to get fitter fast? Ride a heavier bike! In just four weeks I can feel a major improvement in overall fitness, particularly when climbing or working to maintain a higher speed for a set period of time. I'm sure the extra weight (the steel bike being around 13kg) assisted here.
A Nightmare On Climbs But A Dream Downhill
With a tiny 7 speed cluster and 11 to 19 tooth range, the bike is a nightmare on climbs. But get to the top of the hill, enjoy the smooth gear change up to the big ring, push hard on the pedals, and descending along with maintaining speed on flat ground is an absolute dream. Smooth as silk on the right roads, if it wasn't for the antiquated brakes you really could have a lot of fun on long descents with this bike.
Downtube Shifters – Classically Elegant
Whether it's the good overall condition of the bike, lubrication or quality cables, I found gear shifting via the downtube shifters to be a velvety & rewarding experience. It's not Dura Ace 9150, but it is surprisingly smooth.
With limited range it was wise to think hard before a making gear change – the extreme opposite of say a 32 -11 cassette on a more modern bike.
Classically elegant, it's a wonderful feeling to lift a hand from the bars and move the lever up or down. Misalignment or a slight noise? Just make a minor adjustment. Jumps out of gear? Just tension the side of the lever via the adjuster.
https://youtu.be/AoGuO7J05Ro
Intense … But Totally Worth It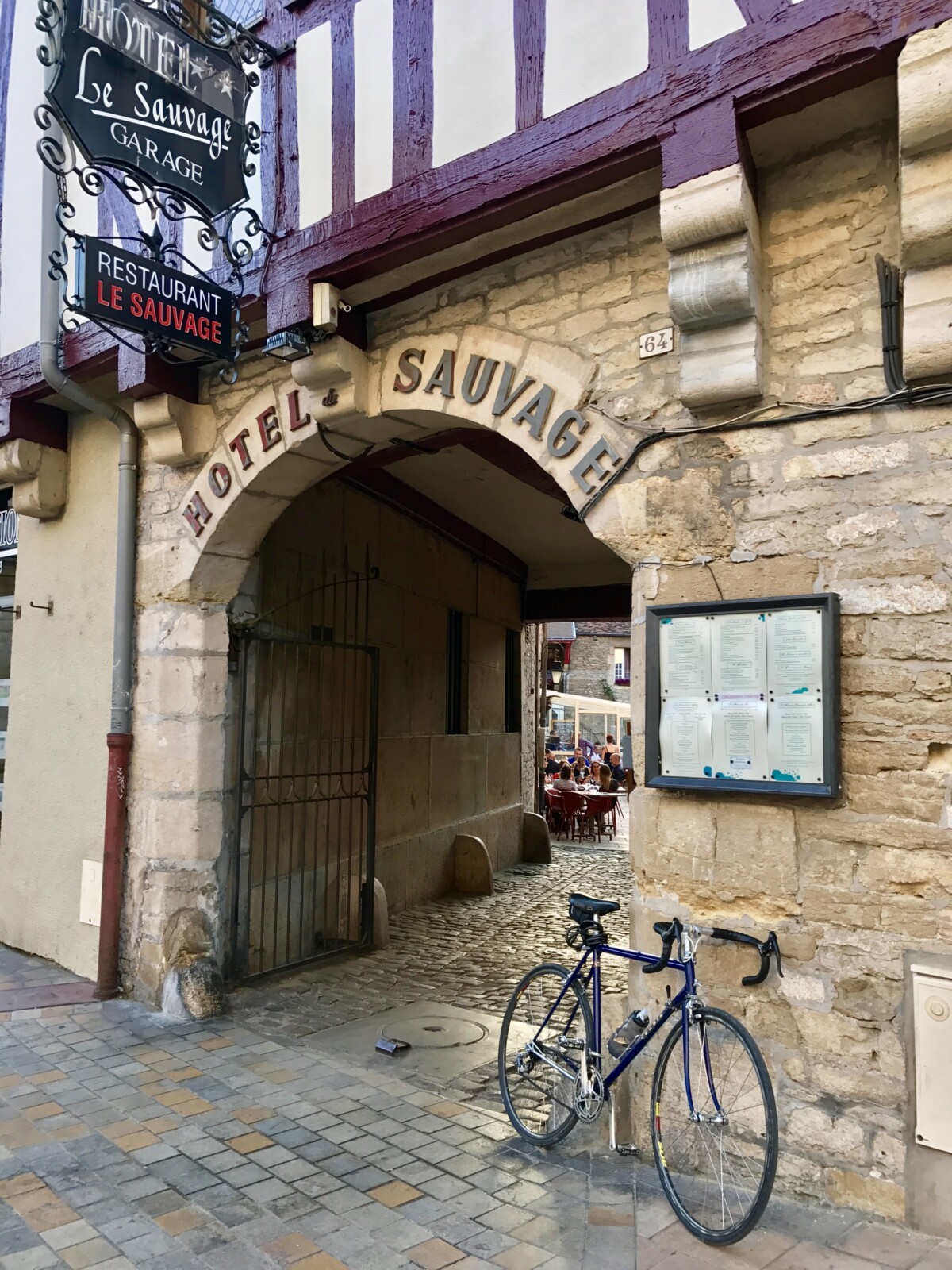 Spending 3-4 hours a day on the bike, watching the Tour de France, reporting on stages of the race, interviewing the Aussies and meeting other work and digital content requirements has been a demanding and challenging experience. It's meant late nights, limited sleep ( 5 to 6 hours a night for the 3 weeks), copious amounts of planning and a fair amount of stress. But it was also the most thrilling, rewarding and awakening cycling trip of my life. Would I do it again? Yes but with some changes.
On the final day as fate would have it, I met a rider with the perfect set up for work and touring. Riding a late model Canyon, he had a handlebar bag, saddle bag, and two ultra narrow profile rear panniers – one for a laptop and the other for shoes. Yes, he could clip in, yes he had a 32-11 cassette, and yes, he could happily travel, work and explore Europe for months.
The Last Train To Paris
A final word on trains. TER, SCNF, TGV, all of them are world class. Complete with bike racks (on most – check the app or website when booking – links are below) , electricity outlets, foldout tables, clean rest rooms, food, a bar, and an incredibly expansive network that criss-crosses the entire country, what more could you want?
As a matter of fact, as I complete this article the laptop is plugged in, the phone is charging and the bike's hanging safely on a rack in the next carriage. The sun's setting gloriously over a hill of yellow sunflowers out the window and I'm sitting, eating an apple and sipping a Kronenbourg beer.
I'm on tonight's last train to Paris. On Sunday Chris Froome will win his fourth Tour de France, and I'll remember the 2017 edition of 'the Grand Boucle' for the rest of my life.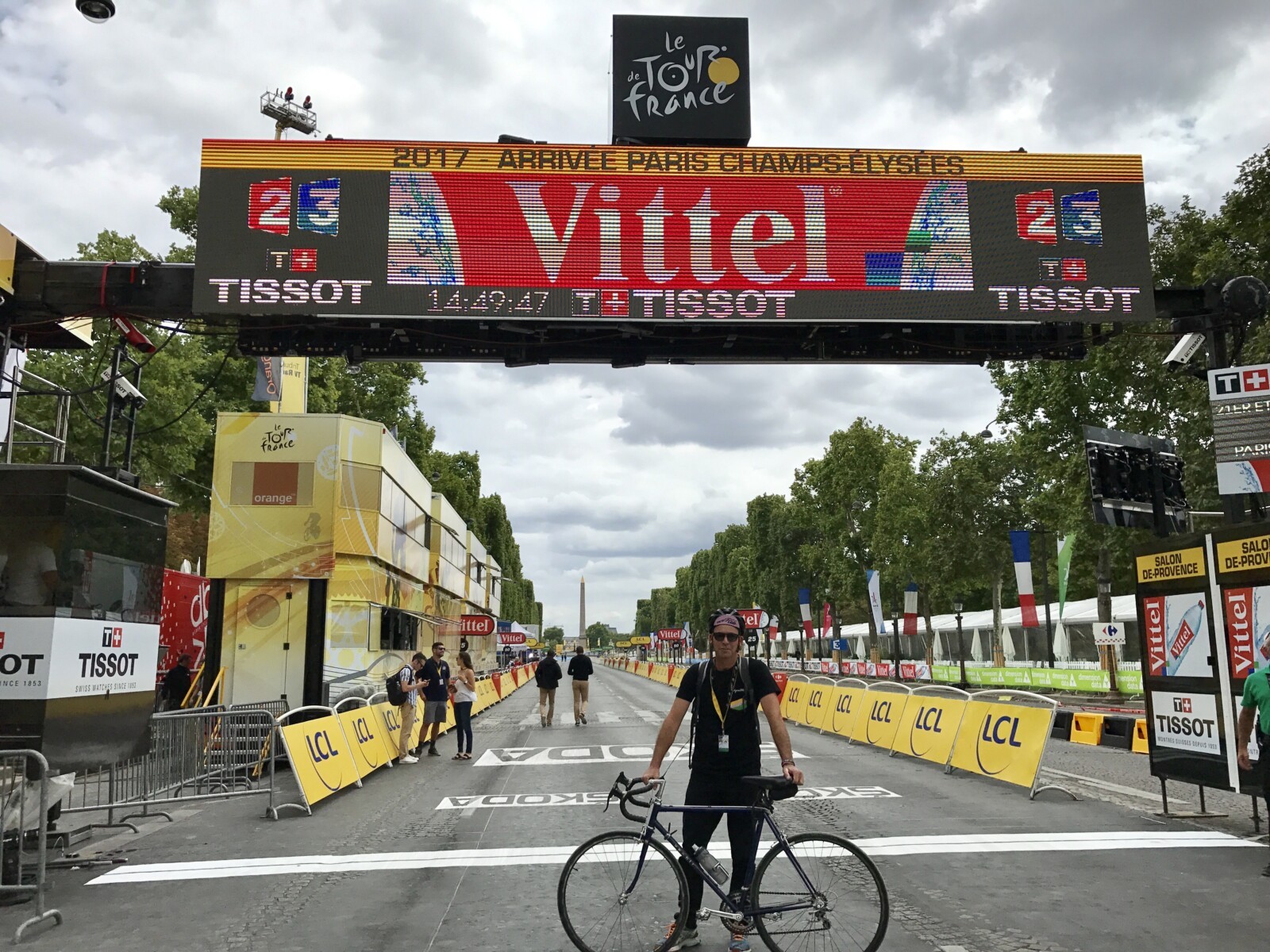 Postscript: Missing the final time trial in Marseilles, it simply being too far for me from Paris, I returned tom the City of Light to prepare for Sunday's final stage and grand arrival. Riding the beloved steel bike from my bothers apartment, across Paris, onto the cobbles, down through the tunnel and onto Rue de Rivoli (click for the video) was yet another highlight of the trip.
Sadly it was within sight of the Champs Elysees that I was stopped, police and a security guard refusing access to the final finishing straight due to security concerns. Unfortunate, but not the end of the world, I'll try again next year.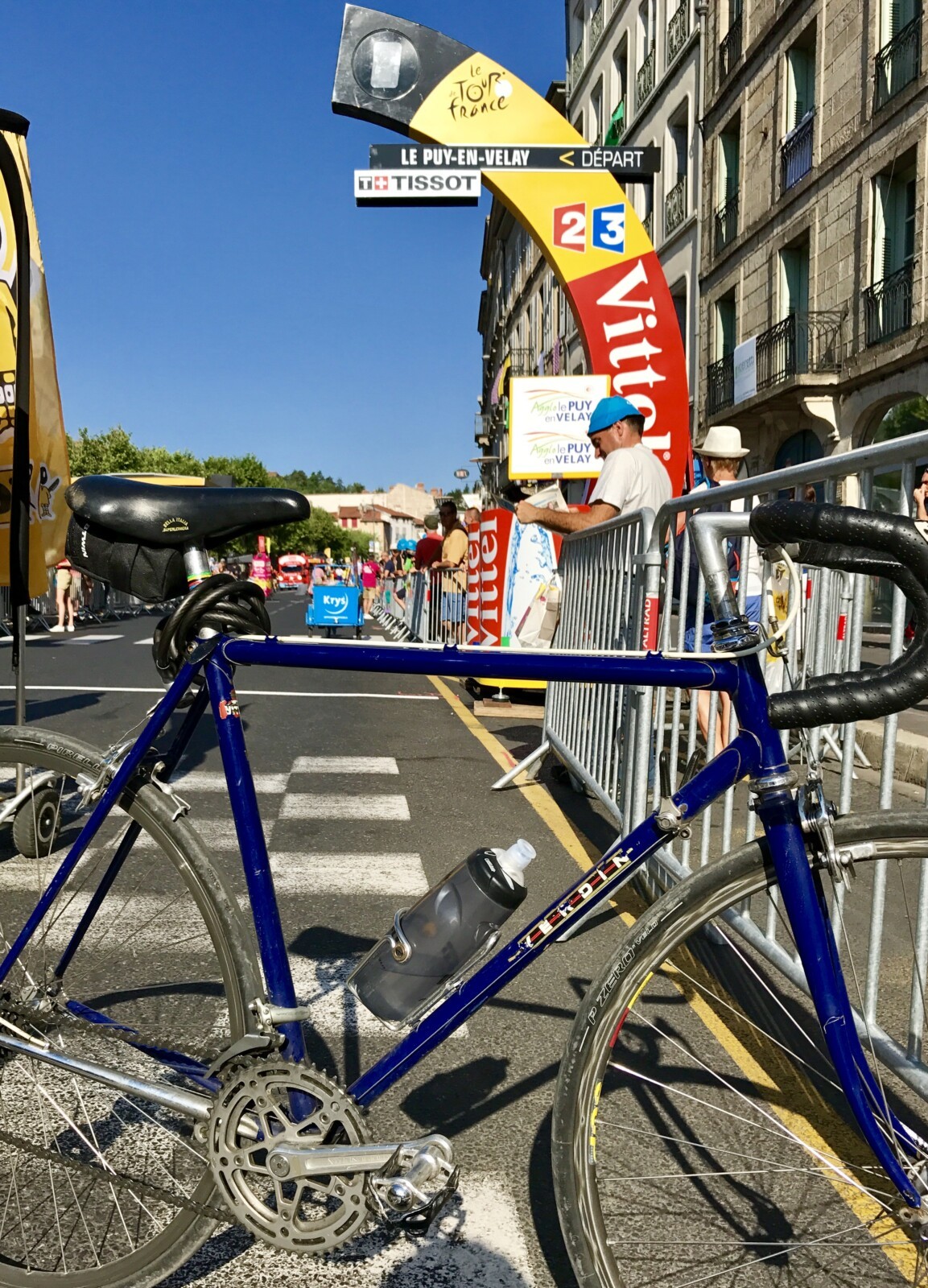 Bike Specs
1979 Verdin steel with Super Vitus 971 tubing
Early Shimano 105 front & rear derailleurs
7 speed cluster
Stronglight crank
Mavic SUP wheel set
Selle super leggera Saddle
Vintage 3T bars & stem
Mafac centre pull brakes with tyre cleaners
Pirelli PZero Velo tyres
Useful Information
www.sncf.fr – Make sure you download the SNCF app, it's a lot easier to use than website.
www.airbnb.com – again, the app is easier and far more convenient than the website.
www.booking.com – a handy reference and great app. Hotels generally only list a small percentage of available rooms on the site.
Google Maps – Provided you are in wifi range upon starting a start a route, you do not need wifi to complete the route.
Wifi – Offices de Tourisme – Most towns and village offer free wifi at Offices de Tourisme.
Medium to major railway stations (Gares) offer complimentary wifi – look for the large sticker near entry door.
Rather than buy and install a SIM card you can purchase wifi via Orange or SFR Fon in most larger towns and built up areas.
Questions or comments? We'd love to hear from you – have your say below.