Although this is the named the XR.1, this matte black and signature Bianchi Celeste frame is the third generation of Oltre. The original Oltre spawned the XR.2, an evolved frame which boosted stiffness, lost weight, and offered better aerodynamics than the original. This is the frame that we see the brightly coloured Lotto Jumbo team getting about on for most WorldTour races. For 2015 Bianchi has kept the XR.2 molds warm, filled them with some slightly lesser grade carbon, and brought the flagship XR.2 shape and geometry to a lower pricepoint.
This approach has become popular with many brands. Not everyone can afford or justify the cost-no-object pro level bikes, but we all love to have the latest technology, and let's face it, the aesthetics are nice too! In the case of the XR.1 you have aerodynamics that match the pro level frame, identical handling, compatibility with mechanical and electronic drivetrains, and tube shapes that Bianchi has developed to offer their best combination of stiffness, road feel and comfort. Besides a few grams (Bianchi claims 200 or so) and some marginal losses of stiffness, this is effectively a Grand Tour stage-winning frame.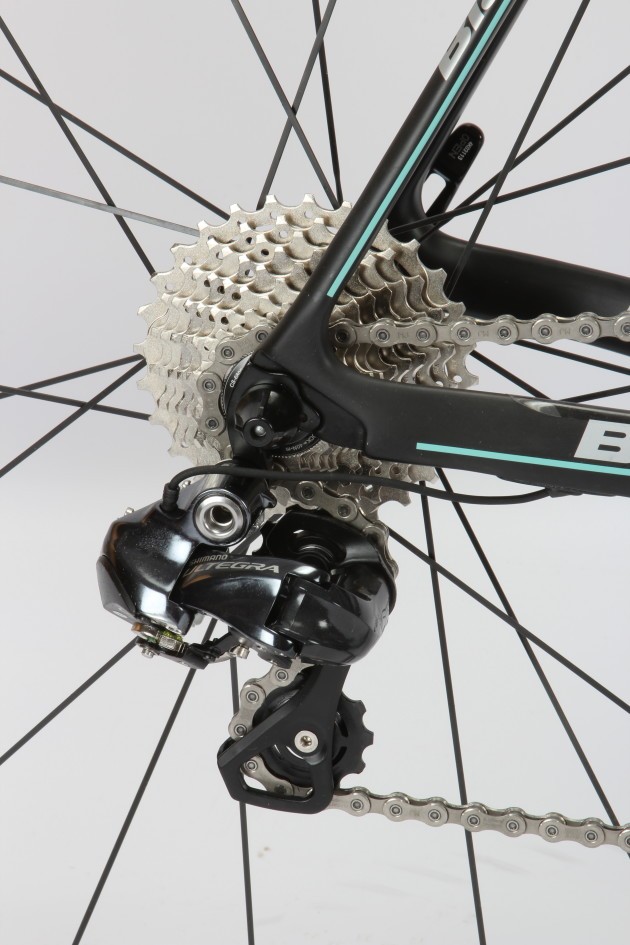 The expectation here is a chassis that can really haul some ass when the hammer gets dropped, is highly responsive to rider input from the pedals and the bars, and wont cripple you if you ride it for more than hour. Although this is the value for money Oltre, make no mistake, this isn't intended to be a recreational machine. The Oltre takes advantage of the full gamut of tube shapes to fulfill its intentions. Super slender seat stays are intended to add some comfort, but it's a celebration of oversizing and curves everywhere loads are expected to be high. Bianchi has created a custom seat post to match their aero shaped seat tube, and the fork integrates into the shape of the downtube to optimse air flow over the frame.
The finish of the XR1 frame is classy. Matte black with sharp, glossy graphics. I've never owned a Celeste bike, but I'd certainly like to one day. Not everyone is a fan of the colour that Bianchi has made it's own, sensibly the XR1 splashes the celeste about, but it's still a black bike. Inside, the frame has been finished cleanly with nice smooth walls and a minimum of excess resin and ridges, a sign that points towards a good manufacturing process and good compaction. The cable guides for the internal routing have screw in caps that discretely covered the excess mechanical cable ports, and the Di2 battery is housed inside the seatpost.

Overall, the Oltre is a very clean looking beast. Unfortunately the aero post slipped in the seat tube of our frame continuously, despite correct torque (and a touch more) on the clamp and the use of carbon torque paste. Bianchi would resolve this issue for a customer without fail, but it highlights the peril of proprietary parts on any bike. We could not simply pop in another seatpost from our spares to see if it would fix the issue, and we're unsure whether it was the frame or post that wasn't to spec, or both. If you have some kind of issue with a proprietary part, especially one on a less mainstream brand, you probably won't be able to just swing into your nearest store and pick up a replacement. This is especially apt when travelling.
The fit on the Oltre is all out race. The unique post comes in a 25mm set back only, so no chance of reducing the cockpit length here. The stack measurements are quite low for the given top tube lengths too. Our 57cm size test bike (560mm top tube) came with a 120mm stem as standard. The cockpit is long and low, at least that's how Bianchi spec it out. Bianchi's Sempre model, the race oriented model below the Oltre range, also runs similar dimensions. Riders after a fit that is outside of 'performance race' would need to check out Bianchi's Infinito range of Fondo bikes, as the race bikes are unapologetically that.

The XR.2 is offered in Australia with the choice of Shimano Ultegra mechanical or electronic groupsets, Shimano 105, or Campagnolo Veloce. Our Di2 Ultegra model is the top offering at $6,999. The spec is more workman than spectacular, with an alloy handlebar, base level San Marco Concor saddle and bombproof (but smooth) Fulcrum Racing Quattro wheels. The lead actors are the frame and group, which carry the rest of the cast for a more than passable final performance.
The Oltre's most likeable trait is it's absolute dedication to the task at hand. Although it could fairly be considered fancy or flashy, the Oltre isn't too precious to roll up it's sleeves and get it's hands dirty, in fact it loves it. It doesn't mask you from the road or smooth out every bump. It lets you know what's going on and gives you as much feedback as it can but stops before it gets harsh or slows you down. It's a fine line but the Oltre walks it with confidence. The handling is a very similar scenario. It's fast and lively, you can dance around on the Oltre with flair and attack fast corners with equally fast and sharp steering response. If the Oltre was any lighter and faster at the bar it would scare a lot of people away, but it manages to stay on the line without crossing it, just.

Some bikes seem to respond better the harder you push them, or find a point where they seem to hit a real sweet spot, almost like plotting a point on a graph where two lines intersect. The Oltre is not like this at all. It doesn't get flustered or have a preference to ride at one particular tempo. As the velocity and wattage lines go up, the Oltre performance line holds flat. It just doesn't break a sweat, it's that rival that never seems to be breathing hard. Regardless of how fast or hard you push, it just stares back with a poker face and tells you to get back to pedaling and square up for your next trick.
The Oltre will cruise about and rack up bike base miles, but it's not a cruiser as such. Riders after a plush ride or relaxed position won't get the most out of this platform and could find any number of more suitable models in the market. You needn't race to enjoy this experience, but having an eye for performance and intrinsic enjoyment of pushing hard play to the Oltre's hand. A bike like this is a pro cyclists tool of trade. Always responsive and firm, always up for whatever you throw at it, and always ready for more with no apology or ass kissing required.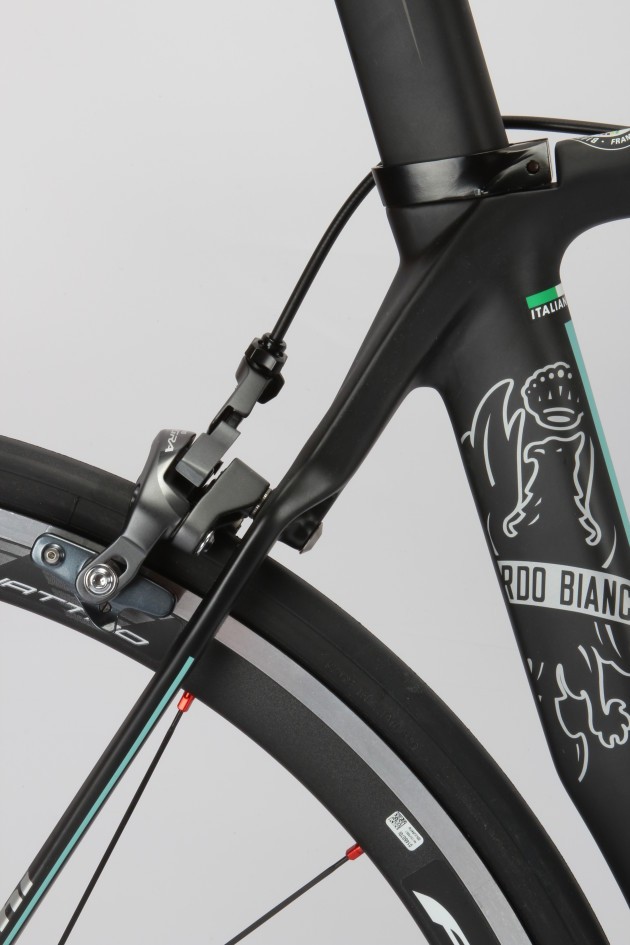 Summing Up
Quality
This bike is all about the groupset and frame. The total package is well finished and did everything we could have asked of it, but there is room to upgrade the components.
Performance
Performance is what the Oltre is all about. This bike is the definition of performer, and there is no better 'performer' group that Ultegra Di2. The Oltre went as fast and hard as we could ask, with unflinching composure.
Value
The Oltre's personality will deter large segments of riders, but will also have a powerful connection with others, boosting it's relative value. The XR.1 is a rock solid performer, which might draw some people away from the more expensive flagship XR.2, but there are also many bikes with similar specs but lower price tags. The value comes down to the ride experience that the rider is after, not so much the parts.
Overall
The Oltre won't be friends with everyone, but when it makes a connection it will be a solid, solid bond. It doesn't 'rise to the occasion', it just stands next to you and allows you to rise as high as you're able. Bianchi has a long, proud racing heritage, hard races ridden by harder men. This is the tool of trade for hard men of the modern day.
Specifications
Frame: Bianchi Carbon
Fork: Bianchi Carbon, tapered
Shift Levers: Shimano Ultegra Di2
F Derailluer: Shimano Ultegra Di2
R Derailluer: Shimano Ultegra Di2
Crank: Shimano Ultegra 36/52
Cassette: Shimano Ultegra 11-28
Bottom Bracket: Shimano Press Fit 72
Wheels: Fulcrum Racing Quattro
Tyres: Vittoria Rubino Slick
Brakes: Shimano Ultegra 6800
Handlebar: Repart Corse allloy, compact bend
Stem: FSA SLK
Headset: FSA
Saddle: Selle San Marco Concor Dynamic Open
Seat Post: Binachi Oltre carbon, integrated battery
RRP $6,999
Distributed by www.solasport.com.au