After a bevy of disc equipped review bikes Peter Rox has finally been able to throw his leg over a traditional rim-braked modern classic – here's his review of the Colnago C-RS.
I don't know about you, but I have been riding bikes for long enough now that, in all honesty, I can't remember all the bikes that I have owned. Now my wife might argue that that is simply because I swap my bikes out too often, and she may well be correct, I prefer to think of it as keeping up with the times.
Since space is limited around the house bringing in a new bike means getting rid of an old one which is often a fraught process. There is a saying 'act in haste, repent at leisure' and while throughout my bike purchasing journey I'm pretty happy with my 'ins and outs' occasionally you look back and regret letting go of one or two bikes. One of those bikes I miss is the only Colnago I have owned, a Colnago C40. I picked it up as a lightly used second hand bike, mainly because an old friend had told me that "at some stage in their life everyone should own at least one Colnago".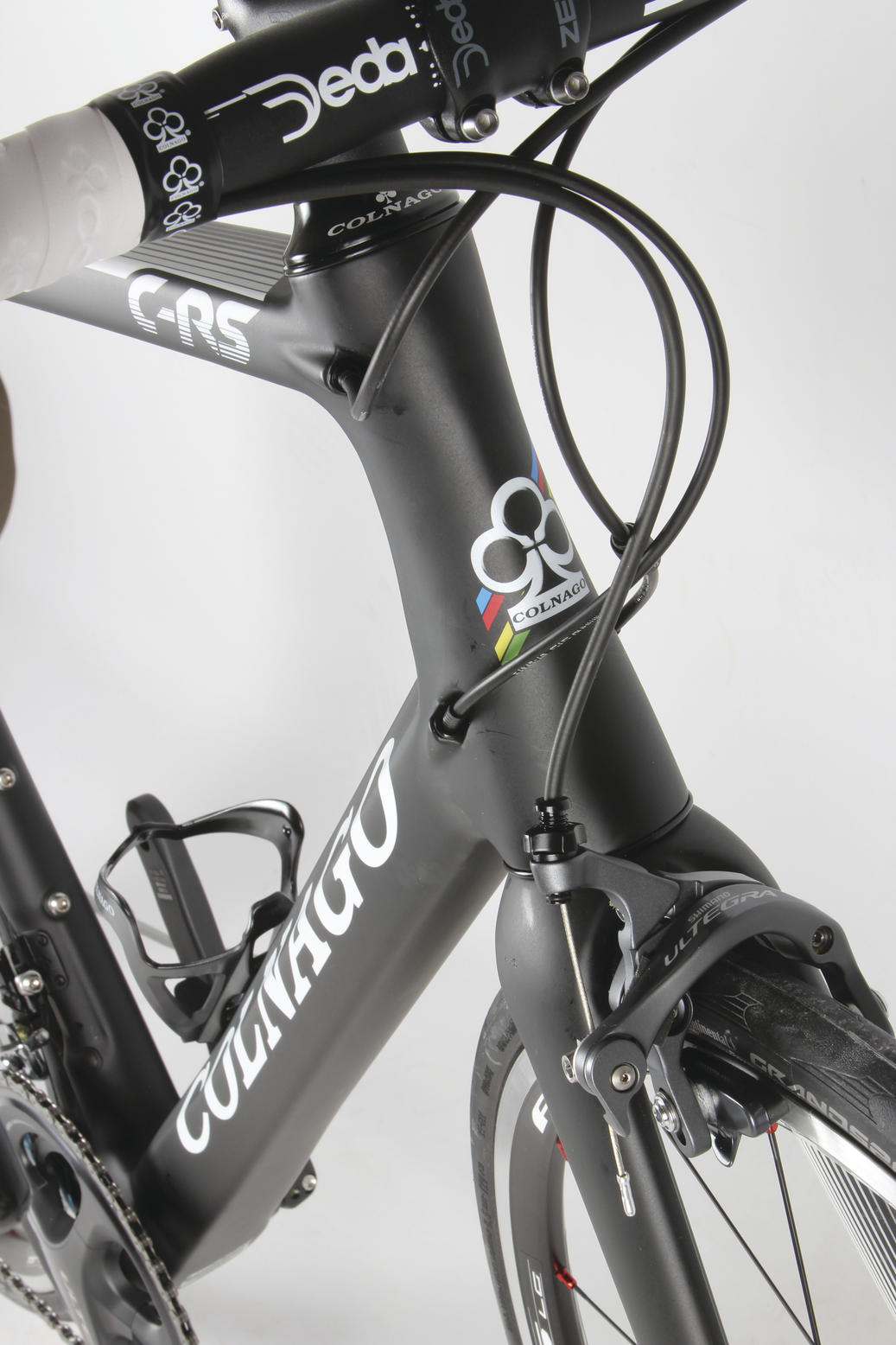 A Game Changing Colnago?
It was good advice as the C40 was an absolute classic. It was, at the time, what appeared to be the perfect blend of style and performance and was the bike 
I would ride immediately before riding any review bikes to get a baseline for what a good bike should be. So I would tend to be in agreeance that everyone should own a least one Colnago. The problem with that however is that not everyone can afford a top line Colnago and some of the more affordable models have often fallen short of the mark. The new C-RS though could be the bike to change all that.
Classic Features, Modern Twist
The C-RS is not classic Colnago, but it could be seen to be a reimagining, or reworking of the classic features with a modern twist. In a way it reflects my own feelings about cycling; I love the traditions that cycling has embedded in its history, yet equally I enjoy the path of technological advancement that cycling is taking. I respect that cycling had rules around the team kits, but was cheering for Mario Cipollini when he thumbed his nose at those very rules.
The C-RS is what Colnago are calling their 'entry level' road bike however this statement could be a little misleading as it certainly doesn't look like an entry level road bike. The C-RS cuts a fine figure and is unmistakeably Colnago thanks to the bold white on black decals which include the famous name, Ernesto Colnago's signature and the equally recognisable Colnago 'ace of clubs'. The C-RS would easily hold its own in any café line up even against bikes costing more than twice as much.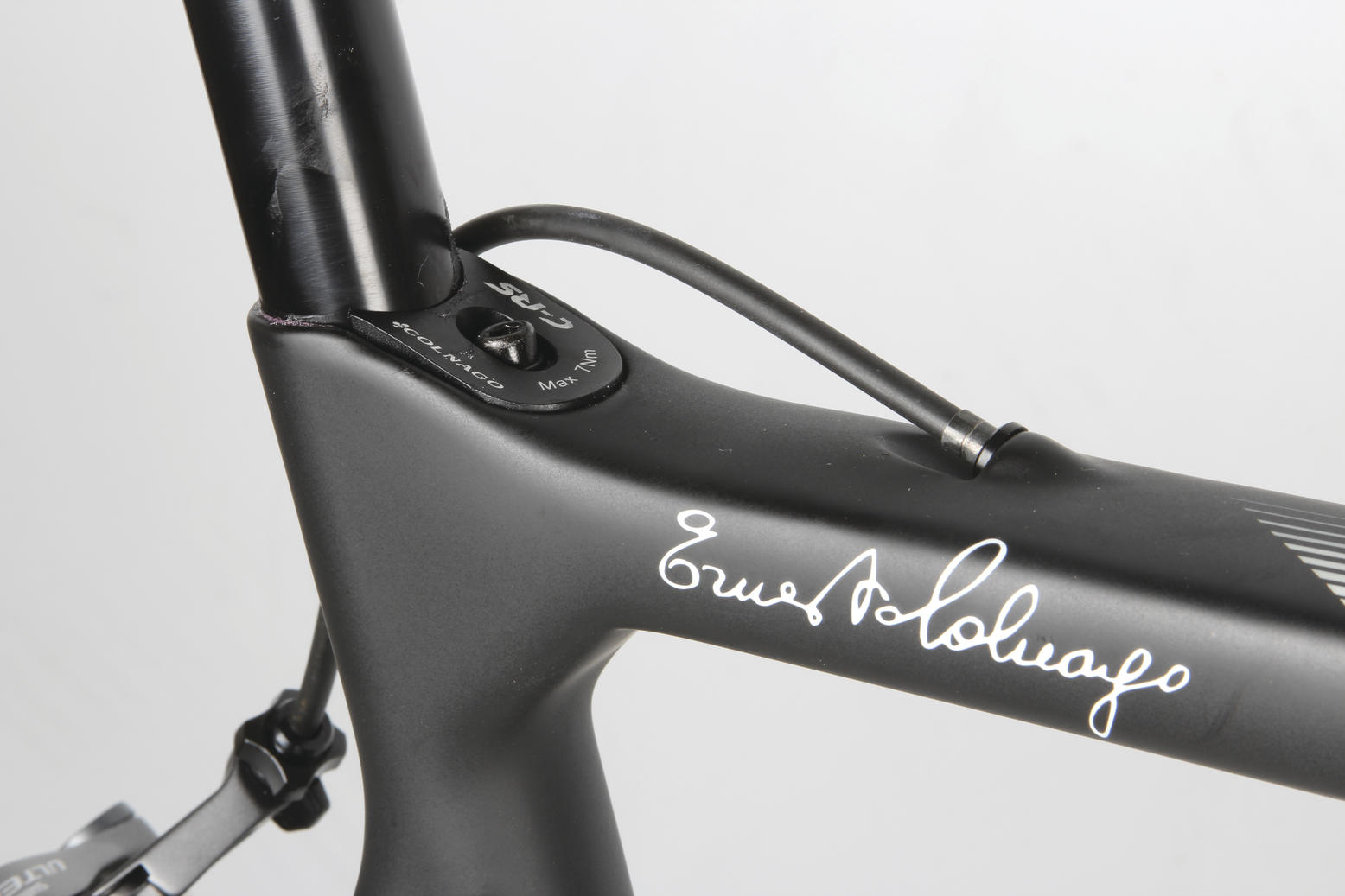 Also very typically of Colnago are the heavily shaped tubes and straight fork, and equally the quirky sizing on their models, so it is best to do your homework on the geometry charts before taking the leap.
Affordable Quality
While $3,599 may not be everyone's idea of an entry level price tag it is certainly a great price for a premium brand bike, and it has to be said that the Colnago C-RS Colnago isn't kitted out like any other brands interpretation of entry level.
The C-RS is equipped with Shimano's ever reliable Ultegra groupset in its rim brake version. While disc brakes certainly seem to be on trend at the moment in 99% of on road riding situations the current crop of rim brakes are certainly more than adequate and it also means that those who like to pin on a number are able to fully utilize the C-RS for racing duties.
The C-RS has avoided any cost cutting by substitution of brands, and carries the Ultegra spec from top to toe. The crankset is the 50-34 compact variety with 172.5 cranks, and while compact cranks are not everyone's cup of tea they are becoming more prevalent and with the availability of a greater range of cassette options the actual loss of gear inches can be negligible.
Deda bars, Colnago Seat Post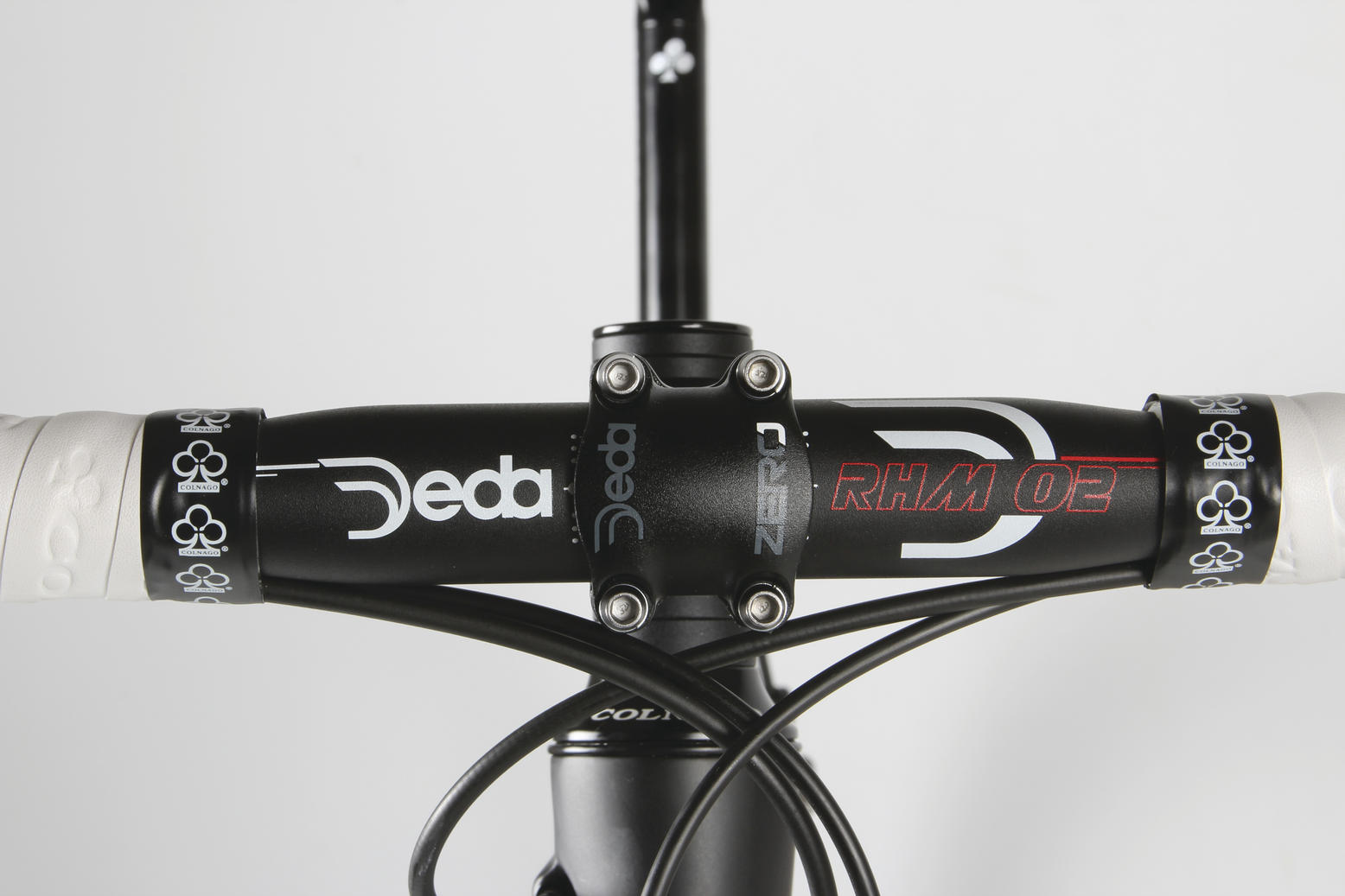 The finishing kit comprises Deda bars and stem and a Colnago branded seat post. The seat post is an alloy number something not too common any more even on lowly specced bikes and the first ride was a reminder of the joys of alloy seat posts. My first ride had me venturing home early to deal with an unbearable creaking emanating from the seat post. A generous helping of lubricant was all that was required to have it running silently again and back on the road again.
The C-RS rolls on Fulcrum Racing 5 wheels and Continental Grandsport tyres. The combination worked well in terms of rolling and feel but the package was let down somewhat by, what could best be described as, a poor join in the front rim leading to a pulsing in the braking. This is not something I have encountered for some time on modern wheels and to be honest was a bit of a surprise on Fulcrums who usually deliver quality wheels.
A Slick Looking Set Up
The C-RS despite Colnago's history is still a very modern looking machine. The internal cable routing keeps the lines looking clean, the dropped seat stays keep the rear triangle nice and tight and the seat post is held in place with a tidy integrated seat post binder.
It wouldn't be fair to say Colnago's are not renowned for their lightness however it could be said that light weight in and of itself has never been a goal for Colnago and that is a good thing. That being said the C-RS, despite the size of some of the tubes in its makeup, is deceptively light, tipping my scales at 7.8 kgs. Unlike some bikes at this weight the C-RS does not feel flimsy or delicate and that is reflected on the road.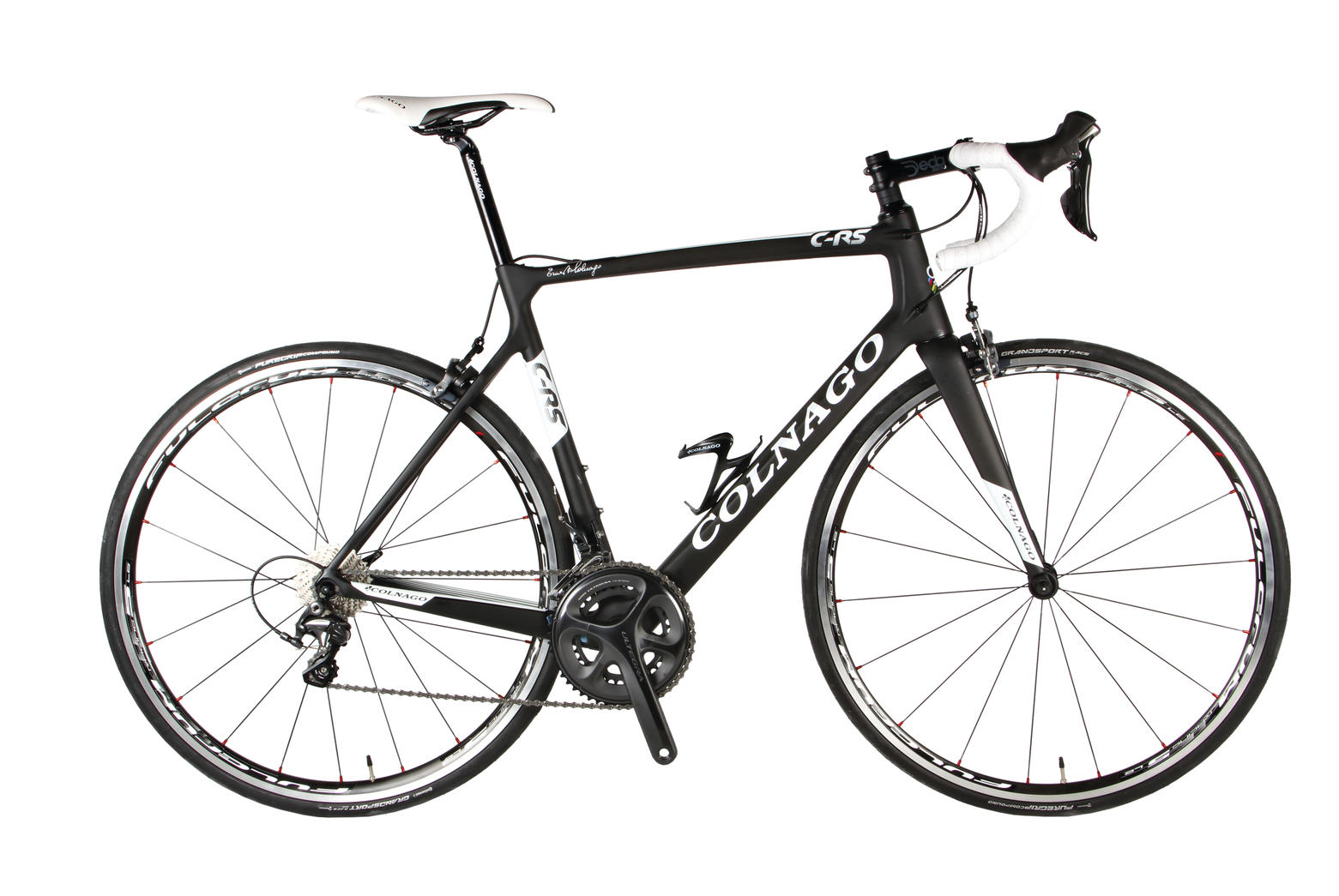 The C-RS would easily hold its own in any café line up even against bikes costing more than twice as much.
The C-RS is suitably stiff when putting effort into the pedals, due no doubt in no small part to the width of the seat tube cluster where the adjoining tubes utilise every spare piece of real estate available thanks to the press fit bearings. The riding position and steering are a little more relaxed than their pure thoroughbred stablemates making this bike a friendly one to live with and while the large tubes can often give an audible cue to the state of the road underneath you this does not translate into noticeable discomfort on the C-RS.
Colnago also do the little things well, like finishing off the bike with a Colnago branded Selle Italia saddle, along with Colnago branded bar tape, top cap and headset bearing cap and while these may not make you go any faster they will get you plenty of style points at the post ride coffee park up. 
Summing Up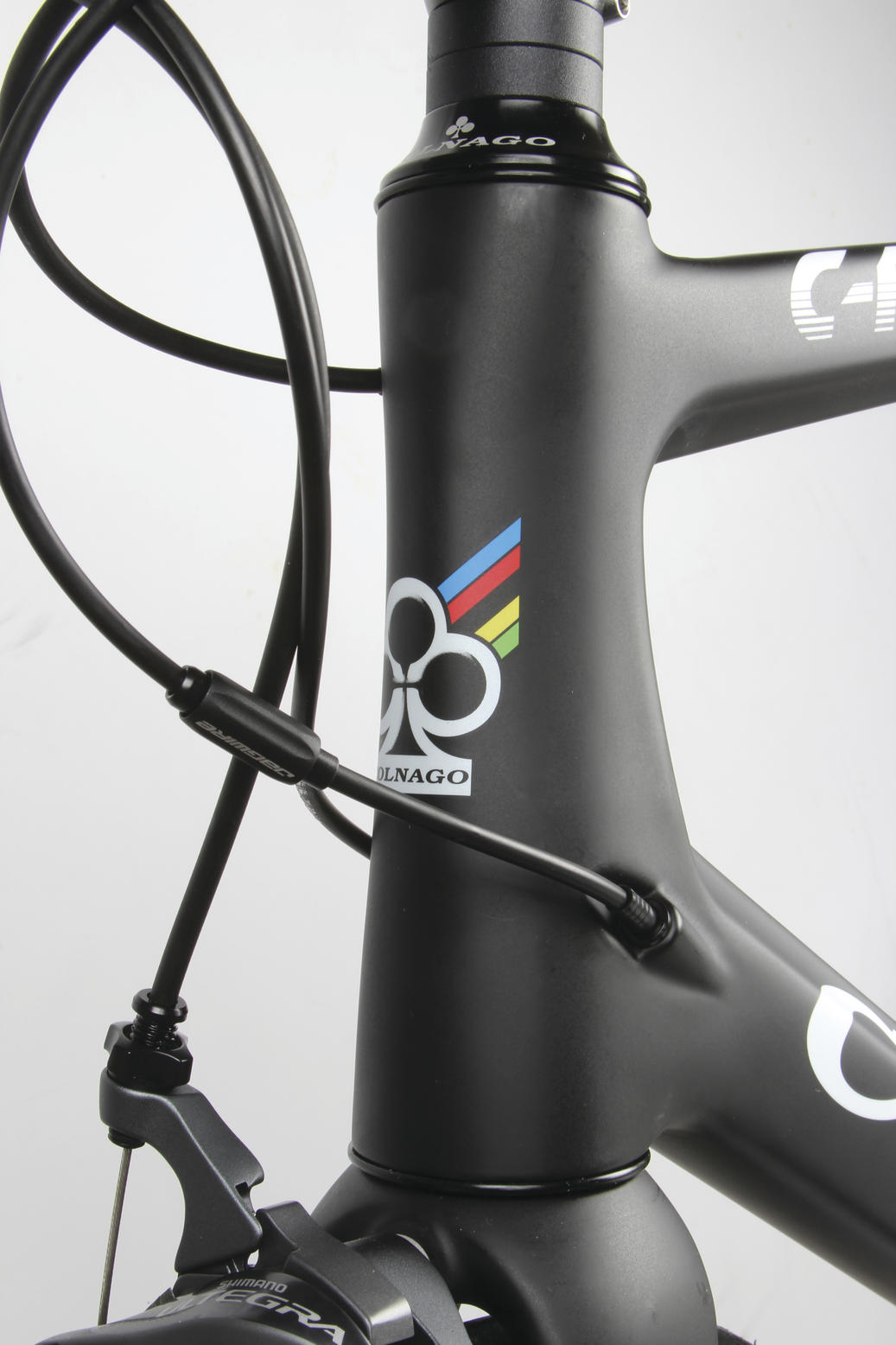 Quality: A great 'step-up' bike for those looking to move to the next rung in their cycling adventure but good enough to take you as far and as fast as you can go with a frame and parts that should last the distance.
Performance: The C-RS is a great performer not only for its price but in general. It is suitable for everything from coffee rides to fondos and all out racing. The riding position is suited to more than just the ultra-flexible and the handling
Value for money: Earlier this year the C-RS was available for $2,900 which would have made it about the best value bike of the year, at the normal price of $3,599 the Colnago is still a good value proposition especially when you consider that generally the Italian marque commands a premium and the style points are definitely worth it.
Overall: The C-RS is one hell of an "entry level" bike. Even with all my years of riding and not being in the market for an entry level bike I'd have no problems being seen on it as my everyday bike with a fancy pair of carbon hoops for racing I'd be happy with it as my only bike and my chance once again to own a Colnago.
Specifications
Frame: COLNAGO C-RS
Fork: COLNAGO C-RS
Head Set: FSA
Stem: DEDA ZERO ONE
Handlebars: DEDA RHM 01
Saddle: SELLE ITALIA QBIK
Seat post: COLNAGO ALLOY 27.2mm
Shift Levers: Shimano Ultegra
Brakes: Shimano Ultegra
Front derailleur: Shimano Ultegra
Rear Derailleur: Shimano Ultegra
Cassette: SHIMANO CS-6800 11-28T
Chain: SHIMANO 105 CN-HG601
Crank: Shimano Ultegra 50-34
Bottom Bracket: integrated
Wheels: Fulcrum Racing 5
Tyres: CONTINENTAL GRAND SPORT RACE 700X25
Bidon Cage: Colnago
Weight: 7.8kgs
Price: $3,599.00
Distributor: FRF Sports