There's nothing like the anticipation of new bike day. Never having seen an EM525 (yes, the staggering number of Eddy Merckx's pro victories) in the flesh, I had briefly ridden the bike's little brother, the San Remo 76, at the Tour Down Under earlier in the year.
"If the ride, craftsmanship & handling of the SR76 is anything to go by," I thought in those days before delivery, "the 525 will be nothing short of a super bike."
Teased with a series of Instagram and Facebook photos from the mechanic who assembled the bike the week before, the wait was as excruciating as I was anxious.
First Look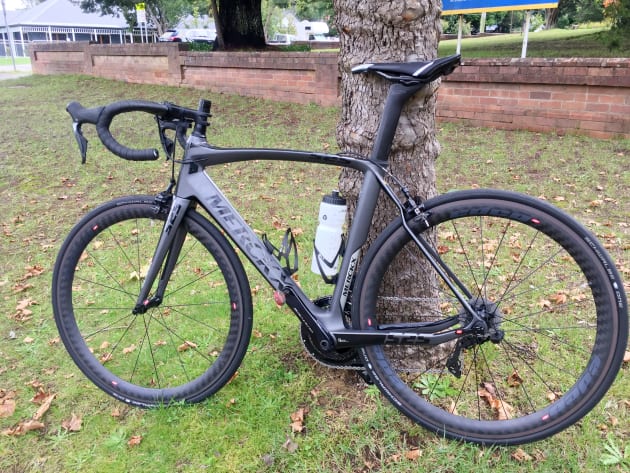 Upon arrival and I was instantly drawn to the bike's aggressive, ready for business stance.
"Am I worthy, can I do it justice?" I wondered. "No way .. never. Just ride, enjoy and repeat," came the answer.
With a meaty front end, stocky, super-stiff head tube and purposeful, aero-tapered fork – the bike looked raring to go. Like a burred-up gorilla – it looked fierce, strong and proud up front. The 525's enormous head tube morphs seamlessly into a no-nonsense down tube then on to the huge bottom bracket – as bold as the name on the frame. The rear end screams comfort & compliance – look closely and you'll see the uneven angles of the asymmetric rear triangle.
First Brief Ride
Being far more used to compact, sprint style geometries, I've always been skeptical of higher, more comfort-focussed endurance style frames. I'd imagined these bikes to be less aero, harder to push, and ultimately slower.
That myth was dispelled soon into that first ride. Push hard on the pedals, gain some momentum, and this steed will roll all day. With the cutting-edge Merckx fitted with the very latest Shimano Di2 Dura Ace 9150, the ultra-stiff frame was married with finger-tip controlled, semi-automatic gearing. It was truly a match made in heaven.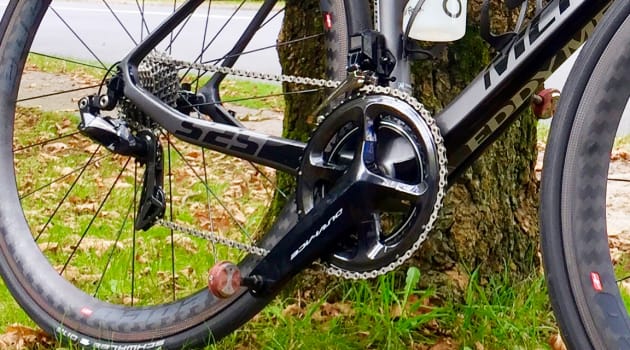 Yes I felt like I was riding higher and sitting prouder than on other bikes, but I also felt more comfortable, more efficient and in far more control. Fitted with Edco 45mm carbon clinchers, that felt like they'll roll or spin forever, the ride was fast, smooth and effortless. It seemed I was getting to known point quicker than ever before, I had the feeling this bike would allow you to either ride further in the same amount of time, or deliver you to your destination slightly sooner so you could sit, relax and take it all in.
The Ultimate Descender?
That first roll was a local loop of around 60km with just a couple of hundred metres of climbing and no serious descents.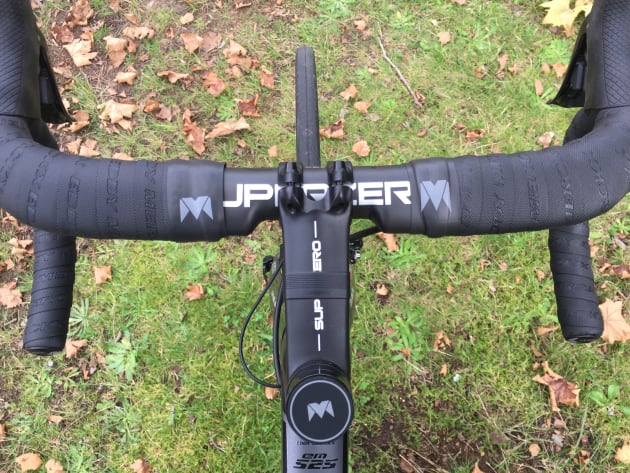 Next ride and it was time to get serious. After hearing of the EM525's legendary descending ability. I pointed the bike toward Akuna Bay in Sydney's Ku-Ring-Gai Chase National Park. It was a warm and dry early Autumn morning. A Monday, with virtually no traffic, conditions were perfect for a solid downhill hit out. Later would come the short, sharp, 3km climb out of Akuna then undulating roll to West Head, but first there was a series hill to power down.
Enjoying the gentle downhill coast to the top of General San Martin Drive descent, I gripped the Deda oval Superzero carbon bars firmly, extended a finger to each brake lever, settled into the saddle, and prepared for the fun ahead. I took the first corner with slight hesitation – gauging a feel for the tyres,wheels and bike below me.
With an immediate confirmation of firmness and control, I pushed on the pedals to accelerate hard toward the next right hander. Cut into the hill, it's a bend bordered by a rock wall – one I, and many fellow riders, have come ever-so-close to scraping on more than a few occasions. With barely a touch of pre-corner braking, the Schwalbe One tyres gripped firmly as the bike obediently tracked the corner as if it was the lead carriage of a rollercoaster.
Letting out a spontaneous whoop, I immediately realised the rumours were true – the Merckx 525 exhibits utterly superb descending qualities. The next few corners were insanely enjoyable – the bike inspiring massive confidence and providing the most exhilaration I'd experienced in a long while.
To the flat roads at the bottom of the hill and the Merckx seemed to maintain much of the speed with limited effort. It's a responsive and an easy bike to propel, one that would obviously be perfect for those keen on mid to long Gran Fondo style rides that are booming in popularity.
Onto the climb out and the Merckx performed well. While it didn't stand out as a particularly impressive climbing machine, it did the job admirably, diligently and without fuss. In my opinion the bike is a typical climber, mind-blowing descender and more than capable on flat to undulating roads.
Time To Say Goodbye
The Merckx has been partly dismantled, safe & soundly boxed, and shipped back to the ever-helpful Australian distributor. Over my time with the bike, I found the relatively new local Merckx agent to be super-passionate about not just the product but the sport we live and breath. Long-term cyclists, the new distributors behind Merckx Australia realise the deep pedigree and potential golden opportunity they have with this highly-regarded brand – while Merckx have been distributed Downunder in the past, this time there's no doubt they're here to stay.
What I'll Miss About The Merckx
With the explosive Merckx on a TNT express truck to an eager dealer in Perth, I found myself back on my ageing Pinarello. Riding down a bike path toward aptly named Ryde, I was about to rendezvous with Indian Pacific Wheel Race rider Jan-Willem Bobbink. Jan, a Dutchman, who'd set a cracking pace during the gruelling race across Australia, was showing no sign of fatigue as he made the final approach into Sydney after 2 weeks of intense racing. The chase was on as he caught me completely unawares, blasting past as I was looking for his dot on a screen.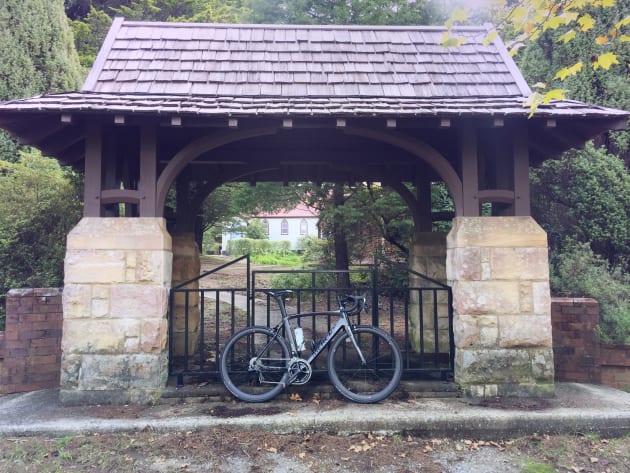 My first serious ride since boxing up the Merckx, it was fast, blink of the eye type stuff. I was led by an eager to arrive Jan, who navigated the bends, posts and bumps with gusto.
That as a comparison ride, I considered the three things I missed most about the Merckx.
Top and centre was the refined level comfort & control that came with speed. Below say 20kph, the Italian & the Belgian are not dissimilar. An analogy could be driving a $30,000 Skoda Octavia and a top of the range Audi, at three times the price. The differences my be marginal on busy city streets, but find some tight, twisty mountain roads, throw in a switchback or two, and it's a vastly different tale.
Bumps on the bitumen, expansion gaps over the Harbour Bridge, speed bumps in the city – the Merckx took any underfoot imperfections in it's stride. Considering it's aggressive stance it absorbed imperfections like a gentle giant. Back on my old but beloved steed, I soon realised how quickly I'd become accustomed to the Merckx's levels of superb handling and forgiving nature.
Those Brakes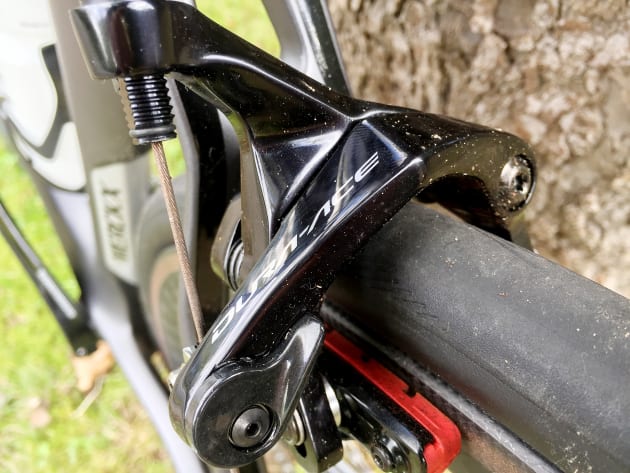 Returning to ageing callipers – that slow rather than stop – the latest Dura Ace brakes are simply out of this world. There was so much reserve braking power available – they compliment the build to a tee. If you buy this bike take note – grab eight fingers full of brake and the bike will stop … as you end up in the next postcode.
Last But Not Least
The final thing I dearly miss about the Merckx is its descending ability. Cutting more than 20 seconds of my best time at the legendary Akuna Bay west, I can't imagine how I'll (safely) replicate that time again.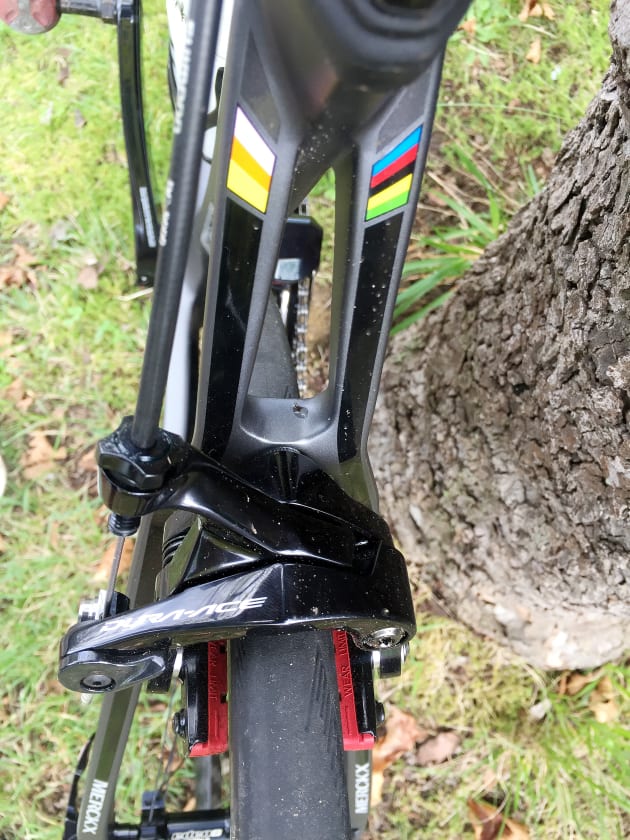 Summing Up
Quality – Superb attention to detail – the test bike had a stunning anthracite black and sliver satin finish. From the bold & bulbous head tube right down to the subtle finishing touches such as Belgian flag along with tri-colours of the TDF, Giro & Vuelta, this bike is a purist's dream.
Performance – All day comfort and out 'n out race machine handling – the EM525 is a bike for all occasions. You could race it on Saturday, ride a Gran Fondo on Sunday, and commute (quickly!) on Monday.
Value – The EM525, with the latest Shimano Dura Ace Di2, is a serious investment. I thought about this (albeit briefly) while descending a near-vertical local segment. The answer – that painful up-front payment will be returned via spades of pleasure.
Overall – A top-quality, high-performance thoroughbred. It's got the look, the handling and the pedigree. Add to that the technology, coupled with oodles of street cred, and this bike's a 9/10.
Merckx EM525 Specs & Pricing
Frame: EM525 Carbon – 900grams in medium.
Fork: Merckx EM525 Carbon areo blade design – 380grams.
Head Set: FSA
Stem: Deda Superzero 31.7mm 90mm.
Handlebars: Deda Superzero Carbon 31.7mm, 420mm wide.
Saddle: Prologo Scratch 2.
Seat post: Merckx Aero oval.
Shift Levers: Shimano Dura Ace R9150
Brakes: Shimano Shimano Dura Ace R9150
Front derailleur: Shimano Dura Ace R9150 Di2
Rear Derailleur: Shimano Dura Ace R9150 Di2
Cassette: Shimano Dura Ace 11-28
Chain: Shimano Dura Ace R9150 11sp
Crank: Shimano Dura Ace 52-36, 172.5mm
Bottom Bracket: Shimano BB9100
Wheels As Tested: Edco 45mm Carbon Clincher
Tyres: Schwalbe Pro One
Weight: 8.0 kg
Price: $12,499 (with Edco 45mm Wheels) $11,499 (with Fulcrum Quattro Carbon or equivalent).