"A desire to improve the versatility of the standard road bike." That's how James Bossi, owner of Sydney-based Bossi Bikes, explained the unique go anywhere / do anything Fabirica CX.
"How do we take the fast and fun nature of riding a road bike, and make it more useful for day to day life," he told us over a coffee at an inner-city cafe close to Bossi's retail premises in 'the bike shop triangle' of Sydney's inner west.
"There's an endurance geometry, mounting points for panniers, through axles for stiffness, flat mount discs for solid braking, mounts for 3 water bottles and clearance for up to 27.5 inch wheels," he continued.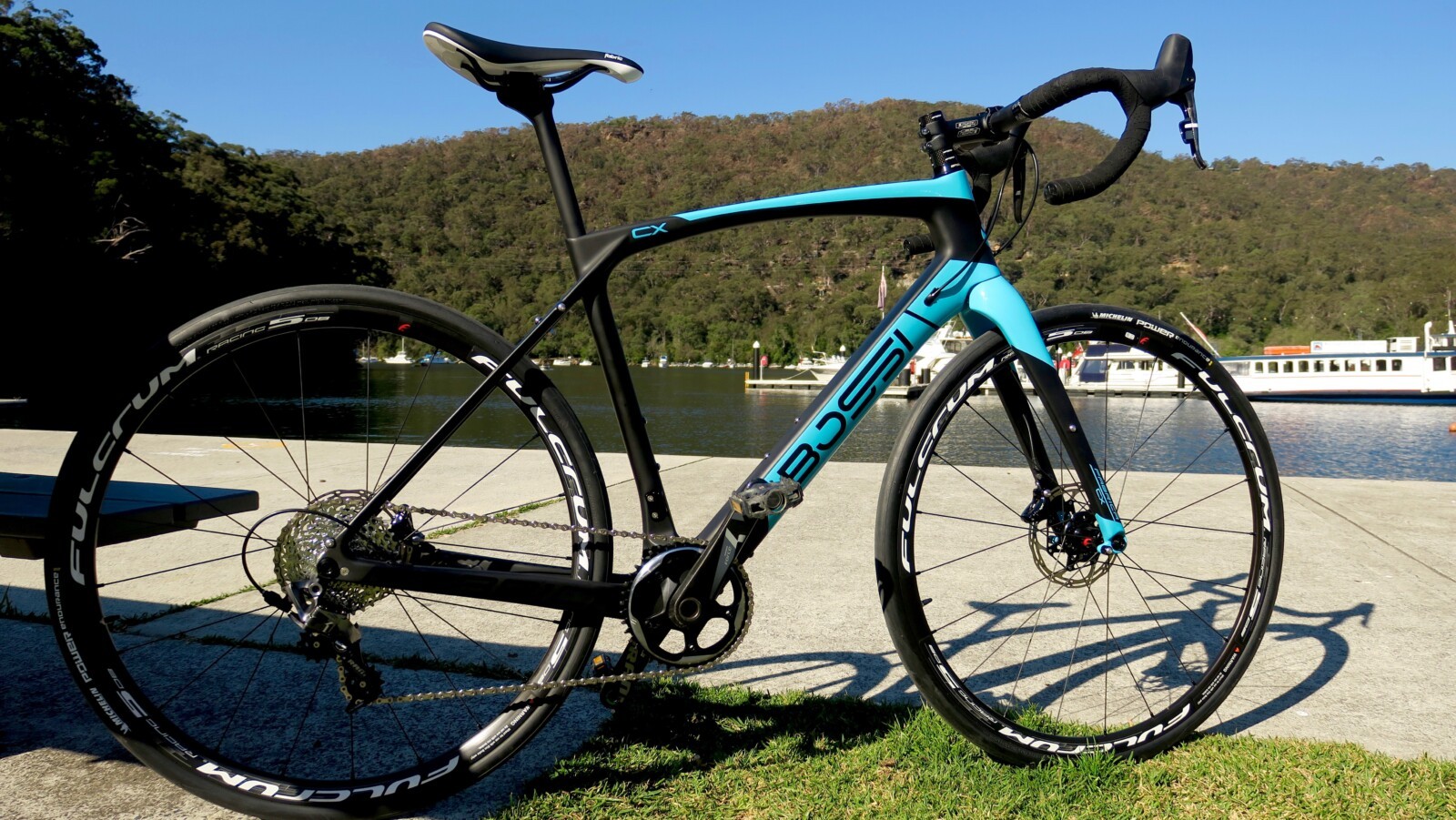 Long, High And Raring to Go
High in stance, long in wheelbase, looking proud & raring to go, the Bossi Fabrica exhibits a ready-for-anything stance. After several local 40 to 60km rides on mixed terrain – from grass, dirt and gravel through to technical climbs and descents – it was time to spend a full day aboard the Bossi.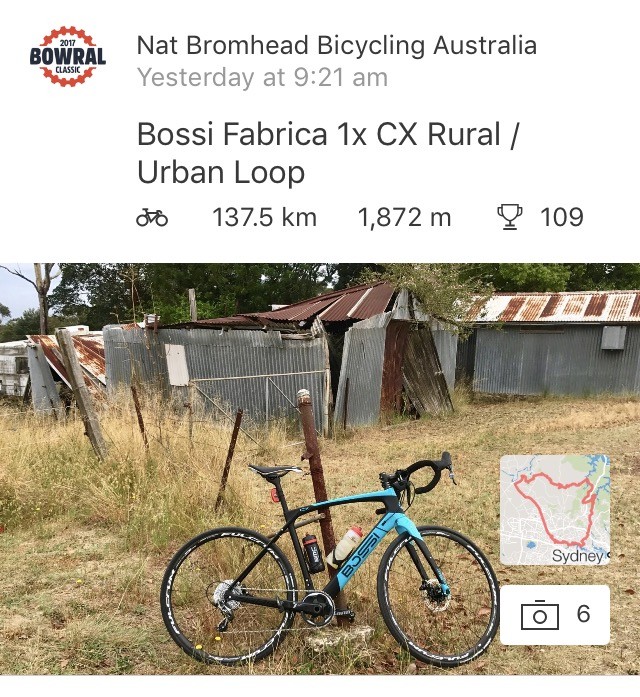 For some reason the level of anticipation was unusually high for this particular Sunday ride – no idea why as light rain was forecast and the legs were still aching from the previous day's 100km /1600m loop.
Ready to go and lifting a leg over the Bossi, the bike couldn't have felt any more different to yesterdays if it tried. From a fully aero matt black Pinarello, complete with slammed stem, 11-28 cassette, 50/34 compact and ageing rim brakes to the tall, bold, bright blue Bossi with SRAM hydraulic discs, a 1x drivetrain and 11-36 cassette!
Clipping in and pedalling out of the driveway, the 8.2kg Fabrica felt surprisingly quick and sprightly off the mark. Right from the start there was a strong sense of response and control. Obviously the gearing, drivetrain and super-stiff, no-nonsense frameset were key. Special mention should also go to the SRAM Force Hydro hoods, their prominent height providing reassurance and authority over the blue steed below.
From Country To City & Back
The rough plan was a big loop of Sydney. Kicking off in the sparsely populated outer north west, the ride covered dirt, gravel and cutting across grassy parklands, right through to coarse concrete, smooth black-top bitumen and even plastic-clad bridge decking.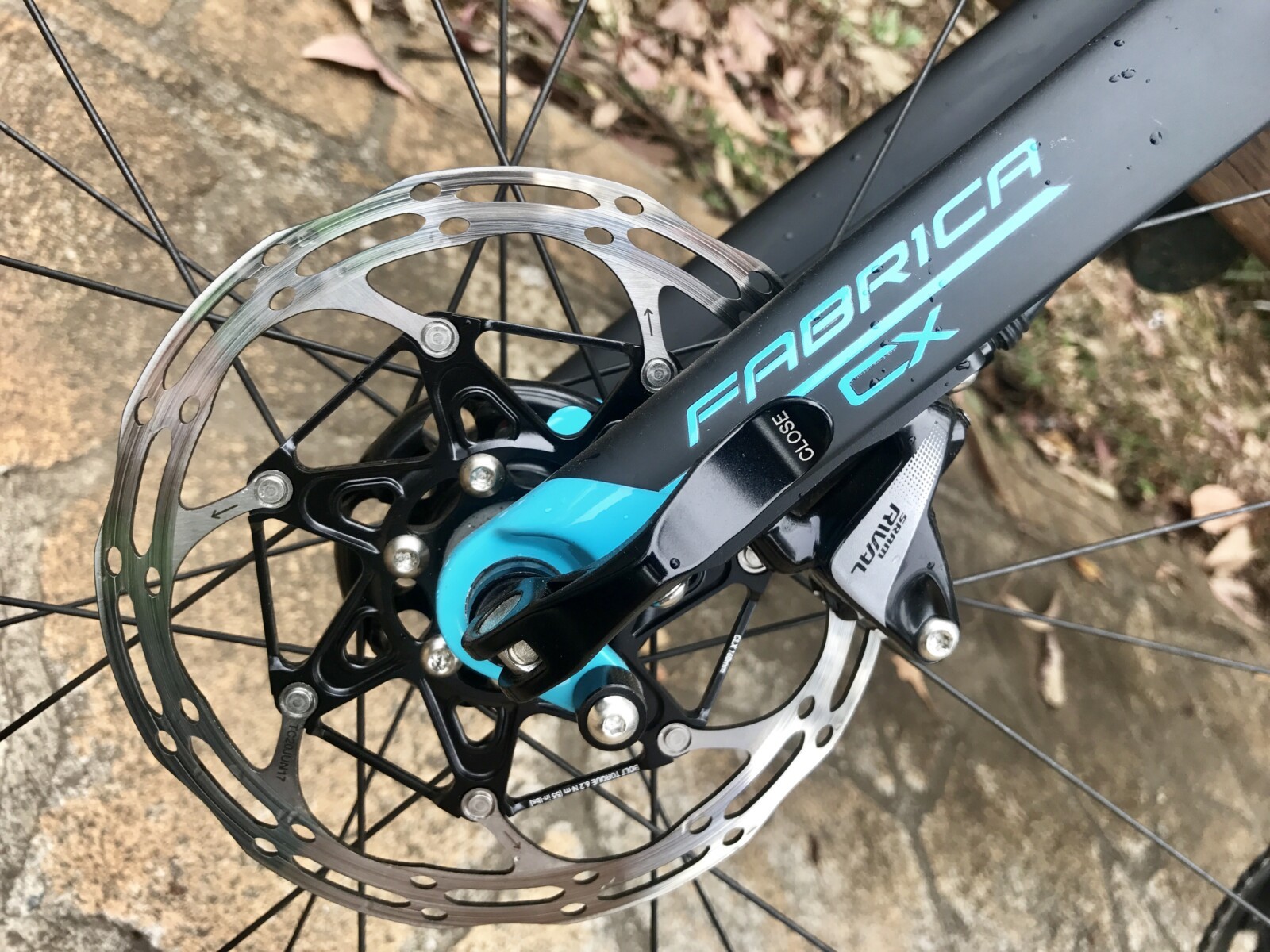 At 137.5km and with 1850 + metres of vertical, it was the perfect way to gain an understanding of the Fabrica's all-round abilities. From the poorly-maintained roads of historic Pitt Town, to Parramatta's riverside bike path, to the urban quagmire of Ryde and on to the dream descent (and subsequent tough climb) of Bobbin Head – the ride featured it all. It was then up along the Pacific Highway in light rain, left into Berowra for the harrowing drop into another of Sydney's legendary gorges and the subsequent long climb out.
SRAM 1x Drivetrain
Comfortable, controlled and effortless, the bike handled all in its stride with ease. I found the 1x gearing a cinch – smooth and direct changes with perfect range and nothing compromised. "I could easily get used to 1 x," I thought.
Arriving home on dusk, I sat there, cracked a beer, looked over the road grimed Bossi and reflected upon the day.
It was a genuine mixed-terrain trip and the bike performed faultlessly. The frame ate up imperfections in the road, the many expansion gaps in the concrete paths, and lumps & bumps along the way. It responded well to quick changes of direction, to the numerous hazards …. and bunny-hopped beautifully for a bigger feeling bike.
It was comforting to have that 42 / 36 combo there to effortlessly spin the bike up the climbs. Drop it down to the 11 and there was also plenty of scope for occasional out-of-saddle stick as well. The SRAM Force Hydro discs provided brilliant stopping in built up urban areas and through the corners on the longer descents.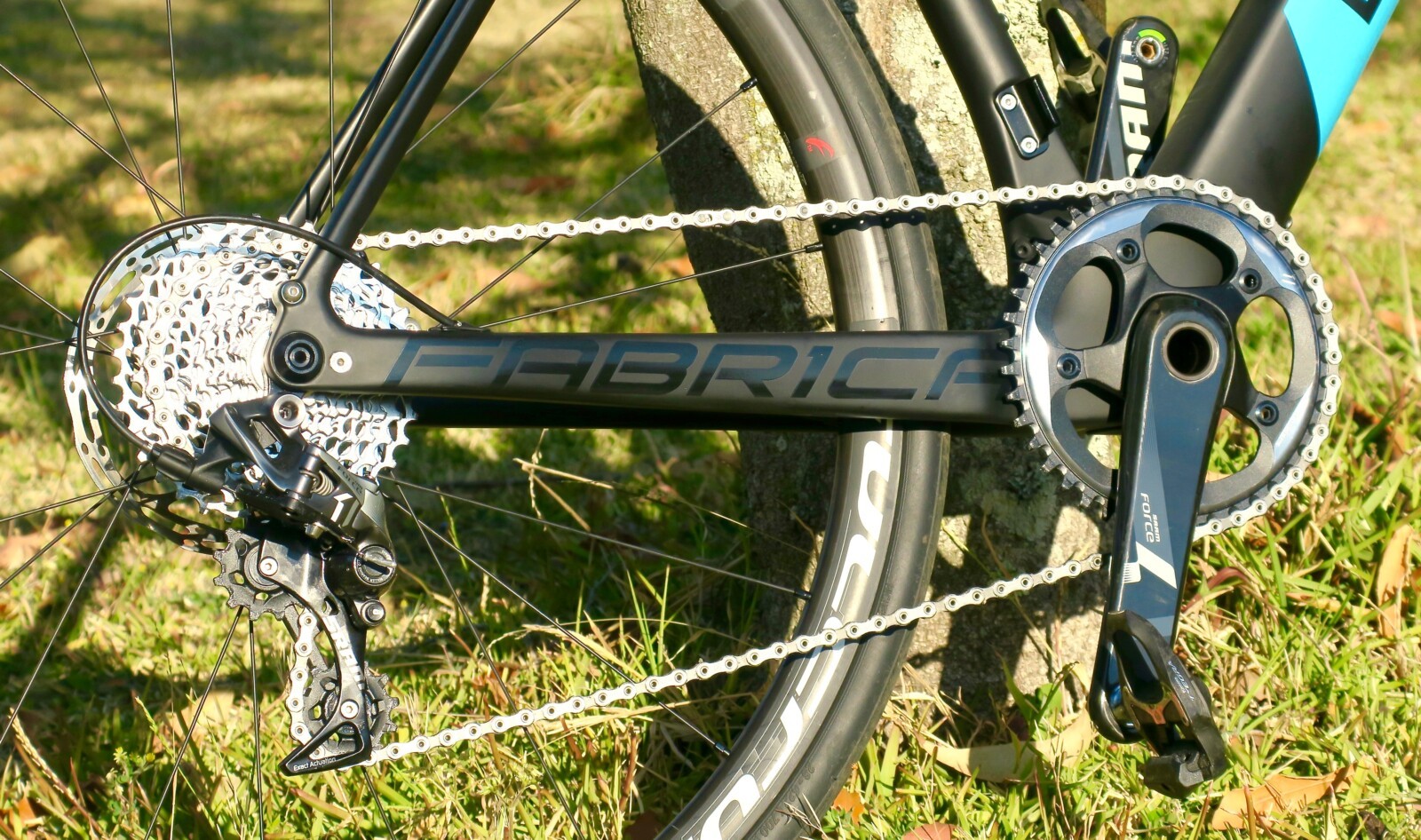 Any Negatives?
Negatives? There was cable rattle – the derailleur cable touching the side of the head tube. This could be fixed in a jiffy with a stick-on frame protector. The only other pedantic point relates to the numerous pannier and bidon cage mounting screws. They're bright silver – I think they'd be better in black. But that's personal, and picky.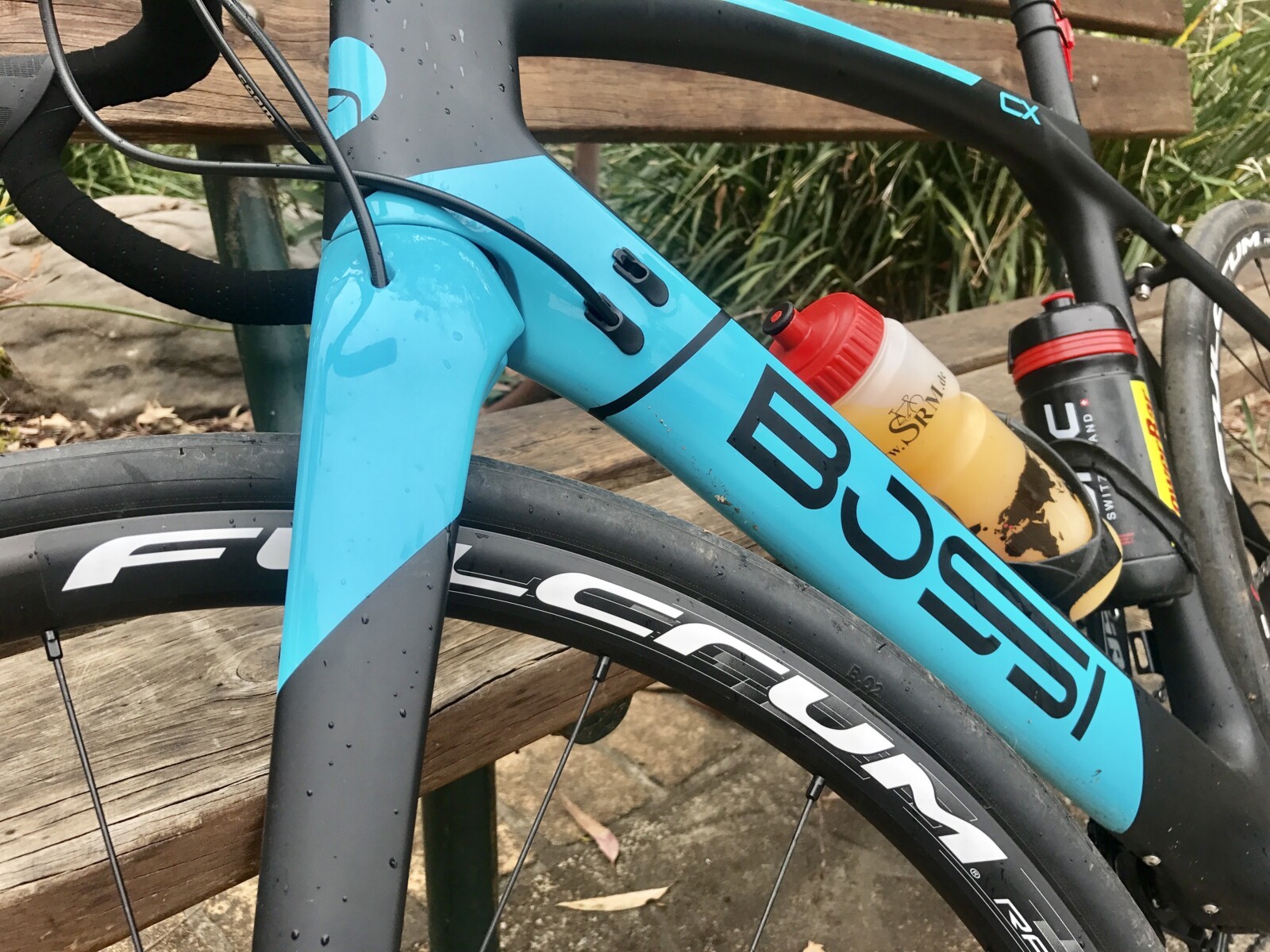 The Bottom Line
Coming it at under $4000, the Bossi Fabrica is a high-performance, top-quality all-rounder. I've found it to be as much fun on the road as off it. Looking at the bike right now it's proudly sitting there, dirty, dusty and pointing toward the driveway. It looks raring to go and is definitely one of those bikes that inspires and almost begs to be ridden.
Specifications
Frame: Bossi Fabrica CX – Torayca T800 carbon. Clearance for 27.5″ wheels and 50mm tyres.
Frame Weight: 950grams
Fork: Bossi full carbon – 420grams w/ flat mount disc brakes, 12mm Thru-axle.
Handlebar: FSA alloy
Headset / Stem: FSA
Seatpost: 27.2mm Bossi carbon
Groupset: Sram Force 1
Wheelset: Fulcrum Racing 5 Disc
Tires: Michelin Power Endurance 700 x 28c
Weight: 8.2kg in Size 54
Price: As tested $3600-$3700
A full review of the Bossi Fabrica CX will appear in the next edition of Bicycling Australia magazine.