The obvious and common denominator of all the bikes reviewed by Bicycling Australia is the fundamental fact they have two wheels … but not this one. Here we take a look at the Wattbike Atom, an innovative indoor trainer.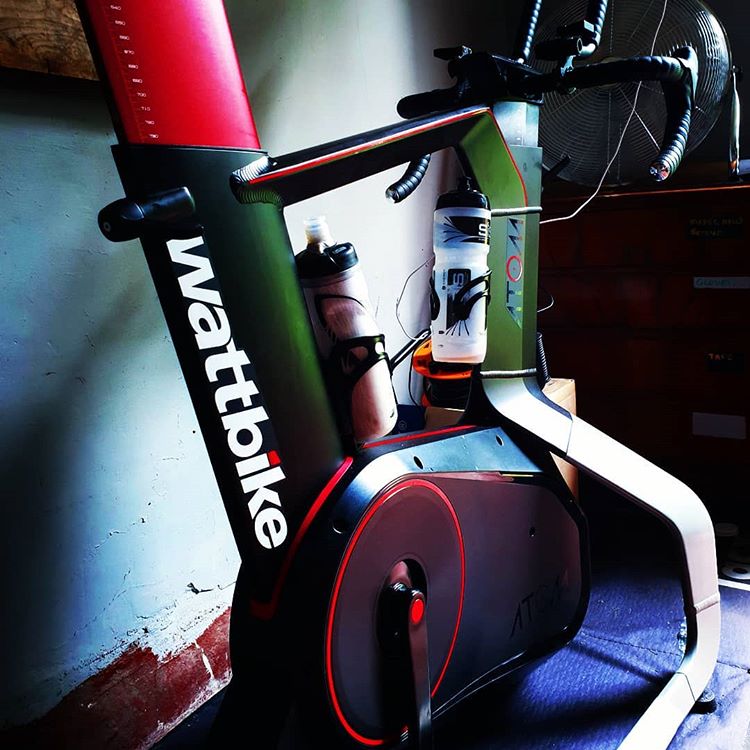 Anticipation levels were unusually high when preparing for that first 'ride' of this review bike. Here at Bicycling Australia we've reviewed numerous standout indoor trainers of virtually all shapes, sizes and types over the years, but for some reason this was a particularly exciting one to test.
Delivered by the Australian distributor on the back of a twin cab ute, two of us easily carried the 44kg Wattbike Atom from the vehicle, into the apartment prior to placing it on the floor. From there the unit was easily moved from room to room by simply lifting the rear end and rolling it on the two wheels subtly incorporated into the sled type base.
Wattbike Are Offering Bicycling Australia Readers $100 Off The Latest Atom – Details Here
Setup and startup wise, this home-based Wattbike is basically 'plug and play'. With no stabilising arms to fold out, no cassette to install, no bike to fit, the Atom was an absolute cinch to get underway.
It's de rigueur these days, but first things first is to download the app. We did this for both the mobile phone (to always have ride details and the all-encompassing interface available), and on an iPad that would be placed on the incorporated stand to become a critical part of the user experience.
Next step was to set up and account, add basic details, and get ready to spin (or, should that be, 'await the pain?').
Expert Assessment Via The App
Admin out of the way, and this is where Wattbike starts to stand well clear of the crowded indoor trainer space. Starting with a full-blown 20-minute FTP (Functional Threshold Power) test, the user's ability to sustain a high percentage of aerobic power is assessed, the data being stored in the app for future comparison.
In addition to all-important FTP, the Wattbike app contains numerous other tests to assess maximum minute power, maximum heart rate, training zone information, a 10-minute health assessment test, a ramp test to gauge a user's age-related fitness level and so on. Yes, so far as home-based fitness and conditioning assessment goes, Wattbike certainly seem to be on the frontline.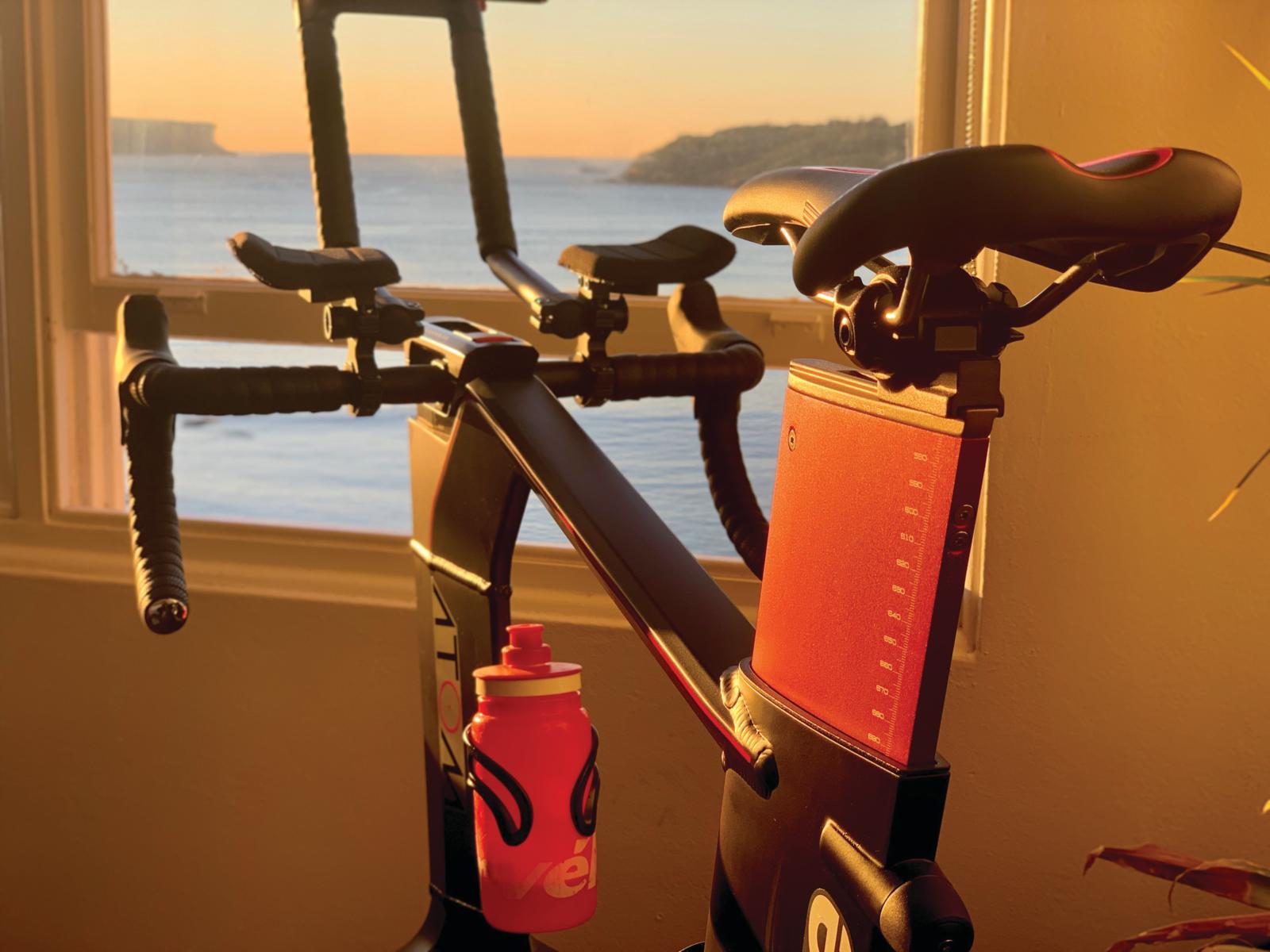 The Riding Experience
So we know what it does, how does it ride?
First up, the unit features a slide seat post and stem / handlebar riser and can be easily adjusted to suit riders of all lengths, shapes and sizes. Cleverly designed and well engineered, subtly placed hex bolts allow the user to make intricate fore & after adjustments to the saddle, handlebars and aero bar style arm rests.
Rock solid…that's about the best way to describe the unit once the rider is either down on the bars or up out of the saddle and spinning hard. That 44kg weight and the minimalist yet functional form offer a sturdy platform with no side to side movement at all.
…Yes I'd Consider it WHEN NEXT CONTEMPLATING N+1…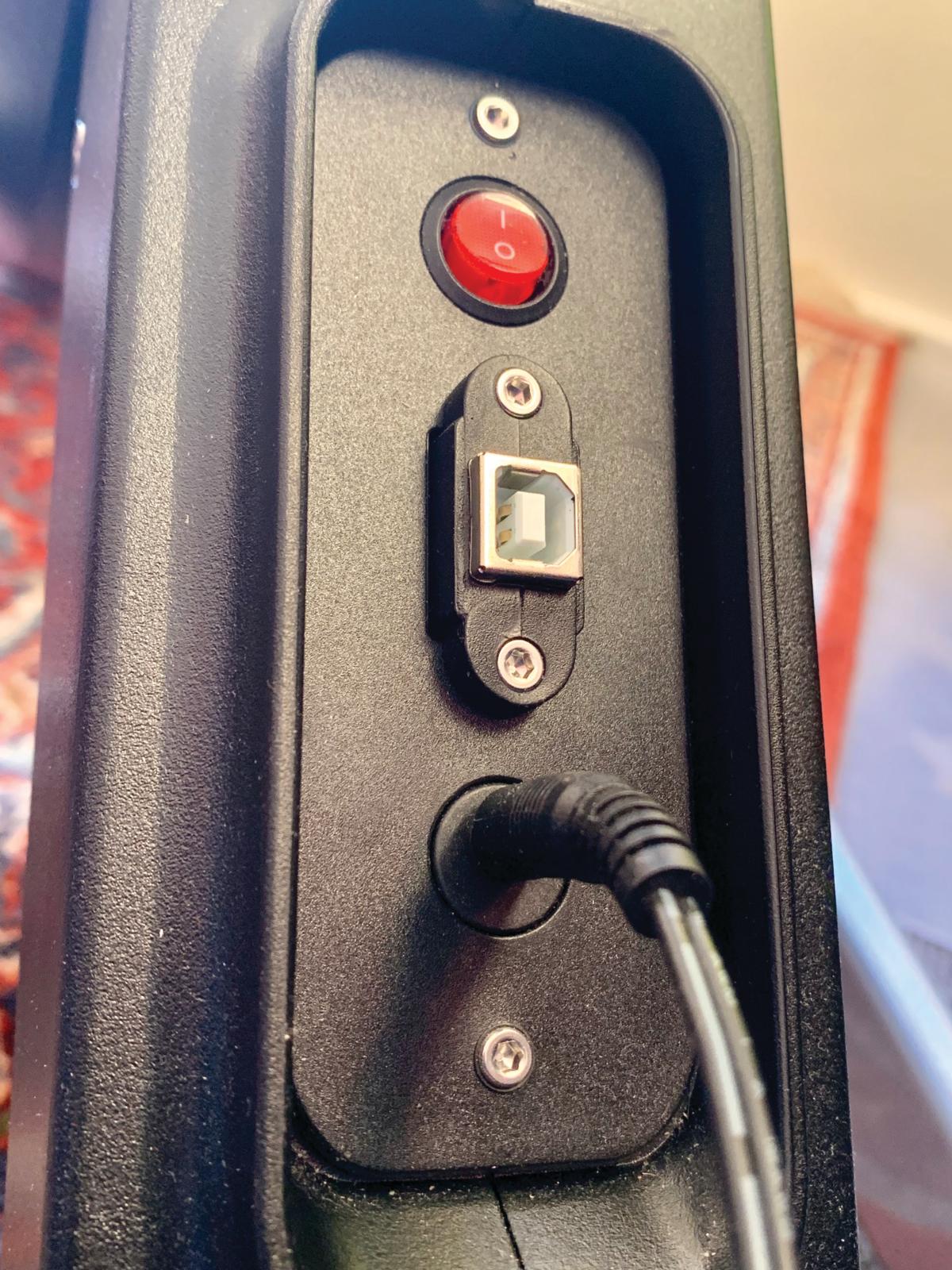 Connect the power unit, climb aboard, synch via Bluetooth (an instant experience with the test unit & iPad), start pedalling and we experienced a smooth, seamless roll out. Whether you are riding one of the aforementioned built in tests, challenges or training rides, there's a myriad of information displayed via the app screen. Left right pedal balance, a graph indication pedalling and muscle efficiency, speed, cadence, heart rate, left / right and overall power, and on it goes.
The company claim the Wattbike Hub app assesses thousands 
of data points from every 
session – take a look at the various data screens in the app or the post-ride email option 
and you can analyse all aspects of the session.
Gear Mode And 
Ergo Mode
Look at the Atom side on and you'll see the vague similarities of a road bike – the saddle, bottlecages, cranks, drop bars…most of it's there in one compact, portable, integrated unit. Conspicuously lacking levers, gear changes are performed via touch switches incorporated into the hoods.
Wattbike are offering Bicycling Australia readers a special discount on the Atom – click here for details.
With the option of training in 'Ergo Mode' (where resistance is adjusted automatically depending upon speed) or 'Gear Mode', users can choose one or flick between the two via the iPad screen / app.
The only negative we found with the Wattbike was the choice of 22 resistance levels in gear mode. Sure this equals 2 x 11 speed, but the jumps can be big. It did feel occasionally laborious to switch through numerous gears to find the appropriate rhythm, particularly when paired with Zwift. The good news is this can be corrected in firmware, and the company told us a update is now available.
To the feel of the ride, and while nothing will ever truly replace rolling on the road, the Wattbike Atom features what the company call 'Real Ride Feel' technology designed to 'replicate the resistance and sensation of riding on the road.' It's subjective: individual assessment needs to be made here, but after a month with the test unit there definitely is the feeling that this machine is an important part of the stable. Yes, I'd consider it when next contemplating N+1.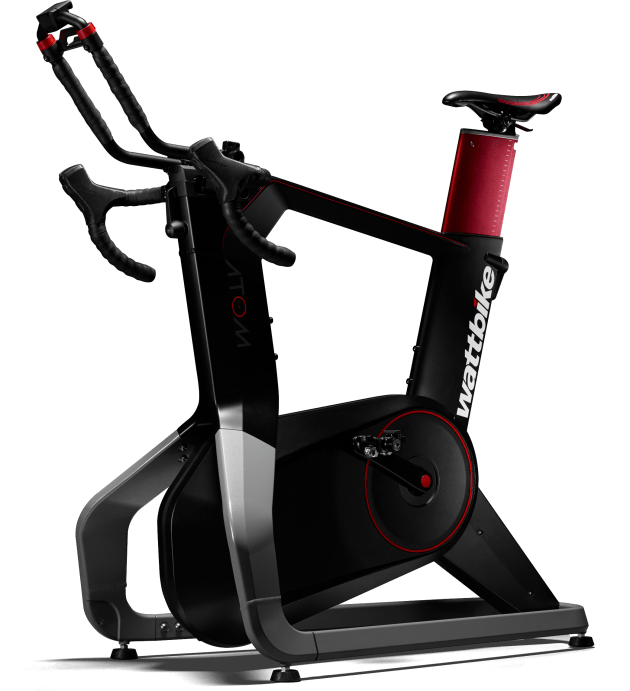 Interview with Wattbike CEO Richard Baker
BA: We understand Wattbike has recently celebrated 10 years – can you tell us a little about the history of the company?
Richard Baker: Wattbike is ingrained in cycling. In 2000 our founders met with Peter Keen, Performance Director at British Cycling, with the vision of creating the 'ultimate' indoor bike – the most accurate, the most reliable, providing the most insightful data. We wanted it to be robust enough for elite athletes, but also accessible enough for beginners and enthusiasts to use.
In 2008, the Wattbike was endorsed by British Cycling and entered the world stage at the Track Cycling World Championships. The product and the business grew from strength to strength since that time, but has remained as the chosen and trusted tool for testing and elite teams. In 2015 we were selected as the global talent ID and training tool of the UCI World Cycling Centre.
BA: What would the standout highlights be over that time?
RB: The business has come such a long way over the past decade. We used to ring a bell in the office after every sale, now we operate globally and produce 
the best indoor trainers for commercial and home use.
2012 was a pinnacle year in our history. During the 2012 Olympic Games, 29 out of 30 Track Cycling medals were won by teams who trained using Wattbikes.
In 2015, we launched the Wattbike Hub app. This created the foundation from which we could continue to develop and enable our digital offering.
Then in 2017 we launched the Wattbike Atom, the most realistic, intelligent and effective smart trainer on earth. We were seen as an underdog, but we knew the technology inside the bike was better than anything currently in existence.
BA: Tell us about Wattbike and spin?
RB: We've been able to target the actual cyclists within those spinning groups, and talk to them about how to use data and why it's important.
We're seeing that people want to enjoy these classes at a time that suits them, to fit around their busy lives. Being able to offer the all-round experience of in-gym or at-home group, or solo, cycling is something Wattbike will continue to develop.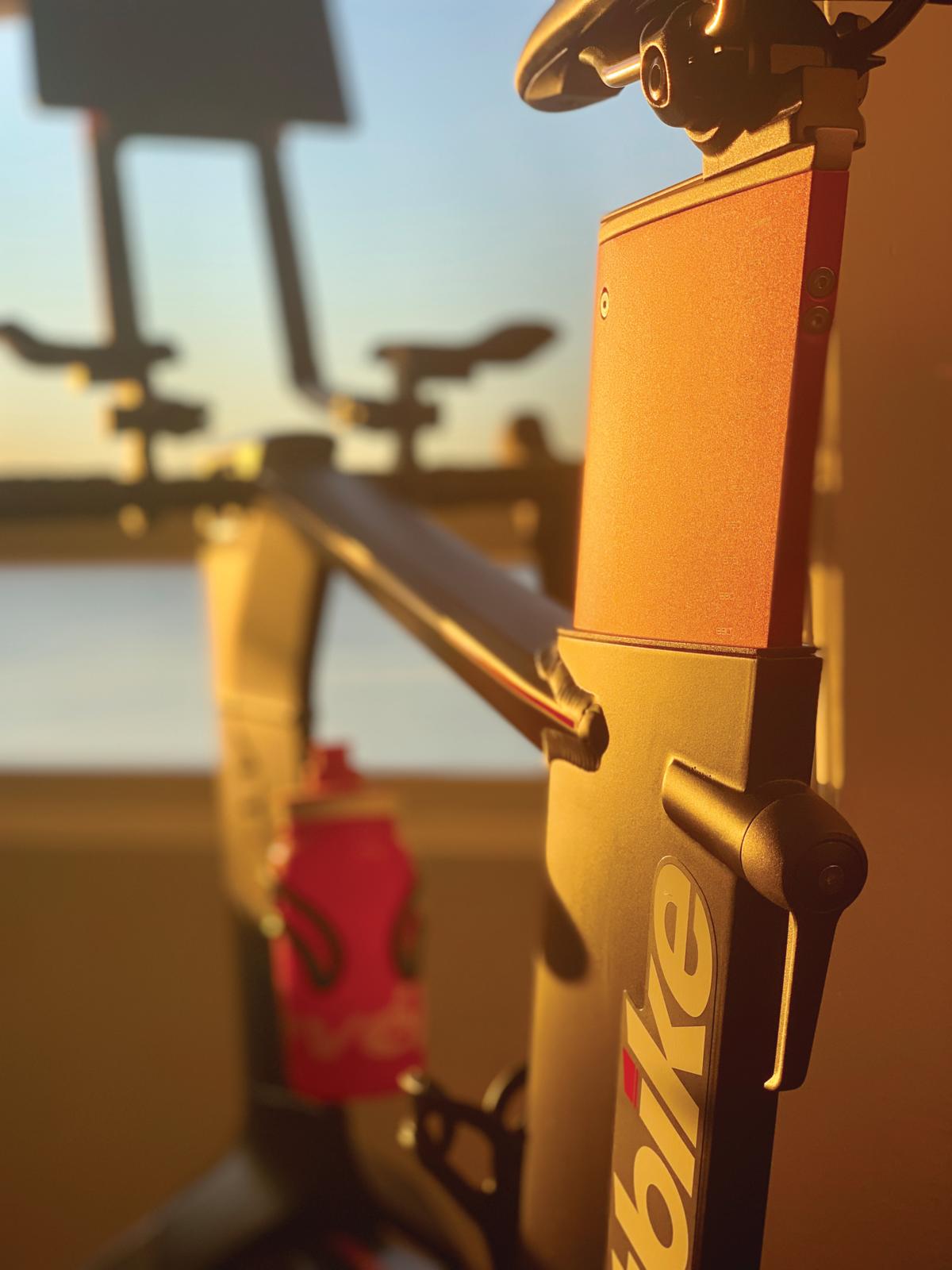 BA: To the Atom and we've seen the difference between it and more traditional home trainer systems – what are the key points of difference?
RB: Firstly, accuracy. As mentioned above, Wattbike Atom is built with the same Wattbike DNA at its core and has the same principles as the first Wattbikes developed with the help of Peter Keen in 2008. It's also extremely reliable; due to the stationary set-up there are very few variables involved.
Secondly, we wanted to create the most realistic ride experience possible. Wattbike Atom features integrated gear shifters, dropped handlebars and tri-bars. So you can customise the Atom to replicate your road bike, the seat and pedals can be swapped for your personal preference. But the real magic sits inside. The Atom's magnetic resistance is the closest feeling to riding outside, so users can seamlessly translate their training to the road.
Lastly, the connectivity. Wattbike Atom is the most connected smart trainer in the world. With Bluetooth, ANT+ and FE-C connectivity, hook the Atom up to a range of third-party apps including Zwift, TrainerRoad, The Sufferfest as well as our own app, Wattbike Hub. As it's a truly connected smart bike, the Wattbike product team are continually evolving and improving the firmware and app to give users the best possible experience.
BA: And your personal top 3 standout features of the Atom?
RB: Wattbike accuracy and reliability
Is second to none. Wattbike Atom is the most accurate and reliable smart trainer on earth.
Ease of use – quick set up
Unlike many other indoor trainers, there's no requirement to attach your road bike. The Atom is hassle-free and ready to ride when you are. Better yet, the handlebar and seat post height can be adjusted to fit multiple riders in a household.
Ride feel – translate on to the road
As mentioned previously, we set out with the aim of creating the most realistic ride experience possible. 
Not only to make indoor training more enjoyable, but so users can transfer their training to the road as seamlessly as possible.
BA: How about the cost – Obviously the Atom is priced a lot higher – have you found this an obstacle to getting it to market?
RB: No, it hasn't been an obstacle. As with any new product for a business, we identified a market for this before launching. It's a misconception that the product is expensive, as it's being compared to turbo trainers or other indoor trainers. The truth is, the
Atom is not comparable to these products in ability so it's unfair to compare in price. When we look at the accurate power measurement, real ride feel and adjustability – there just isn't another product like it.
In my opinion, it's great value for money. It saves using your 'best bike' on a turbo and more than one person can use it in a household. We've worked extremely hard to keep the price as low as possible. Very soon I'm sure we might see other brands bring smart bikes to market – when that happens the value for money the Wattbike Atom provides will become clear very quickly.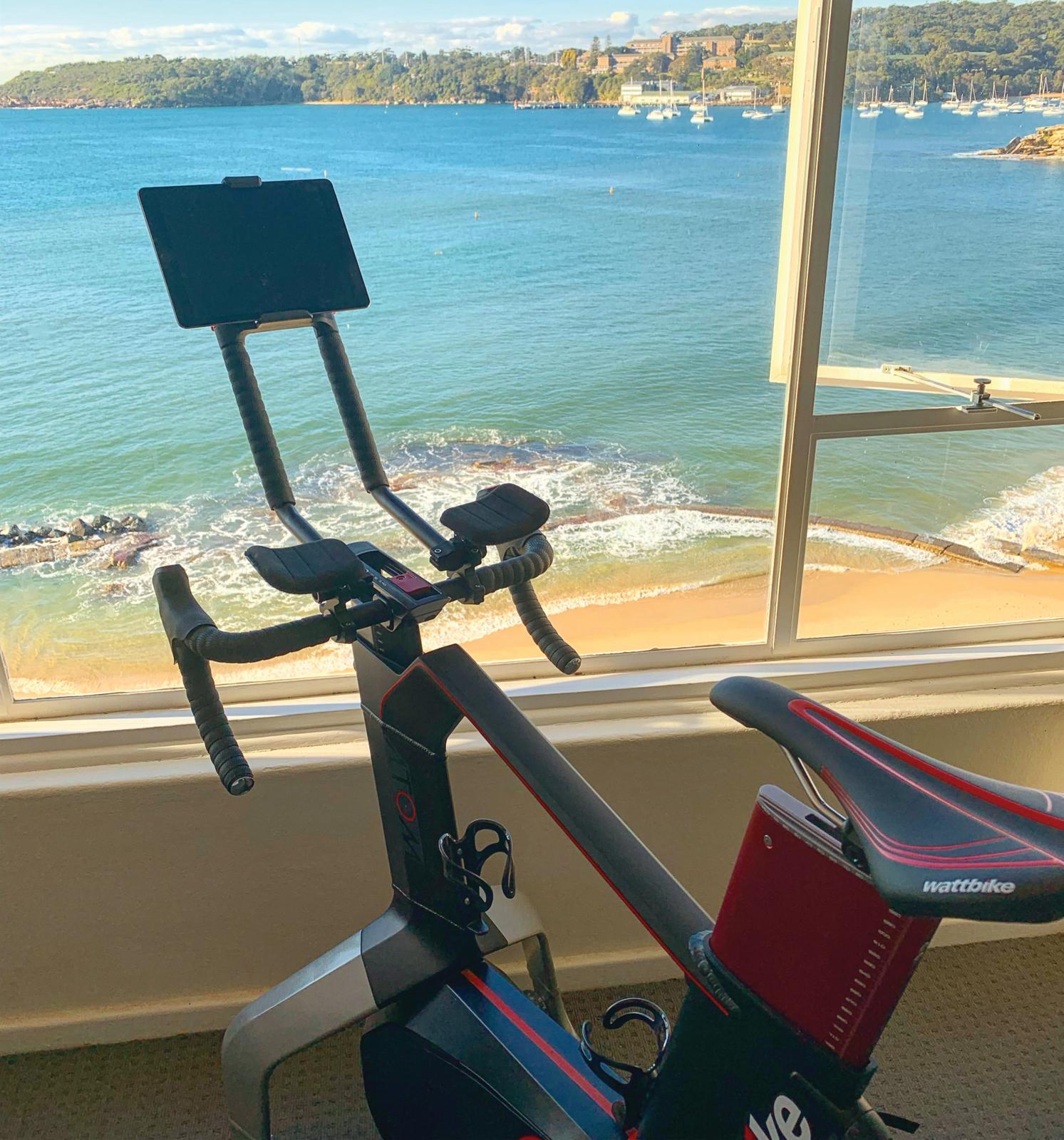 BA: We've all heard about Aussie cycling legends Matthew Hayman using Zwift and a stationary trainer to prepare for the Paris Roubaix (which he won!). Do you have any Wattbike or Wattbike Atom good news or motivational stories to share?
RB: We often get cyclists and other sporting athletes who train on a Wattbike to improve their ability and fitness. Our tribe of Wattbikers ranges from Lizzie Deignan, to Anthony Joshua, the New Zealand All Blacks and the England Football team.
There are a handful of best-kept secrets out there from riders who're coming back from injury. Because they're often under team contracts which dictates the indoor trainer to use, these stories go unnoticed. Fabian Cancellara, for example, used a Wattbike to get back to fitness quickly following an accident a few years ago, which left him with a broken collarbone. The great thing about a Wattbike is it's a much sturdier product, there's minimal to zero movement so a much safer option during rehab.
To the same extent, Lizzie Deignan, who returned from maternity leave to win this year's Women's Tour, trained on a Wattbike Atom throughout her pregnancy. Speaking to the Cycling Podcast (in partnership with Wattbike), she said: "I was on the Wattbike [during my pregnancy] a lot. I felt safer and the risk of crashing is obviously a lot less! It was a really useful tool.
"You know the Wattbike is calibrated exactly and correctly; it doesn't change and nothing around your environment changes. It's a very controlled environment and you can do a session on it day after day and know it's your body that's making the difference rather than anything else"
BA: So it appears to be cutting edge technology at this point in time but, as we know, nothing stands still. What is next for Wattbike 
and in particular the Atom?
RB: We have a really exciting few months ahead. From September we'll be launching two new products into the commercial market, including the AtomX. AtomX is the commercial grade Atom, which gyms and fitness centres around the world have been asking for ever since we launched the Atom in 2017.
The launch of this product meets the needs of what we refer to as the 'cross cycle of demand' from our customers. They want access to best products wherever they go, whether that's at home, the gym, 
at work, or in hotels. Atom X and Atom, both fully connected smart bikes, will allow this.
Beyond that, we're already looking at the next generation of Atom. We're looking into research studies, in partnership with the University of Loughborough, to create the best indoor riding experience. We'll feed this insight into our product development and, in staying true to our heritage, continue to innovate.
BA We all realise indoor training can and does boost performance out in the real world…but I guess it's important to never lose sight of why we get outside on bikes.
RB: It's a tough balance to strike, particularly for our audience. There are time efficiencies to consider – between work, family life and socialising, there's very little time left for training. That's a huge benefit of the Wattbike Atom that outdoor riding can't offer: focused training in a controlled environment. The reality is, traffic, road quality, changeable weather and road safety jeopardise the ability to train outdoors in a focused and effective way.
What I can say is that Wattbike offers the best indoor trainer for improving performance, so no matter the balance you have, incorporating indoor training on Wattbike Atom will make you a better rider outdoors. Of course, we're mindful that the cycling world is changing. The emergence of e-racing and e-sports is a great thing for the industry and will further tip the scales between indoor and outdoor riding. But we're confident Wattbike is well positioned for the future.
BA Any further comments?
RB: We're really excited to be launching the Wattbike Atom in Australia and can't wait for you to try it! Improve your performance with the most advanced indoor bike trainer in the world.  
For more on the Wattbike Atom and to take advantage of the Bicycling Australia reader offer click here.