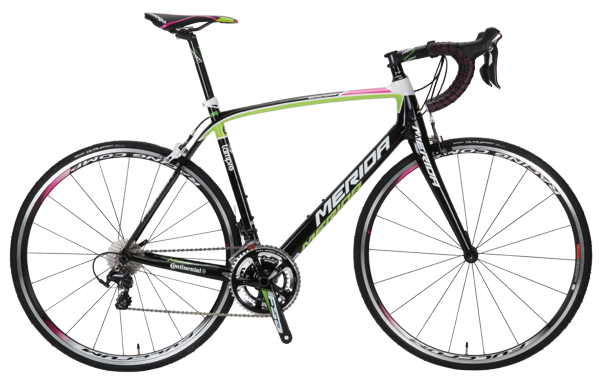 Founded in 1972 by Ike Tseng in Taiwan, Merida has a long history of bicycle design and manufacture, initially basing its production facility layout on the Raleigh factory in England, for whom Merida produced cycles for the US market. Merida grew into a major original equipment (OE) manufacturer for a number of respected global brands, although the company now concentrates on production of its own Merida range of road and mountain bikes. Although one of Taiwan's largest companies, producing well over two million bicycles every year, Merida's main research and design facility is based in Germany.
The Scultura 905 Team Edition on test sits in the mid to high range of the Merida road offering. The 'Team' referred to here is Lampre-Merida, the UCI Pro Tour team. The colours and graphics are effectively a replica of those seen on the tour circuit this year; predominantly black, the frame features lime green and white graphics with fuchsia pink highlights. Merida's mountain bikes have been very successful in World Cup racing recently and their 2013 tie-in with Lampre has raised their profile in the European road peloton.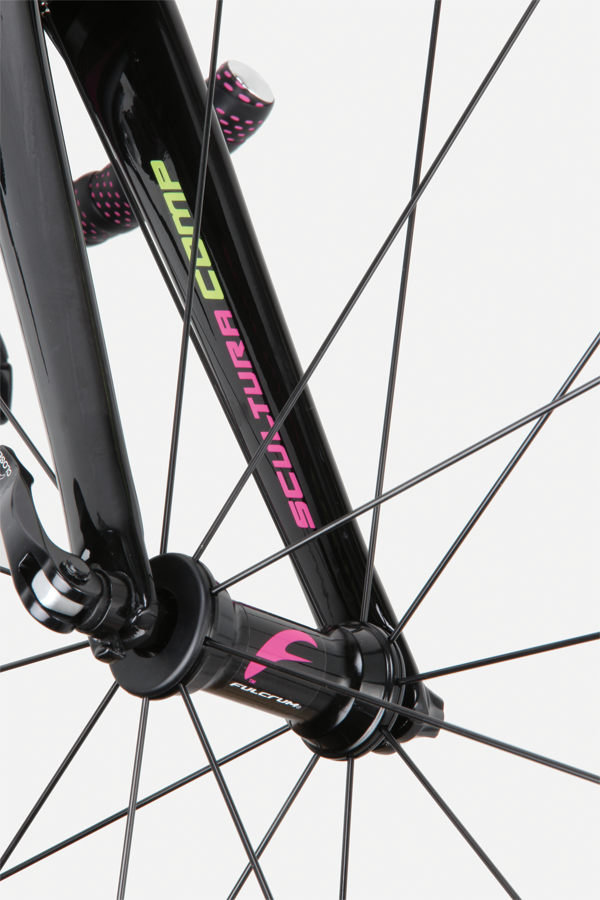 The Scultura frame is constructed using nano matrix carbon, designed to reinforce the epoxy structure and improve the frame's impact resistance. The substantial down tube is asymmetrically octagonal in cross-section and incorporates Merida's double chamber tube technology; again to improve durability and stiffness. The 'X-Taper' head tube is externally butted with a 1.5" bottom headset race. The top tube flattens and curves slightly down into the relatively flat seat stays. Merida have designed the frame to bring a noticeable amount of shock absorption into the ride, using their so called 'flex stays' along with the full carbon Scultura-lite fork. Internally routed cables provide a streamlined look and the frame is Di2 compatible with neatly hidden battery mounting screws. Another nice touch is a small aluminium plate moulded into the right chainstay to avoid damage to the carbon from dropped chains. A discreet decal proclaims 'Designed in Germany – Handmade in Taiwan', trading on both the German reputation for engineering and the now well-accepted idea that Taiwan manufactures some of the best frames in the world. Indeed the Scultura's frame finish is top-notch.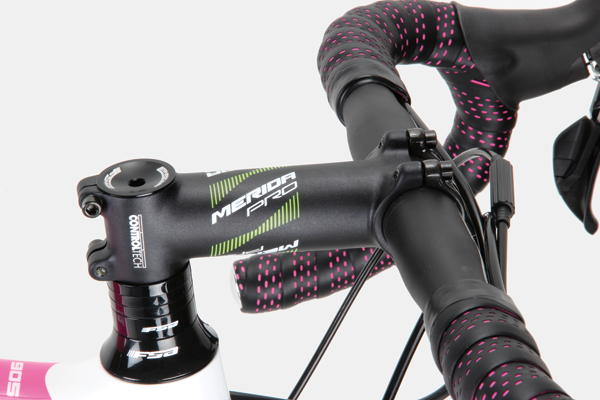 Merida have chosen to mix things up a little with their choice of components on the Scultura. Brake and gearshift levers are Shimano Ultegra (cable shift), as are the front and rear derailleurs and 11-speed cassette. The chain is a KMC X11S and the crankset is an FSA Energy 50-34 compact. The cassette is an 11-28 unit; the extra sprocket on 11-speed allows the ratios to be slightly closer than a 10-speed of equivalent range. I've not used Shimano's 11-speed cassette before and I found that gear shifting was excellent front and back. I did find myself wanting to adjust the trim on the front derailleur at times to avoid a little chain rub at the front derailleur.
Wheels on the Scultura are Fulcrum Racing 7s. Campagnolo's 'other' brand that makes a sale to Shimano fans less of a stretch, Fulcrum describe these as 'entry level with a racing soul'. They're not super-light at a claimed 1,750 grams, but they're a smooth-rolling wheel and good value at this price point. The Fulcrums boast some interesting design features borrowed from more expensive models in the Fulcrum range, such as an asymmetrical rim profile in the rear to help equalise spoke tension. The Scultura frame is good enough to warrant throwing more money at a wheel upgrade to shave a few grams but I doubt they'd roll any better than the standard package once up to speed.
Merida has chosen 23mm Continental Ultra Sport 2 folding bead tyres for the 905. While I didn't get to ride in the wet, they were fast and grippy in the dry; cornering well and rolling along nicely. Continental are the tyre of choice for the Lampre-Merida team so their logo graces the right hand chainstay—so changing tyre brands will create something of a faux pas for the fashionistas out there! Speaking of tyres, a glass induced puncture revealed a quality lightweight inner tube; a further example of Merida's attention to detail!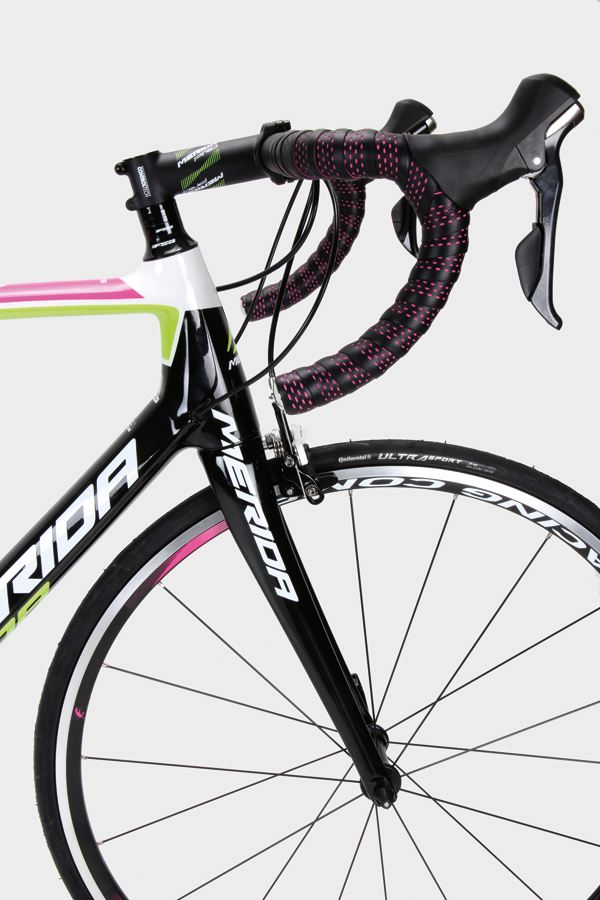 So, those are the parts that make the Scultura go, and go it does; very nicely. The frame and fork provided a comfortable ride on the less than perfect roads of Sydney's Royal National Park, but without any perceptible trade off in terms of sharp handling and climbing ability. The bottom bracket area creates a solid platform for transferring the rider's effort to the rear wheel. For riders who like to throw some hill climbing into their days out, the compact crankset and 28-tooth bottom gear really earn their keep on the really steep stuff. Crest your chosen hill and start hammering the descent and the Scultura rewards you with a stable ride, tracking well in the bends and responding readily to rider input without feeling skittish. Push it hard and the Merida provides a confidence-inspiring ride to match its pro-team heritage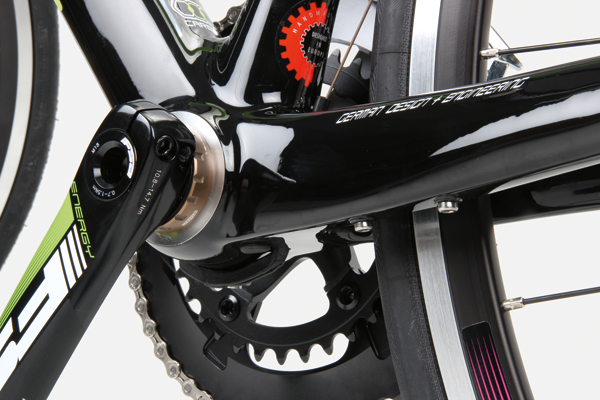 Any bike which inspires you to descend quickly needs the brakes to match. Merida's own Road PRO brakes, a dual pivot design with a smooth sculpted look similar to SRAM's current offerings, fulfil deceleration duties admirably. These callipers are finished in black and white to match the colour scheme of the frame. After some bedding in with the machined surface of the Fulcrum rims they worked as well as any currently available cable rim brake set-up.
Merida's in-house brand also provides the head stem; a reversible model that can be fitted upside-down to help tune riding position. Completing the cockpit area of the bike is an FSA Gossamer Ergo handlebar wrapped in Merida's black Road Pro 3D tape, flecked with fuchsia pink again to match the Team's palette. I found the set-up comfortable straight away – simple and effective.
The Merida carbon seatpost is usefully marked to assist with height adjustments. The clamp is equipped with a knurled adjustment wheel at the front for adjusting the seat angle after loosening the rear clamp bolt. In principal this looks like a good idea although I never quite managed to use it – the adjuster was very difficult to move on the test bike and I didn't get around to dismantling and greasing it. Team colour-matched Prologo Kappa Evo saddle was comfortable from day one.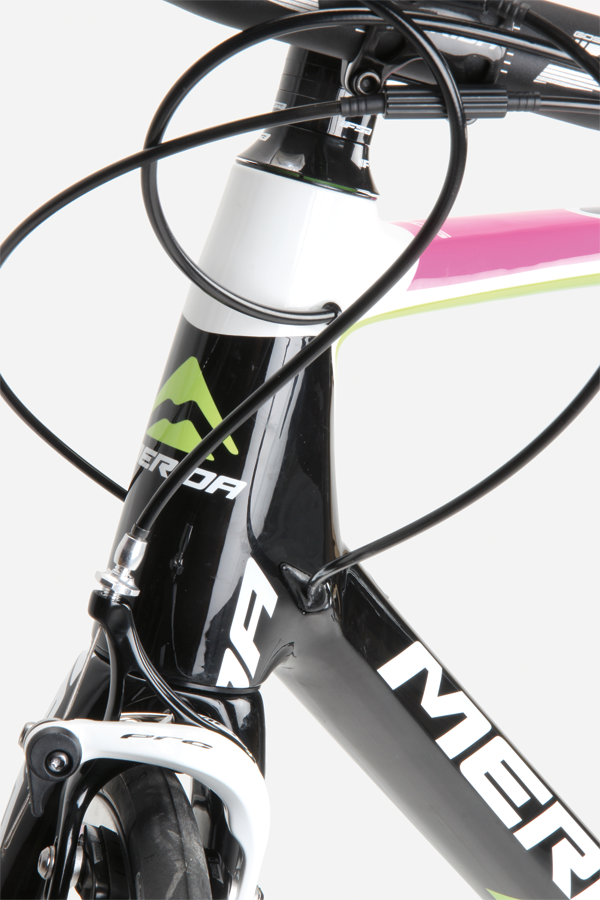 There was some debate around the aesthetic appeal of the Scultura. Most liked the clean lines of the frame, graphics and finish, although some were less keen on the mix of green and fuchsia pink highlights on the frame and wheel rims. I wasn't a fan at first but it's grown on me over the last couple of weeks.
Overall, the Scultura Team Edition is a very competent bicycle with some practical component choices allied with a quality frame and reliable wheelset. It's light enough to be competitive both on the road and compared with similarly priced models on the market and the ride is everything you could ask for. In fact, in practical terms, there's a lot to like about the Scultura 905 Team Lampre Edition.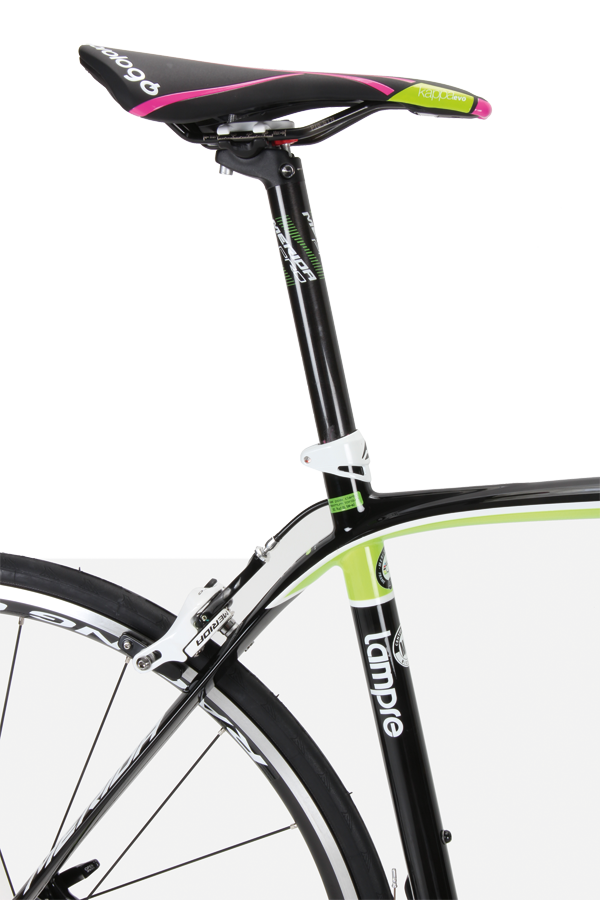 Quality
German design and Taiwanese execution combine to make the Scultura Team Edition a well thought out package, based on a lovely frame/fork with a good quality, functional parts mix.
Performance
Race-worthy frame with an element of comfort designed in. Super-slick gearshifts and a nice pair of wheels make the Scultura a pleasure to ride.
Value
At $2,849 (RRP) the Scultura 905 Team is a very capable bicycle. This is a price point with plenty of competition but the Merida rides well enough to be worth a second look.
Overall
The Merida is a well thought-out package with excellent performance out on the road. Comfortable frame and good gear range make it a good choice for epic rides as well as those shorter early morning pre-work bunch rides.
COLOUR: UD Carbon – Lampre Fuchsia
FRAME: Scultura comp-E
SIZES: XXS(44)-XS(47)-S(50)-S/M(52)-M/L(54)-L(56)-XL(59)
FORK: Scultura Carbon lite
BRAKES F/R: MERIDA Road PRO
CHAIN: KMC X11S
CHAINWHEEL: FSA Energy 50-34 Mega 11
DERAILLEUR F: Shimano Ultegra D
DERAILLEUR R: Shimano Ultegra SS
FREEWHEEL: Shimano CS-6800 11-28 11s
GRIP: MERIDA Road Pro 3D
HANDLEBAR: FSA Gossamer Ergo OS
STEM: MERIDA pro CF OS -5
HUBS: Fulcrum Racing 7
RIM: Fulcrum Racing 7
SADDLE: Prologo Kappa Evo
SEAT POST: MERIDA carbon H SB15 27.2
SHIFTERS F/R: Shimano Ultegra
SPOKES: F 18, R 20
TYRES: Continental Ultra Sport II 23 folding
WEIGHT: 7.86kg
PRICE: $2,849
DISTRIBUTOR: Advance Traders www.advancetraders.com.au