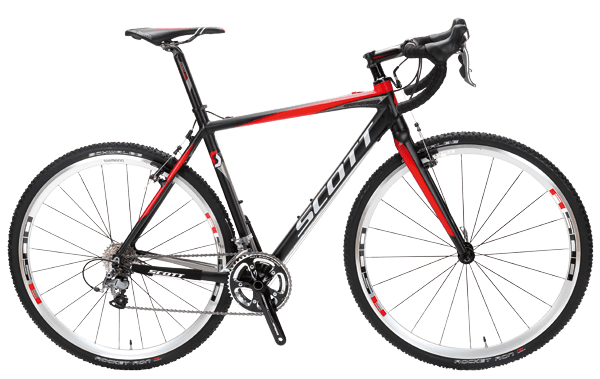 Cyclocross? Now there's a bit of a novelty for me. Vague memories of really muddy northern Europeans running around with bikes on their shoulders spring to mind, but until now, I've never tried it. With the first Australian national series about to kick off, however, I suppose now would be a good time to start. Cyclocross enjoys virtually cult status in parts of the US and it certainly helps hone your handling skills for road riding. So, if you were about to embark on this slightly crazy cycling sport, what are you going to ride? Well, I reckon you could do worse than try the Scott CX Team.
The Scott is a smart looking bike. The frame's black, red and white colour scheme is complemented by the colour-matched Scott-branded seatpost, bar and stem. The frame itself is double-butted 6061 alloy with a sloping top tube for extra standover height and a carbon fork up front. There is some funky profiling on the frame's main tubes which is presumably more than just for looks. Wheels are Shimano's R501-30 Aeros. The groupset is predominantly 10-speed Shimano 105, with an Ultegra rear derailleur and an FSA Gossamer CX crank/BB and headset. Brakes are Tektro CX cantilevers. The seat is a Selle Italia Team Edition, similar in shape to the Flite (a personal favourite).
It's obvious even to non-cyclists that the Scott is not your average road bike. The knobby Schwalbe Rocket Ron tyres and the Tektro cantilevers proclaim the fact that this is a 'cross bike but Scott haven't just bolted these onto a road frame. Climb aboard and within a few pedal strokes you'll notice the difference in handling compared to your roadie. The Scott is super-stable in a straight line, so much so that I stopped to check if the headset was over-tight! The bike really wanted to keep going straight ahead; this is due to the relaxed geometry of the frame/fork. After five minutes I was used to it and never gave it another thought.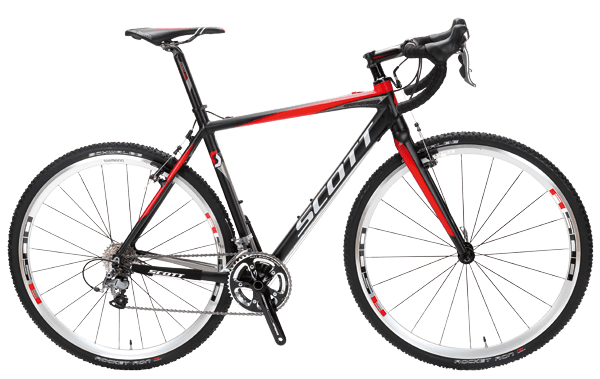 On tarmac, with 60 psi in the tyres, the Scott moves along pretty smartly. It does take a little more effort to accelerate out of bends but I was surprised how quick it was. I played catch-up with a group of roadies and kept up for a couple of kilometres before jumping the kerb and heading off across the grass and continuing off-road.
This is where the Scott really comes into its own. Even if you're not going to race cyclocross, the versatility it offers is not just useful, it's great fun! It handled grass and dirt sections of my commute far better than a road bike whilst being quicker on the road than my slick-tyred MTB. I deliberately sought out gnarly sections of trail between home and the office, flying over roots and sandy sections that I wouldn't take my road bike anywhere near.
The Scott ate up everything I threw at it over the weeks that I had it. Off tarmac, I felt compelled to get out of the saddle and ride hard at every opportunity purely because I was having so much fun. It reminded me of riding 'racing' bikes all over the place as a kid. These were anything but racing bikes but they had drop bars and five gears and you rode them anywhere regardless of terrain. The point was you had one bike and it did everything because it had to.
As we've come to expect from Shimano, gear changes were crisp front and back. The chainrings on the FSA crankset (46/36 tooth) were a good compromise given the varied terrain this bike might see, and mated with the Shimano Tiagra rear cassette (11-28 tooth) the Scott is capable of longer climbs in the saddle as well as short blasts standing up. The Tektro cantilever brakes provided a couple of heart-stopping moments early in the test. Straight out of the box, braking with my hands positioned on the hoods proved inadequate to stop the Scott as quickly as I'd have liked. As time went on, the pads did bed in to some extent and braking from the drops was much better, but I never became totally confident braking from the hoods. Cantilevers of this type are typical cyclocross stoppers and I suspect these just needed a bit of tinkering to bring them up to scratch; the angles between the various cables and brake arm components are critical for good braking. That said, now that they're UCI legal, a set of cable disc brakes would work better without adding much to the price.
Overall finish and detail on the Scott was good. I liked the replaceable derailleur hanger and the eyelets at the drop-outs for a rack and mudguards. I suspect the bike would make a good soft-road tourer given its comfort and stability. I'd have liked derailleur adjusters near the bars but that's a small point, although it might be important during a muddy cyclocross race. All cables are externally routed, with the rear brake cable on top of the top tube making it slightly more comfortable to shoulder the bike. There's reasonable clearance between tyre and frame for muddy courses.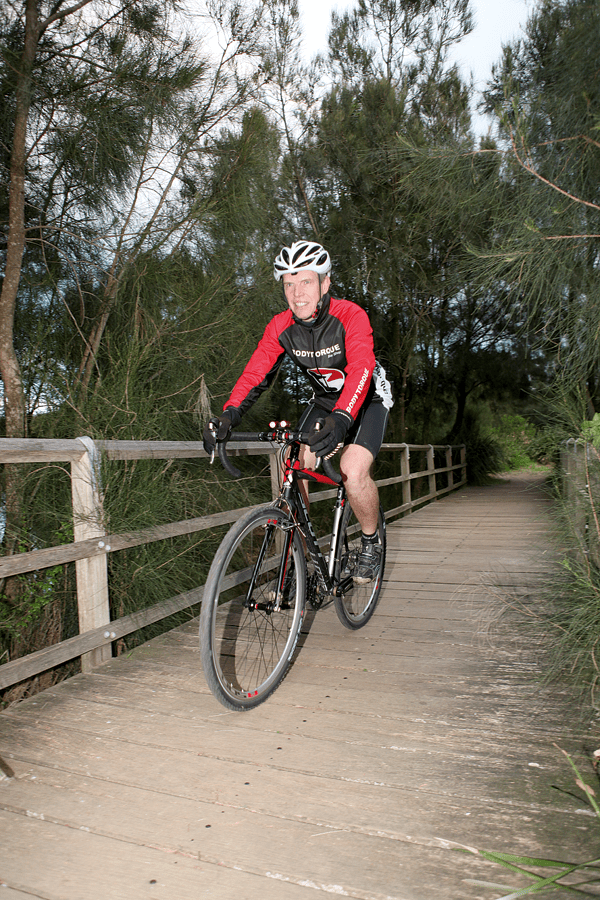 I didn't race this bike but I did my best to create the conditions you might meet – muddy track, short sharp climbs and descents, some steps to carry the bike up and down – and it was great fun. I suspect most people would use the Scott for a variety of riding. If you're after a bike that does more than pure road rides, the Scott CX Team is a pretty good bet. You'll just have to get used to explaining to passers-by and other cyclists just why it looks that little bit different.
Price: $2,199
Distributed by Sheppard Cycles
www.sheppardcycles.com