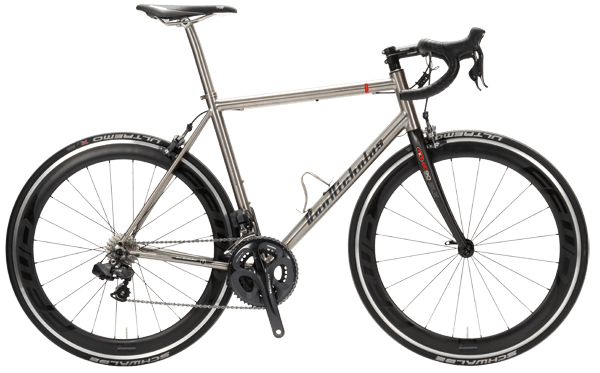 Titanium has always held an almost mythical place in bicycle frame design. The seemingly indestructible alloy is said to have all the desirable properties of the more popular frame materials with none of the downsides. I have always admired titanium frames. Their clean lines, predominantly traditional tube shapes, a clinical and industrial look and of course the impeccable weld lines. However up until now I have not had the pleasure of owning or even riding a titanium frame. So I was excited to get my hands on the Van Nicholas Aquilo to see if titanium could live up to the hype.
The inherent strength of titanium alloy allows bike designers to do things that other materials won't allow. The tubing, as thin as it is, is still able to be etched, allowing branding and logos to be engraved onto the frame which gives it a subtle and stylish look. From my perspective, painting a titanium frame is bordering on sacrilege and thankfully the Aquilo has been allowed to shine in all its glory. The brushed finish of the alloy is flawless and the welds are every bit as neat and tidy as I have come to expect from titanium frames. In keeping with the theme of precision is the use of Shimano's Ultegra Di2 groupset, a choice that is becoming increasingly popular due to its reliability, function and increasing affordability.
Another thing I have noticed over the years with titanium bikes is that wheel choice can make or break the aesthetic of the bike. The Aquilo comes equipped with a race ready set of FFWD carbon/alloy clinchers, a smooth rolling pair of wheels that are swift enough to use in all but the hilliest of races, yet durable enough to use as your everyday wheelset, keeping your bike looking its best on a daily basis. The remaining components also finish off the ensemble nicely. The Easton EC90 SLX fork, despite being a relative lightweight, is stiff enough to not show any signs of flex, and keeps the Aquilos steering sharp and reliable. Van Nicholas's own VNT Elements bars and stem take care of the steering duties. They are fairly standard range kit with the bars being a traditional bend. The saddle is a PRO Condor AF, with an anatomic shape and cut-out, not really a perfect fit for me but relatively comfortable nonetheless.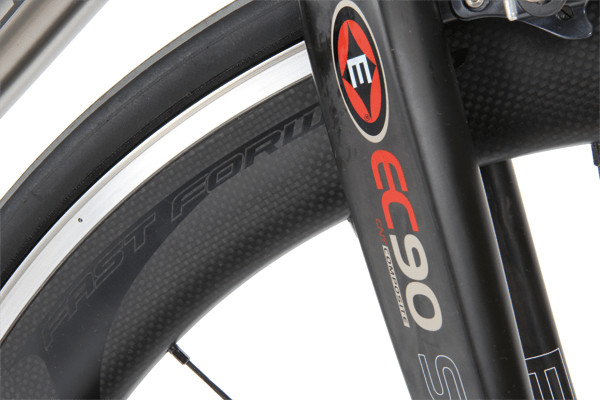 It is often difficult when testing a bike, to try to put the bike through its paces in all conditions that a prospective owner might encounter. However on one particular morning I was able to give it a pretty good shot. I had left home one showery Saturday morning on my way to the local races. It's a 40-minute ride which takes in good quality roads, a section of bike path, a few short sharp hills, Sydney traffic, a quick criterium and then a dash to my daughter's netball game. On the smooth hot-mix the Aquilo hummed along nicely, giving that silent, stealth-like ride that you hope your bike maintains throughout its entire life. Onto the bike path and the 'steel like' shock absorbing properties of titanium come to the fore. The traditional-looking frame and titanium seatpost proved to be an equal to purpose-built carbon classics frames, with large shocks dampened to a dull thud while still retaining bottom-end stiffness. Dodgy path joins and patchy bitumen are all handled with great aplomb and dental work intact. The Aquilo's razor sharp, precise steering also kept me clear of iPod wearing walkers and errant dogs who seem to think bike riders shouldn't be on bike paths. A few sharp hills just to warm the legs pre-race revealed a frame that was as stiff as you could want. The titanium frame seems better able to give the stiffness you require in the places you need it without sending shockwaves through the frame, and without the need for enormous bottom bracket clusters or wafer thin seat stays. With the package weighing in at 8.1kg there is a bit of a weight penalty over similarly priced bikes, but when you weigh that up against the durability of a titanium frame it can be a close thing.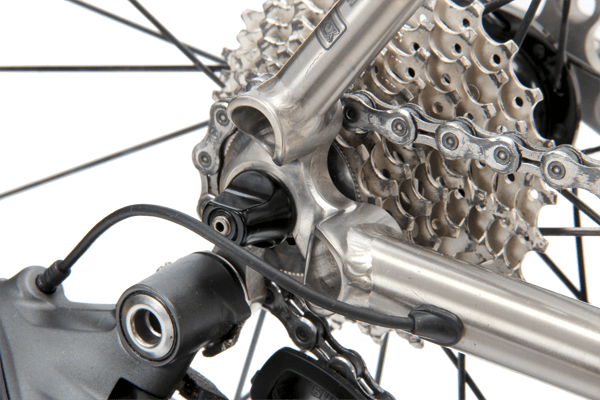 The Di2 got a good workout over both sides of the short, sharp hills. Shuffling through the gears is a breeze, with everything taken care of with the touch of a button. If you haven't ridden Di2 and aren't convinced of the need for electronic shifting, all it takes is one shift up to the big ring under stress and you will be a convert. Ultegra Di2 is what is on my daily ride as well, and apart from being faultless so far, the battery life is nothing short of amazing. The Aquilo is built for Di2 so the cable routing is optimised for the Shimano groupset. The battery is neatly paced on the drive side chainstay, which from side-on renders it almost entirely concealed behind the chainrings. Not being used to the compact rings found me cross-chaining which is something I usually try to avoid, however you feel less inclined to worry about this cycling faux-pas as the Di2 self-trims the front derailleur and there is no chain rub. There was another reason to avoid cross-chaining though, the discovery of an annoying noise when cross-chaining which appeared to be the chain flicking the pick-ups when in the small chainring and small cog. While I'm being fussy, I must mention that with so much work going into internally routing the Di2 cabling, I would like to see the rear brake cable also internally routed to totally clean up the lines.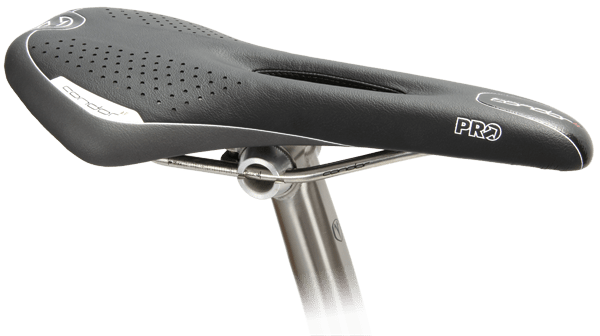 Onto the racing and this is where the Aquila was built to shine. Titanium bikes are a bit of a rarity at the best of times, but if you are after a titanium race rocket your options are even more limited. Allowing for the fact that the bars and saddle were not my usual fare I was still able to quickly and confidently slot the Aquilo into the racing bunch with confidence. It responded well to changes in speed and direction without any hiccups. The deep carbon wheels take a little longer to wind up and are obviously more suited to straight lines and flat tracks, but are a good enough compromise that they are not really worth swapping out for race specific wheels. Out of the saddle sprinting the frame exhibited a stiffness that was surprising and didn't exhibit the springiness I had expected of a titanium frame. There is very good value for any effort you put in with this frame and with the excellent race handling I was able to maintain good speed out of the corners and into the straights.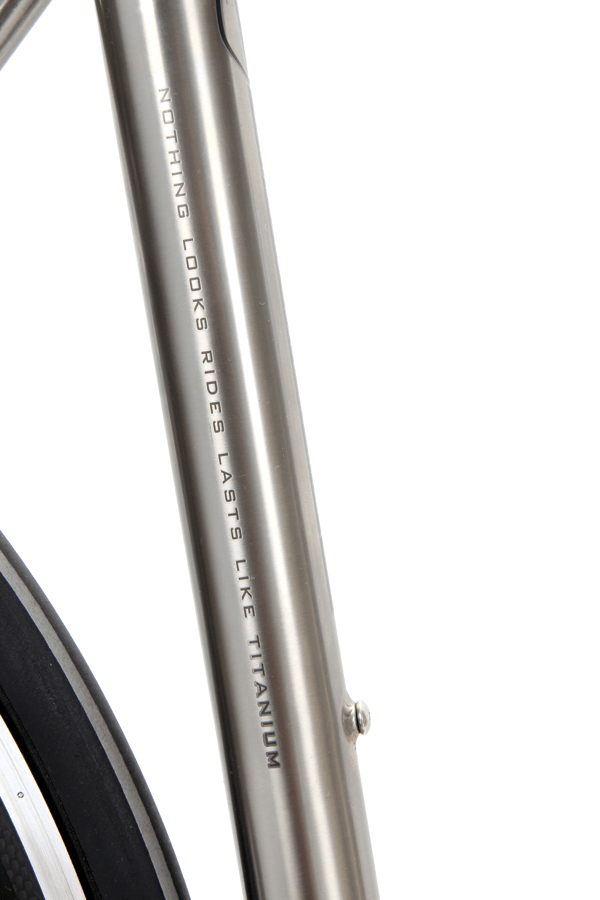 After making the podium and pocketing a few dollars for my efforts, I had to make a quick dash to my daughter's netball game. Flicking through the gears on the Di2 was becoming a necessity as my legs were toasted from the race. The joy of Di2 is that all shifts are equally effortless and precise. I find I shift more when on Di2 due to the convenience, and this in turn allows my legs to sit at their optimal cadence. On to a long, straight downhill and I was easily able to sit with the traffic in a 60kph zone. A time like this is when you need full confidence in your bike. Obstacles come at you pretty quickly at that speed, especially when they appear from under the car in front. The Aquilo's ability to hug the road coupled with the precise nature of the steering made the downhill leg safe, swift and enjoyable. That enjoyment was short lived however, when a Sydney motorist gave me the opportunity to test the braking capacity to its fullest. The Ultegra brake levers were gripped fiercely and the bike slowed quickly and surely. The Aquilo came to a complete stop with the front tyre resting on the rear bumper of the 4×4. I must say I'm quite happy with the combination of the FFWD aluminium rimmed carbon wheels, Ultegra brakes and the Schwalbe Ultremo tyres. It's nice when premium products combine seamlessly. Even nicer, as in this instance, when they save my bacon and allow me to ride another day.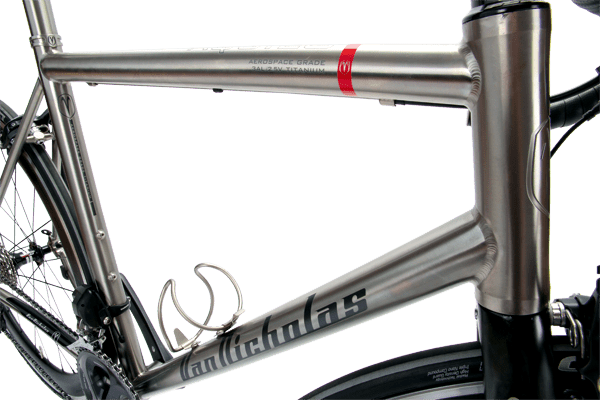 Summing Up
Quality: It almost seems a moot point discussing quality when talking about titanium frames as I don't think I ever seen a poorly executed one. The Van Nicholas is beautifully finished and is adorned with top quality and durable parts from Shimano and FFWD.
Performance: If the Aquilo is intended to be a race bike it certainly fits the bill in spades. It is stiff and responsive and the precise shifting of the Di2 makes it perfectly suited to racing situations. The race ready wheels are also a nice touch, but none of the parts are fragile or should be considered to be for race only.
Value for money: At $6,400 the Aquilo is at the top end of Ultegra builds. However as it includes a great pair of wheels the cost can be justified. It also comes with titanium bottle cages to keep it all matching. Apart from suiting those who want something a bit more substantial than a carbon frame it would also suit those who want one bike to do the dual jobs of a race and training bike.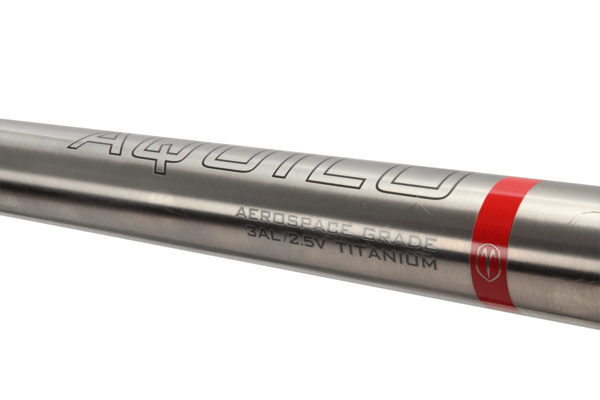 Overall: Classic lines, aerospace materials, high tech components; the Aquilo has it all. A bike for those who don't want a carbon frame, prefer the style of a more traditional frame, or want the durability of titanium. The Aquilo is a race bike with café cred that doesn't need to be treated with kid gloves and will still look good in many years to come.
Specs
Frame: Van Nicholas Titanium
Fork: Easton EC90 SLX Carbon
Headset: FSA Orbit
Stem: Van Nicholas VNT Alloy
Handlebars: Van Nicholas VNT Alloy Classic bend
Saddle: PRO Condor
Seatpost: Van Nicholas Titanium
Shift Levers: Shimano Ultegra Di2
Brakes: Shimano Ultegra
Front derailleur: Shimano Ultegra Di2
Rear Derailleur: Shimano Ultegra Di2
Cassette: Shimano Ultegra 12-25
Chain: Shimano Ultegra
Crank: Shimano Ultegra 50-34T, 172.5
Bottom Bracket: Shimano Ultegra
Wheels: FFWD F6RC Carbon Clinchers
Tyres: Schwalbe Ultremo R1
Bidon Cage: Van Nicholas Titanium
Pedals: n/a
Weight: $8.1 kg without pedals
Price: $6,400
Distributor: www.blueglobe.com.au