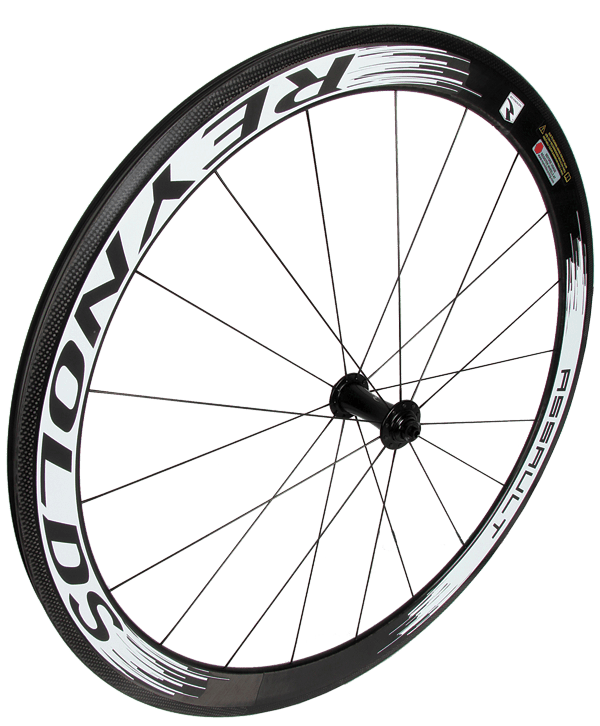 Reynolds wheels won't conjure up the instant brand recognition of Zipp, Mavic or Shimano, but this German based company is deadly serious about producing top-flight wheels for road, cross and mountain bikes. The French AG2R La Mondiale Pro Tour team of Nicholas Roche (until he joins Saxo-Bank Tinkoff Bank) exclusively race on Reynolds, and although they may not be hanging on the wall, most Aussie bike shops can get you on a set of Reynolds wheels in a matter of days if the urge strikes you.
That's no play on words…see Reynolds make a wheel called the Strike (hopefully it does not Strike you), which is the slightly deeper brother of the Assault wheels that we were supplied for this test. The Assault wheels feature a 46mm deep rim, which places them between the 66mm deep Strikes and 32mm deep Attack model. The 40-50mm deep rim profile hits the sweet spot for a lot of riders by offering a significant aero advantage over shallower rims without making their bike too difficult to handle when a breeze kicks up.
It's a busy part of the market and the Assaults have plenty of competitors. With an RRP of $1,899 they're not a casual purchase for most. But amongst name brand aero carbon wheels they do fall towards the value for money end of the scale. Still, for the same money you can get a decent carbon bike with 105 parts, so what do you get for your hard earned cash?
All steel spoked Reynolds wheels make use of quality DT Swiss spokes, so no cost cutting here. Furthermore, they make use of traditional flanged hubs and j-bend spoke heads. This makes replacement of spokes straightforward and there is no quirky proprietary technology to worry about down the road if you were to keep these wheels for a long time. The Assault doesn't miss out on any special design technology in the hub/spoke interface by virtue of being bottom of the Reynolds tree. Reynolds meet their price point goal by using round double butted DT spokes and Taiwanese made hubs in place of the costlier bladed DT Aerolite spokes and DT Swiss star-ratchet hubs of their higher end Forty Six series wheels. There is a negligible weight difference between the Forty Six and Assault, so the Assault seems to offer a pretty decent value proposition.
An interesting note regarding Reynolds wheels is their rim shape. The Reynolds rims look traditional for want of a better description. Tall and narrow, with a gradual taper to the thinnest point at the spoke insertion point. Nothing new here. Most other brands in the market are moving towards wider rims and bulging profiles, but Reynolds are pushing forwards with no stated plans to increase the girth of their rim cross-sections. Reynolds say that this is the best way to make a rim for aero benefit, and handling. Design opinions are like a Strava nemesis: everyone has one!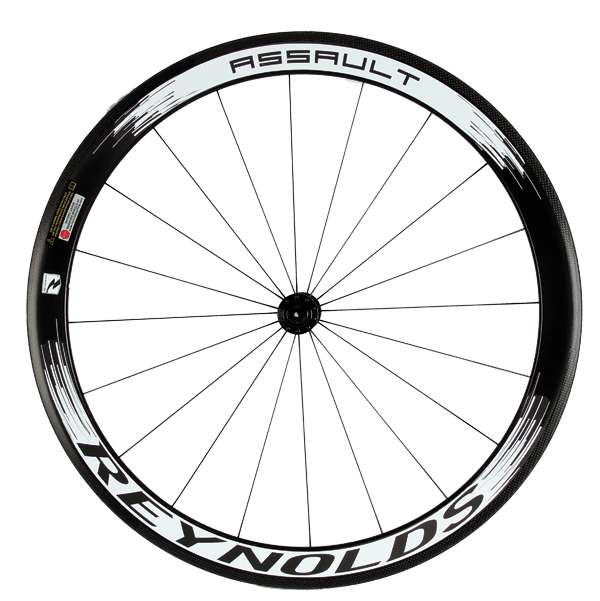 Pulling the Assaults out of the box was a pleasant experience. The wheels come with Reynolds own Cryo Blue non-cork pads which have been optimised for use with Reynolds carbon braking surface, decent internal-cam QRs (although they are not particularly light), and easy to fit Reynolds branded rim strips. The wheels themselves are well finished, the rims smooth with cleanly drilled spoke holes devoid of burrs and swarf. Our wheels were straight as a die from the box, absolutely faultless, and the spoke tension was consistent and tight, which is incredibly important for low spoke count wheels. Reynolds offer a comprehensive wheel registration program, which for a small upfront fee entitles the wheel owner to wheel repair or a replacement rim at no charge in case of an accident. This is noted quite clearly with bright stickers on the rims.
On the road the Assaults carry their lineage well. At around 1,500g the well-tensioned factory build and stiff rim profile makes for snappy enough acceleration. Regardless of this, an aero wheel is fundamentally about eking out extra high end speed or saving wattage for a given velocity. Around the Assault price point are fancy alloy wheels from some other name brands, but none come immediately to mind that offer a similar weight combined with such a deep aero profile. Swapping in the Assaults in place of some nice shallow profile alloy wheels instantly gives you an extra gear or two once you're up to speed on the flats, and this is what these wheels are for. The Assaults were predictable in the slightly gusty conditions I rode them in and the low count and skinny, round shape of the spokes no doubt aids this.
The Assaults do not have an alloy braking track which many of their competitors do. This helps the Assaults stay light, but this also means that you will need to plan your braking in advance and be especially mindful in moist conditions. The deep rim and aforementioned high spoke tensions also mean that the Assaults transmit a lot of feedback from the road to the contact points on the bike. Again, this is not a surprise, but there is no getting around this compromise if you were to use the Assaults in general duties.
Throughout our test the Assaults were reliable, in an entirely complimentary sense, and went back to Reynolds running smooth, straight and tight. As an entry into name-brand carbon aero wheels, the Assaults are a simply constructed unit that focus on providing quality and function to the rider. The package isn't complicated with extra technologies that skew the cost/benefit equation. The goal is to be light and aero without needing to take a second mortgage. The Assaults definitely added some extra zing on the flat, and the straightforward construction should prove easy to own, backed up with a unique factory support program.
Weight: 1,495g
Price: $1,899