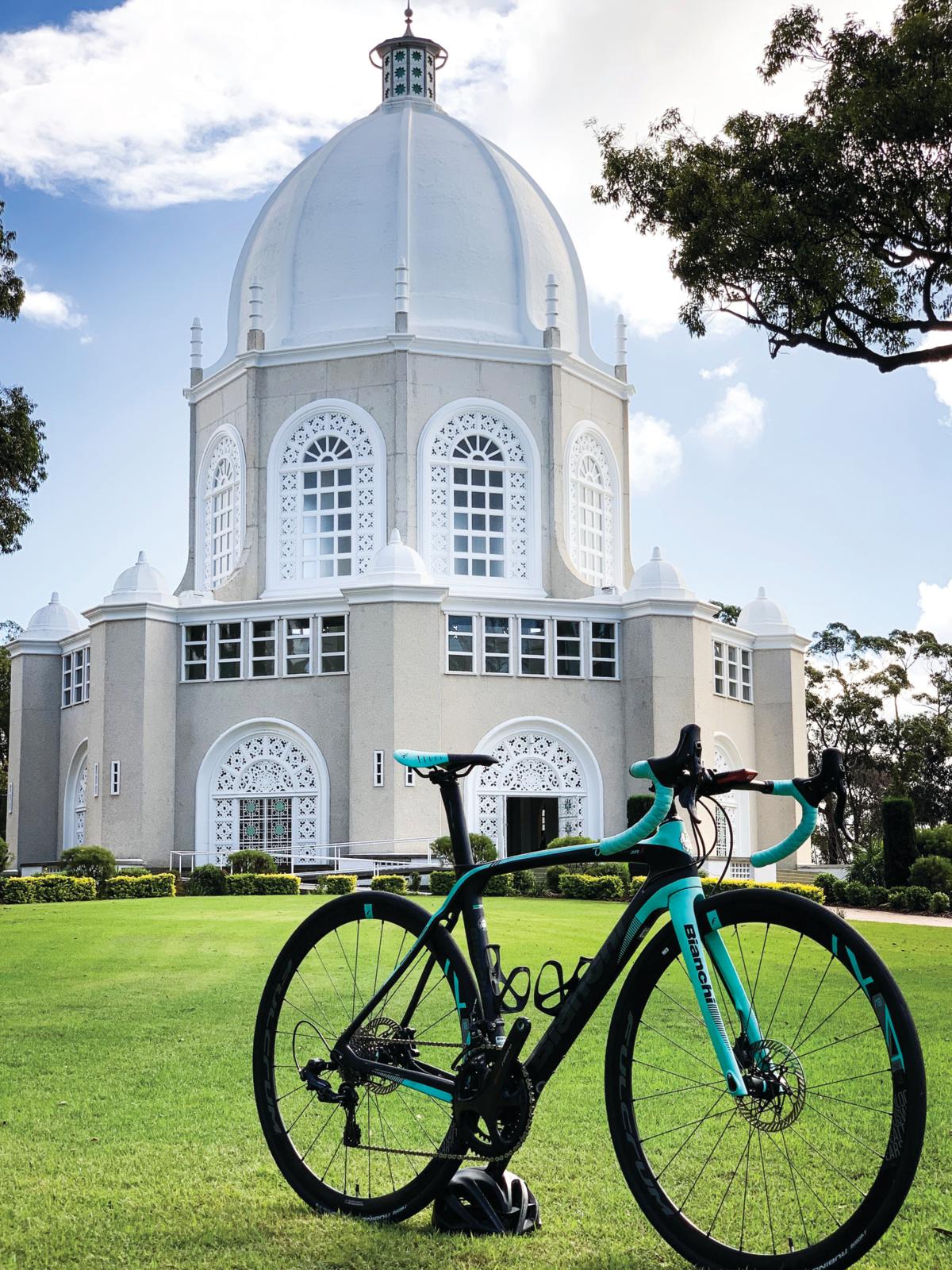 Rather than road test a stock standard Bianchi Oltre XR3 Disc, Bicycling Australia Editor Nat Bromhead purchased a new Bianchi XR3 and went about 'up-speccing' the bike and adding some Italian flair.
It's a well-known fact that Bianchi's top-level offering, the XR4 Disc, is near identical in the showroom as it is on the start line of any WorldTour race. Add a race number, tubular tyres, sponsors' decals, and the bike you wheel out of the local bike shop is the same as the steed Primoz Roglic uses to secure his soaring tally of impressive victories.
But what if we told you there was another bike, something that could be described as the XR4's little brother, that all but matches many aspects the company's premium offering …. but comes in at around half the price.
Enter the Bianchi 
XR3 Disc.
With a very similar but not identical frameset, Bianchi's XR3 is the the company's second-level offering – not including the Specialissima which is – as it's name suggests – a specialist high-end lightweight climbing bike.
An Affordable XR4?
Announced a year ago and 
well in advance of the XR4 Disc, the XR3 Disc comes factory fitted with Shimano's ultra-reliable and super-competitive Ultegra R8000 groupset. In sticking with traditional cable derailleur actuation and along with Shimano's impressive flat mount 160mm hydraulic disc braking, Bianchi have managed to keep the RRP of the XR3 disc to a competitive price point of around $8,000 (note: shop around – deals can be found!).
While the XR4 has earned a reputation as a performance-oriented superbike, having spent the past few months getting particularly close and personal with the XR3 Disc we are willing to say the junior sibling is an extremely impressive offering in its own right.
All Italian Affair
For this review we decided to do something slightly different. With a Campagnolo Super Record 12-speed groupset sitting in a box and waiting to be used, we removed the factory-fitted Shimano Ultegra and went about putting together an 'all Italian' XR3. A video of the build can be watched on the Bicycling Australia YouTube channel.
Opting to fit carbon handlebars to the bike, we installed the latest EC90s from Easton, a beautifully sculpted lightweight aero offering sure to set off the look of the bike. It should be said that the factory bars that come with the XR3 are aero shaped aluminium and branded 'Reporto Corse' the company's in-house accessory arm.
They were impressive bars and super comfortable to hold – but we simply wanted to go carbon. Plus, take one look at Easton's EC90, and you'll see an aggressive, aero bar featuring cutting-edge design, incorporated cabling, and the comfort and extra compliance of the best 
carbon fiber.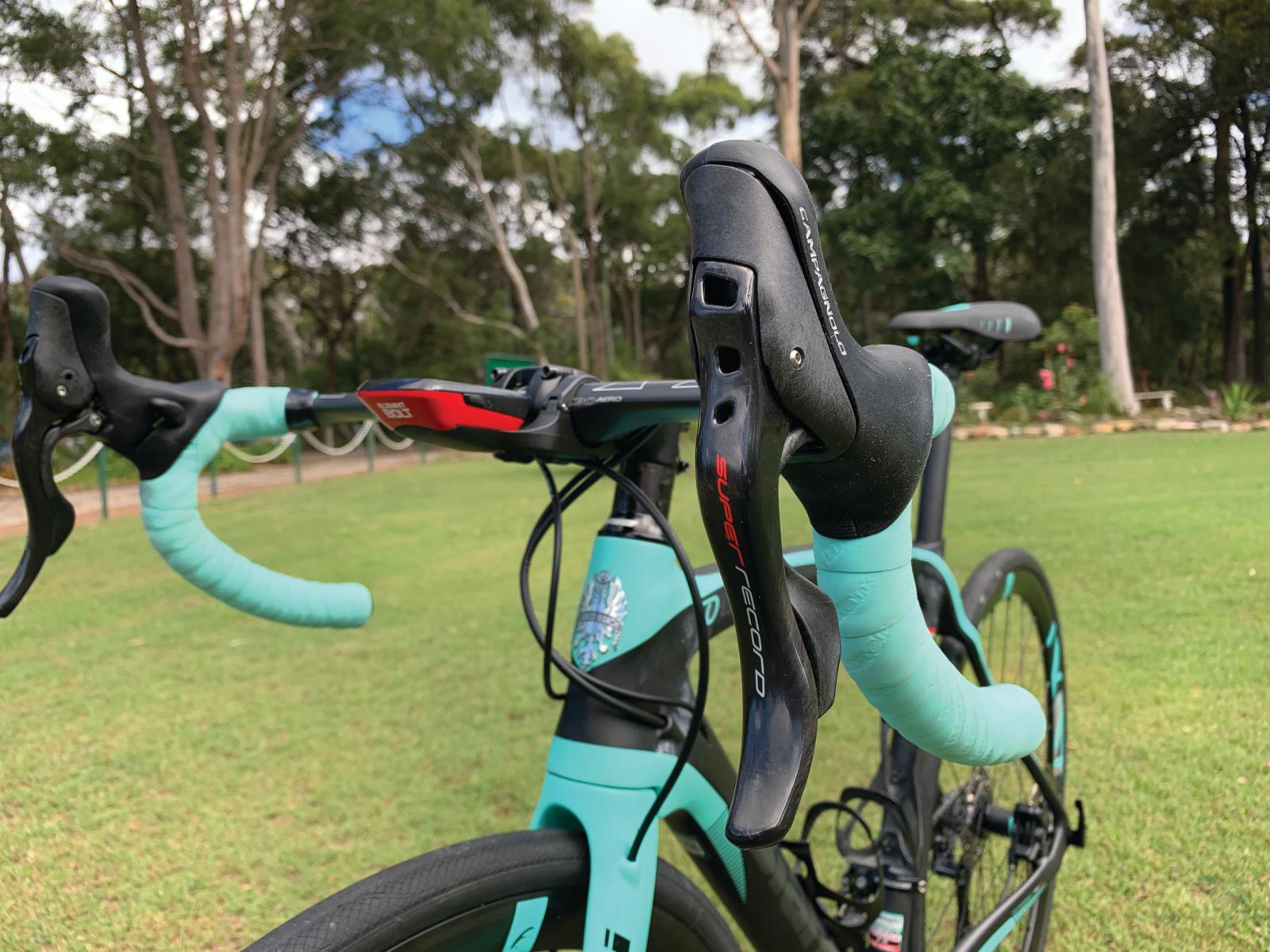 Build complete, out onto the road, how does it ride?
Even though it stands up perfectly as a pure out-and-out race bike, one of the first things you'll notice with the XR3 Disc is the comfort-inspired geometry. That said, put the bike alongside an XR4 and it's very difficult to spot 
the differences.
Equipped with Bianchi's much-lauded Countervail technology the ride is silky smooth. Couple that CV technology with the factory-fitted Fizik Antares saddle, our custom-fitted Easton carbon bars, and the 28mm Vittoria Rubino Pro tyres that came standard with the bike, and you have a machine that could simply be ridden all day. One of the first things I noticed after the first few longer rides on the XR3 Disc were this – 
at the end of a ride you may 
be tired, but your body's 
not fatigued.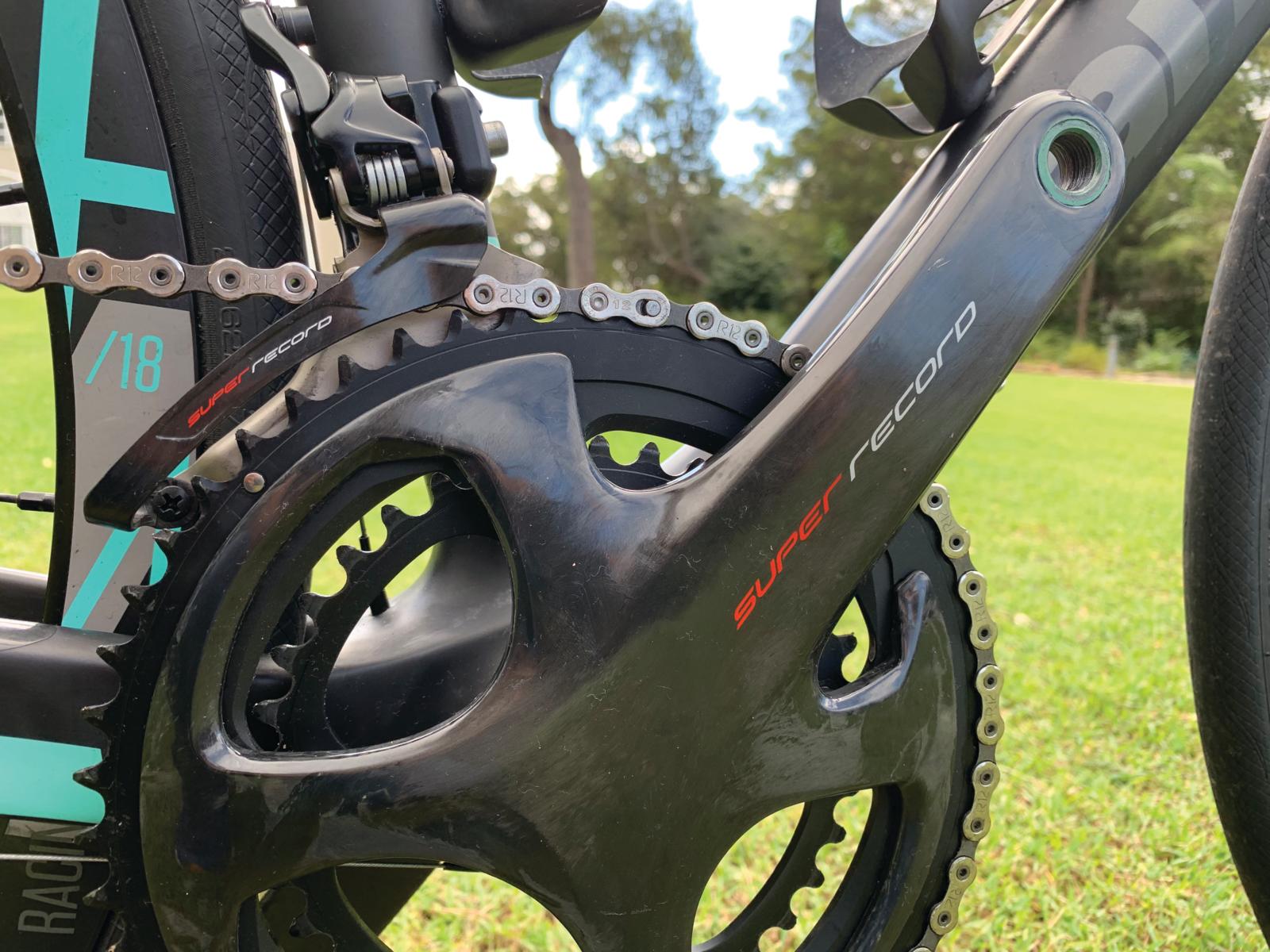 Campagnolo Super Record 12-Speed
The 12-speed Super Record is subtle and refined … purely personal but this has to be the sexiest Campag yet. Gear changes were smooth and definitely featured that time-proven 'Campy factor'. The rear derailleur slid left and right with creamy smoothness and provided effortless shifting from the start. It's often said that this groupset 'wears in' when others are wearing out. While that may be a bold claim, and should not be taken too seriously or literally, long-term Campagnolo does seem 
to age very well.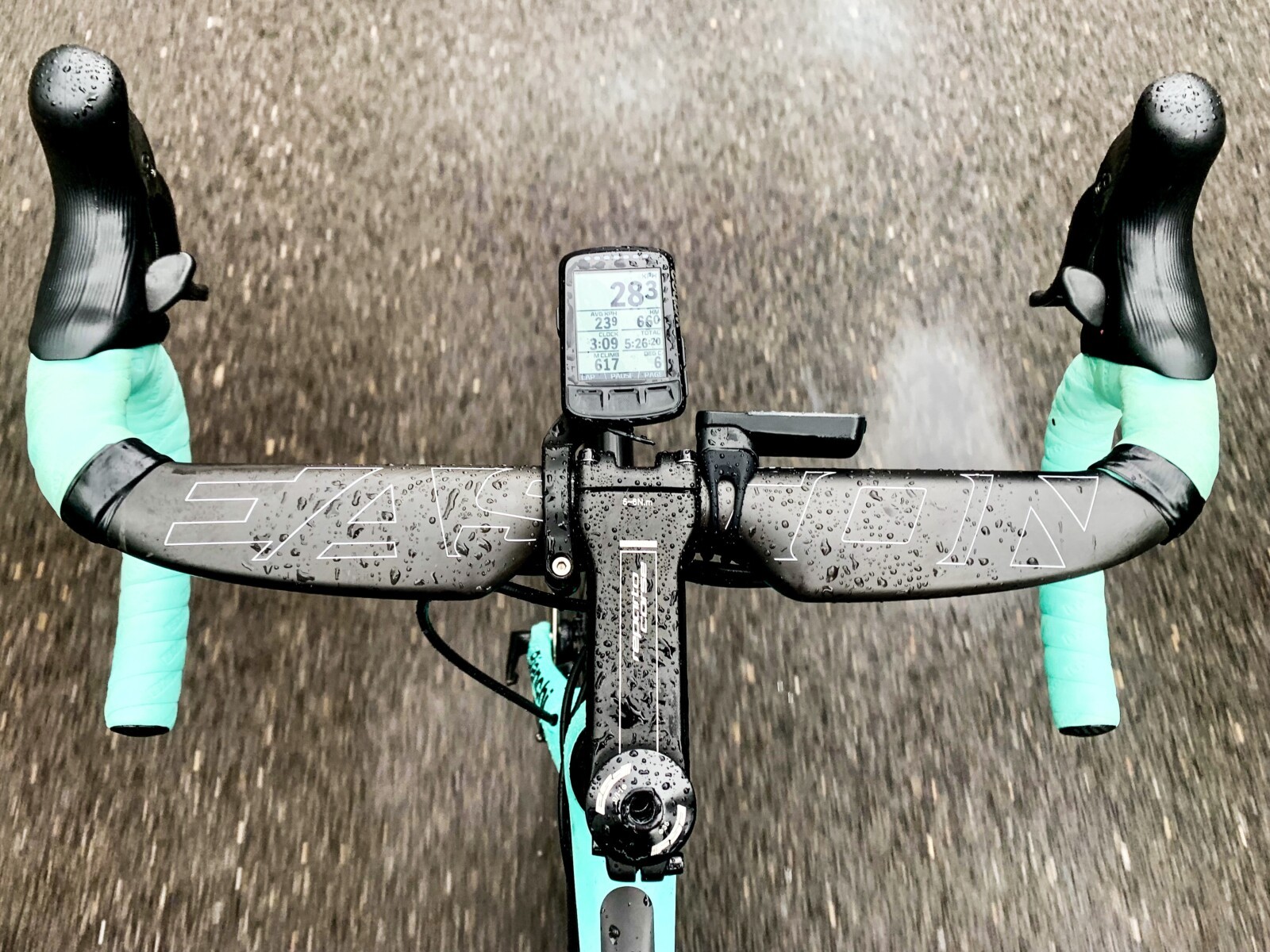 8kg As Tested
With our build weighing in a smidgen under 8kg, and with a 52/36 carbon chainring up front and 11/32T on the rear, the bike climbed surprisingly well. Purely a feeling – and with absolutely no science or fact behind this bold claim – it climbed like a 7.5kg bike. The XR3 Disc is refined, balance, smooth and very sure footed – whether going up or coming down. It holds the road well and offers a wonderful feeling of control. It's a bike you will get to know, grow to trust, and ultimately get more from your rides while aboard.
Braking
During longer descents the new Super Record levers offered a reassuring level of single-finger control. Braking was smooth and easily controlled – coupled with the previously mentioned Countervail technology and design pedigree, descending is fitted sure-footed and confidence inspiring.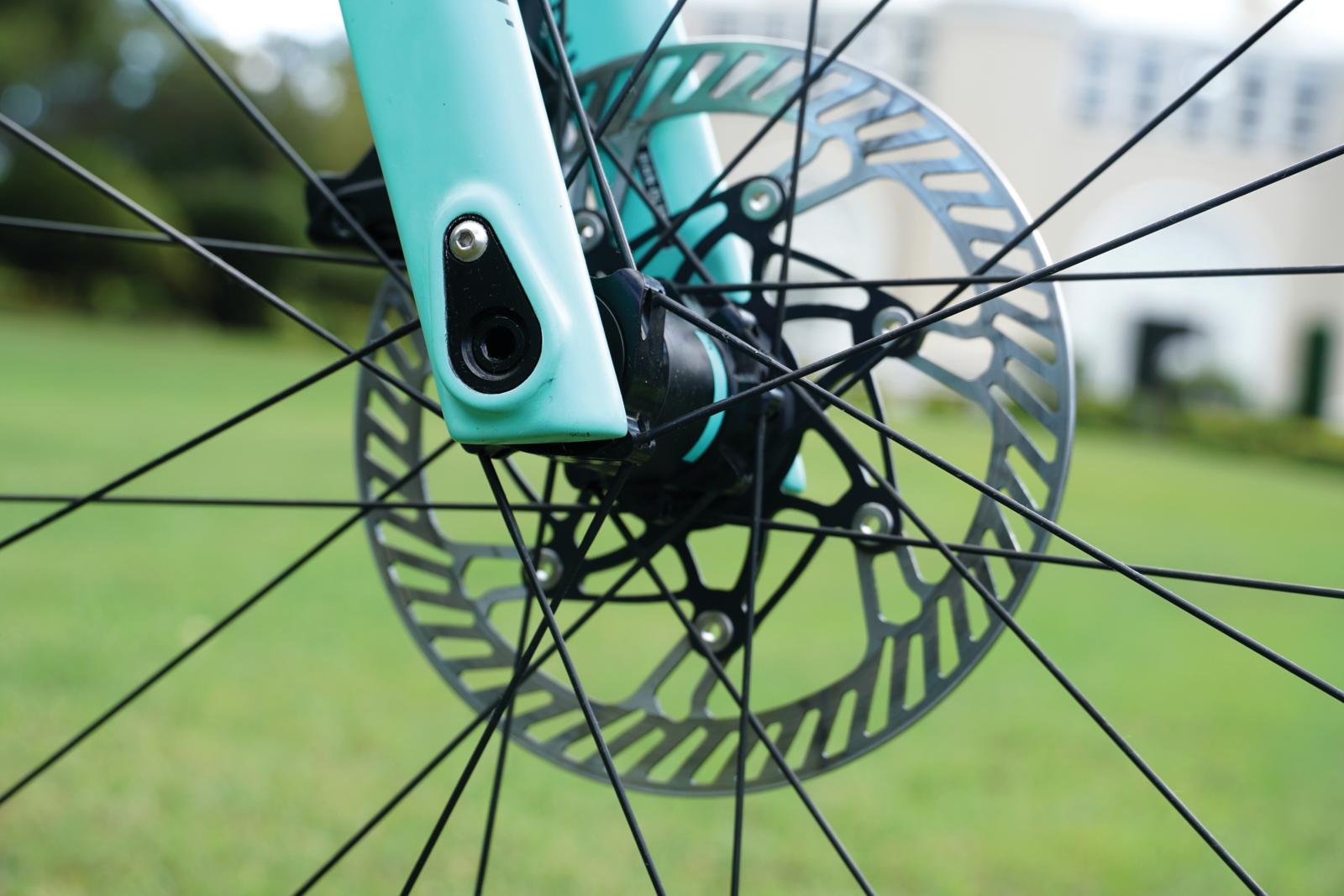 Those factory-fitted 28mm Vittoria tyres clearly play a part in the bike's comfort and handling – as do the solid & secure 12mm thru-axles. For those who want even wider there is space for at least another 2mm. That said tyres ain't tyres – stated diameters and widths do vary … it would be very tempting to find the right 30mm's and put the XR3 through the paces with some supersized road rubber.
Incorporating 
Aero Qualities
Aero seems to be everything these days, and it's clearly a design element that was at the top of the list when the XR3 Disc was first sketched up. Cabling is neatly routed into the top of the downtime and top of the fork and – despite not being completely hidden such as it is on the XR4 – is subtle and minimalist.
There's an aero seat post, hidden seat post clamp which has remained sure for the duration of the testing period. The frame incorporates an aero-inspired cutout between the rear wheel and the frame – with 28mm tyres fitted there's around 8mm of space here.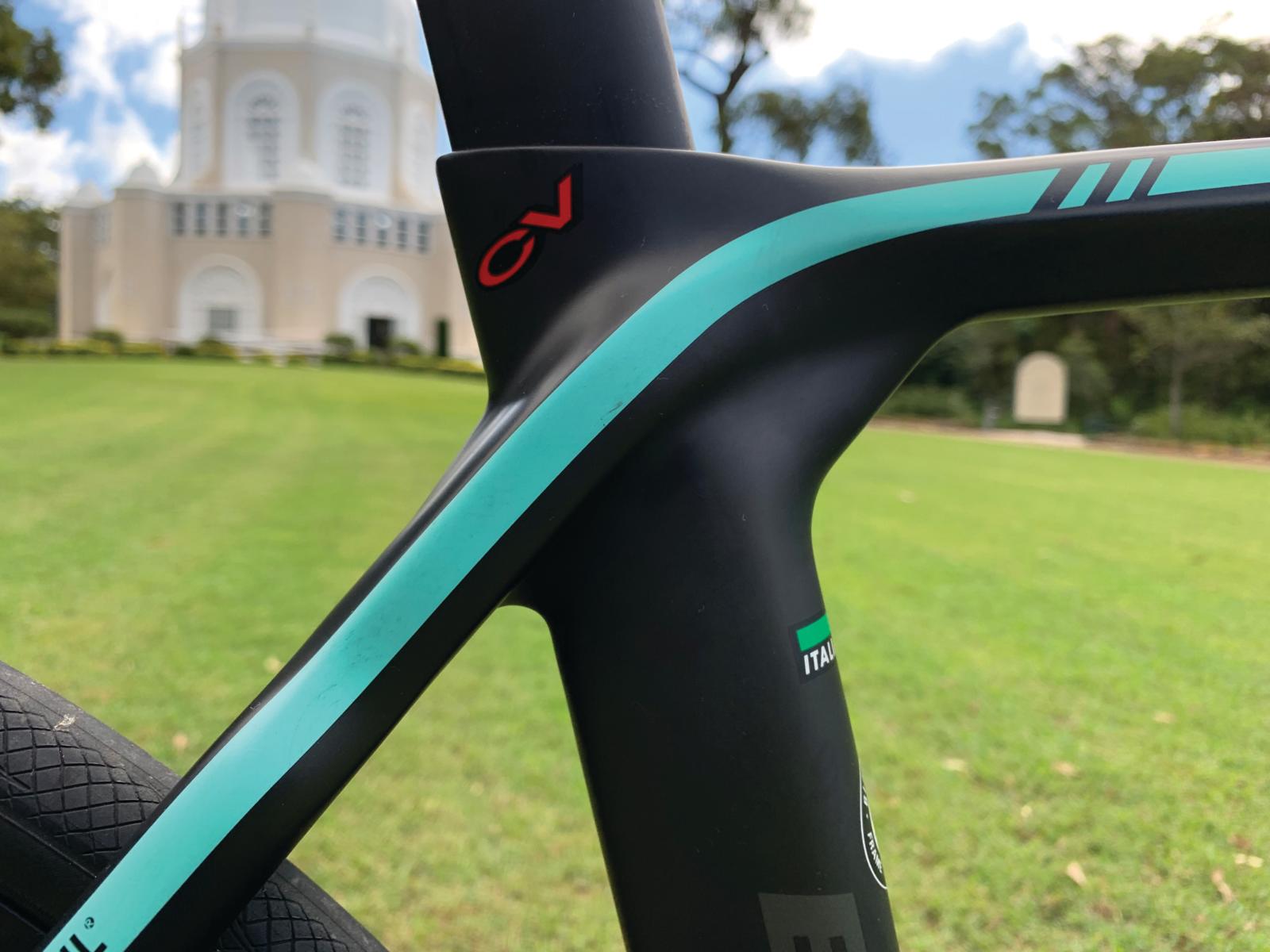 Summing Up
Available in standard build (with Shimano Ultegra and Fulcrum Racing 4 alloy wheels) for an RRP just shy of $8000, the bike offers many of the features and pedigree of Bianchi's top-tier offering for a much lower price.

Performance
Sprightly around town, particularly comfortable on longer, more endurance-focussed rides. A firm package that particularly shines on descents and offers solid & sure-footed handling with the confidence of all-weather breaking.

Finish
Precise and impressive attention to detail as Bianchi is well-known for. Finish wise, the frameset features a pleasing balance of celeste and matt black. Subtle touches of red – for example in the Italian flag on the seattube, in 'CV', and XR '3' morph well with the subtle red in the Super Record group.

Overall
The bike presents as a high-quality, value-for-money performer. It's a cliche, but this build ticks all the boxes – the latest in disc brake technology, an aero frame, the ability to run wider tyres (up to 30mm), a surprising level of comfort, all the qualities of an endurance bike, and an absolutely stunning looking package.
Specifications:
Frame: Bianchi XR3 Flat Mount Disc
Fork: Bianchi XR3 Disc
Stem: Reporto Corsa
Handlebars: Easton EC 90 Carbon 420mm wide – 230gms.
Seatpost: Aero factory Bianchi
Shifters: Campagnolo Super Record Ergopower 12-speed, mechanical
Front derailleur: Campagnolo Super Record 12-speed mechanical
Rear derailleur: Campagnolo Super Record 12-speed mechanical
Cassette:Campagnolo Super Record 12-speed, 11-32
Crankset: carbon fibre Campagnolo Super Record 12-speed, 52/36
Chain: Campagnolo Super Record 12-speed
Brakes: Campagnolo Hydraulic Disc
Rotors: Campagnolo 160mm
Saddle: Fizik Antares in Bianchi celest & black
Wheelset: Fulcrum Racing 4 carbon clinchers, 22mm internal width and 35mm rim depth.
Tyres: Vittoria Rubino Pro 28mm