Commute, bunchie, gravel, singletrack, bikepacking: could the Bossi Grit Ti be the one bike to rule them all? Kevin Eddy and Nat Bromhead put the first of these bikes to roll off the production line through its paces.
The gravel bike phenomenon has well and truly arrived Down Under. Gravel events like Wagga Wagga's Gears and Beers are popping up all over the calendar, there's a gravel National Championship, and groups like the Central Coast's Graveleur collective organise regular rides and bikepacking trips on a weekly basis.
There's no denying there's an allure to the gravel dream: pack up a swag, hop on your bike and leave the lights of the city behind for the road less travelled (as long as there's a pub somewhere near where you're camping). It's a type of riding that particularly suits the Australian terrain. However, for many of us, that dream is just that: a dream. Real life commitments mean that the opportunities for adventures like these are few and far between – instead, we're snatching one or two hours between ferrying the kids to footy practice and heading to the neighbours' birthday BBQ.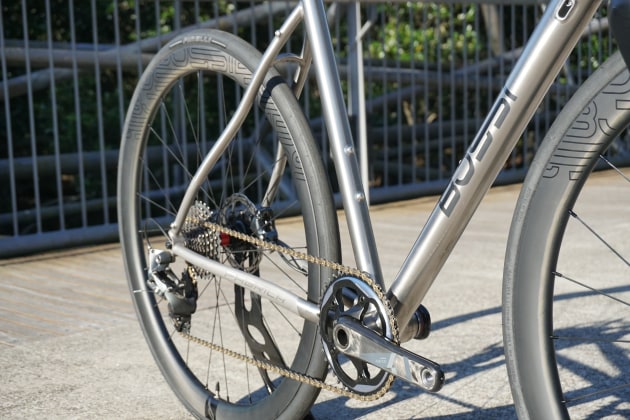 Here's the real trick with so-called 'gravel' bikes: they're not really about gravel. Speedplay CEO Richard Byrne put it best when he recently called them 'universal bikes or SUBs – Sports Utility Bikes'.
You see, a 'gravel' bike is only that when it's on gravel. It's equally at home on the road, in the Saturday morning bunchie, or on your commute, or rolling around on singletrack with 27.5" inch wheels and mountain bike tyres. 'Gravel' bikes are about as close as we've got to the famed 'unicorn' – the magic bike that does everything – and this is where Sydney framebuilder Bossi's new titanium Grit frame comes in.
Designed by James Bossi, an industrial designer who gave up the corporate career to follow his passion for bikes, the Grit builds on Bossi's very impressive titanium Fabrica road frameset. Titanium is potentially the perfect material for a gravel/sports utility bike: it's light, it's lively, it absorbs vibration well and you can clean up cosmetic scratches very easily.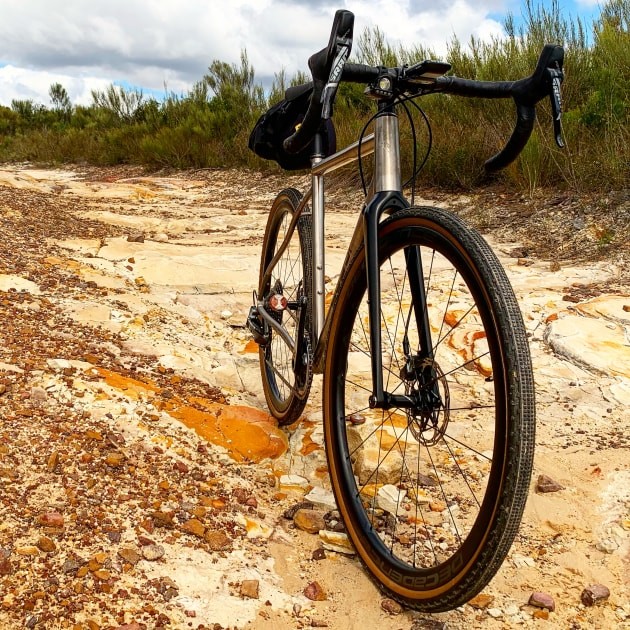 The Grit Ti ups the tyre clearance to 42mm on a 700c wheel (or 1.75″ on a 27.5″ wheel), introduces a completely new bottom bracket and rear dropouts, and tweaks the classic road geometry with a taller stack and a slacker 72 degree head tube angle.
So, when the opportunity arose to test the very first pre-production Grit Ti to arrive in Australia, how could we say no?
Speccing The Build
The beauty of a frameset is that you can build it up however you want (for more on the benefits of custom builds, see our feature in issue 214 of Bicycling Australia or online at www.bicyclingaustralia.com.au).
Like any good custom bike build, this Grit Ti was very much a collaboration between Bicycling Australia and James Bossi. And yes, we may have spoilt ourselves a bit.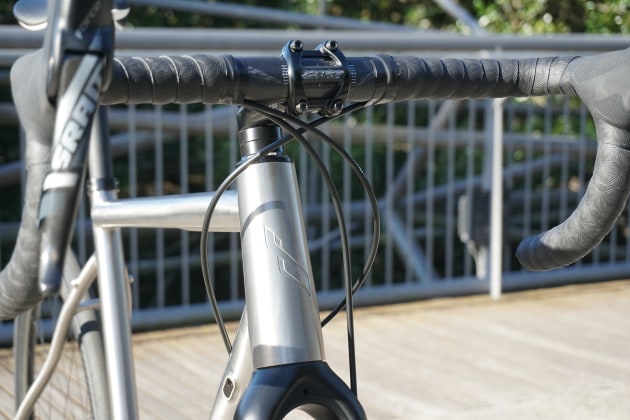 The first question, as with any build, is 'what will this bike be used for?' The answer – primarily road riding, particularly commutes and wet-weather training rides. But it also needed to be a rig that could be easily set up for gravel rides or bikepacking adventures with minimum fuss. We also wanted to prove that a titanium gravel bike could be as light, if not lighter, than a full carbon road bike.
After plenty of discussion, we arrived at the following running gear:
SRAM Force 1x groupset: this provided a simple, lightweight solution with a gearing range that would be effective for both gravel riding and general road riding. Having a big top gear didn't matter so much as this bike won't be used for racing: however, the SRAM 1x system means that the chainring can easily be exchanged for a larger one.
Caden Decadence 38mm carbon wheels: We chose the Decadence carbon wheels primarily for their light weight and wide rim profile – which means a wider gravel tyre won't deform or burp when mounted. The rims are also tubeless-ready, again a major benefit when mounting gravel tyres. These were paired with 28mm Pirelli P Zero Velo tyres for the road for a smooth, fast-rolling combination.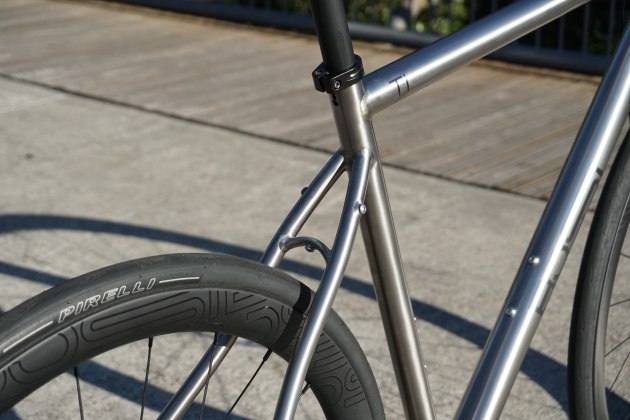 Zipp cockpit: OK, so this where we might have got a bit carried away… we chose the Zipp Service Course SL bar and stem combo for its ergonomics, stiffness and vibration damping capabilities – or at least that's what we told ourselves. Cushy Supacaz tape also helps with the vibration damping.
The combination of the titanium frame, carbon components and 35mm Gravel Grinder tyres made for a dream off-road machine…
Once the parts selection had been made, it was just a case of waiting for the frame to arrive… and for the build to take place.
When we saw the finished product… well, there's no denying the beauty of this bike. There's a particular allure to a titanium frame, and the Bossi has it in spades. From the CNC machined logo on the head tube to the super-neat welds, everything about this frame oozes quality.
Look a little closer, a little longer, and more details emerge. The multiple fixing points for racks and mudguards, front and rear. The enormous clearance between the 28mm tyres and the fork legs/stays. The flattened section underneath the top tube to make shouldering the bike easier. The oversized, fully internally routed bottom bracket. The reshaped rear dropouts. The presence of a tiny chain keeper on the driveside seatstay, to hook your chain onto when removing the rear wheel. There's a lot of love and thought that have gone into this bike, and it shows.
And the final weigh-in? Before the addition of bidon cages, pedals and so on, this Bossi Grit build weighed in at 7.8kg. Not bad at all – although that is with a build which cost in the region of $8,000.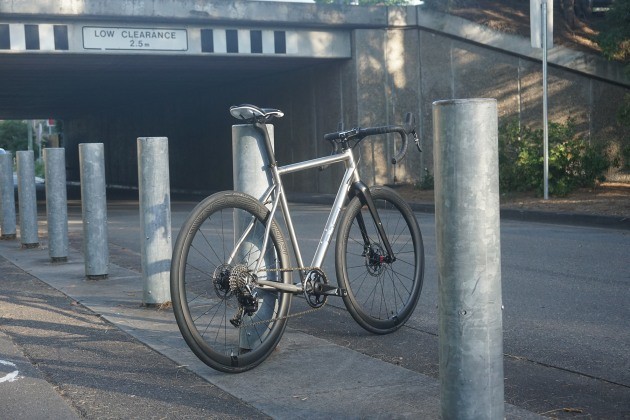 On The Road
It's pretty rare to get on a review bike and feel perfectly comfortable. The first ride is quite often a shakedown cruise, adjusting contact points and aspects of the bike to your liking so you can properly assess the thing.
That's why it was a big surprise to climb on the Grit and immediately feel at home. Part of that may have been the fitting process we went through with James when picking up the bike, ensuring saddle and bar position were appropriate. But I think a lot of it is also down to this bike being pretty much perfectly balanced.
The geometry, while more 'radical' than your typical road bike, is somewhat less off-road oriented than many gravel bikes on the market. The reason, explains Bossi, is because most people won't be spending all that much time off-road and he still wanted the Grit to feel nice on bitumen.
The end result is a bike that inspires confidence and is fun to ride. Poor road surfaces were no barrier: the combination of the titanium frame, wide carbon rims and 28mm tyres meant that the ride was smooth as silk, even over some pretty badly damaged concrete paths.
Descending was an absolute joy: endless grit convinced me to lean into corners hard at speed, which was nicely offset with the confidence instilled by the SRAM disc brakes.
The Grit was surprisingly whippy for an endurance bike, too: it's no slouch when it comes to the traffic light sprint, and is remarkably responsive when powering up rising inclines (although the Caden wheels played a major part in this).
On The Trail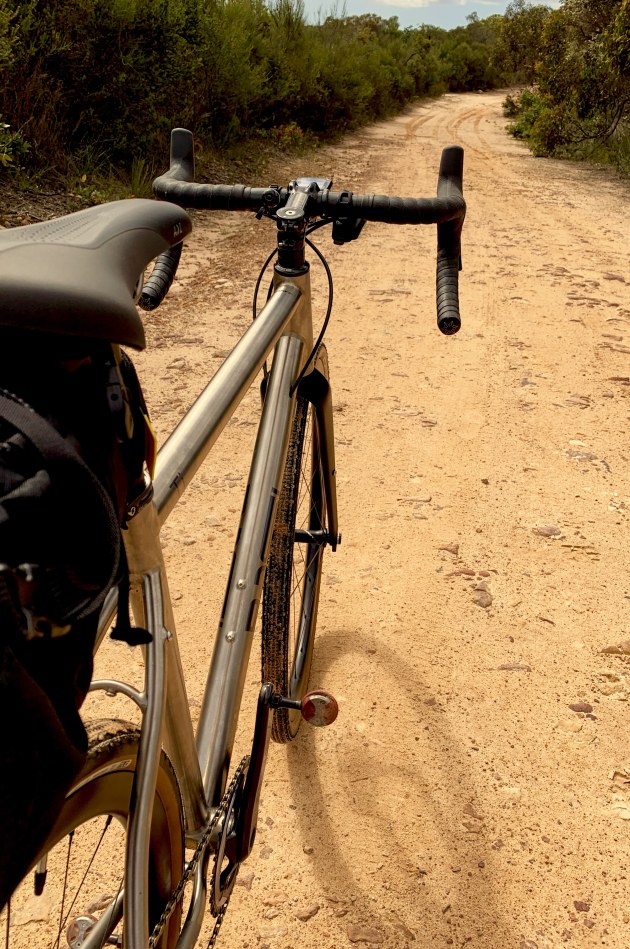 However, the other side of the coin was how the Grit Ti performed offroad.
Reshod with a set of 35mm Gravel King Gravel Grinder tyres, we embarked out on a voyage around the (actually quite technical) firetrails of Kur-ring-gai Chase National Park. First thing to stand out was that comfort factor! The combination of the titanium frame, 35mm tyres (inflated to 60psi), carbon seat post, Caden 'Decadence' wheels, Bossi carbon fork and Zipp carbon cockpit morphed together to create a dream gravel machine. Add a Selle Royal A2 saddle to the mix, and those gravel to granite West Head firetrails smoothed out surprisingly well.
The bike was used during several adventurous commutes that took in short gravel climbs and descents to 20 percent. The wide-ranging 11-40t SRAM cassette, 42t chainring along with grippy Gravel Grinder tyres literally tractored the bike up several loose-surfaced climbs. To flatter trails and a range of surfaces from small volcanic pebbles to sand, dirt and coarse gravel, and the Fabrica Grit maintained contact and control, it was a hell of a lot of fun to ride and seemed to revel in whatever was thrown at it. One of the great joys of testing an 'SUB' type bike is jumping from coarse and loose gravel to smooth and solid bitumen. The Fabrica made the transition seamlessly and exuded a 'go anywhere, do anything' feeling.
We are not fond of comparisons in this game, but having tested numerous mixed-surface bikes on those same West Head firetrails, then jump to some of the best paved roads in Sydney, the Bossi certainly stood out as one of the most capable all-rounders of recent times.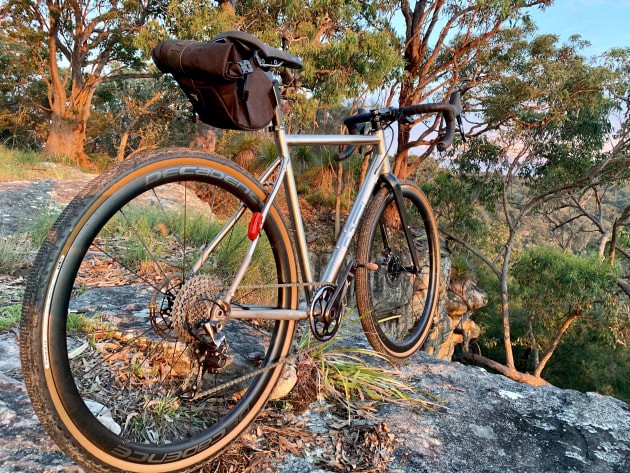 Quality
The construction of the Grit Ti is top notch, from the welds to the use of different grades of titanium to achieve the right balance of strength versus lightness.
Performance
Even with a more modest build, the core of the Grit Ti would be the same: a responsive, confidence inspiring ride that's equally at home on or off road.
Value
There's no doubting that a Bossi Grit Ti is a reasonable expenditure. However, you're getting a frame that will quite literally last a lifetime.
Overall
The Bossi Grit Ti isn't the mythical 'bike that can do everything'. But it's pretty damn close. The Grit Ti is a superb platform which you can tailor to your needs.
FRAME: Bossi Grit Ti, 54cm, flat mount disc, internally routed
FORK: Bossi Torayca T800 Monocoque carbon flat-mount disc fork
HEADSET: FSA Orbit C40 ACB 1.5" taper
BOTTOM BRACKET: BB86 Press Fit, SRAM Force
STEM: Zipp Service Course SL, 100mm
HANDLEBARS: Zipp Service Course SL70, 40cm
FRONT BRAKE: SRAM Force hydraulic disc
REAR BRAKE: SRAM Force hydraulic disc
ROTORS: SRAM Centerline X, 160mm
SHIFT/BRAKE LEVERS: SRAM Force X1
REAR DERAILLEUR: SRAM Force X1 long cage
CHAIN: KMC X11 Gold
CASSETTE: Shimano XT, 11-40t
CRANKSET: SRAM Force X1, 42t
WHEELS: Caden Decadence 38mm
TYRES: Pirelli P-Zero Velo, 28mm
SEATPOST: 27.2mm carbon
Weight: 7.8kg
Estimated cost: $7,500
Attention: This review features in the current print edition of Bicycling Australia. Included in the print article were images of the pre-washed bike. Bicycling Australia regret showcasing this fine bike with less than perfect images.