Argh! I know my garage is a mess, and I sort of knew that I'd propped the Van Nicholas Chinook against the workbench a little haphazardly, but my heart still stopped a little when the bike teetered briefly, then toppled gently over onto the floor. How will I explain the scratches, I thought to myself in embarrassed panic? But after picking the bike up, there wasn't a mark to be found … Thank your chosen deity for the small miracle of titanium tubing.
Van Nicholas is a Dutch company that does titanium and nothing else. Sourcing its frames from Taiwan, its range is wide and includes belt-drive single-speeders, track bikes and everything in between. The Chinook is positioned three down from the top of its road range, and can be successfully speced with anything from Shimano's 105 group and upwards. It's marketed as a road racer, and its basic specs seem to lend credence to the positioning.
A quick lesson in beginner's metallurgy first. Titanium is a steel alloy that's partly derived from a silica found abundantly on Australian beaches and while it isn't at all rare, the process to make it uses a sod of a lot of energy – hence its expense. Before you pull out your Greenpeace flag, stop for a second and take into account that neither aluminium (smelting) or carbon fibre (autoclaving, which is essentially a giant oven) parts are especially carbon-neutral to make, and titanium will outlast both by a factor of several.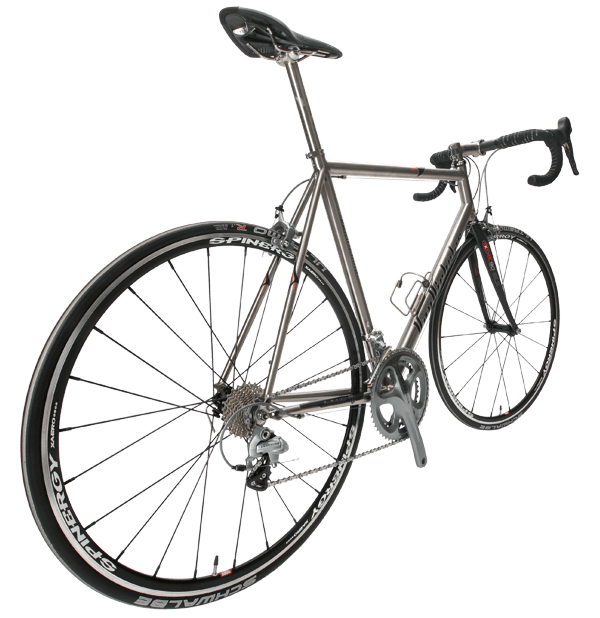 First developed for the US Air Force in the 1960s for use in aircraft fuel lines, titanium is stronger and lighter than regular chromoly, and is still extensively used throughout the aviation industry. UK company Raleigh is credited with building the first titanium road frames, welded by no less notable a company than Italian supercar and tractor maker Lamborghini.
Another unique selling point of titanium – which is technically a steel alloy, but let's not get too deep – is its resistance to corrosion, scuffs and scratches. It doesn't even need a clear coat to retain its just off-the-floor sharpness, and this is why the Chinook survived its ungainly fall in my wreck of a workshop that would have certainly have left a scar on any other lightweight racer.
Upon first inspection, the Chinook is a bit of a throwback to the days of LeMond, Kelly and Anderson. Clamp-on front derailleur? External headset? Square-dimension frame? External cable routing? Am I in some weird Back To The Future flashback? No. The Chinook rests easily on its retro-tech laurels without diving unnecessarily into nostalgia – though the chain hook brazed onto the right seat stay goes close.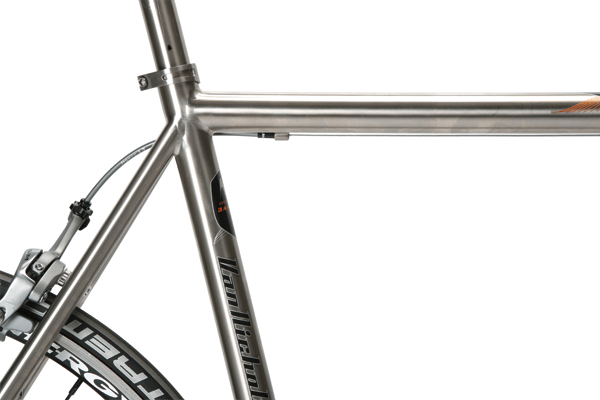 A conventional 3.5Al/2.5AV tubeset is based around a slightly oversized down tube and same-diameter top and seat tubes. Stout chainstays curve purposely towards no-nonsense rear drop-outs, while slender seat stays run straight and true to intersect the seat tube slightly below the line of the almost perfectly horizontal top tube. Our brushed-finish 58cm tester is just that in both seat tube and top tube numbers, adding to its already retro glam looks. Geometry is straight from the crit racer roadbook, with a sharp 73.5-degree head angle offset by an upright 73-degree seat angle and 40.5cm chainstays giving a tight-ish wheelbase of 99.3cm. The traditional head tube has seen the inside of a CNC cabinet, though, with excess material removed from both inside and out.
Van Nicholas also produces a line of ti accessories, which naturally grace this machine. The minimalist seat clamp needs truly frightening torque to keep a seatpost in check, while the company's wheel skewers are truly the most odd bicycle component I've tested in the 15 years I've been doing this gig. Put simply, they don't function at their job of retaining a wheel in a bicycle. At all. They're not even attractive, nor are they especially lightweight. Take our advice and don't tick that box on your order sheet. Do, however, indulge yourself in one of their stems – their slightly industrial yet elegant design will suit the look of your new Van Nicholas to a tee, sir. The 100mm stem clamps an Easton EC90 fork and compact-bend handlebar.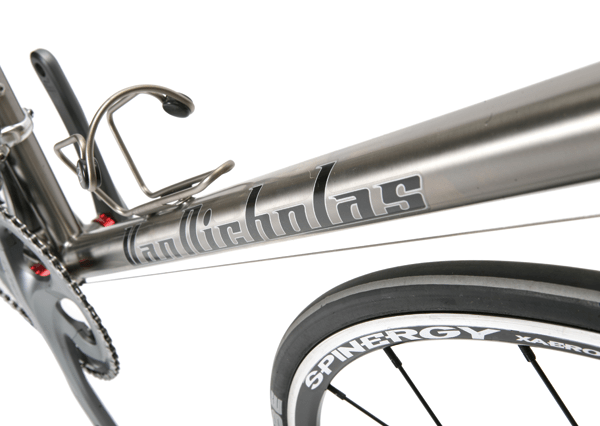 Possible bike builds are as varied as the number of groups that are out there, and this particular Chinook wears a high-function, no-nonsense Ultegra mechanical group in its non-compact form. It's funny, though … to me, the Tron-esque finish of the new-gen cranks and rear mech somehow don't lend themselves aesthetically to the clean, uncluttered lines of the slender Chinook chassis.
There's a couple of breaks with spec tradition on our tester; the Chris King NoThreadSet headset is surely one of the bicycle industry's genuine heritage design pieces, and it's lovely to see one of the classic, fully sealed units taking pride of place at the front of the Chinook. Again, my colour choice would better reflect the subtle beauty of the ti finish – this bike doesn't need to shout its accoutrements from the rooftops to be noticed. As well, the lightweight Hawk Racing bottom bracket is a new player in the external BB contest, and given how it's already garnering a pretty good reputation for itself despite only having been around for two years (as opposed to Chris King's 35!), it'll be interesting to see how it goes. Both products use steel bearings, and Hawk claims its proprietary lube is its key point of difference over stock items. It certainly spins much more freely under zero load (ie cranks spun by hand with the chain off) than a new Shimano unit, as unscientific as that test is …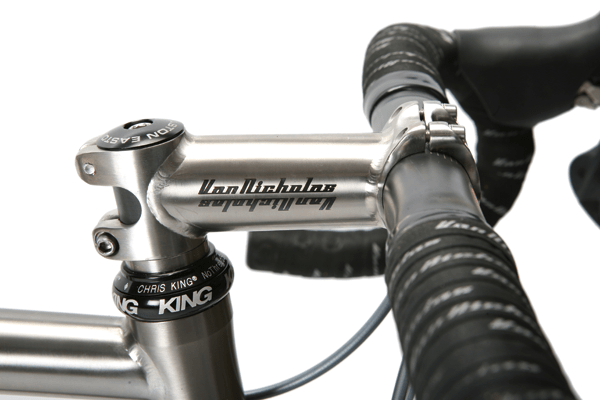 The wheelset, too, strays from the tried and tested. Spinergy's bottom-end XAeroLite alloy-rimmed, nylon-spoked clinchers are shod with this tester's personal favourite SchwalbeUltremo R tyres. With 18 spokes up front and 24 rear, the Spinergys come in at a claimed 1535g, which is as light as this real-world tester would like to go. Our wheels are built with black spokes, but you can have them built with bright blue, pink, white, red, yellow, orange or green items. Mmm … perhaps every spoke a different colour?
With a preconception that I'm pedalling an edgy, race-ready whippet into my usual test loop, the first impression is that this is a compact 58. I'm usually happy with a 100mm stem out of the box on a bike of this size but, combined with a zero-offset post, I feel quite bound up behind the bars. A slightly longer stem solved the problem so take account of the retro angles when ordering.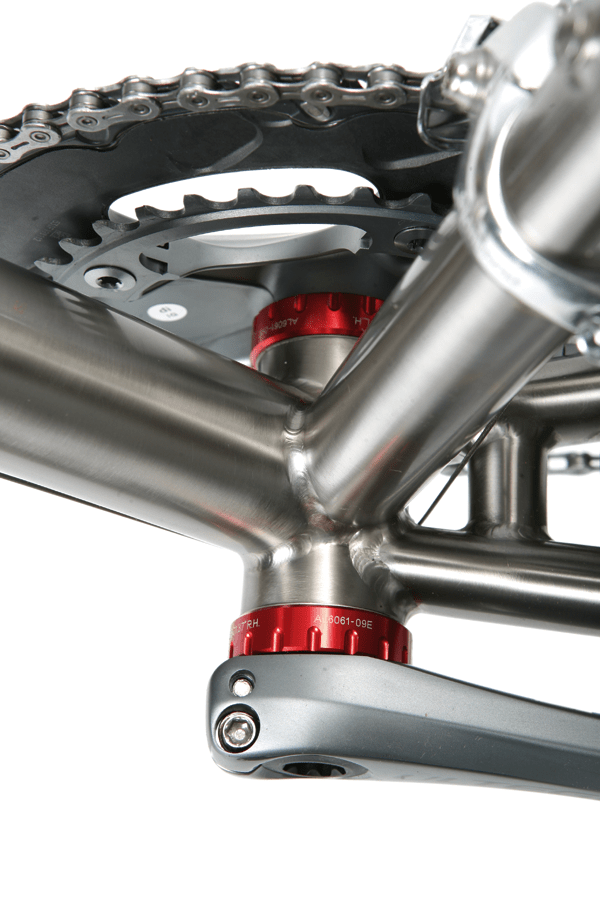 At 7.8kg with pedals, momentum is easy to find and easy to hold with the quick UltremoRs. I'd be fibbing if I told you I could categorically feel the difference with the Hawk BB, but the Chinook certainly feels alive and alert. I recently installed a ceramic BB on a personal bike to replace a shot standard item, and the difference was much more pronounced.
Ti is renowned for its comfy ride, and I can certainly attest to that attribute! Don't expect dual suspension comfort, but if you ride on coarse chip or have to endure craggy verges – and let's face it, who doesn't these days? – the Van will deliver you to the other end of a long stint in much better shape than you'd otherwise expect. It doesn't dampen the rough stuff like tuned carbon fibre or ping out of it like alloy, but it gives and flows with the terrain, imparting a sense of security and of keying into the surface. It loves to rail a good fast turn, too. Tip it in with a glance at your exit and the Van responds like a champ, responding assuredly and quickly to the input without any nerves or uncertainty. The lively, sprung-loaded feel of the frame helps here, I reckon, by not being so stiff as to unload the front end at inopportune moments.
The Spinergys are impressive, too, serving time under my not-inconsiderable presence with nary a whimper. Time didn't allow me to run a more traditional wheelset for any length of time, but you're certainly not giving anything away by running the XAeros. I personally prefer the flexibility of a compact drivetrain, but the relative light weight of the Chinook and the straightforward behaviour means climbing is vice-free seated or standing. The external cable stops are sufficiently out of the firing line of knees and thighs, and the tall head tube provides the option of a more upright position on the flats, while the compact drops are merely a hand flex away.
It's hard to pick a glaring fault with the Van Nicholas, but if you're pushing me, I'm not a fan of the top tube graphic, and it'd be wise to steer away from some of the in-house components. With a careful build, though, you can comfortably build a fast, responsive, sexy all-day machine that you could easily hand down to your first-born. In fact, the Chinook really proves that style never goes out of fashion.
Summing Up
Quality
Top notch. It's a thing of industrious, functional beauty – something an engineer would have fits about. Welds are filled with commercially pure titanium for a gorgeous finish. Thumbs up for the chain hook on the right seat stay, too.
Performance
Spritely, comfy and it turns like a seagull diving for a chip. It can feel a little confined until you get your cockpit dialled, though.
Value
It's in the eye of the credit card wielder here. The beauty here is that the Chinook frame is flexible enough in performance to do justice to both a basic and a boutique build. Our tip? Go classic…
Overall
Put this on your cycling bucket list. Carbon might be all the rage at the moment, but the Van Nicholas Chinook puts the personality and character of titanium within reach of the workaday cyclist.
Specifications
Frame: Van Nicholas Titanium
Fork: Easton EC90 Carbon Fibre
Headset: Chris King
Stem: Van Nicholas
Handlebars: Easton EC90
Saddle: Fizik Arione
Seatpost: Van Nicholas
Shift Levers: Shimano Ultegra 10sp
Brakes: Shimano Ultegra 10sp
Front Derailleur: Shimano Ultegra 10sp
Rear Derailleur: Shimano Ultegra 10sp
Cassette: Shimano Ultegra 10sp
Chain: Shimano Ultegra 10sp
Crank: Shimano Ultegra 10sp
Bottom Bracket: Shimano Hollowtech II
Wheels: Spynergy Xaero
Tyres: Schwalbe Ultremo
Pedals: N/A
Weight: 7.8kg
Price: $5,500
Distributor Blue Globe Alliance
www.blueglobe.com.au