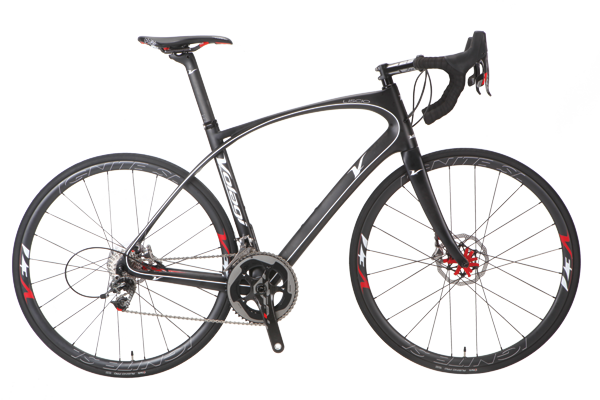 Road disc brakes haven't fully arrived just yet, but they are here to stay. Get used to it. Volagi Bikes are all about skinny tires and disc brakes; they don't offer a single bike with rim brakes. Volagi founder Robert Choi says their Liscio is a bike 'designed for the rest of us', and he's right.
To throw some of the broader details into the mix, the Volagi Liscio is a nicely made carbon road bike. It's respectably light and responsive and has all the modern performance features (think aero, oversized, and electronic). It's designed to be stiff and compliant. This is all standard marketing 101 stuff. Where the Liscio is different is that it simply doesn't give a flying fish about pro racing. It doesn't pretend for a split second to be a descendant of legendary winners or be the sibling of a pro's choice race bike. It. Does. Not. Care.
The Liscio is not UCI legal. Each of the frame's two primary features excludes it from UCI eligibility: disc brakes, and the seat stays. Disc brakes are not currently legal for UCI road racing events, and the UCI dictates that the seat stays must meet the seat tube of the bike (the Liscio's stays connect to the top tube well before the seat tube junction).
Volagi is interested in 'the rest of us', the silent majority of riders that don't race crits or perhaps don't have any inclination to follow racing at all. Riders that love riding and being fit, and riding all day long or at least as long as they have time to. Volagi avoids any confusion about who they are by focusing on real riders, and the Liscio presents its case cleanly. Ride me!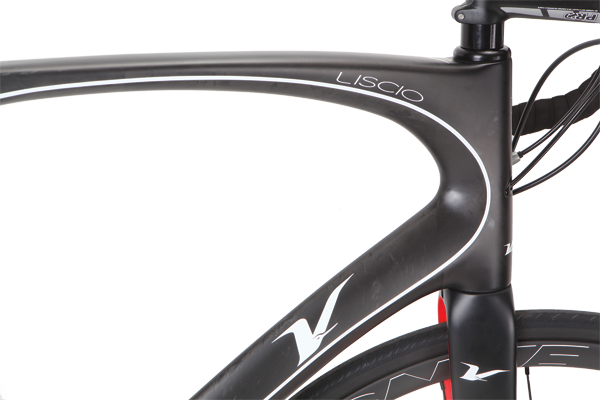 Volagi bought their original Liscio to market in 2011. A swoopy looking carbon machine, shod with…disc brakes! They weren't the first to make a bike with discs and skinny tires, but they've made disc brakes their manifesto. Volagi was founded by Robert Choi and Barley Forsman, both bike industry veterans with impressive resumes. Robert and Barley both share a love for long rides and endurance style races, the kinds of sportive and multi day events that are becoming increasingly popular in Australia. The pair worked and met at Specialized but left to start Volagi and only make bikes for guys like them. Bikes designed for premium performance and comfort, but with the design cues originating first and foremost from the needs of the amateur rider, not the pro rider.
The first Liscio was ahead of it's time in its embrace of disc brakes. Since the original design of 2011 Volagi has updated the Liscio to the Liscio2, but we'll refer to the Liscio for simplicity. The current Liscio has 135mm spaced rear drop outs (the same as a mountain bike) as the market seems to have chosen this as the standard for road and cross bikes since the uncertain times of 2011. The new frame routes all cables internally, is fully decked out for electronic shifting and hydraulic brakes, and has been made stiffer around the bottom bracket and chain stays in the larger sizes. Volagi didn't rest on their laurels as an early leader, and the advances in shifting and braking since the original Liscio should be an indicator of rate of change we can all expect in the next few seasons. With no disposition for traditionalism I'd say that in 2-3 years most decent road bikes will shift electronically and use hydraulic disc brakes. Volagi is ready as of right now.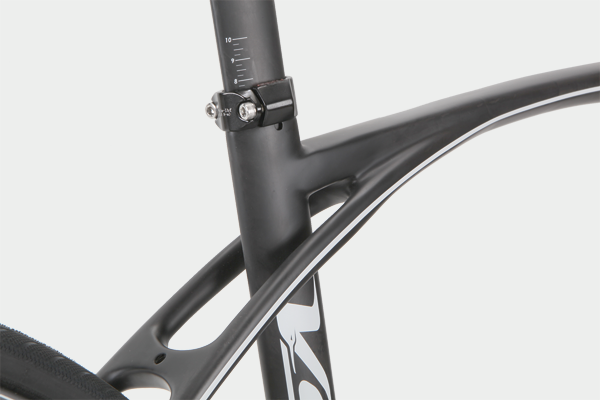 The Liscio must be one of if not the most versatile light weight carbon road bike on the market. The fork and rear triangle have discreet fender mounts for year long riding, and the Liscio will fit a gigantic 28mm tire (in some cases it will fit a 28mm tire and fenders!) for maximum comfort and grip. These are not the kinds of features that you would associate with a bike that has aero profile tubes, an all carbon tapered-steerer fork and BB30 bottom bracket, but then the Liscio isn't a regular machine (at least not yet?).
Shimano and SRAM now offer hydraulic disc brakes for road (our brakes were subject to a recall that affected a very small number of units just as we concluded our test, so SRAM disc owners may want to check their brakes with SRAM) and Campagnolo has confirmed they will offer these in the near future. It took a few years for disc brakes to be refined and accepted in mountain biking, so expect a few years on the road too. A nice hydraulic disc brake offers unbeatable modulation and power with relatively little grunt required at the lever. The SRAM Red brakes on our Liscio were a welcome upgrade form regular caliper brakes, letting us brake later when approaching corners and also being less fatiguing on long rides. The large lever body looks awkward, but the distinctive unit feels good in the hand.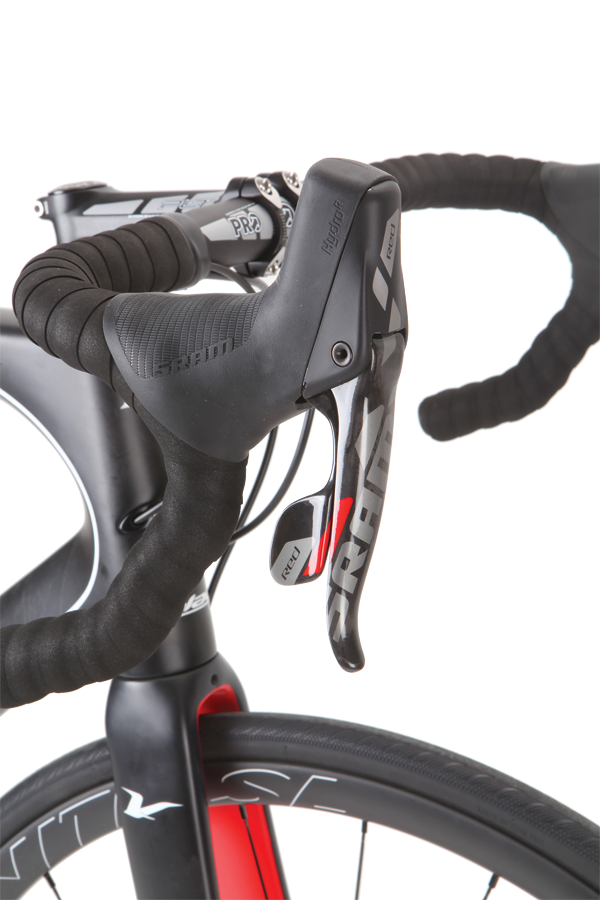 The disc brakes do add a weight penalty over an equivalent caliper brake, but for the Liscio's target demographic a few hundred grams is not going to be a deal breaker. By removing the brake track from the rim we can expect some interesting developments in rims fairly soon. Volagi supplied their own 1500g SL (RRP $1,795) wheels for the Liscio, which use a carbon rim devoid of any braking surface. Most of the wheel mass is at the hub, and accordingly the SL's got up to speed happily and were hard to fault, regardless of the gradient or speed. Other than a small weight penalty there are only upsides to disc brakes, especially for recreational riders.
The other big feature of the Liscio is its seat stays. Volagi calls these 'Longbow Flex Stays', and they are both long and bowed, and shaped to encourage them to absorb bumps and vibrations from the road. By attaching the stays to the top tube the Liscio has a very long seat stay to absorb the chatter, but without a correspondingly long chainstay.
Finer points on the Liscio frame are alloy brake mounting threads and bonded in alloy headset cups and bottom bracket shell. The Liscio frame should last for ages and withstand serious mileage as all the frame wear points have been designed to be robust. Volagi has included mounts for Shimano and Campagnolo batteries, so a clean integration of electronic shifting is a given.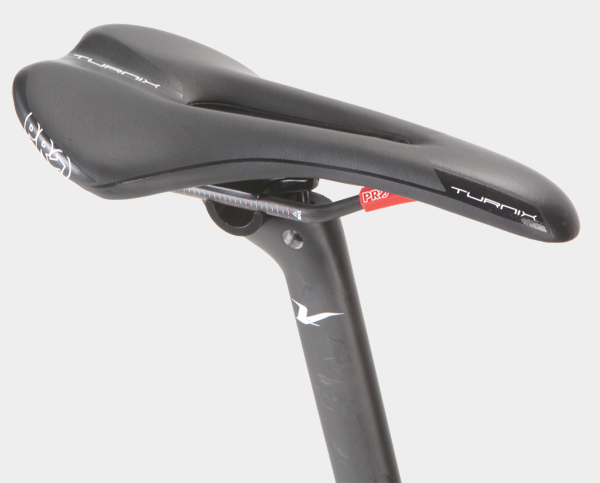 Volagi's are offered as frame and fork kits in Australia. Our Liscio frame retails for $2,395 which Volagi Australia points out is as cheap as or cheaper than in the USA! Choosing the groupset and brake package is a choice for the owner, so it's nice to know that regardless of the final spec, the Liscio will play ball, especially as the frame can accommodate such a broad spectrum of uses.
Our Liscio came with a high zoot spec, and a corresponding $7,265 price tag. Still, that's fairly reasonable for a boutique bike with the latest tech and aero carbon wheels. The Pro bars had a decent drop and the SRAM Red cranks were a standard 53/39. Our Liscio was spec'd to be ridden hard if we felt like it, no compact cranks, lounge chair saddles or fenders. The Red groupset was a perfect match for the aesthetic of the frame, and our Liscio was a talking point wherever it went.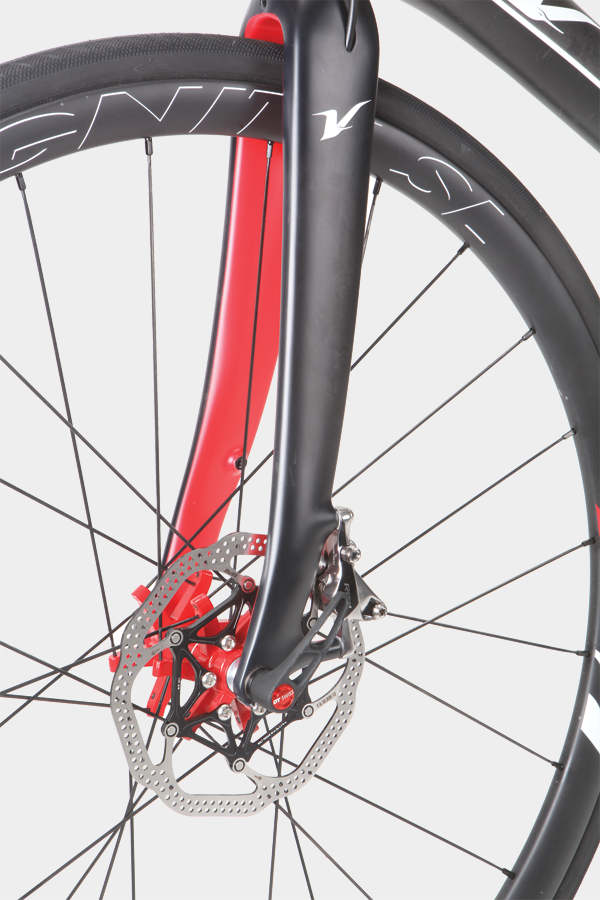 The geometry of the Liscio is a nice compromise between all out speed and super-stable comfort. I'd expected the Liscio to have a much longer wheelbase than it did but the chain stays are deceptively short at 412mm, which keeps the Liscio from handling like a boat. Volagi added some height to the head tube to avoid ungainly towers of stem spacers, and the top tubes run a touch shorter than similar sized 'race' bikes. I was able to slam the stem on the Liscio and run the saddle back on its rails to get a position very close to my regular bike, and I was perfectly comfy. Riders used to a less aggressive position will be able to set up a Liscio that looks well proportioned and is also a very good fit. The Liscio is a bike that strikes a nice balance. Fitted with SRAM Red and with the stem as low as it goes it's happy to dig in and have a real go. It's not so far relaxed that it feels sedated, unlike some sportive oriented bikes. Add a few stem spacers and a compact bar and crank and the Liscio would be equally happy.
It took a few rides for the Liscio to reveal its charms. It wasn't the disc brakes, as I spend plenty of time on those off of the road. When riding the flat or climbing the Liscio feels like a nice carbon road bike, although the rear end felt a little loose during full-intensity sprint efforts (but that's not what the Liscio is about, not even close). The burly fork is as solid as its dimensions suggest, and whacking into a lump on the road transfers this right up into the rider's shoulders. There's no magic solution to this with a rigid carbon fork, especially one that needs to be stiff enough to have a powerful brake mounted at its far end.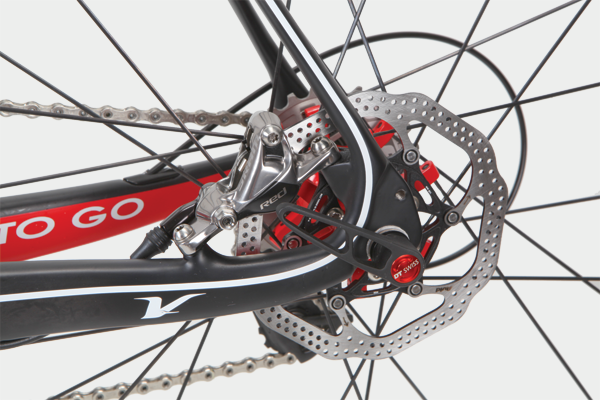 The rear end of the Liscio is the real headline grabber. I had expected the Liscio to ride like a hovercraft on dead roads and to really isolate pot holes and seams, but it doesn't do this in a slap-you-in-the-face kind of way. The Liscio has a good road feel and it's easy to know what's going on under foot, even with the 25mm tires. You can ride a very long way on the Liscio, long enough to be very, very tired. This is when the realisation of the Liscio's effectiveness politely taps you on the shoulder, reminding you that you that you're still ticking off the k's and you still feel pretty good.
The Liscio descends like an anvil that's been dropped out of a plane. The solid front end and slightly longer wheelbase make the Liscio stable (which is especially nice when you're tired), and the disc brakes allow you to build up more speed than usual. The road smoothing abilities of the Liscio really come to the fore at speed. Most of our local descents are on lumpy roads which the Liscio devoured as if it was skimming over the undulations rather than colliding with them. The Liscio would be hard to look past for a few weeks of riding in the Alps or Pyrenees. It keeps you fresh, goes up without a fuss, descends gracefully, and keeping you out of trouble seems to be in its DNA.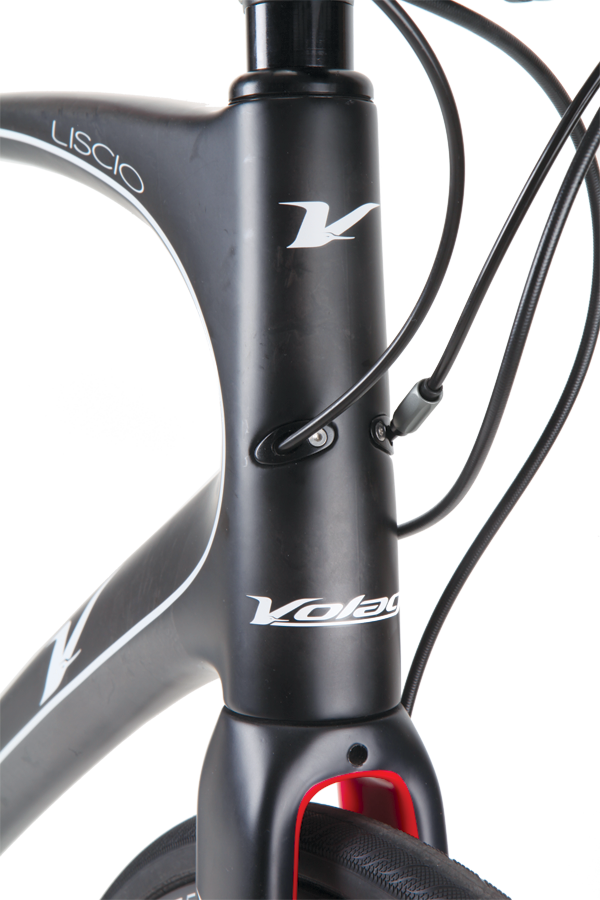 We see so many riders with telegraph poles worth of headset spacers and short stems fitted to race inspired bikes. They're clearly on the wrong kind of high-performance machine. The Liscio is super easy to get on and ride towards the horizon but Volagi has managed to walk the line to produce a bike that is just as much fun to ride for 20km as it is for 200km. Enjoying your ride is what this distinctive machine is all about.
Summing Up
Performance
The Liscio is relaxed and simultaneously engaging. It's a pleasing mix. Steering is rock solid which allows the modulation and power of the disc brakes to work to the rider's best advantage.
Quality
A perfect example of how well a small-run carbon frame can be made these days. Aesthetically the Liscio was great, clean paint and lines. The inside of the frame was free of left over bladder bits and excessive resin. The Volagi SL wheels were neat as a pin too, spinning smooth and staying tight and straight.
Value
A top of the line groupset, carbon wheels and boutique brand frame seems fair at the asking price. There will be lighter frames and bikes about, as well as stiffer, but this is a pretty unique bike that aims at a different target.
Overall
The time may come, sooner rather than later, that the Liscio is less of an oddity and more the norm. Comfy, predictable, versatile and really fun. The Liscio doesn't need the endorsement of super-human athletes to make its point, and that is the point. Ride.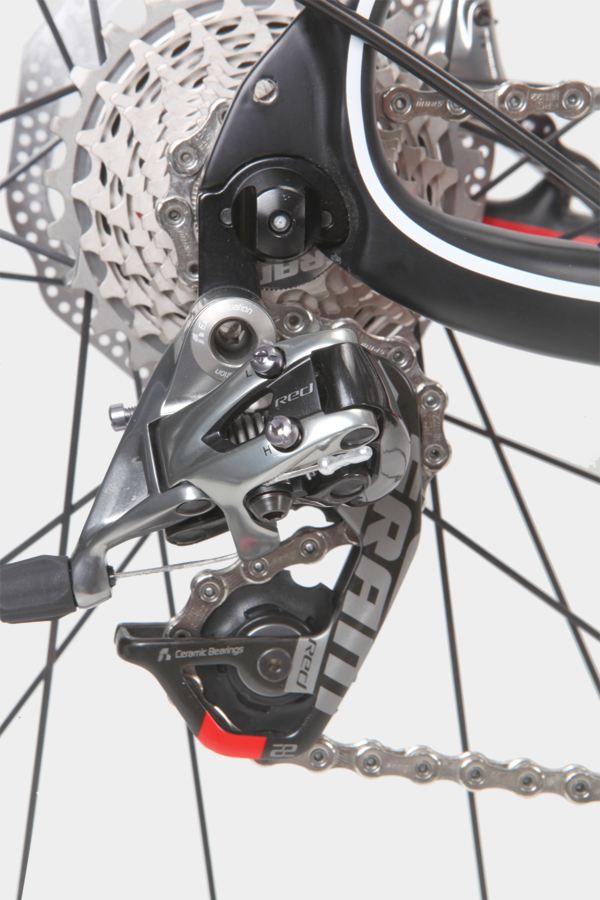 Specifications
Frame: High modulus 30t/24t carbon
Fork: High modulus carbon, 1.5/1 1/8 tapered
Headset: Zero stack cartridge bearing
Stem: Pro PLT
Bar: Pro PLT
Seatpost: Volagi aero carbon
Saddle: Pro Turnix carbon rail
Shifters: SRAM Red Hydraullic
Brakes: SRAM Red disc, 160mm rotors
Front derailluer: SRAM Red braze on
Rear derailluer: SRAM Red
Cassette: SRAM Red
Chain: SRAM Red
Crank: SRAM Red BB30. 53/39
Wheels: Volagi Ignite SL w/DT RWS skewers
Tires: Vittoria Rubino Pro folding, 25mm
Pedals: NA