Bicycling Australia: Felicity, you are mostly known around the traps by a nickname, yeah?
Felicity Wardlaw: Yes, I am usually called `Flick'
BA: Since this column is mostly about the National Road Series, can you tell us what your NRS experience has been?
Flick: 2013 is my second year on road racing the NRS circuit. I started road racing in 2012 with my first race being the NRS Mersey Valley Tour in Tasmania. I was invited to be a 'fill' rider for team BSS (formerly TORQ/BSS) for this tour, this was just two weeks after competing in the National Solo 24 Hours MTB champs! I have stayed with the team ever since.
BA: Where are you now and why?
Flick: I'm actually at home, it's 8pm on a Friday night drinking a wee little glass of 2012 Dal Zotto Sangiovese, a great way to finish the working week off (I'm allowed to have a drink in my off-season).
BA: Where do you call home and how did you get into cycling?
Flick: My heart tells me home is in Tasmania, as that is where I grew up and have spent most of my life. But we currently live in Benalla, in beautiful north east Victoria. I have always ridden some form of bike; in fact I think I was riding a bike before I could even walk. I transitioned into cycling in 2011 after doing several endurance and ironman triathlons. I focused on mountain biking and adventure racing for a while before moving onto the road just over 18 months ago.
BA: Do you have a job?
Flick: Fire Planner with Department of Primary Industries Environment in Victoria.
BA: Single, married or other?
Flick: My partner's name is Dave (best race swanny and supporter).
BA: What is your home cycling club?
Flick: Wangaratta Cycling Club.
BA: Sprinter or stayer?
Flick: Stayer…I have a diesel engine. But, I do a good lead-out for our sprinter.
BA: What's the name of your NRS team?
Flick: Bicycle Superstore Women's Road Team.
BA: When did you join it?
Flick: April 2012.
BA: Had you been in other teams previously?
Flick: No, I'm a passionate BSS supporter. We are fun, dynamic and 'mature' team.
BA: Do you have a sponsor?
Flick: Bicycle Superstore, FTP training, LaPierre, Santini clothing, Lazer helmets, TORQ nutrition, Morgan Blue, Continental tyres, Shimano, BBB, Minoura trainers.
BA: How about a coach?
Flick: Mark Fenner from FTP training.
BA: Do you think it is important for a bike rider to have a coach, even juniors and masters?
Flick: If you are wanting to achieve a certain goal, learn new skills and seek new opportunities, I think having a coach and/or a good mentor is very important.
I wanted a cycling coach to make sure my mountain bike training was specific to the event I was training for. Fast forward 12 months and it's amazing where my coach has taken me. I don't think I would have stepped on the podium at the 2013 National Time Trial Champs without the support of my coach. He identified my strengths worked on my weaknesses and provided me with fantastic opportunities to race with the best and to be the best.
BA: What's your favourite riding discipline?
Flick: Time Trial and Road…I like to push myself to the rivet and there is no escaping in a TT – it is 'the race of truth'. I really enjoy doing the NRS multi stage tours with the BSS team. When teamwork works it's a very powerful and exhilarating experience; seeing your teammate win and being part of it and celebrating it at the end is an amazing experience.
BA: Some of your favourite rides?
Flick: North East Victoria – quiet roads, no traffic lights, lots of hills, good flat riding, great coffee shops. When I go home to Tassie I do enjoy the rolling hills and great scenery.
BA: What does a typical day of training look like for you?
Flick: At the moment I'm in what's called my 'offy' (break from structured training). But, if I'm training for a specific event like a time trial, my day of training might be broken up into a split session, eg morning might be a 90-minute V02 Max session (a session that involves very high intensity efforts). The afternoon session may be with a 90-minute session with longer efforts but at lower intensity. I try to start and finish each ride with 'functional' warm up/cool down exercises. Recovery days/sessions are super important in my training, so after a day like the above I would follow with a recovery day, which may involve an easy endurance ride or a day off the bike.
BA: How old are you? (You don't have to answer…I wouldn't!)
Flick: 35.
BA: What are some of your best results to date?
Flick: Third Australian National Individual Time Trial 2013; third National Road Series General Classification 2013, first Tour of Bright ITT 2012 (course record), second National 24 Hour Solo MTB Championships 2012.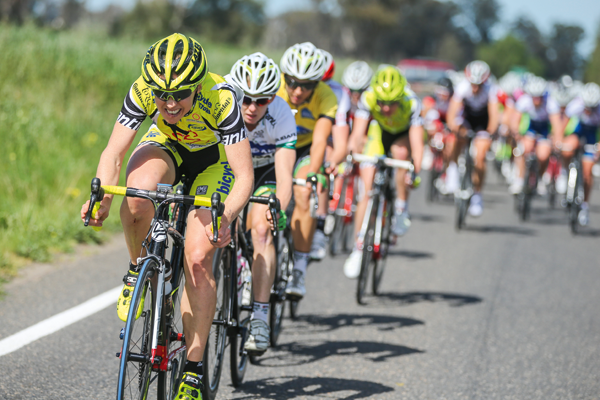 BA: Do you have a life outside of cycling?
Flick: Most definitely and it's important to keep doing your hobbies outside of cycling. Competing and maintaining fitness for the National Road Series (NRS) is incredibly demanding and consumes a lot of time not to mention a lot of time off work. So when Dave and I have time off the bike and away from racing, it's important we do things we both enjoy doing such travelling, bushwalking and camping.
BA: Which bike and components do you ride? Your choice or the team's?
Flick: Road bike: Lapierre Xelius. Time trial bike: La Pierre Aerostorm (aka The Bullet). Favourite components: Quark power meter to make training specific and of high quality. Wahoo KiKR – an indoor trainer that is iPhone controlled. You can load up any Strava segment and it will self-adjust the trainer to replicate the segment. Great for time trial courses that you can't physically ride. Garmin 500: Dave can live track me when I'm out training; great for safety but no more stopping for hours at the coffee shop! Training Peaks: An online training program that allows you to record and analyse training sessions. My coach uploads training session and can see and review my training data at any time. You can really see where your strength and weaknesses are when you start to analyse your data. SMP saddle – one piece of equipment not to skimp on. My bum says so. ENVE Race wheels – aerodynamic, light and fast race wheels.
BA: Have you raced overseas?
Flick: No. I would love to race for Australia in the individual or team time trial.
BA: What's your program for the year look like?
Flick: The year is broken up into blocks and then each block is broken down in specific training phases depending on what races we have scheduled and prioritised.
In general, I train on the bike between five to seven sessions/week (10-18 hours/week) incorporating recovery rides, long rides and high intensity rides. I train either in the morning or after work, some days involve split sessions, where I do a morning and afternoon session. I also train both on my TT and road bike.
I also do cycling specific functional strength training a few times a week.
BA: What makes you a better rider? The gear or the training?
Flick: I eat clean and healthy food, I enjoy what I do, I train smart, I take recovery seriously, I train both my mental and physical fitness, and I have a life outside of cycling. All this makes me a better rider.
At my current level of riding and racing, both (training and equipment) are important. The training and prep both on and off the bike is the foundation to a good race, and when it comes to time trialling I make sure my equipment is as aerodynamic as possible. An ITT can be won or lost by failing to attend to detail with equipment.
BA: How do you stay motivated?
Flick: Good planning, training variation, rest and recovery. You can't be on form the entire year; you run the risk of burn out, losing motivation, injury and sickness. This is where a coach comes in handy in identifying primary goals for the year and working out where to incorporate recovery phases into the year. The recovery, or offy, is where I am now (September-October). I often get back on the mountain bike to keep training exciting. I also like to surround myself and ride with positive people and eat clean and healthy food.
BA: Where do you think cycling is at in Australia, especially compared to other countries?
Flick: Cycling at all levels and all disciplines is growing in Australia. Just look at the participation growth in cyclocross and mountain biking and the sales of recreation bikes outstripping car sales in Australia. It's fantastic how two wheels can provide so much enjoyment.
The demand and interest in cycling is only going to increase, and that's a fact. So, Australia as a society needs to accept this and see it as a fantastic opportunity. When I visited Scandinavia, cycling was an integral and accepted part of society. They have smart and specific policies, cross-integration of relevant agencies and government and have invested significantly into cycling-related infrastructure and education. Australia doesn't have to reinvent the wheel – the template is there to build upon. The positive for Australia is that there are some great organisations and lobbying groups making progress in integrating cycling as an accepted part of society. Coordination and reducing red tape is going to be the challenge.
BA: Do you think the NRS is a good thing?
Flick: Definitely, as it's providing so many opportunities. It's providing opportunities to experience elite level racing, its providing opportunities for riders to be selected for institutes, it's providing opportunities for riders to join overseas teams and it's providing an opportunity to demonstrate that women of all ages can race competitively and do well.
BA: Do you think the NRS has helped women's cycling?
Flick: It provides a great platform for women who want to take that next step from club/local racing to elite level racing. It's raised the profile of women cycling and illustrated that women racing can be more exciting than men's racing.
It's great to see that women are becoming more involved, included and looked upon as important decision makers in all levels of sport management and development, and cycling is definitely leading the way in this. There is a long way to go, we all know that, but I believe the growth and support of women in cycling has come about because of many fantastic leaders in the cycling (domestic/international) fraternity. It's a positive for the future of women's cycling and women in sport. The NRS, Cycling Australia and SBS have definitely played a role in this.
BA: What do you think is needed to encourage more women to ride and/or race bikes?
Flick: Most metropolitan road cycling clubs provide great opportunities for more women to progress and develop skills and the confidence needed to enter into competitive cycling. Opportunities like this are rare in regional areas and as a result can be barrier for women to take the next step in to competitive riding. I do believe the mountain biking scene provides an encouraging platform for women, the atmosphere is more relaxed and not as competitive.
BA: What do you think stops them?
Flick: A comfortable environment to learn the skills and develop the confidence to ride bikes competitively. I took up competitive mountain biking before road racing because the environment was relaxed and not as intimidating as the road racing scene. If women want to start competitive road racing in regional areas, you are often racing in with men's graded or handicap races. To me this was a big barrier when deciding to take up competitive road racing.
BA: Have you ever crashed?
Flick: Not to date…touch wood, but since I've taken up road racing I've had many close calls with cars and trucks whilst out training.
BA: Any plans for after cycling or are you going to pedal off into the sunset?
Flick: I would love to wear the green and gold in the World Time Trial Championships or Team Time Trial. I have no plans to quit pedalling.
BA: I know you are desperate for me to ask this question: who would be on your dinner guest list?
Flick: George Clooney…he can bring the Nespresso, Heston Blumenthal to do the cooking, Mumford and Sons to play the tunes and Sir Edmond Hillary and Sir Ernest Shackleton to tell their stories of teamwork and adventure and survival.