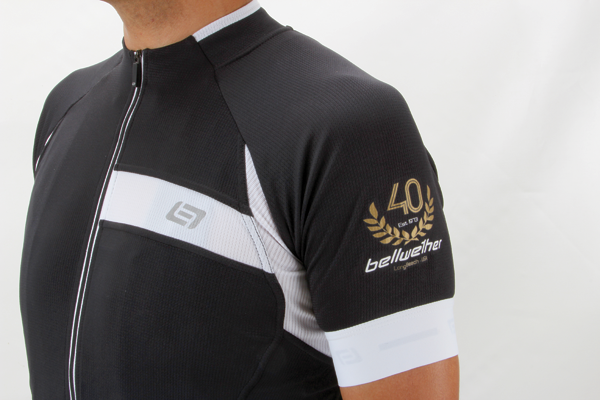 The Bellwether Helius is a warm weather jersey from their premium 'Elite CS' range which has a close cut, and nicely cooling, ready for your next club race. The Helius has some other appealing features that make it a practical everyday jersey.
The wide arm grippers arms provide a firm, comfortable fit and the cut of material around the underarm and shoulders in particular provides a nice close fit too, that ensures there's no material flapping around in the wind. The flat seam stitching they've used is stylish and comfortable and allows an ample range of movement on the bike.
The Helius offers the standard three pocket layout on the back with an extra, waterproof zipped pocket in the middle that has plenty of room for a mobile phone or other valuables. The waterproof material is only used on the skin-facing side of the pocket to protect against sweat, so if you're riding in the rain you'll still want to protect your valuables with a jersey bin or similar.
I consider a full-length zip an essential feature for a cycling kit and the Helius ticks this box. Bellwether's choice of zip glides smoothly and doesn't catch any adjacent material while you are zipping up or down.
Pitched as a spring/summer jersey, the cooling of the Helius is exceptional, even in the mostly black colour way of the 40th anniversary kit. The reflective logo and white highlights break up the black nicely and provide additional visibility to the mostly black kit. For those who want to stand out from the crowd, or be more easily seen in low light, it also comes in a red and white design.
Over the spine, in the armpit area and in two small sections over the hips, Bellwether has sewn in 'X-Factor' vent panels, which are a lighter weight more breathable fabric. Bellwether have a process which uses what they call 'cool temp' material where cooling crystals are embedded into the fibres with nano-technology. They claim this will reduce your skin surface temperatures by 2-5 degrees. While I can't attribute the cooling performance of the Helius to the use of this material I found this jersey was a very comfortable choice for riding on hot days.
A 100km ride through the national park on a 30 degree day gave ample opportunity to put the jersey through its paces in a variety of conditions. Descending into the national park the temperature dropped noticeably and it was then the 'X factor' panels became obvious, with cool air streaming through these vented areas. One handed operation of the jersey zip made it a breeze to access additional cooling. Then emerging from the cover of the trees into direct sunlight, the UV protective fabric provides a 30-50+ rating to stop sunburn.
After two months of riding and machine washing, the jersey still looks like new and hasn't lost any colour or shape. The care instructions on the tag specify a cold machine wash which is good; I machine wash all my kit anyway but it's reassuring to know the garment doesn't need extra special care.
We were lucky enough to get our hands on the Helius as part of a limited 40th Anniversary edition of this kit which included the Newton bib. As these are soon to be superseded by the Optime bib I won't say much except I liked the Newtons and if the new version is as good or better I will be buying a pair. Like the jersey they have a firm, comfortable fit and I never found them getting snagged on the saddle like some knicks. I actually didn't notice them at all once I got going. My longest ride in these knicks was about four hours and I had no issues with chaffing or bunching of material between the legs and no discomfort backing up for a two hour ride the next day—so they pass muster on their claim to being a four to seven hour ride pair of knicks.
It's clear Bellwether hasn't been sitting on its hands since the business began more than 40 years ago. Their 40th anniversary Helius jersey is well made from quality fabric and represents good value for money. It should suit most riders looking for a kit that's not covered in team sponsor logos. After riding their predecessor I would suggest it is well worth checking out their replacement, the Optime bibknicks too.
RRP $129
Distributed by Velo Vita