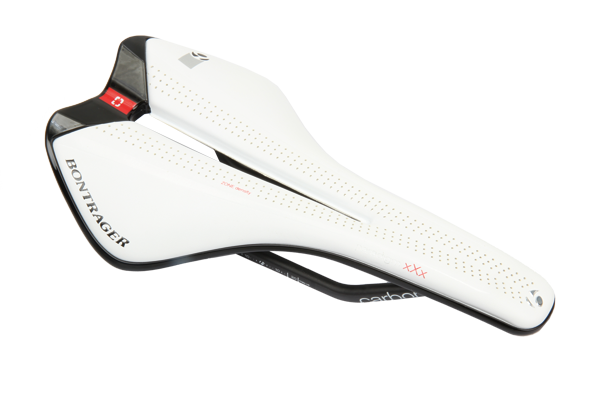 A paradigm is a way of thinking, a perspective, a framework of basic assumptions, an accepted methodology.
Bontrager's methodology for product development is their 'inform biodynamics' system, a set of principles that directs product development to ensure good position and comfort, which in turn leads to optimum performance.
This way of thinking has been has been applied to the Paradigm XXX Carbon saddle. When you add to this quality construction and appealing design and you're bound to have an interesting product. But saddles are all about fit for the individual and there's a wide range of individuals out there with differing physical attributes that need a saddle to suit.
Bontrager cater to a wide range of body sizes, shapes and comfort requirements in their saddle range. They've developed a saddle selection process to help riders find their perfect match. Firstly you need to nominate one of five levels of cycling posture; aerodynamic, aggressive, performance, fitness, or leisure—each with progressively more upright position and therefore less pronounced pelvic rotation which has a direct bearing on your pelvis position on the saddle. Then you need to confirm the width of your ischial tuberosities—your sit bones—to determine the width of saddle that will suit you.
Bontrager have developed a simple means to measure sit bone width. Simply sit on their special seat padded with a clear envelope filled with white gel. Your sit bones squeeze the gel away to reveal two coloured spots. That colour code; yellow, red or blue equates to a saddle width and is on the packaging of all Bontrager saddles. So with your posture determined and a colour code defined you can choose a saddle that should fit you well.
The Paradigm XXX carbon is for 'aggressive' postured riders. It's minimal in design and very light (only 155g for the blue, widest option at 148mm.) Each of the three sizes is 270mm long. There's a perineal cut out to minimise pressure downstairs and the saddle is covered with quite thin multi density foam cushioning—firmer at the rear where those sit bones land, and softer at the cut-out and towards the nose.
The Paradigm has ovalised carbon rails with a 95mm long section for clamping. It has some limitations in terms of the type of post/clamp that can be used, requiring one that clamps in the vertical plane to ensure the rails are not damaged.
The Paradigm comes in black or white one length, three widths, and has a cool bling looking set of silver spots running along the centre.
Should the 'posture and sit bone width' process not divine the most comfortable perch for you, never fear. You'll be covered by Bontrager's guarantee which simple states "Ride it and love it. If not, we'll take it back." Just return the product with your sales receipt for exchange or store credit.
Overall I found the Paradigm design worked very well for me in terms of shape and comfort. I also think it's a fast and good looking saddle. I like the way the carbon reinforced shell skirts the edge of the saddle to guard against scuffing should you lean your bike up against a masonry wall. Some people may prefer the skirt to roll down further to provide a greater surface area for the top of their thighs to push on while climbing. The shell is quite firm at the rear, but I found the flex in the centre between the rail mounts, along with perineal cut-out and the zoned padding—plus the right width for my sit bones—gave a good comfortable ride. If you're having trouble finding the right fit in a saddle you could do worse than try Bontrager's fit system. If you find you're an 'aggressive' postured rider you might like to consider the Paradigm XXX.
RRP: $249
Distributed by Bontrager