In early November 2013 cycling media from North America, Canada, Australia and New Zealand headed to the Hawaiian island of Maui to witness the launch of Shimano's new braking system the ST—R785 hydraulic road discs – and the concurrent release of their 6870 Ultegra 11 speed electronic groupset.
Bicycling Australia editor, Gary Hunt was on the front row in the media scrum.
Shimano is the largest component manufacturer in the cycling industry. They have a long history of research and development in all the niche segments that compromise the greater cycling market and of course they're especially strong in road and MTB components. Given the road and MTB development teams literally sit next to each other in Shimano Japan, it stands to reason there'll be some discussion and cross pollination as these fertile minds bring new products to fruition.
Maui's rich volcanic shores made a brilliant choice of location to test the results of this latest cooperation, especially given the literally breathtaking climbing and descent on hand in the hulking form of the dormant volcano Haleakala. (Let's get pronunciation right from the outset; think Harley-ark-ala) Our group rode most days while we were there, and given the new brake set up was top of the agenda something big and downhill was required to assess the merits of these new stoppers. The crater rim tops out at just on 3,000 metres above sea level where you can definitely feel the effects of the cold thin air. Climbing the volcano later in the event certainly took the wind out of some sails, and I'm still not sure whether to count myself lucky my scheduled flight home made the 'climb that monster', or 'pike out' decision for me, but this descent I was about to experience would surely be quite sensational.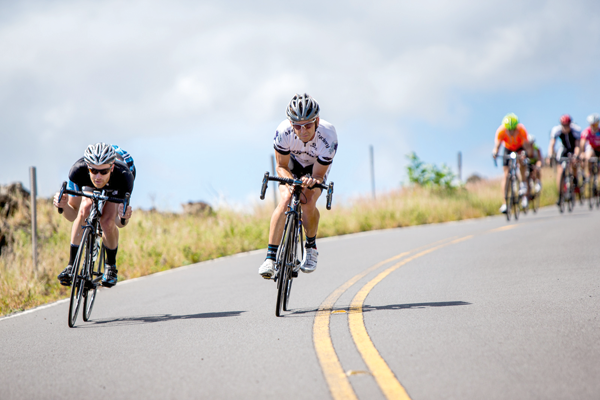 Hydraulic disc brakes bring some obvious benefits, including wet weather consistency of performance and zero cable drag, so the tight cable bends under your bars won't affect the lever feel. It also opens up greater freedom with the rim design, as you no longer need a brake track—this means no more heat build-up or consistency issues when using carbon fibre rims.
Some people will still have questions about the validity and performance capacity of the new hydro disc system; will it cope with long descents, will I get brake fade on those small discs and go spearing off the road at the next hairpin. Others may baulk at the idea of using what could be seen as 'MTB components' on their beloved road machine, or just feel what they have is good enough—this is just change for changes sake!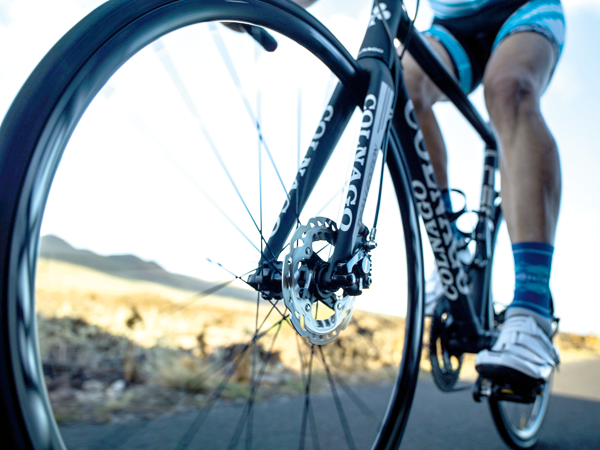 The brakes themselves employ a laminated rotor with aluminium sandwiched between two stainless steel plates. A waffle-like rippled section extends from the braking surface towards the hub. These key design features are all aimed at improving heat dissipation. Dubbed the 'Freeza' rotor, the design was taken from the Saint brakes; a system that was developed a few years ago for downhill mountain biking. The brake pads themselves feature funky looking 'Ice tech' heat dispersion fins that are also derived from the MTB world—'Ice Technology' currently features on most of their upper-end off-road groups, from SLX through to XTR.
Shimano technicians have tested the system and find the Freeza rotors reduce the rotor's heat by up to 150 degrees Celsius, while the Ice Tech finned pads suck another 50 degrees from the system when it is running hot (compared to a basic steel rotors and standard pad system.) The new system tops out at a temperature of around 400 degrees. Critically, the mineral oil in the hydraulic lines will boil at around 532 degrees, so there's a good margin before you'd have any trouble with vaporisation in the hydraulic lines—boiling brake fluid can create gas in the line that will easily compress, causing sudden and possibly catastrophic, loss of brake function.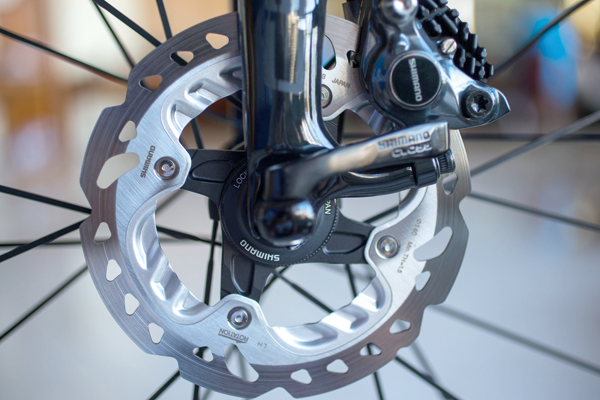 David Lawrence (TECH GUY position?) at Shimano explained " The biggest change for us was when we were able to separate heat management from power, because before that we had to use rotor size to manage heat, so sometimes you had too much power – but that was the compromise to get the heat management. So what we've seen in all our testing was that 140mm front and rear Freeza rotors and Ice Tech pads will manage the heat for anyone.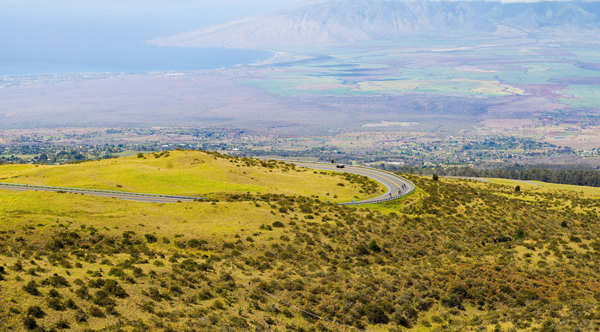 In any scenario?
"Yeah, because what happens is it kind of gets to an equilibrium you know, and so it's cooling as fast as it's heating. Then you pick your rotor size based on the power you want. So if you're a bigger rider we say 140mm is fine, but you may want a bit more bite for stopping, and absolutely, you can play around with rotor size and maybe go for the 160."
On the first day we rode over 100km around Haleakala with around 1,500m of descent and enough climbing to give the Di2 11 speed Ultegra a thorough workout. As I've come to expect the Di2 performed exceptionally well; smooth, quiet shifting, reliable even when shifting under power, "like clicking a mouse" is the expression that gets used frequently.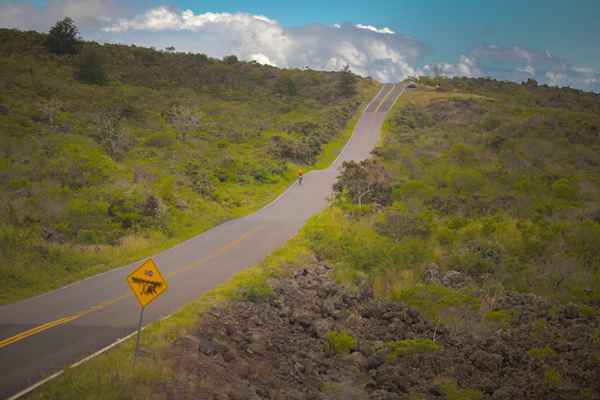 The new 6870 series 11 speed Di2 groupset brings the benefit of one extra cog to your cassette and actually decreases total weight from the 6770 Ultegra 10 speed Di2 by 126 grams. Using an internal battery the 6870 groupset is also marginally lighter than the 6800 11 speed mechanical Ultegra by 9 grams.
However, for me, this event was more about the hydraulics.
On the second day we had the opportunity to really test the brakes. We were all shuttled to the 3,000m summit to see the views and then back to our start point at around 2,000m just outside the gates of the national park to begin our descent. Park regulations prohibit organised groups commencing a ride from within the grounds due to the many inexperienced riders who have come to grief. Still, two kilometres of elevation loss over a distance of 35km with an average grade of 7% on a pristine hotmix surface, through perfectly banked switchbacks and speed north of 80kph promised an exhillerating blast down this massive lump of earth.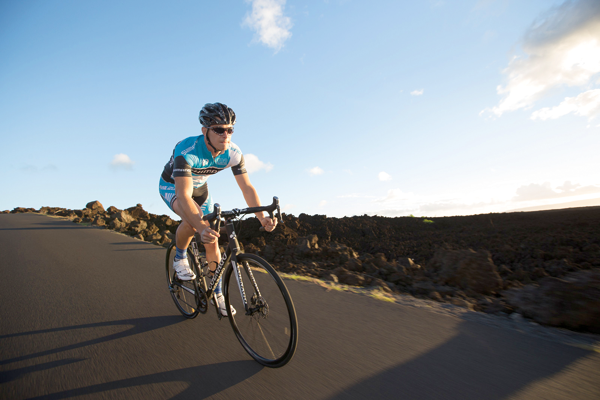 This day was planned to be the real test of the new braking system, in the hands of people who would go on to tell the world what they thought. I had wondered if Shimano had been getting some bad press lately, Was this a scheme to remove the current crop of editors…maybe they'd get a better run in the media with a new batch?! Seriously though, what if someone overshoots a corner or has some unexpected 'downtime'. It's a potentially risky move having everyone in one place, at one time with any flaws visible to all present. How will this pan out?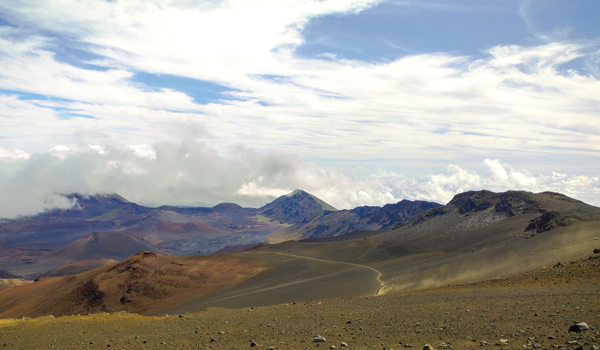 Descending at speed in a new bunch, with guys I wasn't sure I could completely trust, on the right hand side of the road, on an unfamiliar bike, on unfamiliar road – it's a mix that even now makes me wonder how it could be a fair test. My concerns weren't completely unfounded when one rider was cut off and swerved sharply towards me on a left hand bend. With no time and little room to react the brakes passed their first real test. Would I have made dent in the Armco and a nasty red stripe on the side of the volcano if I was riding cable brakes? Perhaps not, but the discs delivered enough control to keep me out of the rail without locking up. Lesson learned, I kept a little more distance while still keeping the speed up.
After regrouping for a chat and photo opportunity, I took a place at third wheel behind a guy who was picking some clean lines though the switchbacks as we continued this unending descent. We were sprinting out of the bends, reaching top speed and then hard on the anchors into the next turn. And repeat, several times. Then throw in some long straight shutes and sweeping turns, more sweepers, then tight doglegs through the trees, and on, and on for around 30km. And all with that 7% grade keeping the average speed over 50kph. A couple of times in the first 20km I heard the rotors whir briefly as pads touched them, and then silence. I didn't hear that noise again.
My overwhelming impression after this marathon downhill was the casual confidence these brakes immediately provided me. Controlling your deceleration even in this extreme scenario was literally a single finger affair, riding in the drops or on the hoods, the easy squeeze of my index fingers on those carbon levers delivered exactly the desired amount of stopping power I wanted. The lever shape was not 100% ergonomically matched to the tip of my index finger, possibly because the brakes have designed to be used with more than one finger in previous iterations. There may be room for a design tweak on that front, but overall the performance of this system was simply superb!
I mentioned a scrum in the introduction—I have actually played front row in rugby…I'm a big guy at just on 95kgs and in the early days of MTB discs experienced some brake fade on a long descent with 185mm rotors. But there was no hint of reduced performance on these 140mm Freeza rotors and Ice Tech pads while I rode on Maui. Even at my maximum speed of 83.5kph on a long descent I felt sure these brakes would stop me without concern—and they did.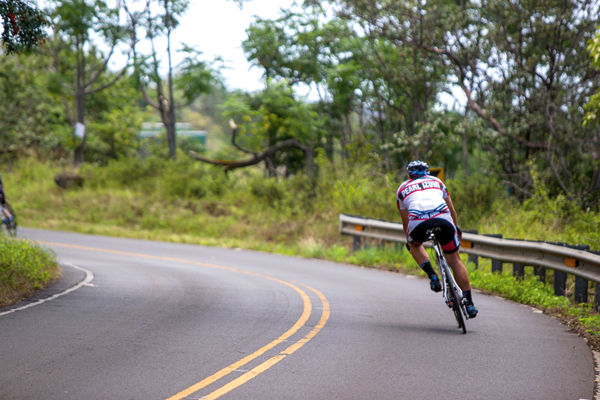 It makes sense that if you can lock a wheel on cable brakes in any situation, and even when you have the highest level of traction, you have enough braking power. The beauty of hydraulic brakes is the linearity of the response. The modulation you get with hydraulic brakes means you can control the braking force much more accurately, you can really fine tune your braking and add a level of finesse to your deceleration and cornering.
David Lawrence explained the reason behind this "Input and final output of braking power of cable brakes and hydro are similar, but the brake pads flex in the calliper and so you need to squeeze harder. This opposed to the hydraulic experience which gives a linear response. You don't have the curved input response where you need to start applying more force. Ultimately you'll get to the same total braking power but how you got there is a totally different experience, and that's the advantage of disc brakes."
As yet disc brakes are still not legal in UCI race events. One of the arguments is that the other brand does not have a hydro brake option, and everyone will need to use the technology if it is to be used at all. (The improved performance of hydro brakes means that riders using them may well crash into the back of cable brake users who can't brake so late or deep). Hydraulic brakes in my book are a no brainer. I believe the benefits and performance improvements of hydraulic brakes far outweigh the arguments of tradition, tribalism or relevance. The transition to hydro may not happen overnight, but you can be sure it will happen.