Brooks started in business almost 150 years ago in 1866. Way back then, the bicycle was a recently invented mode of transport that wouldn't achieve popularity for another two decades (until the pneumatic tyre was invented by Dunlop), the production car was still fifty years off and most people travelled by horse or on foot.
For those nearly 150 years the main product of Brooks has had a strong tie back to the latter 19th century – the Brooks bicycle saddle being relatively unchanged over that period. A single piece of thick hide attached to steel supports by copper rivets, kept in tension via a threaded rod under the nose and held in the seatpost by solid steel rails. These saddles are quite heavy, very durable and generally require a lengthy break-in period compared to more modern offerings.
This year saw the introduction of an entirely new saddle, one that uses modern materials but still owes allegiance to the traditional leather saddle. Enter the C17 Cambium.
Early in 2013 I saw a notice online that Brooks was looking for 100 people world-wide to test out their new saddle. Along with several thousand other people (their server actually crashed from the load) I applied to try out this mysterious new seat. At the beginning of June I received my pre-production Brooks. As you can see from the photo, it looks quite a lot like a B17, but the "rivets" are actually bolts with Torx heads on the bottom. In addition, the rails are hollow, the rear frame is aluminium and the top is comprised of vulcanized rubber with textile as both structural support and the seating surface. Also, it has no mechanism in the nose to compensate for stretch in the top. As a result of all these changes it is light for a Brooks but still a bit heavy for a new model of saddle.
The best news for fans of leather saddles is that this rides much the same but requires zero break-in period (and according to Brooks should last longer too). I wrote much the same because it is not, in fact, identical to a leather saddle. The rubber has a level of give that I can only liken to the feeling of sleeping in a waterbed – initially it does not feel like adequate support is there, but with use you realise that it does provide good support.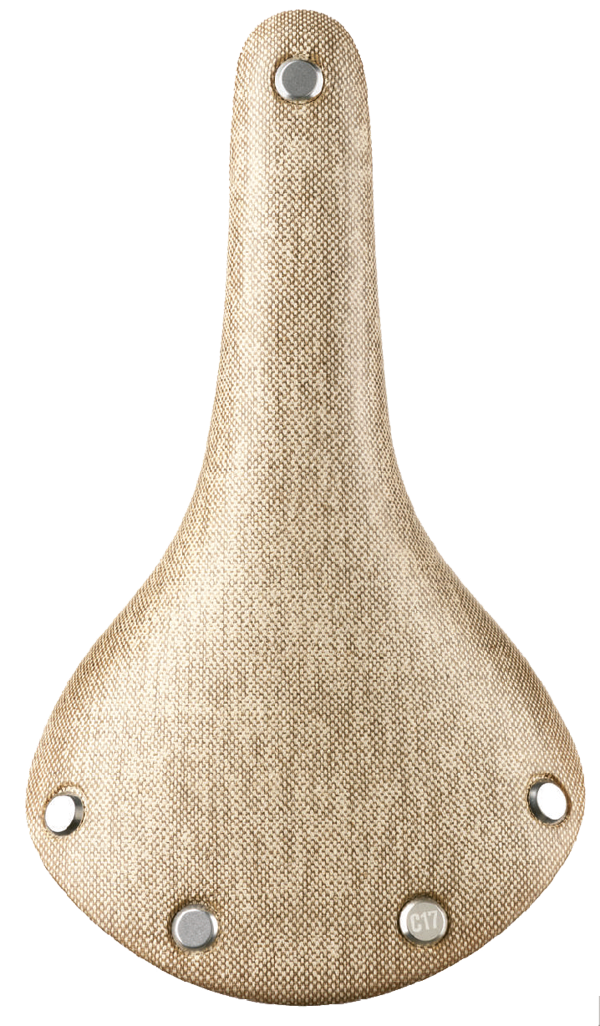 Unlike a leather saddle, this one was completely unfazed by getting soaking wet. The surface is quite rough, which made it harder to keep clean than a smooth surface but also meant it was good at keeping one's bottom in place. Brooks made some with a white covering and others with a black covering; mine has the white top. It looks fine on my bike where I formerly had a white saddle but the black one looks somewhat more traditional.
I can attest to the fact that there is no break-in period with the C17. After a month of commuting to work on this, it feels exactly the same as it did on ride number one. Saddle comfort is a personal issue, but for me the Brooks was fine all the time. I do wonder if perhaps it wouldn't benefit from being slightly more solid for someone of my weight (nearly 95 kg) but despite the feeling of sinking into it, it worked. I did have to point it more nose upwards than I expected in order to keep my sit bones stuck in one place – set up flat I slid forwards all the time.
After 147 years it must have been quite traumatic for Brooks to contemplate a modernised bike seat. Their reputation is founded on hand-made leather seats after all. I declare the exercise a resounding success. The new C17 Cambium is unlike any other saddle I have ever seen. I think it would suit quite an array of riders looking for a comfortable perch on their bike. If it proves as durable as Brooks suggests and they expand the line in future (there is also a C17s for women and they have promised a narrower C15 for more race-oriented riding) I predict we will be seeing a lot of rubber saddles around in a few years' time.