Peter Maniaty spent the summer riding with the latest from Rudy, the Tralyx cycling sunglasses.
Compact, durable, comfortable and light. The Rudy Project Tralyx boasts a clean, modern design easily distinguished by the distinctive PowerFlow vent system that sits along the top ridge of the frame. Bespoke air channels are also incorporated to the inside of each temple to further enhance circulation in all weather conditions.
The arm tips can be easily adjusted to securely hug your head thanks to an inner bendable steel core, while the rubber nose tip is also fully adjustable. Out on the road, the Tralyx single-lens design provides for a wide and unobstructed field of vision, complemented by the simply excellent ImpactX semi-rigid photochromic lenses.
… an impressive range of tints that quickly transition from 73% at their lightest to 9% at their darkest…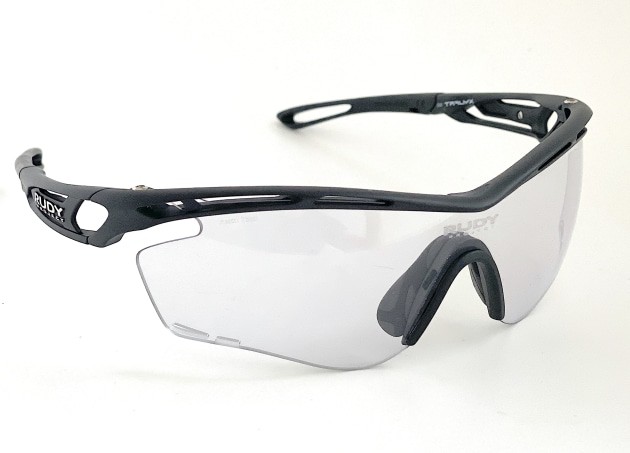 I've long been a photochromic fan and these are right up there with the very best, offering crystal clear optics and an impressive range of tints that quickly transition from 73% at their lightest to9% at their darkest, making them ideal for early morning and late afternoon riding.
The anti-fog properties are also excellent; in fact, I found the PowerFlow vents are so effective at encouraging airflow around the lenses that, as someone with reasonably sensitive eyes, it was almost a little too breezy at times. It's also worth noting ImpactX lenses are guaranteed unbreakable for life.
Currently available for around $220-$250, Rudy Project Tralyx make for a super impressive mid-priced package that's well worth considering. Available colours include Matte Black (reviewed), White Gloss, Blue Matte and Carbonium.