SCICON began as a practical solution to a practical problem and has evolved into a brand that not only solves problems but inspires adventures all around the world.
Its rise from a small garage to the top of the cycling industry demonstrates the power of creativity, dedication, and a never-ending pursuit of greatness. As Scicon Sports expands, it stays committed to building one of the world's premier high-performance eyewear brands while honouring its rich cycling heritage.
We have an amazing Scicon prize pack worth $2,600 to give away to one lucky winner! Enter via this link.
The Early Years (1980)
In a modest garage near Bassano del Grappa, Italy, a story of creativity and cycling brilliance emerged. It was the year 1980, and SCICON was born among the tools and dreams. Little did the world realise that this modest start would herald the birth of a global sensation, a brand that would alter the art of cycling travel.
The spark that ignited this journey was a simple yet profound question that echoed in the minds of elite riders: How might they travel the world with their prized bikes in a practical and secure manner? In this humble garage, Luciano and Claudio Fantin embarked on a mission fueled by a visionary dream.
The Birth of Bike Packing (1982)
SCICON's journey commenced on these very streets, laying the cornerstone of a legacy that would stretch across four remarkable decades. It was in this picturesque Italian town that the seeds of a brand synonymous with cycling excellence were sown.
These innovative bags not only provided practical storage solutions for cyclists but also revolutionised the way they approached long-distance travel. With the introduction of bicycle touring bags, cyclists were able to embark on epic journeys with all their essential gear. This game-changing concept propelled the brand's reputation for quality and innovation, solidifying its place as a leader in the cycling industry.
The #1 Choice of the Pros (2013)
Fast forward to 2013, and SCICON had become the choice of champions, as a beacon of reliability l and ease of use. Legends of the cycling world like Cancellara, Contador, Nibali, and Sagan entrusted their journeys to SCICON bags. The brand had evolved into the favoured companion of professional sports teams and world-class athletes, leaving an indelible mark on the global stage.
The Beginning of a New Era (2018)
The year 2018 witnessed Scicon Sports' grand entrance into the empire of sports performance eyewear, a foray marked by collaboration with Gareth Wittstock at the Riviera Water Bike Challenge. This event, graced by world-class athletes, marked the dawn of Scicon Sports' eyewear venture.
The Magic of Yellow (2020)
With its innovative designs and commitment to performance, Scicon Sports has become a go-to choice for professional cyclists around the world. The brand's success in 2020 is a testament to its dedication to quality and its ability to meet the demands of elite athletes. Tadej Pogacar's triumph at the Tour de France served as a crowning moment, solidifying Scicon Sports' significant role in the cycling industry.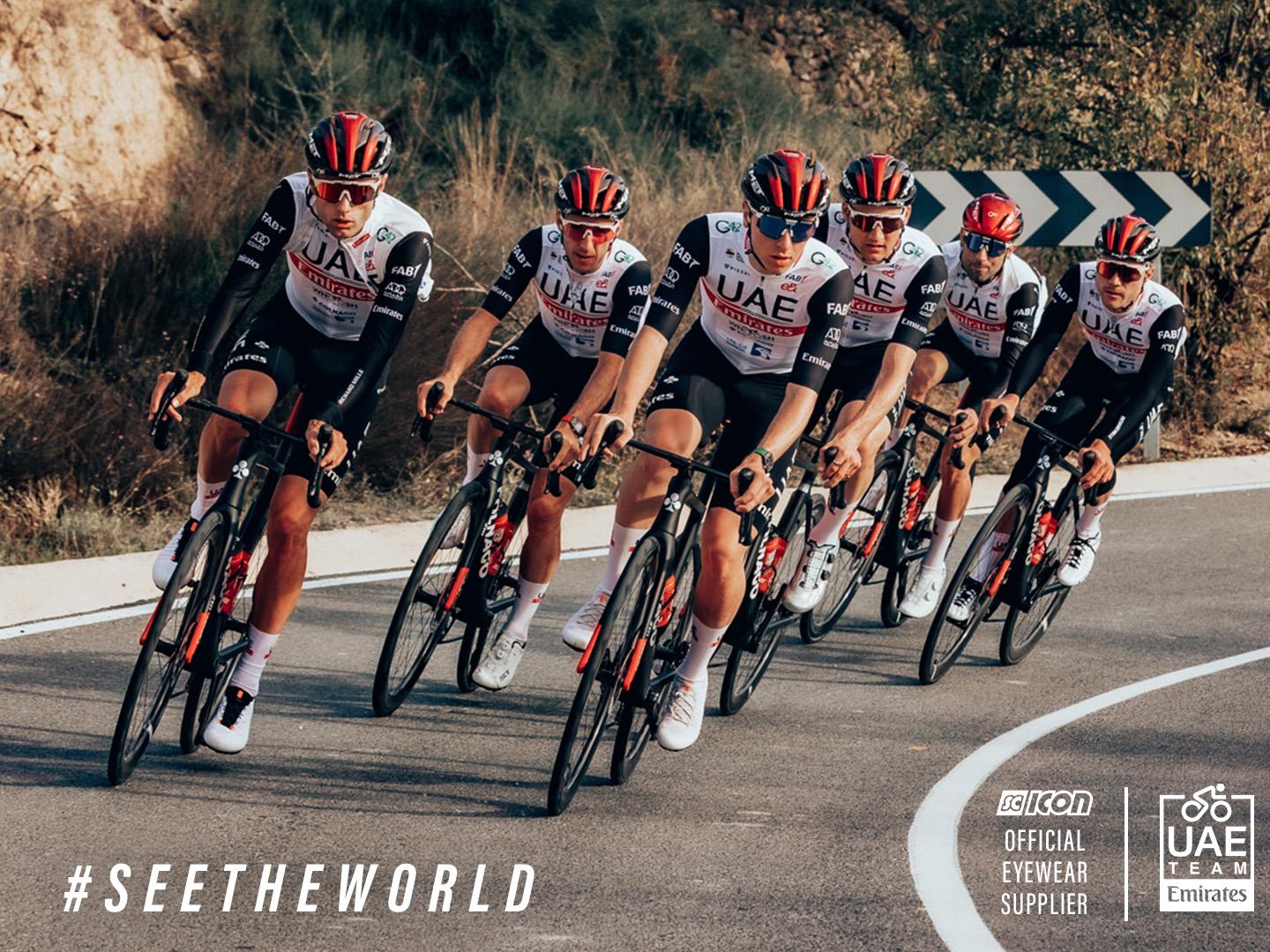 Double Yellow (2021)
In 2021, Pogacar's remarkable achievement solidified his status as one of the greatest cyclists of his generation, leaving fans and competitors in awe of his exceptional skills. Scicon Sports' partnership with Pogacar proved to be a winning combination, showcasing their commitment to nurturing and empowering talented athletes on their journey to success.

The Most Popular Eyewear Brand at the Tour de France (2022)
In 2022, Scicon achieved yet another milestone, emerging as the darling of the Tour de France eyewear scene. As the cycling world converged on Copenhagen for the 109th Tour de France, Scicon Sports stood as the preferred eyewear brand.
Teams like UAE Team Emirates, Israel Premier Tech, BikeExchange Jayco, and Astana Qazaqstan proudly used Scicon Sports' performance sunglasses, with 32 riders cherishing their choice. It was a defining moment for the brand.
Today, Scicon Sports' reach extends to over 40 countries, with a presence in the United States, Canada, South Africa, and Australia. Nestled at its Global Headquarters in Bassano del Grappa, Italy, is a concept lab where bag prototypes are crafted, technical sportswear is meticulously produced, and eyewear is assembled.
And from its inception as a solution to a practical problem, SCICON has evolved into a brand that not only solves problems but inspires adventures around the world. Its journey from a small garage to the pinnacle of the cycling industry showcases the power of innovation, dedication, and a relentless pursuit of excellence.
As Scicon Sports continues to grow, it remains committed to creating one of the world's leading sport performance eyewear brands, all while honouring its rich history in the cycling world.
Become a Scicon Insider and subscribe to our newsletter to receive a 10% off code:
https://sciconsports.com/eu_en/newsletter-sign-up